Mission preview: One final spaceflight for Discovery
BY WILLIAM HARWOOD
STORY WRITTEN FOR CBS NEWS "SPACE PLACE" & USED WITH PERMISSION
Posted: February 21, 2011


KENNEDY SPACE CENTER, Fla. -- Three-and-a-half months after the shuttle Discovery was grounded by potentially dangerous cracks in its external tank, the orbiter is finally back on track for launch Feb. 24 to deliver critical spare parts, supplies and a final U.S. module to the International Space Station.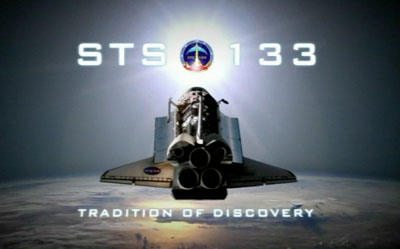 Credit: NASA



During an executive-level flight readiness review Feb. 18, senior NASA managers cleared Discovery for blastoff Feb. 24, at 4:50:24 p.m. EST (GMT-5), following an exhaustive safety analysis of the modifications used to beef up suspect ribs, or stringers, in the tank's central "intertank" section.

"This is probably one of the most difficult technical issues, I think, we've ever faced because the answers were not obvious," shuttle commander Steven Lindsey said in a NASA interview. "It wasn't obvious what was wrong, why it was wrong, or how to fix it, and then you had the additional, if you will, pressure of the shuttle program winding up and we keep slipping and slipping and slipping.

"But to the space shuttle program's credit, they've really done due diligence on this one and really focused on the engineering, following the data, figuring out what was wrong. ... It's just been very impressive to watch them, not get rushed, focus on the data, focus on the engineering. When they didn't understand something, they did a lot of testing.

"You can write a thousand computer programs, but one test makes all the difference because that tells you what's really going on," he said. "So I think they've done a great job with it."

Lindsey and his five crewmates -- pilot Eric Boe, Nicole Stott, Michael Barratt and spacewalkers Stephen Bowen and Alvin Drew -- flew to the Kennedy Space Center Sunday to prepare for the start of the shuttle's countdown at 3 p.m. Monday.

A veteran of two previous shuttle flights, Bowen joined Discovery's crew in January after Timothy Kopra, the mission's original flight engineer and lead spacewalker, suffered what sources said was a broken hip in a bicycle accident near his home in Houston.

"It was actually a sad story," Bowen said in a NASA interview. "Tim had worked for well over a year putting this thing together and had an accident. He's unable to make the launch time frame (and) we needed to find somebody to fill his role. ... It was not what you expected, not what you want. Tim worked really hard."

Bowen, a veteran submariner with five previous spacewalks to his credit, was a natural choice to replace Kopra on short notice. He flew aboard the most recent shuttle mission and served as the lead astronaut in the spacewalk office at the Johnson Space Center.

He underwent accelerated training for the two spacewalks planned for Discovery's mission, joining Drew for four simulation runs in NASA's huge neutral buoyancy training pool near the Johnson Space Center.

Because of time constraints, Bowen did not attempt to assume Kopra's duties as flight engineer. Instead, Drew will take on that role for launch and Stott will serve as flight engineer for Discovery's re-entry and landing.

"I get to concentrate on just the EVA portion," Bowen said. "Tim and Drew had put together a great plan. I literally told the EVA team don't change a single word of the plan, I'm going to follow what he wrote. I've been watching the videos of what Tim did in the (training tank) and I've been talking to Tim as well and learning how to do these EVAs."

Kopra plans to help out in mission control during the flight, providing advice as needed based on his own experience training.

The primary goals of the 133rd shuttle mission are to deliver critical spare parts, supplies and a final U.S. module to the International Space Station. It will be Discovery's 39th and final flight as NASA presses ahead with plans to retire the fleet after just three more missions.

"Discovery's a workhorse, the fleet leader in number of flights, done a lot of famous flights, all the return-to-flight test missions," Lindsey said before the crew's initial launch attempt. "Yet when you walk inside Discovery, it still looks like a new car even after almost 30 years of service. It's a great machine, a great vehicle. It's a privilege for us to be able to fly it on the last flight."

Assuming an on-time launch, Lindsey and Boe will oversee a two-day rendezvous with the lab complex, carrying out a now-routine heat-shield inspection the day after liftoff before guiding the shuttle to a docking at the station's forward port around 2:16 p.m. on Feb. 26. It will be Discovery's 13th and final docking.

Waiting to welcome the shuttle astronauts aboard will be Expedition 26 commander Scott Kelly, Alexander Kaleri, Oleg Skripochka, Catherine Coleman, Dmitry Kondratyev and Italian astronaut Paolo Nespoli.

Discovery is scheduled to spend seven days docked to the space station, departing on March 5 and landing back at the Kennedy Space Center around 12:44 p.m. on March 7.

But U.S. and Russian space managers are expected to approve a one-day mission extension for an out-of-this-world photo opportunity.

The idea is to insert a new flight day 10 in the crew's timeline -- March 5 -- so Kelly, Kaleri and Skripochka can undock in the Soyuz TMA-01M spacecraft and photograph the space station with the shuttle and a full complement of European, Japanese and Russian cargo ships and crew capsules attached.

Discovery's mission is the last time all of the international spacecraft will be docked at the station at the same time before the shuttle fleet is retired later this summer.

Assuming the fly-around is approved -- and no decisions are expected until after Discovery reaches the space station -- Discovery would undock on March 6 and land in Florida around 11:35 a.m. on March 8.