The shuttle Discovery fliers: A crew of seasoned pros
BY JUSTIN RAY
SPACEFLIGHT NOW
Posted: February 20, 2011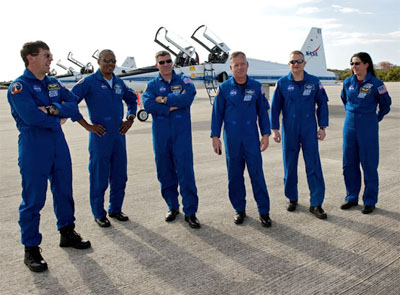 Barratt, Drew, Bowen, Lindsey, Boe and Stott. Credit: NASA-KSC



A veteran astronaut crew with over a year of collective spaceflight experience has arrived at the Florida spaceport to begin final preps before taking the shuttle Discovery on its final voyage to orbit Thursday.

Commander Steve Lindsey, pilot Eric Boe and mission specialists Al Drew, Steve Bowen, Nicole Stott and Mike Barratt have flown previous space missions, making them one of the most experienced astronaut teams to ever launch aboard a shuttle.

What's more, Stott and Barratt served as long-duration residents aboard the International Space Station, something their Discovery's crewmates say is a big advantage for the upcoming mission.

"They're intimately familiar with space station," Lindsey says, "and so they know the ins and outs and it's very valuable. That will help us a lot on this flight."

"I liken it to trying to go up Mount Everest without a Sherpa," Drew adds. "These guys, the folks know where all the trails are and how to get to places and so I think that that it was just a coup that we decided to start re-flying space station veterans on space shuttle missions because they're so much more efficient onboard the space station when they get there."

Lindsey, born in a suburb of Los Angeles, is a 50-year-old retired Air Force colonel with over 6,500 flight hours in more than 50 different aircraft. He has flown on four space shuttle missions and later served as NASA's chief astronaut before being selected to command this final Discovery voyage.

Having accumulating 50 days in orbit, Lindsey was pilot on the STS-87 science flight of Columbia in 1997 and the STS-95 mission in 1998 aboard Discovery that featured John Glenn's return to space. His first command came in 2001 as Atlantis' skipper on STS-104 that launched the Quest airlock module to the space station. He then led Discovery's STS-121 test flight in 2006.

"The space shuttle is an incredible vehicle," Lindsey says. "I'm still amazed at the technology to build something that could carry this much payload into orbit and takeoff vertically, land on a runway, serve as a rocket ship, an orbiting laboratory, a docking ship, a robotics platform and land like an airplane. That's pretty incredible and I consider it an honor to be a part of it, to be involved essentially with the last half of the space shuttle program."

Pilot Eric Boe grew up in Atlanta and became an Air Force colonel with combat and flight test credentials. He arrived at NASA in 2000 and flew on the Endeavour mission in 2008 that outfitted the space station's interior with equipment needed for doubling the size of its resident crews.

"The things I remember most from my previous spaceflight," Boe says, "was getting the chance to see the Earth and I'm really looking forward to it on this flight again, it's amazing, kind of like when you go on a vacation and you come back, things kind of fade over time and so I'm kind of interested to see the colors, the vividness of the planet. You can really see that the Earth is alive and also you kind of get an appreciation for how big the Earth is and at the same time how small we are as compared to the rest of the universe as you're orbiting the planet and you start thinking about the stars and other things around there and also the chance just to see, the world without borders."

Astronaut Al Drew, originally from Washington, D.C., was an Air Force helicopter pilot and flew combat missions in Panama, the Persian Gulf and Northern Iraq during his military career before coming to NASA in 2000.

Drew's one earlier spaceflight occurred in 2007 aboard shuttle Endeavour's STS-118 assembly and resupply trip to the space station. He will serve as Discovery's mission specialist No. 1 during this flight that delivers the Permanent Multipurpose Module and the Express Logistics Carrier No. 4 to the International Space Station, plus conducts a pair of spacewalks.

"If this were a home or a structure on the ground...the analogy would be we're putting a new walk-in closet permanently attached to the space station, this Permanent Multipurpose Module, and we're going to put a new storage platform or deck out there, the Express Logistics Carrier, carrying a spare radiator (or) a spare air conditioner for the place. Those are the big objectives and everything else we're doing outside for these spacewalks is repair. This is two six-and-a-half-hour episodes of 'This Old Station' fixing up things that have gotten old in the ten years they've been up there in space."

A recent substitute added to the crew is Steve Bowen, who was tapped to replace the injured Tim Kopra as the mission's lead spacewalker. Kopra was hurt in a bicycle accident and now can't make the flight.

"Tim and Drew had put together a great plan," Bowen says. "I literally told the EVA team don't change a single word of the plan I'm going to follow what he wrote, I've been watching the videos of what Tim did in the (training pool) and I've been talking to Tim as well and learning how to do these EVAs."

Bowen, the only submarine officer to become an astronaut, hails from Massachusetts and has degrees from the Naval Academy and MIT. He visited the space station on the Endeavour mission in late 2008 that saw him conduct three spacewalks and flew on the most recent shuttle flight last May that included two more EVAs to his credit.

Mike Barratt has spent 199 days in space but he's never launched aboard an American spacecraft. A medical doctor born in Washington state, he worked as a NASA flight surgeon before being selected as an astronaut. Then came the opportunity to spend a half-year living aboard the International Space Station in 2009, launching aboard a Russian Soyuz rocket and returning to Earth in the tiny capsule.

"It think flying in space is a wonderful experience for anybody no matter what their background, but as a space medical specialist my flight experience was like a dream come true," Barratt says. "We saw the transition from three people to six people as a permanent crew so that was very interesting, but also very fortunate for me, I saw twenty-two other people during my flight experience besides myself so I was able to personally look at my own adaptation process, both physiologic, what the body does in response to zero gravity and behavioral, how you learn to operate and perform in zero gravity and then I saw that in various other people as well, people who had had rich flight experiences, people who were doing their first space flights and being there only for a short period of time and all of these folks had, I think, a fairly wide envelope of performance capabilities and flight experiences, all of them very successful."

Nicole Stott, another previous resident of the International Space Station, is taking a second trip the orbital laboratory. Born in Albany, New York, and raised in Clearwater, Florida, she attended Embry-Riddle Aeronautical University before going to work as a structural design engineer at Pratt & Whitney. Stott then became a Kennedy Space Center worker on space shuttles and station hardware on the road to becoming an astronaut.

Her station voyage in 2009 started by launching on Discovery's STS-128 mission and returning to Earth some 91 days later on Atlantis' STS-129 flight.

"For me this literally a dream come true. I thought, while I was working at Kennedy Space Center, how can it get any better than this? How can physically here working on the ground with these magnificent vehicles, how can it get any better? And then just every step of the way, it's gotten better," Stott says.

"This is a vehicle that I don't think will be rivaled for a long time, really and truly, just a masterpiece kind of vehicle and I hope that in this time of retiring shuttles we're really taking the opportunity to celebrate how accomplished they have been."



The official embroidered crew patch for shuttle Discovery's final flight is available in our store. Free shipping to U.S. addresses!


U.S. SHOPPERS | WORLDWIDE





Additional coverage for subscribers:


VIDEO: ASTRONAUTS ARRIVE AT LAUNCH SITE AGAIN PLAY | HI-DEF


VIDEO: DISCOVERY CLEARED FOR LAUNCH ON FEB. 24 PLAY



VIDEO: STEVE BOWEN BEGINS CREW TRAINING PLAY | HI-DEF



VIDEO: SUN RISES OVER SPACEPORT AFTER ROLLOUT PLAY | HI-DEF


VIDEO: SHUTTLE ARRIVES ATOP LAUNCH PAD 39A AGAIN PLAY | HI-DEF


VIDEO: CROWDS CHEER ON DISCOVERY'S ROLLOUT PLAY | HI-DEF


VIDEO: DISCOVERY RE-EMERGES FROM THE VAB PLAY | HI-DEF


VIDEO: LAUNCH TEAM PRACTICES PROCEDURES PLAY | HI-DEF



VIDEO: FRESH FOAM APPLIED TO EXTERNAL TANK PLAY | HI-DEF



VIDEO: ROOT CAUSE OF SHUTTLE TANK CRACKS FOUND PLAY



VIDEO: REPAIRS AND STRENGTHENING TO TANK PLAY | HI-DEF


VIDEO: DIGITAL X-RAY INSPECTIONS IN THE VAB PLAY | HI-DEF


VIDEO: WORK UNDERWAY TO REMOVE FOAM AND SENSORS PLAY | HI-DEF


VIDEO: SETTING UP ACCESS PLATFORMS AROUND TANK PLAY | HI-DEF



VIDEO: SHUTTLE ROLLED BACK TO ASSEMBLY BUILDING PLAY | HI-DEF


VIDEO: DISCOVERY DEPARTS LAUNCH PAD 39A PLAY | HI-DEF


VIDEO: LUNAR ECLIPSE OVER DISCOVERY PLAY | HI-DEF



VIDEO: HIGHLIGHTS FROM THE FUELING TEST PLAY | HI-DEF


VIDEO: RECAP OF THE FUELING EXERCISE PLAY


VIDEO: FUELING TEST COUNTDOWN UPDATE PLAY


VIDEO: COMMENTS FROM SHUTTLE LAUNCH DIRECTOR PLAY


VIDEO: GROUND UMBILICAL CARRIER PLATE CHECKED PLAY


VIDEO: INFO ON EXTERNAL TANK INSTRUMENTATION PLAY


VIDEO: DETAILED INFORMATION ON SPECIAL FUELING TEST PLAY



VIDEO: SHUTTLE DISCOVERY'S LAUNCH DELAYED TO FEBRUARY PLAY



VIDEO: FINAL PREPS FOR INSTRUMENTED TEST PLAY | HI-DEF


VIDEO: STRAIN GAUGES ATTACHED TO TANK PLAY | HI-DEF


VIDEO: BACKSCATTER INSPECTIONS OF TANK MIDSECTION PLAY | HI-DEF



VIDEO: INSTALLING DOUBLERS OVER STRINGERS PLAY | HI-DEF


VIDEO: GASEOUS HYDROGEN VENT ARM RETURNED PLAY | HI-DEF


VIDEO: DOUBLERS TO BEEF UP CRACKED BEAMS PLAY | HI-DEF


VIDEO: HYDROGEN FITTING IS REINSTALLED PLAY | HI-DEF


VIDEO: OPENING UP TANK'S ENTRANCE DOOR PLAY | HI-DEF


VIDEO: GUCP DETACHED AND SEALS REMOVED PLAY | HI-DEF


VIDEO: BROKEN FOAM REMOVED FROM THE TANK PLAY | HI-DEF


VIDEO: VENT ARM LETS GO FROM LEAKY GUCP PLAY | HI-DEF


VIDEO: DISCOVERY AWAITS REPAIRS TO TANK PROBLEMS PLAY | HI-DEF



VIDEO: INFORMATIVE DESCRIPTION OF TANK CRACK PROBLEM PLAY


VIDEO: DISCOVERY'S LAUNCH DELAYED TO MID-DECEMBER PLAY



VIDEO: GASEOUS HYDROGEN VENT ARM DETACHED FROM SHUTTLE PLAY



VIDEO: STS-133 MISSION PREVIEW MOVIE PLAY | HI-DEF


VIDEO: SHUTTLE DISCOVERY CREW BIOGRAPHIES PLAY | HI-DEF


VIDEO: ISS EXPEDITION 25-26 PREVIEW MOVIE PLAY | HI-DEF


VIDEO: SPACE STATION CREW BIOGRAPHIES PLAY | HI-DEF



VIDEO: POST-SCRUB NEWS BRIEFING ON LEAK PLAY


VIDEO: GASEOUS HYDROGEN LEAK SCRUBS LAUNCH PLAY | HI-DEF


VIDEO: BAD WEATHER DELAYS DISCOVERY LAUNCH PLAY


VIDEO: ELECTRICAL ISSUE NO LONGER A CONCERN FOR DISCOVERY PLAY


VIDEO: LAUNCH POSTPONED BY ELECTRICAL CONCERN PLAY


VIDEO: TUESDAY MORNING'S COUNTDOWN STATUS CHECK PLAY


VIDEO: DISCOVERY'S PRE-LAUNCH NEWS CONFERENCE PLAY


VIDEO: COUNTDOWN PREVIEW BRIEFING AND WEATHER FORECAST PLAY


VIDEO: ANOTHER 24-HOUR DELAY ORDERED TO FINISH REPAIRS PLAY


VIDEO: LAUNCH DELAYED 24 HOURS BY LEAK REPAIRS PLAY



VIDEO: ASTRONAUTS ARRIVE FOR LAUNCH PLAY | HI-DEF



VIDEO: FLIGHT READINESS REVIEW SETS LAUNCH DATE PLAY



VIDEO: SHUTTLE AND STATION PROGRAM BRIEFING PLAY


VIDEO: THE STS-133 MISSION OVERVIEW PRESENTATIONS PLAY


VIDEO: PREVIEW BRIEFING ON MISSION'S SPACEWALKS PLAY


VIDEO: IN-DEPTH BACKGROUND ON ROBONAUT 2 HUMANOID PLAY


VIDEO: THE ASTRONAUTS' PRE-FLIGHT NEWS BRIEFING PLAY



VIDEO: PAYLOAD BAY DOORS CLOSED FOR LAUNCH PLAY | HI-DEF


VIDEO: CREW LEAVES KSC FOR TRIP TO HOUSTON PLAY | HI-DEF


VIDEO: ASTRONAUTS INSPECT THE PAYLOAD BAY PLAY | HI-DEF


VIDEO: SHUTTLE EVACUATION PRACTICE PLAY | HI-DEF


VIDEO: ASTRONAUTS EGRESS SHUTTLE AS SEEN LIVE PLAY


VIDEO: ASTRONAUTS BOARD DISCOVERY PLAY | HI-DEF


VIDEO: SUN RISES ON LAUNCH PAD 39A PLAY | HI-DEF


VIDEO: LAUNCH DAY REHEARSAL BEGINS PLAY | HI-DEF


VIDEO: COMMEMORATIVE WALL SIGNING IN VAB PLAY | HI-DEF


VIDEO: CREW BRIEFED ON EMERGENCY PROCEDURES PLAY | HI-DEF


VIDEO: IN SHUTTLE TRAINING AIRCRAFT'S COCKPIT PLAY | HI-DEF


VIDEO: TEST-DRIVING AN EMERGENCY ARMORED TANK PLAY | HI-DEF



VIDEO: PRE-LAUNCH INTERVIEW WITH STEVE LINDSEY PLAY


VIDEO: PRE-LAUNCH INTERVIEW WITH ERIC BOE PLAY


VIDEO: PRE-LAUNCH INTERVIEW WITH AL DREW PLAY


VIDEO: PRE-LAUNCH INTERVIEW WITH TIM KOPRA PLAY


VIDEO: PRE-LAUNCH INTERVIEW WITH MIKE BARRATT PLAY


VIDEO: PRE-LAUNCH INTERVIEW WITH NICOLE STOTT PLAY



VIDEO: PAYLOADS INSTALLED INTO DISCOVERY PLAY | HI-DEF


VIDEO: MISSION PAYLOADS ARRIVE AT LAUNCH PAD PLAY | HI-DEF


VIDEO: CANISTER HAULING PAYLOADS TURNED UPRIGHT PLAY | HI-DEF


VIDEO: MODULE HOISTED INTO SHIPPING CANISTER PLAY | HI-DEF


VIDEO: WEIGHING NEW SPACE STATION MODULE PLAY | HI-DEF



VIDEO: GANTRY PLACED AROUND DISCOVERY PLAY | HI-DEF


VIDEO: SHUTTLE ATLANTIS REACHES PAD 39A PLAY | HI-DEF


VIDEO: CROWDS WATCH DISCOVERY'S FINAL ROLLOUT PLAY | HI-DEF



VIDEO: SHUTTLE HOISTED FOR ATTACHMENT TO TANK PLAY | HI-DEF


VIDEO: CRANE ROTATES THE ORBITER VERTICALLY PLAY | HI-DEF


VIDEO: DISCOVERY DEPARTS ITS HANGAR PLAY | HI-DEF



VIDEO: TIME-LAPSE SHOWS DISCOVERY ASCENDING IN VAB PLAY


VIDEO: TIME-LAPSE SHOWS THE MOVE TO ASSEMBLY BUILDING PLAY



VIDEO: DISCOVERY'S MAIDEN FLIGHT: FIRST TRIP TO VAB PLAY


VIDEO: DISCOVERY'S MAIDEN FLIGHT: ROLLOUT TO PAD 39A PLAY


VIDEO: DISCOVERY'S MAIDEN FLIGHT: TEST-FIRING ENGINES PLAY


VIDEO: DISCOVERY'S MAIDEN FLIGHT: ASSORTED VIEWS OF FRF PLAY



VIDEO: THE HISTORY OF SHUTTLE DISCOVERY PLAY


VIDEO: THE HISTORY OF SHUTTLE ENDEAVOUR PLAY


VIDEO: THE HISTORY OF SHUTTLE ATLANTIS PLAY



VIDEO: INSPECTION OF THE MISSION PAYLOADS PLAY | HI-DEF


VIDEO: ROBONAUT ARRIVES AT KENNEDY SPACE CENTER PLAY | HI-DEF


VIDEO: SPACE STATION'S SPARE THERMAL RADIATOR PLAY | HI-DEF


VIDEO: BLANKETING LEONARDO WITH INSULATION PLAY | HI-DEF


VIDEO: RACK INSERTED INTO LEONARDO FOR LAUNCH PLAY | HI-DEF


VIDEO: LEONARDO RETURNS FROM ITS PREVIOUS FLIGHT PLAY | HI-DEF


VIDEO: STATION'S SPARE PARTS DEPOT ARRIVES PLAY | HI-DEF



VIDEO: ORBITER'S PAYLOAD BAY CLOSED FOR ROLLOUT PLAY | HI-DEF


VIDEO: ASTRONAUTS VISIT THEIR SPACECRAFT PLAY | HI-DEF


VIDEO: CREW INSPECTS LEONARDO MODULE PLAY | HI-DEF


VIDEO: DISCOVERY RECEIVES ITS MAIN ENGINES PLAY | HI-DEF


VIDEO: FUEL TANK MATED TO SOLID ROCKET BOOSTERS PLAY | HI-DEF


VIDEO: HOISTING FUEL TANK INTO CHECKOUT BAY PLAY | HI-DEF


VIDEO: EXTERNAL FUEL TANK UNLOADED FROM BARGE PLAY | HI-DEF


VIDEO: MISSION'S FUEL TANK ARRIVES AT SPACEPORT PLAY | HI-DEF



VIDEO: POST-FLIGHT DESERVICING: OMS POD PLAY | HI-DEF


VIDEO: POST-FLIGHT DESERVICING: OBSS BOOM PLAY | HI-DEF


VIDEO: POST-FLIGHT DESERVICING: ENGINES PLAY | HI-DEF


SUBSCRIBE NOW