Weather postpones shuttle Discovery's final launch
BY WILLIAM HARWOOD
STORY WRITTEN FOR CBS NEWS "SPACE PLACE" & USED WITH PERMISSION
Posted: November 4, 2010


KENNEDY SPACE CENTER, Fla.--With rain showers and low clouds sweeping over NASA's Florida spaceport, agency managers decided early Thursday not to fuel the shuttle Discovery, delaying launch another 24 hours to Friday at 3:04 p.m. EDT. While conditions will improve in the wake of a cold front, forecasters are predicting a 40 percent chance of high winds that could cause another scrub.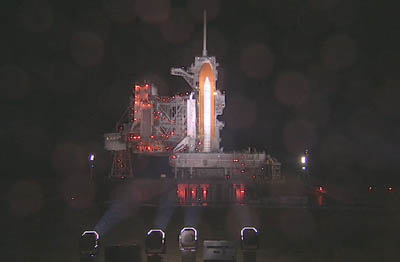 Credit: NASA TV



NASA's Mission Management Team made the decision to delay launch after a 5:30 a.m. telecon and a weather briefing that called for a broken decks of clouds at 3,000 and 6,000, overcast at 15,000 feet, winds out of 240 degrees at 13 knots with gusts to 20 and showers within 20 nautical miles of the runway.

The low clouds, showers and winds were in violation of NASA flight safety rules and the Mission Management Team decided to call off Thursday's launch attempt.

"Our team was prepared and ready to execute tanking this morning," said Pete Nickolenko, the assistant launch director. "Our tanking weather would have been acceptable, however the launch forecast continues to be poor, with solid rain showers forecast throughout the course of the day. ... The team concluded it was not prudent to pick up with tanking today. At this point, we're going to be inserting a 24-hour delay in our countdown procedures."

The forecast for Friday calls for few clouds and no rain. But forecasters are predicting winds out of 330 degrees at 17 knots with gusts to 26, a violation of the launch weather guidelines. The overall forecast calls for a 40 percent chance of local weather prohibiting launch. The odds worsen to 60 percent "no-go" on Saturday.

"The weather forecasters did indicate this frontal system should pass through later tonight and of course, on the backside of a cold front we'll get drier weather. Of course, it'll be windier, too, so we'll be watching the winds tomorrow to see what the launch winds and the potential headwind issues may be, if any, for us. And then also we'll be watching the upper level winds."

As it now stands, engineers plan to begin fueling Discovery at 5:39 a.m. Friday. The shuttle's six-member crew -- commander Steven Lindsey, pilot Eric Boe, Nicole Stott, Michael Barratt and spacewalkers Timothy Kopra and Alvin Drew -- will begin strapping in around 11:44 a.m. to await liftoff at 3:04:00 p.m.

Assuming an on-time launch, Lindsey will guide Discovery to a docking with the International Space Station at 10:55 a.m. Sunday. Spacewalks are planned for Nov. 9 and 11. If all goes well, Discovery will undock at 4:21 a.m. on Nov. 14 and land back at the Kennedy Space Center at 9:16 a.m. on Nov. 16.

Discovery's current launch window closes Sunday due to temperature constraints after the shuttle is docked to the International Space Station. Flight controllers are assessing whether the window could be extended another day or so, but that has not yet been decided.

Either way, if Discovery does not get off during the current window, the flight will be delayed to December. The year's final shuttle window opens Dec. 1 and closes Dec. 5.



The official embroidered crew patch for shuttle Discovery's final flight is available in our store. Free shipping to U.S. addresses!


U.S. SHOPPERS | WORLDWIDE





Additional coverage for subscribers:


VIDEO: BAD WEATHER DELAYS DISCOVERY LAUNCH PLAY


VIDEO: ELECTRICAL ISSUE NO LONGER A CONCERN FOR DISCOVERY PLAY


VIDEO: LAUNCH POSTPONED BY ELECTRICAL CONCERN PLAY


VIDEO: TUESDAY MORNING'S COUNTDOWN STATUS CHECK PLAY


VIDEO: DISCOVERY'S PRE-LAUNCH NEWS CONFERENCE PLAY


VIDEO: COUNTDOWN PREVIEW BRIEFING AND WEATHER FORECAST PLAY


VIDEO: ANOTHER 24-HOUR DELAY ORDERED TO FINISH REPAIRS PLAY


VIDEO: LAUNCH DELAYED 24 HOURS BY LEAK REPAIRS PLAY



VIDEO: ASTRONAUTS ARRIVE FOR LAUNCH PLAY | HI-DEF



VIDEO: FLIGHT READINESS REVIEW SETS LAUNCH DATE PLAY



VIDEO: SHUTTLE AND STATION PROGRAM BRIEFING PLAY


VIDEO: THE STS-133 MISSION OVERVIEW PRESENTATIONS PLAY


VIDEO: PREVIEW BRIEFING ON MISSION'S SPACEWALKS PLAY


VIDEO: IN-DEPTH BACKGROUND ON ROBONAUT 2 HUMANOID PLAY


VIDEO: THE ASTRONAUTS' PRE-FLIGHT NEWS BRIEFING PLAY



VIDEO: PAYLOAD BAY DOORS CLOSED FOR LAUNCH PLAY | HI-DEF


VIDEO: CREW LEAVES KSC FOR TRIP TO HOUSTON PLAY | HI-DEF


VIDEO: ASTRONAUTS INSPECT THE PAYLOAD BAY PLAY | HI-DEF


VIDEO: SHUTTLE EVACUATION PRACTICE PLAY | HI-DEF


VIDEO: ASTRONAUTS EGRESS SHUTTLE AS SEEN LIVE PLAY


VIDEO: ASTRONAUTS BOARD DISCOVERY PLAY | HI-DEF


VIDEO: SUN RISES ON LAUNCH PAD 39A PLAY | HI-DEF


VIDEO: LAUNCH DAY REHEARSAL BEGINS PLAY | HI-DEF


VIDEO: COMMEMORATIVE WALL SIGNING IN VAB PLAY | HI-DEF


VIDEO: CREW BRIEFED ON EMERGENCY PROCEDURES PLAY | HI-DEF


VIDEO: IN SHUTTLE TRAINING AIRCRAFT'S COCKPIT PLAY | HI-DEF


VIDEO: TEST-DRIVING AN EMERGENCY ARMORED TANK PLAY | HI-DEF



VIDEO: PRE-LAUNCH INTERVIEW WITH STEVE LINDSEY PLAY


VIDEO: PRE-LAUNCH INTERVIEW WITH ERIC BOE PLAY


VIDEO: PRE-LAUNCH INTERVIEW WITH AL DREW PLAY


VIDEO: PRE-LAUNCH INTERVIEW WITH TIM KOPRA PLAY


VIDEO: PRE-LAUNCH INTERVIEW WITH MIKE BARRATT PLAY


VIDEO: PRE-LAUNCH INTERVIEW WITH NICOLE STOTT PLAY



VIDEO: PAYLOADS INSTALLED INTO DISCOVERY PLAY | HI-DEF


VIDEO: MISSION PAYLOADS ARRIVE AT LAUNCH PAD PLAY | HI-DEF


VIDEO: CANISTER HAULING PAYLOADS TURNED UPRIGHT PLAY | HI-DEF


VIDEO: MODULE HOISTED INTO SHIPPING CANISTER PLAY | HI-DEF


VIDEO: WEIGHING NEW SPACE STATION MODULE PLAY | HI-DEF



VIDEO: GANTRY PLACED AROUND DISCOVERY PLAY | HI-DEF


VIDEO: SHUTTLE ATLANTIS REACHES PAD 39A PLAY | HI-DEF


VIDEO: CROWDS WATCH DISCOVERY'S FINAL ROLLOUT PLAY | HI-DEF



VIDEO: SHUTTLE HOISTED FOR ATTACHMENT TO TANK PLAY | HI-DEF


VIDEO: CRANE ROTATES THE ORBITER VERTICALLY PLAY | HI-DEF


VIDEO: DISCOVERY DEPARTS ITS HANGAR PLAY | HI-DEF



VIDEO: TIME-LAPSE SHOWS DISCOVERY ASCENDING IN VAB PLAY


VIDEO: TIME-LAPSE SHOWS THE MOVE TO ASSEMBLY BUILDING PLAY



VIDEO: DISCOVERY'S MAIDEN FLIGHT: FIRST TRIP TO VAB PLAY


VIDEO: DISCOVERY'S MAIDEN FLIGHT: ROLLOUT TO PAD 39A PLAY


VIDEO: DISCOVERY'S MAIDEN FLIGHT: TEST-FIRING ENGINES PLAY


VIDEO: DISCOVERY'S MAIDEN FLIGHT: ASSORTED VIEWS OF FRF PLAY



VIDEO: THE HISTORY OF SHUTTLE DISCOVERY PLAY


VIDEO: THE HISTORY OF SHUTTLE ENDEAVOUR PLAY


VIDEO: THE HISTORY OF SHUTTLE ATLANTIS PLAY



VIDEO: INSPECTION OF THE MISSION PAYLOADS PLAY | HI-DEF


VIDEO: ROBONAUT ARRIVES AT KENNEDY SPACE CENTER PLAY | HI-DEF


VIDEO: SPACE STATION'S SPARE THERMAL RADIATOR PLAY | HI-DEF


VIDEO: BLANKETING LEONARDO WITH INSULATION PLAY | HI-DEF


VIDEO: RACK INSERTED INTO LEONARDO FOR LAUNCH PLAY | HI-DEF


VIDEO: LEONARDO RETURNS FROM ITS PREVIOUS FLIGHT PLAY | HI-DEF


VIDEO: STATION'S SPARE PARTS DEPOT ARRIVES PLAY | HI-DEF



VIDEO: ORBITER'S PAYLOAD BAY CLOSED FOR ROLLOUT PLAY | HI-DEF


VIDEO: ASTRONAUTS VISIT THEIR SPACECRAFT PLAY | HI-DEF


VIDEO: CREW INSPECTS LEONARDO MODULE PLAY | HI-DEF


VIDEO: DISCOVERY RECEIVES ITS MAIN ENGINES PLAY | HI-DEF


VIDEO: FUEL TANK MATED TO SOLID ROCKET BOOSTERS PLAY | HI-DEF


VIDEO: HOISTING FUEL TANK INTO CHECKOUT BAY PLAY | HI-DEF


VIDEO: EXTERNAL FUEL TANK UNLOADED FROM BARGE PLAY | HI-DEF


VIDEO: MISSION'S FUEL TANK ARRIVES AT SPACEPORT PLAY | HI-DEF



VIDEO: POST-FLIGHT DESERVICING: OMS POD PLAY | HI-DEF


VIDEO: POST-FLIGHT DESERVICING: OBSS BOOM PLAY | HI-DEF


VIDEO: POST-FLIGHT DESERVICING: ENGINES PLAY | HI-DEF


SUBSCRIBE NOW