Shuttle Discovery cleared for blastoff next Monday
BY WILLIAM HARWOOD
STORY WRITTEN FOR CBS NEWS "SPACE PLACE" & USED WITH PERMISSION
Posted: October 25, 2010


After reviewing normal processing and weekend work to fix a small fuel leak, NASA managers Monday cleared the shuttle Discovery for an election-eve launch Nov. 1 to begin a space station resupply mission, the orbiter's 39th and final flight.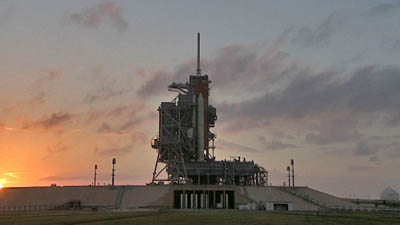 Credit: NASA TV



Testing indicates new seals in a suspect flange are properly seated and holding pressure with no signs of additional seepage. Assuming no other problems develop, engineers believe they will be ready to start Discovery's countdown at 3 p.m. (1900 GMT) Friday, setting up a launch attempt at 4:40:26 p.m. EDT (2040:26 GMT) Monday.

"We're in great shape out at the pad," Launch Director Michael Leinbach told reporters. "We've used up our four days of contingency for that leak repair, but we're right on schedule now. ... I see no reason right now at all that we can't get into the launch countdown per plan on Friday afternoon."

Discovery's all-veteran crew -- commander Steven Lindsey, pilot Eric Boe, Nicole Stott, Michael Barratt and spacewalkers Timothy Kopra and Alvin Drew -- plans to fly to the Kennedy Space Center from Houston on Thursday to prepare for flight.

The primary goals of the 133rd shuttle mission are to deliver and install a final U.S. pressurized module loaded with equipment and supplies, to mount a spare radiator panel on the station's power truss, to deliver an experimental robot and to stage two spacewalks to carry out a variety of assembly and maintenance tasks.

The mission comes just shy of the 12th anniversary of the start of station construction Nov. 20, 1998, and the 10th anniversary of the first crew's arrival on Nov. 2, 2000. On Monday, yet another milestone was achieved as the international lab complex, continuously manned for 3,644 days, eclipsed the previous record set by the Russian Mir space station.

Assuming an on-time launch, Lindsey plans to guide Discovery to its 13th and final ISS docking around 1:18 p.m. (1718 GMT) Nov. 3. The first spacewalk will get underway at 10:35 a.m. (1435 GMT) on Nov. 5 and the permanent multi-purpose module, or PMM, will be attached to the central Unity module's Earth-facing port the next day.

"It's pretty exciting that Discovery is going to take up the last major United States module to the station,' shuttle Program Manager John Shannon said last week. "We're making good on our promise that we would get the space station in the absolute best possible config we could with spares and equipment before we retire the space shuttle."

Kopra and Drew plan a second spacewalk on Nov. 7. If all goes well, Discovery will undock from the station around 5:40 a.m. (1040 GMT) on Nov. 10, setting up a landing back at the Kennedy Space Center around 10:38 a.m. (1538 GMT) on Nov. 12.

Senior NASA managers attended an all-day executive-level flight readiness review Monday at the Kennedy Space Center and formally cleared Discovery for launch Nov. 1. The window extends through Nov. 7. The next shuttle launch window opens Dec. 1.

Last week, NASA managers ordered the replacement of two internal seals in a fuel-line flange in the plumbing of Discovery's orbital maneuvering system rocket pods that had shown signs of a small leak of toxic monomethyl hydrazine rocket fuel.

The leak appeared to stop during torque checks of the six bolts holding the flange together, but because of the volatile nature of the fuel, shuttle integration manager Mike Moses ordered the seals replaced to return the flange to a known pristine state.

Working through the weekend, engineers drained propellants from the OMS pod system, vacuum-dried the lines, took the flange apart and replaced the two internal seals. After reassembling the flange, the OMS pod propellant tanks were reloaded Sunday. Subsequent tests showed the flange was tight with no signs of any seepage.

"It was a very, very tough job," Leinbach said of the repair work. "Our technicians really came through with flying colors, It was an outstanding job."

As for what caused the leak in the first place, there were no obvious signs of damage to the seals or the flange mating surfaces. Leinbach said engineers suspect "transient contamination" might be the culprit.

There were no other issues of any significance. Shuttle integration manager Mike Moses said engineers discussed erosion damage seen in the nozzle of a five-segment booster test fired in Utah in late August. But the shuttle boosters use four segments and a different nozzle design. No such damage has ever been seen in a shuttle booster and NASA managers cleared Discovery's twin SRBs for launch.


Additional coverage for subscribers:


VIDEO: FLIGHT READINESS REVIEW SETS LAUNCH DATE PLAY



VIDEO: SHUTTLE AND STATION PROGRAM BRIEFING PLAY


VIDEO: THE STS-133 MISSION OVERVIEW PRESENTATIONS PLAY


VIDEO: PREVIEW BRIEFING ON MISSION'S SPACEWALKS PLAY


VIDEO: IN-DEPTH BACKGROUND ON ROBONAUT 2 HUMANOID PLAY


VIDEO: THE ASTRONAUTS' PRE-FLIGHT NEWS BRIEFING PLAY



VIDEO: PAYLOAD BAY DOORS CLOSED FOR LAUNCH PLAY | HI-DEF


VIDEO: CREW LEAVES KSC FOR TRIP TO HOUSTON PLAY | HI-DEF


VIDEO: ASTRONAUTS INSPECT THE PAYLOAD BAY PLAY | HI-DEF


VIDEO: SHUTTLE EVACUATION PRACTICE PLAY | HI-DEF


VIDEO: ASTRONAUTS EGRESS SHUTTLE AS SEEN LIVE PLAY


VIDEO: ASTRONAUTS BOARD DISCOVERY PLAY | HI-DEF


VIDEO: SUN RISES ON LAUNCH PAD 39A PLAY | HI-DEF


VIDEO: LAUNCH DAY REHEARSAL BEGINS PLAY | HI-DEF


VIDEO: COMMEMORATIVE WALL SIGNING IN VAB PLAY | HI-DEF


VIDEO: CREW BRIEFED ON EMERGENCY PROCEDURES PLAY | HI-DEF


VIDEO: IN SHUTTLE TRAINING AIRCRAFT'S COCKPIT PLAY | HI-DEF


VIDEO: TEST-DRIVING AN EMERGENCY ARMORED TANK PLAY | HI-DEF



VIDEO: PRE-LAUNCH INTERVIEW WITH STEVE LINDSEY PLAY


VIDEO: PRE-LAUNCH INTERVIEW WITH ERIC BOE PLAY


VIDEO: PRE-LAUNCH INTERVIEW WITH AL DREW PLAY


VIDEO: PRE-LAUNCH INTERVIEW WITH TIM KOPRA PLAY


VIDEO: PRE-LAUNCH INTERVIEW WITH MIKE BARRATT PLAY


VIDEO: PRE-LAUNCH INTERVIEW WITH NICOLE STOTT PLAY



VIDEO: PAYLOADS INSTALLED INTO DISCOVERY PLAY | HI-DEF


VIDEO: MISSION PAYLOADS ARRIVE AT LAUNCH PAD PLAY | HI-DEF


VIDEO: CANISTER HAULING PAYLOADS TURNED UPRIGHT PLAY | HI-DEF


VIDEO: MODULE HOISTED INTO SHIPPING CANISTER PLAY | HI-DEF


VIDEO: WEIGHING NEW SPACE STATION MODULE PLAY | HI-DEF



VIDEO: GANTRY PLACED AROUND DISCOVERY PLAY | HI-DEF


VIDEO: SHUTTLE ATLANTIS REACHES PAD 39A PLAY | HI-DEF


VIDEO: CROWDS WATCH DISCOVERY'S FINAL ROLLOUT PLAY | HI-DEF



VIDEO: SHUTTLE HOISTED FOR ATTACHMENT TO TANK PLAY | HI-DEF


VIDEO: CRANE ROTATES THE ORBITER VERTICALLY PLAY | HI-DEF


VIDEO: DISCOVERY DEPARTS ITS HANGAR PLAY | HI-DEF



VIDEO: TIME-LAPSE SHOWS DISCOVERY ASCENDING IN VAB PLAY


VIDEO: TIME-LAPSE SHOWS THE MOVE TO ASSEMBLY BUILDING PLAY



VIDEO: DISCOVERY'S MAIDEN FLIGHT: FIRST TRIP TO VAB PLAY


VIDEO: DISCOVERY'S MAIDEN FLIGHT: ROLLOUT TO PAD 39A PLAY


VIDEO: DISCOVERY'S MAIDEN FLIGHT: TEST-FIRING ENGINES PLAY


VIDEO: DISCOVERY'S MAIDEN FLIGHT: ASSORTED VIEWS OF FRF PLAY



VIDEO: THE HISTORY OF SHUTTLE DISCOVERY PLAY


VIDEO: THE HISTORY OF SHUTTLE ENDEAVOUR PLAY


VIDEO: THE HISTORY OF SHUTTLE ATLANTIS PLAY



VIDEO: INSPECTION OF THE MISSION PAYLOADS PLAY | HI-DEF


VIDEO: ROBONAUT ARRIVES AT KENNEDY SPACE CENTER PLAY | HI-DEF


VIDEO: SPACE STATION'S SPARE THERMAL RADIATOR PLAY | HI-DEF


VIDEO: BLANKETING LEONARDO WITH INSULATION PLAY | HI-DEF


VIDEO: RACK INSERTED INTO LEONARDO FOR LAUNCH PLAY | HI-DEF


VIDEO: LEONARDO RETURNS FROM ITS PREVIOUS FLIGHT PLAY | HI-DEF


VIDEO: STATION'S SPARE PARTS DEPOT ARRIVES PLAY | HI-DEF



VIDEO: ORBITER'S PAYLOAD BAY CLOSED FOR ROLLOUT PLAY | HI-DEF


VIDEO: ASTRONAUTS VISIT THEIR SPACECRAFT PLAY | HI-DEF


VIDEO: CREW INSPECTS LEONARDO MODULE PLAY | HI-DEF


VIDEO: DISCOVERY RECEIVES ITS MAIN ENGINES PLAY | HI-DEF


VIDEO: FUEL TANK MATED TO SOLID ROCKET BOOSTERS PLAY | HI-DEF


VIDEO: HOISTING FUEL TANK INTO CHECKOUT BAY PLAY | HI-DEF


VIDEO: EXTERNAL FUEL TANK UNLOADED FROM BARGE PLAY | HI-DEF


VIDEO: MISSION'S FUEL TANK ARRIVES AT SPACEPORT PLAY | HI-DEF



VIDEO: POST-FLIGHT DESERVICING: OMS POD PLAY | HI-DEF


VIDEO: POST-FLIGHT DESERVICING: OBSS BOOM PLAY | HI-DEF


VIDEO: POST-FLIGHT DESERVICING: ENGINES PLAY | HI-DEF


SUBSCRIBE NOW