NASA optimistic shuttle seal changeout will fix leak
BY WILLIAM HARWOOD
STORY WRITTEN FOR CBS NEWS "SPACE PLACE" & USED WITH PERMISSION
Posted: October 21, 2010


Engineers geared up Thursday to drain toxic rocket fuel from the shuttle Discovery's orbital maneuvering system rocket pods before beginning weekend work to replace suspect seals in a fuel-line flange to fix an on-again off-again leak. Engineers say the schedule is tight, but they believe they can complete repairs in time for Discovery's planned Nov. 1 launch on a space station resupply mission.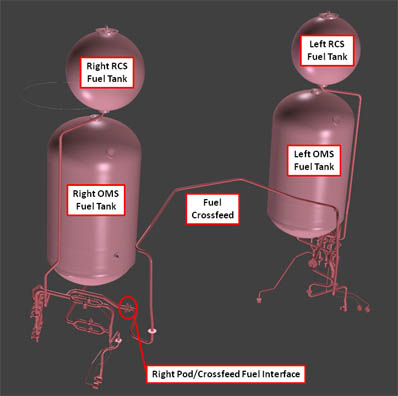 This diagram shows the leak site. Credit: NASA



"We did some troubleshooting on it, it looked like the leak stopped," shuttle Program Manager John Shannon told reporters Thursday. "But the tenet that we have is we fly with accepted risk, we don't fly with unknown risk. And I characterize this as an unknown risk case because we didn't understand why we had that small leak."

Discovery's countdown is scheduled to begin at 3 p.m. EDT (19:00 GMT) on Oct. 29, setting up a launch attempt at 4:40 p.m. (20:40 GMT) on Nov. 1. Along with monitoring the repair work and normal processing at pad 39A, NASA managers also are keeping close tabs on Tropical Storm Richard, which some computer models predict will pass through the spaceport area before moving out into the Atlantic Ocean.

Seepage of monomethyl hydrazine, or MMH, fuel was discovered last week at a crossfeed flange in the propellant plumbing of the shuttle's right-side orbital maneuvering system rocket pod.

The shuttle is equipped with two such rocket pods, one on either side of the ship's vertical tail fin, that burn monomethyl hydrazine with an oxidizer, nitrogen tetroxide, to carry out maneuvers in orbit. Crossfeed lines in the shuttle's aft engine compartment allow propellants to be moved from one pod to the other.

The leak stopped during inspections to make sure six flange bolts were properly tightened, possibly the result of increased pressure in the line causing an internal seal to properly seat.

But shuttle integration manager Mike Moses, uncomfortable with the on-again, off-again nature of the leak, decided to forego additional tests and inspections and ordered engineers to replace two internal seals to put the flange back in pristine condition.

Because of the toxic nature of the propellants, replacing the seals requires launch pad personnel to clear the area during the fuel-draining process, interrupting normal processing. Engineers planned to begin the draining process Thursday afternoon.

Once the lines are confirmed dry, technicians wearing bulky protective pressure suits will open up the flange, inspect the sealing surfaces, polish them if necessary, install new seals and put it back together.

"The team is working very hard right now to set up all the equipment to drain the tanks, they'll do what they call educting, basically take it down to (vacuum), get it all safe," Shannon said. "Then we'll be break that flange open and look at the metal sealing surfaces, look at the two sealing rings. They're like O-rings, metal covered with Teflon inside there. We'll understand the situation and I fully believe the team will get that back together this weekend and we'll be in good shape to go fly."

If the seal replacement does not resolve the problem, Discovery's launching almost certainly would be delayed.

"If there is some other problem or significant flange damage, or if we damage it somehow in trying to repair it, then we would lay that schedule out (for repairs)," Shannon said. "But we have not done that work yet."


Additional coverage for subscribers:


VIDEO: PAYLOAD BAY DOORS CLOSED FOR LAUNCH PLAY | HI-DEF


VIDEO: CREW LEAVES KSC FOR TRIP TO HOUSTON PLAY | HI-DEF


VIDEO: ASTRONAUTS INSPECT THE PAYLOAD BAY PLAY | HI-DEF


VIDEO: SHUTTLE EVACUATION PRACTICE PLAY | HI-DEF


VIDEO: ASTRONAUTS EGRESS SHUTTLE AS SEEN LIVE PLAY


VIDEO: ASTRONAUTS BOARD DISCOVERY PLAY | HI-DEF


VIDEO: SUN RISES ON LAUNCH PAD 39A PLAY | HI-DEF


VIDEO: LAUNCH DAY REHEARSAL BEGINS PLAY | HI-DEF


VIDEO: COMMEMORATIVE WALL SIGNING IN VAB PLAY | HI-DEF


VIDEO: CREW BRIEFED ON EMERGENCY PROCEDURES PLAY | HI-DEF


VIDEO: IN SHUTTLE TRAINING AIRCRAFT'S COCKPIT PLAY | HI-DEF


VIDEO: TEST-DRIVING AN EMERGENCY ARMORED TANK PLAY | HI-DEF



VIDEO: PRE-LAUNCH INTERVIEW WITH STEVE LINDSEY PLAY


VIDEO: PRE-LAUNCH INTERVIEW WITH ERIC BOE PLAY


VIDEO: PRE-LAUNCH INTERVIEW WITH AL DREW PLAY


VIDEO: PRE-LAUNCH INTERVIEW WITH TIM KOPRA PLAY


VIDEO: PRE-LAUNCH INTERVIEW WITH MIKE BARRATT PLAY


VIDEO: PRE-LAUNCH INTERVIEW WITH NICOLE STOTT PLAY



VIDEO: PAYLOADS INSTALLED INTO DISCOVERY PLAY | HI-DEF


VIDEO: MISSION PAYLOADS ARRIVE AT LAUNCH PAD PLAY | HI-DEF


VIDEO: CANISTER HAULING PAYLOADS TURNED UPRIGHT PLAY | HI-DEF


VIDEO: MODULE HOISTED INTO SHIPPING CANISTER PLAY | HI-DEF


VIDEO: WEIGHING NEW SPACE STATION MODULE PLAY | HI-DEF



VIDEO: GANTRY PLACED AROUND DISCOVERY PLAY | HI-DEF


VIDEO: SHUTTLE ATLANTIS REACHES PAD 39A PLAY | HI-DEF


VIDEO: CROWDS WATCH DISCOVERY'S FINAL ROLLOUT PLAY | HI-DEF



VIDEO: SHUTTLE HOISTED FOR ATTACHMENT TO TANK PLAY | HI-DEF


VIDEO: CRANE ROTATES THE ORBITER VERTICALLY PLAY | HI-DEF


VIDEO: DISCOVERY DEPARTS ITS HANGAR PLAY | HI-DEF



VIDEO: TIME-LAPSE SHOWS DISCOVERY ASCENDING IN VAB PLAY


VIDEO: TIME-LAPSE SHOWS THE MOVE TO ASSEMBLY BUILDING PLAY



VIDEO: DISCOVERY'S MAIDEN FLIGHT: FIRST TRIP TO VAB PLAY


VIDEO: DISCOVERY'S MAIDEN FLIGHT: ROLLOUT TO PAD 39A PLAY


VIDEO: DISCOVERY'S MAIDEN FLIGHT: TEST-FIRING ENGINES PLAY


VIDEO: DISCOVERY'S MAIDEN FLIGHT: ASSORTED VIEWS OF FRF PLAY



VIDEO: THE HISTORY OF SHUTTLE DISCOVERY PLAY


VIDEO: THE HISTORY OF SHUTTLE ENDEAVOUR PLAY


VIDEO: THE HISTORY OF SHUTTLE ATLANTIS PLAY



VIDEO: INSPECTION OF THE MISSION PAYLOADS PLAY | HI-DEF


VIDEO: ROBONAUT ARRIVES AT KENNEDY SPACE CENTER PLAY | HI-DEF


VIDEO: SPACE STATION'S SPARE THERMAL RADIATOR PLAY | HI-DEF


VIDEO: BLANKETING LEONARDO WITH INSULATION PLAY | HI-DEF


VIDEO: RACK INSERTED INTO LEONARDO FOR LAUNCH PLAY | HI-DEF


VIDEO: LEONARDO RETURNS FROM ITS PREVIOUS FLIGHT PLAY | HI-DEF


VIDEO: STATION'S SPARE PARTS DEPOT ARRIVES PLAY | HI-DEF



VIDEO: ORBITER'S PAYLOAD BAY CLOSED FOR ROLLOUT PLAY | HI-DEF


VIDEO: ASTRONAUTS VISIT THEIR SPACECRAFT PLAY | HI-DEF


VIDEO: CREW INSPECTS LEONARDO MODULE PLAY | HI-DEF


VIDEO: DISCOVERY RECEIVES ITS MAIN ENGINES PLAY | HI-DEF


VIDEO: FUEL TANK MATED TO SOLID ROCKET BOOSTERS PLAY | HI-DEF


VIDEO: HOISTING FUEL TANK INTO CHECKOUT BAY PLAY | HI-DEF


VIDEO: EXTERNAL FUEL TANK UNLOADED FROM BARGE PLAY | HI-DEF


VIDEO: MISSION'S FUEL TANK ARRIVES AT SPACEPORT PLAY | HI-DEF



VIDEO: POST-FLIGHT DESERVICING: OMS POD PLAY | HI-DEF


VIDEO: POST-FLIGHT DESERVICING: OBSS BOOM PLAY | HI-DEF


VIDEO: POST-FLIGHT DESERVICING: ENGINES PLAY | HI-DEF


SUBSCRIBE NOW