Spacewalk to tidy up station deferred to shuttle crew
BY WILLIAM HARWOOD
STORY WRITTEN FOR CBS NEWS "SPACE PLACE" & USED WITH PERMISSION
Posted: September 3, 2010


In the wake of a three-spacewalk coolant pump replacement, space station managers decided this week to defer additional maintenance work until the next shuttle crew arrives in November.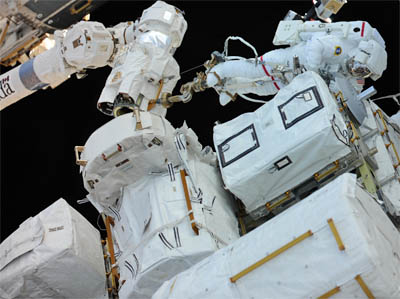 Astronaut Doug Wheelock works with the replacement pump module on the spare parts depot during an Expedition 24 spacewalk. Credit: NASA



The unexpected failure of an ammonia pump module July 31 forced station astronauts Douglas Wheelock and Tracy Caldwell Dyson to forego installation of an electrical cable that is needed before a storage module can be attached to the station during the November shuttle visit.

Instead, they installed a replacement pump over the course of three EVAs and left the faulty unit mounted on an attachment fixture at the base of the station's robot arm transporter. The old pump needs to be moved to an external storage platform.

(See our live coverage of the three pump replacement spacewalks)

Caldwell Dyson, Mikhail Kornienko and Expedition 24 commander Alexander Skvortsov are scheduled to return to Earth Sept. 24. Three fresh crew members - Scott Kelly, Alexander Kaleri and Oleg Skripochka - are scheduled for launch Oct. 7 U.S. time, three weeks before the Nov. 1 launch of the shuttle Discovery, to join Wheelock, Shannon Walker and Fyodor Yurchikhin as part of the Expedition 25 crew.

Flight planners debated having Kelly and Wheelock carry out a spacewalk before the shuttle's arrival to move the old pump and install the extension cable. But senior managers decided this week to move those tasks to the Discovery crew's timeline.

Two spacewalks by shuttle flight engineer Timothy Kopra and Al Drew already were planned for Discovery's mission to complete a variety of maintenance tasks that had been deferred from earlier missions and station expeditions.

As it now stands, Kopra and Drew will install the electrical cable and move the old pump to external storage platform No. 2 during their first spacewalk two days after docking. The cargo module will be installed the day after that using the station's robot arm.

The second spacewalk the following day will include a variety of already planned maintenance tasks. Fight planners are considering whether to add another EVA to the crew's timeline to complete additional maintenance work.

In the near term, Russian engineers are gearing up to launch an unmanned Progress supply ship Sept. 8, at 7:11 a.m. EDT, from the Baikonur Cosmodrome in Kazakhstan. If all goes well, the robotic craft will dock at the Zvezda command module's aft port around 8:40 a.m. on Sept. 10.

The Progress 39 vehicle is loaded with 1,918 pounds of propellant, 2,645 pounds of spare parts, experiment hardware, food and other supplies, 110 pounds of oxygen and 375 pounds of water.

Two weeks later, Skvortsov, Kornienko and Caldwell Dyson are scheduled to undock from the station around 11:02 p.m. Sept. 23 and to land in Kazakhstan around 2:22 a.m. on Sept. 24.


Additional coverage for subscribers:


VIDEO: THE HISTORY OF SHUTTLE DISCOVERY PLAY


VIDEO: THE HISTORY OF SHUTTLE ENDEAVOUR PLAY


VIDEO: THE HISTORY OF SHUTTLE ATLANTIS PLAY



VIDEO: ROBONAUT ARRIVES AT KENNEDY SPACE CENTER PLAY | HI-DEF


VIDEO: SPACE STATION'S SPARE THERMAL RADIATOR PLAY | HI-DEF


VIDEO: BLANKETING LEONARDO WITH INSULATION PLAY | HI-DEF


VIDEO: RACK INSERTED INTO LEONARDO FOR LAUNCH PLAY | HI-DEF


VIDEO: LEONARDO RETURNS FROM ITS PREVIOUS FLIGHT PLAY | HI-DEF


VIDEO: STATION'S SPARE PARTS DEPOT ARRIVES PLAY | HI-DEF



VIDEO: ORBITER'S PAYLOAD BAY CLOSED FOR ROLLOUT PLAY | HI-DEF


VIDEO: ASTRONAUTS VISIT THEIR SPACECRAFT PLAY | HI-DEF


VIDEO: CREW INSPECTS LEONARDO MODULE PLAY | HI-DEF


VIDEO: DISCOVERY RECEIVES ITS MAIN ENGINES PLAY | HI-DEF


VIDEO: FUEL TANK MATED TO SOLID ROCKET BOOSTERS PLAY | HI-DEF



VIDEO: POST-FLIGHT DESERVICING: OMS POD PLAY | HI-DEF


VIDEO: POST-FLIGHT DESERVICING: OBSS BOOM PLAY | HI-DEF


VIDEO: POST-FLIGHT DESERVICING: ENGINES PLAY | HI-DEF


SUBSCRIBE NOW