Atlantis completes flawless visit to the space station
BY WILLIAM HARWOOD
STORY WRITTEN FOR CBS NEWS "SPACE PLACE" & USED WITH PERMISSION
Posted: May 23, 2010


The shuttle Atlantis undocked from the International Space Station Sunday, wrapping up a week of assembly work to install a new Russian module loaded with 1.5 tons of NASA cargo, along with a backup Ku-band antenna, six new solar array batteries and more than a ton of other equipment and supplies.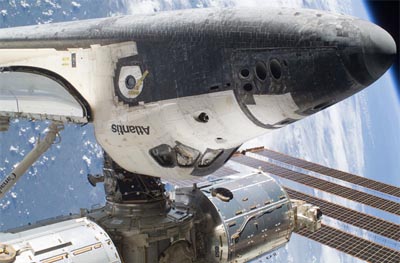 Credit: NASA TV



With pilot Dominic "Tony" Antonelli at the controls, the shuttle's payload bay docking mechanism disengaged its counterpart on the space station's forward port at 11:22 a.m. EDT as the two spacecraft sailed 220 miles above the Southern Ocean southwest of Perth, Australia.

"Houston and station, from Atlantis, physical separation," shuttle commander Kenneth Ham radioed.

"Space shuttle Atlantis, departing," flight engineer Tracy Caldwell Dyson said, ringing the ship's bell in the Harmony module as the shuttle drifted away.

"Atlantis, station is now in attitude control," flight engineer Timothy Creamer radioed a few moments later. "Hock, I've gotta tell you, you guys were consummate professionals with a great sense of humor, we were so glad to see you, loved working with you. See you soon, brother. Stay safe."

"Copy all, T.J., and same comments right back at you, brother," Ham replied.

Atlantis slowly pulled away to a point about 400 feet directly in front of the station where Antonelli began a 360-degree photo-documentation loop around the lab complex.

"I get to fly the separation," he said before launch. "I'll do a one-lap fly around of the space station. We train that a lot in the sim. It turns out the view is much better for real and the flying is more fun when you can actually feel the vehicle moving around."

The astronauts beamed down spectacular views of the space station as the shuttle looped up, over and behind the lab complex as the two spacecraft sailed above Mexico and the central United States on a southwest-to-northeast trajectory.

During a week of docked operations, the astronauts installed the 17,760-pound Russian mini-research module known as Rassvet and staged three spacewalks last Monday, Wednesday and Friday to install a backup Ku-band antenna system, an equipment mounting platform and to replace six batteries in the port-6 solar array.

The astronauts also delivered 2,192 pounds of equipment and supplies that were carried up in the shuttle's crew cabin, along with 1,300 pounds of fresh water generated by the ship's fuel cells. Some 1,763 pounds of equipment and experiment samples were transferred from the station to the shuttle's crew cabin for the trip home.

Altogether, the Atlantis astronauts delivered 28,792 pounds of equipment and supplies to the space station. Total cargo being carried back to Earth, including the old P6 batteries and the cargo pallet holding them in place, adds up to 8,229 pounds.

The Atlantis astronauts plan to carry out a final heat shield inspection Monday before packing up and testing the shuttle's re-entry systems Tuesday. Landing back at the Kennedy Space Center is targeted for 8:48 a.m. Wednesday morning, weather permitting.

Three hours before undocking, the two crews gathered for a brief farewell ceremony in the forward Harmony module.

"This is time when we have to say goodbye to our friends, our colleagues, the excellent crew of shuttle Atlantis that did an excellent job performing three EVAs, installing the new Russian module, having good fun, enjoying living on station and working in space," said Expedition 23 commander Oleg Kotov.

"They show good example of friendship, professionalism and classic attitudes in their behavior. ... So again, thank you Ken, for excellent job. We enjoyed working with you."

"Well Oleg, we are one happy shuttle crew," Ham replied. "And we are happy because of all of your effort, too. I think through our entire docked timeframe here we were a 12-person crew that operated together. And that was the only way we got everything done. ... So we are happy. But this one is to friends we're going to leave behind, and new friends that we've made, close friends. We've had a great time together.

"We are going to close the hatch shortly and we're going to depart," Ham said. "And of course, as always, it'll be a little bit sad. But we'll see you all on the surface of planet Earth again soon."

Kotov, Creamer and Japanese astronaut Soichi Noguchi plan to follow the Atlantis astronauts back to Earth in nine days, departing June 1 (U.S. time) aboard the Soyuz TMA-17 capsule for a landing in Kazakhstan to close out a six-month stay in space.

Cosmonaut Alexander Skvortsov will take command from Kotov, remaining aboard the station with Caldwell Dyson and Mikhail Kornienko as the Expedition 24 crew. They will be joined by cosmonaut Fyodor Yurchikhin, Douglas Wheelock and Shannon Walker, who are scheduled for launch aboard the Soyuz TMA-19 spacecraft on June 15.



The final planned flight of space shuttle Atlantis is symbolized in the official embroidered crew patch for STS-132. Available in our store!


U.S. SHOPPERS | WORLDWIDE





Additional coverage for subscribers:


VIDEO: SUNDAY'S MISSION STATUS BRIEFING PLAY


VIDEO: ATLANTIS FLIES UNDERNEATH THE COMPLEX PLAY


VIDEO: SHUTTLE BEGINS FLYAROUND OF THE STATION PLAY


VIDEO: ATLANTIS UNDOCKS FROM INTERNATIONAL SPACE STATION PLAY


VIDEO: SHUTTLE ASTRONAUTS BID FAREWELL TO STATION CREW PLAY


VIDEO: IN-FLIGHT CREW NEWS CONFERENCE PLAY


VIDEO: NARRATED PREVIEW OF UNDOCKING AND FLYAROUND PLAY



HIGH DEFINITION TV DAY 9: UPDATE ON NEW RASSVET MODULE PLAY


HIGH DEFINITION TV DAY 9: CELEBRATION OF ISAAC NEWTON PLAY


HIGH DEFINITION TV DAY 9: GOODIES AND FOOD TREATS PLAY



VIDEO: FLIGHT DAY 9 HIGHLIGHTS MOVIE PLAY


VIDEO: CARGO PALLET RETURNED TO ATLANTIS PLAY


VIDEO: CREW'S HOME MOVIES FOR FLIGHT DAY 9 PLAY


VIDEO: SATURDAY'S MISSION STATUS BRIEFING PLAY


VIDEO: SATURDAY MORNING'S FLIGHT DIRECTOR INTERVIEW PLAY



HIGH DEFINITION TV DAY 8: GETTING READY TO GO OUTSIDE PLAY


HIGH DEFINITION TV DAY 8: ASTRONAUTS WALKING IN SPACE PLAY


HIGH DEFINITION TV DAY 8: PIERS WORKS IN THE CUPOLA PLAY


HIGH DEFINITION TV DAY 8: PEEK INSIDE RASSVET MODULE PLAY



VIDEO: FLIGHT DAY 8 HIGHLIGHTS MOVIE PLAY


VIDEO: CREW'S HOME MOVIES FOR FLIGHT DAY 8 PLAY


VIDEO: FRIDAY'S MISSION STATUS BRIEFING PLAY


VIDEO: LAST OF THE OLD BATTERIES STOWED AWAY PLAY


VIDEO: FINAL BATTERY INSTALLED IN THE SIX-PACK PLAY


VIDEO: SPACEWALKERS INSTALL BATTERY ECHO PLAY


VIDEO: BATTERY REPLACEMENT WORK RESUMES PLAY


VIDEO: WATCH THE ASTRONAUTS BEGIN THE SPACEWALK PLAY


VIDEO: STEP-BY-STEP WALKTHROUGH OF EVA NO. 3 PLAY


VIDEO: FRIDAY MORNING'S FLIGHT DIRECTOR INTERVIEW PLAY



HIGH DEFINITION TV DAY 7: STATION'S NEWEST MODULE PLAY


HIGH DEFINITION TV DAY 7: GETTING READY TO WALK IN SPACE PLAY


HIGH DEFINITION TV DAY 7: ATLANTIS' COMMANDER AND PILOT PLAY


HIGH DEFINITION TV DAY 7: CHATTING WITH STATION RESIDENT PLAY



VIDEO: FLIGHT DAY 7 HIGHLIGHTS MOVIE PLAY


VIDEO: CREW'S HOME MOVIES FOR FLIGHT DAY 7 PLAY


VIDEO: THURSDAY'S MISSION STATUS BRIEFING PLAY


VIDEO: ASSOCIATED PRESS, FOX AND CBS INTERVIEWS PLAY


VIDEO: THURSDAY MORNING'S FLIGHT DIRECTOR INTERVIEW PLAY



HIGH DEFINITION TV DAY 6: DINNER TIME IS FUN TMIE IN SPACE PLAY


HIGH DEFINITION TV DAY 6: THE VICTORIOUS SPACEWALKERS PLAY


HIGH DEFINITION TV DAY 6: MIKE AND STEVE RETURN FROM EVA PLAY



VIDEO: FLIGHT DAY 6 HIGHLIGHTS MOVIE PLAY


VIDEO: CREW'S HOME MOVIES FOR FLIGHT DAY 6 PLAY


VIDEO: WEDNESDAY'S MISSION STATUS BRIEFING PLAY


VIDEO: REMOVING GIMBAL LOCKS ON ANTENNA DISH PLAY


VIDEO: ADDING TO TORQUE TO NEW KU-BAND ATENNA PLAY


VIDEO: THE DAY'S FINAL NEW BATTERY INSTALLED PLAY


VIDEO: THIRD OLD BATTERY PULLED OUT AND STOWED PLAY


VIDEO: SECOND FRESH BATTERY PUT INTO STATION PLAY


VIDEO: FIRST OF THE NEW BATTERIES INSTALLED PLAY


VIDEO: SPACEWALKERS REMOVE FIRST OLD BATTERY PLAY


VIDEO: CABLE ON INSPECTION SENSOR UNTANGLED PLAY


VIDEO: WEDNESDAY MORNING'S FLIGHT DIRECTOR INTERVIEW PLAY


VIDEO: STEP-BY-STEP WALKTHROUGH OF EVA NO. 2 PLAY


VIDEO: PREVIEW OF FLIGHT DAY 6 ACTIVITIES PLAY



HIGH DEFINITION TV DAY 5: FLIGHT DECK OF ATLANTIS PLAY


HIGH DEFINITION TV DAY 5: GIVING WATER TO STATION PLAY


HIGH DEFINITION TV DAY 5: INSIDE DESTINY LABORATORY PLAY


HIGH DEFINITION TV DAY 5: ROBOTICS WORKSTATION IN CUPOLA PLAY


HIGH DEFINITION TV DAY 5: LOOKING OUT WINDOW AT EARTH PLAY


HIGH DEFINITION TV DAY 5: DAILY SHUTTLE CHORES PLAY



VIDEO: FLIGHT DAY 5 HIGHLIGHTS MOVIE PLAY


VIDEO: CREW'S HOME MOVIES FOR FLIGHT DAY 5 PLAY


VIDEO: TUESDAY'S MISSION STATUS BRIEFING PLAY


VIDEO: MSNBC AND CNN INTERVIEWS OF CREW PLAY


VIDEO: CONGRATULATIONS FROM ALL AROUND PLAY


VIDEO: RASSVET CAPTURED AND SECURED TO ZARYA MODULE! PLAY


VIDEO: TWEAKING FINAL ALIGNMENT OVER DOCKING PORT PLAY


VIDEO: DOCKING PROBE EXTENDED FROM RASSVET NOSE PLAY


VIDEO: SWINGING RASSVET FROM ATLANTIS TO STATION PLAY


VIDEO: RASSVET UNBERTHED FROM SHUTTLE BAY PLAY


VIDEO: PREVIEW OF FLIGHT DAY 5 ACTIVITIES PLAY


VIDEO: TUESDAY MORNING'S FLIGHT DIRECTOR INTERVIEW PLAY


VIDEO: ANIMATED OVERVIEW OF RUSSIA'S RASSVET MODULE PLAY


VIDEO: ANIMATED OVERVIEW OF MISSION'S CARGO CARRIER PLAY



VIDEO: FLIGHT DAY 4 HIGHLIGHTS MOVIE PLAY


VIDEO: MONDAY'S MISSION STATUS BRIEFING PLAY


VIDEO: AN ADDITION TO DEXTRE ROBOT PLAY


VIDEO: TORQUING ANTENNA ASSEMBLY INTO PLACE PLAY


VIDEO: FETCHING 6-FOOT-DIAMETER ANTENNA DISH PLAY


VIDEO: BOLTING BOOM ATOP STATION'S Z1 TRUSS PLAY


VIDEO: SPACEWALKERS HANDOFF ANTENNA BOOM PLAY


VIDEO: UNPACKING ANTENNA BOOM FROM CARRIER PLAY


VIDEO: SPACEWALK NO. 1 BEGINS PLAY


VIDEO: STEP-BY-STEP WALKTHROUGH OF EVA NO. 1 PLAY


VIDEO: PREVIEW OF FLIGHT DAY 4 ACTIVITIES PLAY


VIDEO: MONDAY MORNING'S FLIGHT DIRECTOR INTERVIEW PLAY



VIDEO: FLIGHT DAY 3 HIGHLIGHTS MOVIE PLAY


VIDEO: MISSION MANAGEMENT TEAM CHAIRMAN UPDATE PLAY


VIDEO: CARRIER ATTACHED TO STATION'S RAILCAR PLAY


VIDEO: CARGO PALLET LIFTED FROM SHUTTLE BAY PLAY


VIDEO: SUNDAY'S MISSION STATUS BRIEFING PLAY


VIDEO: WELCOMING CEREMONY FOR SHUTTLE CREW PLAY


VIDEO: ATLANTIS DOCKS TO INTERNATIONAL SPACE STATION PLAY


VIDEO: SHUTTLE ATLANTIS PERFORMS BACKFLIP MANEUVER PLAY


VIDEO: BEAUTIFUL VIEWS OF SHUTTLE ATLANTIS APPROACHING PLAY


VIDEO: ANIMATED PREVIEW OF FLIGHT DAY 3 ACTIVITIES PLAY



VIDEO: FLIGHT DAY 2 HIGHLIGHTS MOVIE PLAY


VIDEO: CREW'S HOME MOVIES FOR FLIGHT DAY 2 PLAY


VIDEO: MISSION MANAGEMENT TEAM CHAIRMAN UPDATE PLAY


VIDEO: SATURDAY'S MISSION STATUS BRIEFING PLAY



VIDEO: FLIGHT DAY 1 HIGHLIGHTS MOVIE PLAY


VIDEO: THE FULL STS-132 LAUNCH EXPERIENCE PLAY


VIDEO: SHUTTLE ATLANTIS BLASTS OFF! PLAY | HI-DEF


VIDEO: GO INSIDE MISSION CONTROL DURING LAUNCH PLAY


VIDEO: POST-LAUNCH NEWS CONFERENCE PLAY



VIDEO: LAUNCH REPLAY: VAB ROOF PLAY | HI-DEF


VIDEO: LAUNCH REPLAY: PRESS SITE PLAY | HI-DEF


VIDEO: LAUNCH REPLAY: PATRICK AFB PLAY | HI-DEF


VIDEO: LAUNCH REPLAY: PAD PERIMETER PLAY | HI-DEF


VIDEO: LAUNCH REPLAY: BEACH TRACKER PLAY | HI-DEF


VIDEO: LAUNCH REPLAY: PAD CAMERA 070 PLAY | HI-DEF


VIDEO: LAUNCH REPLAY: PAD CAMERA 071 PLAY | HI-DEF


VIDEO: LAUNCH REPLAY: PLAYALINDA BEACH PLAY | HI-DEF


VIDEO: LAUNCH REPLAY: PAD FRONT CAMERA PLAY | HI-DEF



VIDEO: CREW ARRIVES AT LAUNCH PAD 39A PLAY | HI-DEF


VIDEO: ASTRONAUTS LEAVE CREW QUARTERS PLAY | HI-DEF


VIDEO: CREW FINISHES GETTING SUITED UP PLAY | HI-DEF


VIDEO: ASTRONAUTS WEARING TUXEDOS LAUNCH DAY PLAY | HI-DEF



VIDEO: NARRATED REVIEW OF SHUTTLE'S PREPARATIONS PLAY | HI-DEF


VIDEO: NARRATED REVIEW OF PAYLOADS' PREPARATIONS PLAY | HI-DEF



VIDEO: ATLANTIS ON EVE OF FINAL PLANNED LAUNCH PLAY | HI-DEF


VIDEO: LAUNCH PAD'S SERVICE TOWER RETRACTED PLAY | HI-DEF


VIDEO: PAYLOAD BAY DOORS CLOSED FOR LAUNCH PLAY | HI-DEF


VIDEO: ASTRONAUTS INSPECT THE PAYLOAD BAY PLAY | HI-DEF



VIDEO: JERRY ROSS' LAUNCH ON MISSION STS-61B PLAY


VIDEO: MAIDEN LAUNCH OF ATLANTIS AS SEEN LIVE IN 1985 PLAY


VIDEO: ATLANTIS' FIRST MISSION ENDS WITH LAKEBED LANDING PLAY


VIDEO: AN ASTRONAUT'S TRIBUTE TO SHUTTLE ATLANTIS PLAY



VIDEO: COUNTDOWN STATUS AND WEATHER FORECAST PLAY


VIDEO: WATCH NASA'S PRE-LAUNCH NEWS CONFERENCE PLAY


VIDEO: GET BRIEFED ON THE LAUNCH COUNTDOWN PLAY


VIDEO: HEAR FROM THE COMMANDER AT THE RUNWAY PLAY | HI-DEF


VIDEO: ASTRONAUTS ARRIVE IN FLORIDA FOR LAUNCH PLAY | HI-DEF



VIDEO: PRE-LAUNCH INTERVIEW WITH KEN HAM PLAY


VIDEO: PRE-LAUNCH INTERVIEW WITH TONY ANTONELLI PLAY


VIDEO: PRE-LAUNCH INTERVIEW WITH GARRETT REISMAN PLAY


VIDEO: PRE-LAUNCH INTERVIEW WITH MIKE GOOD PLAY


VIDEO: PRE-LAUNCH INTERVIEW WITH STEVE BOWEN PLAY


VIDEO: PRE-LAUNCH INTERVIEW WITH PIERS SELLERS PLAY



VIDEO: STS-132 MISSION PREVIEW MOVIE PLAY | HI-DEF



VIDEO: FULL FLIGHT READINESS REVIEW NEWS BRIEFING PLAY


VIDEO: RECAP OF THE FLIGHT READINESS REVIEW PLAY | HI-DEF


VIDEO: MANAGERS ASSESS ISSUES BEFORE FLIGHT PLAY | HI-DEF


VIDEO: UPDATE ON PRE-LAUNCH PREPS AT PAD 39A PLAY | HI-DEF



VIDEO: PROGRAM BRIEFING BY SHUTTLE AND STATION CHIEFS PLAY


VIDEO: THE STS-132 MISSION OVERVIEW PRESENTATIONS PLAY


VIDEO: PREVIEW BRIEFING ON MISSION'S SPACEWALKS PLAY


VIDEO: THE ASTRONAUTS' PRE-FLIGHT NEWS BRIEFING PLAY



VIDEO: SHUTTLE EVACUATION PRACTICE PLAY | HI-DEF


VIDEO: ASTRONAUTS BOARD ATLANTIS PLAY | HI-DEF


VIDEO: LAUNCH DAY REHEARSAL BEGINS PLAY | HI-DEF


VIDEO: CREW BRIEFED ON EMERGENCY PROCEDURES PLAY | HI-DEF


VIDEO: TEST-DRIVING AN EMERGENCY ARMORED TANK PLAY | HI-DEF


VIDEO: CREW'S CHAT WITH REPORTERS AT PAD 39A PLAY


VIDEO: ASTRONAUTS AT KENNEDY SPACE CENTER RUNWAY PLAY | HI-DEF


VIDEO: CREW ARRIVES FOR PRACTICE COUNTDOWN PLAY | HI-DEF



VIDEO: GANTRY PLACED AROUND ATLANTIS PLAY | HI-DEF


VIDEO: SHUTTLE ATLANTIS REACHES PAD 39A PLAY | HI-DEF


VIDEO: CROWDS AND THE CREW CHEER ON ATLANTIS PLAY | HI-DEF


VIDEO: OVERNIGHT ROLLOUT TO THE PAD BEGINS PLAY | HI-DEF



VIDEO: SHUTTLE HOISTED FOR ATTACHMENT TO TANK PLAY | HI-DEF


VIDEO: CRANE ROTATES THE ORBITER VERTICALLY PLAY | HI-DEF


VIDEO: ATLANTIS RISES OFF THE TRANSPORTER PLAY | HI-DEF


VIDEO: ORBITER EMERGES FROM ITS HANGAR PLAY | HI-DEF


VIDEO: BUTTONING UP RUDDER/SPEED BRAKE PLAY | HI-DEF


VIDEO: DOME SHIELDS AROUND MAIN ENGINES PLAY | HI-DEF


VIDEO: EXTERNAL TANK ATTACHED TO BOOSTERS PLAY | HI-DEF



VIDEO: PAYLOADS HEAD FOR LAUNCH PAD PLAY | HI-DEF


VIDEO: RASSVET PLACED INTO THE TRANSPORTER PLAY | HI-DEF


VIDEO: PALLET LOADED WITH MISSION'S CARGO PLAY | HI-DEF


VIDEO: RUSSIAN RASSVET MODULE ON DISPLAY PLAY | HI-DEF


VIDEO: RUSSIAN ENGINEERS DISCUSS THEIR RASSVET MODULE PLAY


VIDEO: RASSVET HATCH CLOSED FOR FLIGHT PLAY | HI-DEF


VIDEO: FILLING MODULE WITH NASA SUPPLIES PLAY | HI-DEF



VIDEO: ASTRONAUTS VISIT THEIR SPACECRAFT PLAY | HI-DEF


VIDEO: CREW INSPECTS RASSVET MODULE PLAY | HI-DEF


SUBSCRIBE NOW