Cargo pallet returned to Atlantis from space station
BY WILLIAM HARWOOD
STORY WRITTEN FOR CBS NEWS "SPACE PLACE" & USED WITH PERMISSION
Posted: May 22, 2010


Astronauts Piers Sellers and Garrett Reisman, operating the space station's robot arm, moved a cargo pallet loaded with old solar array batteries back to the shuttle Atlantis' cargo bay Saturday for return to Earth.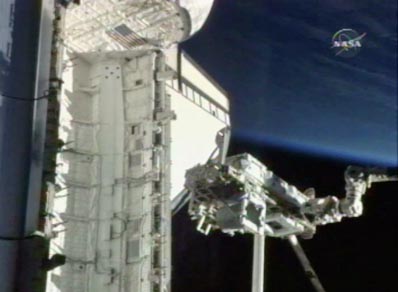 Credit: NASA TV



Working at the robotics work station inside the station's multi-window cupola, Sellers and Reisman began moving the integrated cargo carrier, or ICC, back to the shuttle just after 4:30 a.m., completing the operation at 5:50 a.m.

For launch, the ICC was loaded with a backup Ku-band dish antenna, an 8-foot antenna boom, an equipment storage platform and six new batteries to replace outdated power packs in the station's far left solar array.

The antenna, its support boom and the equipment platform were moved to the space station during a spacewalk Monday. The new batteries were installed during spacewalks Wednesday and Friday and the old batteries were bolted to the ICC for return to Earth.

"Today the crew completed all of their primary mission objectives with the return of the integrated cargo carrier and the six old batteries from the port six location of the International Space Station's power channel," said shuttle Flight Director Mike Sarafin.

"So we've got the integrated cargo carrier back in the payload bay, we've got three very successful spacewalks under our belt and the (Russian) Rassvet module has been installed on the International Space Station. So now the mission shifts to returning Atlantis home, hopefully mid next week."

After answering video questions from school kids at 7:40 a.m., the combined 12-member shuttle-station crew shared a joint meal before the Atlantis astronauts enjoyed two and a half hours of off-duty time starting at 11:05 a.m. Crew sleep on tap at 4:50 p.m.

Atlantis is scheduled to undock from the International Space Station around 11:22 a.m. Sunday with landing back at the Kennedy Space Center expected around 8:48 a.m. Wednesday, weather permitting.

Sarafin said the 132nd shuttle mission had been conducted in near flawless fashion with only a few relatively minor glitches. He called attention to a complex set of robot arm procedures using a work station in the station's new multi-window cupola for the first time.

"All the robotics that we worried about leading into this mission were just handled in an exception manner," he said. "Coming into this mission, we talked about nine of the 12 days of this mission were populated with very heavily integrated and choreographed robotics activities.

"Today, the crew of Atlantis and the International Space Station took a few moments to compliment the folks who helped plan all the robotics on this mission as well as the folks who built and delivered the cupola and the robotics work station associated with it. And I'll just second their words that all of that was done in an outstanding manner.

"Canadarm 2 performed in a fantastic fashion," Sarafin said. "It was all over the exterior of the International Space Station this mission, it was reaching down into the payload bay to remove cargo as well as put it back, it moved from the center of the truss back to the Russian segment, over to the port side of the truss and then back to the center of the International Space Station. Again, it was just an outstanding piece of machinery."

Here is an updated timeline of today's activity (in EDT and mission elapsed time; includes revision H of the NASA television schedule):

EDT........DD...HH...MM...EVENT

05/22
01:20 AM...07...11...00...Crew wakeup
02:50 AM...07...12...30...ISS daily planning conference
03:35 AM...07...13...15...SSRMS berths ICC in payload bay
04:55 AM...07...14...35...EVA prep for transfer
05:05 AM...07...14...45...SSRMS maneuver
06:25 AM...07...16...05...EVA transfer to shuttle
07:40 AM...07...17...20...PAO event
08:00 AM...07...17...40...Joint crew meal
09:00 AM...07...18...40...Middeck transfers
10:30 AM...07...20...10...Mission status briefing on NTV
11:05 AM...07...20...45...Shuttle crew off duty
02:00 PM...07...23...40...ISS daily planning conference
04:20 PM...08...02...00...ISS crew sleep begins
04:50 PM...08...02...30...STS crew sleep begins
05:00 PM...08...02...40...Daily video highlights reel
08:00 PM...08...05...40...HD crew highlights



The final planned flight of space shuttle Atlantis is symbolized in the official embroidered crew patch for STS-132. Available in our store!


U.S. SHOPPERS | WORLDWIDE





Additional coverage for subscribers:


HIGH DEFINITION TV DAY 9: UPDATE ON NEW RASSVET MODULE PLAY


HIGH DEFINITION TV DAY 9: CELEBRATION OF ISAAC NEWTON PLAY


HIGH DEFINITION TV DAY 9: GOODIES AND FOOD TREATS PLAY



VIDEO: FLIGHT DAY 9 HIGHLIGHTS MOVIE PLAY


VIDEO: CARGO PALLET RETURNED TO ATLANTIS PLAY


VIDEO: CREW'S HOME MOVIES FOR FLIGHT DAY 9 PLAY


VIDEO: SATURDAY'S MISSION STATUS BRIEFING PLAY


VIDEO: SATURDAY MORNING'S FLIGHT DIRECTOR INTERVIEW PLAY



HIGH DEFINITION TV DAY 8: GETTING READY TO GO OUTSIDE PLAY


HIGH DEFINITION TV DAY 8: ASTRONAUTS WALKING IN SPACE PLAY


HIGH DEFINITION TV DAY 8: PIERS WORKS IN THE CUPOLA PLAY


HIGH DEFINITION TV DAY 8: PEEK INSIDE RASSVET MODULE PLAY



VIDEO: FLIGHT DAY 8 HIGHLIGHTS MOVIE PLAY


VIDEO: CREW'S HOME MOVIES FOR FLIGHT DAY 8 PLAY


VIDEO: FRIDAY'S MISSION STATUS BRIEFING PLAY


VIDEO: LAST OF THE OLD BATTERIES STOWED AWAY PLAY


VIDEO: FINAL BATTERY INSTALLED IN THE SIX-PACK PLAY


VIDEO: SPACEWALKERS INSTALL BATTERY ECHO PLAY


VIDEO: BATTERY REPLACEMENT WORK RESUMES PLAY


VIDEO: WATCH THE ASTRONAUTS BEGIN THE SPACEWALK PLAY


VIDEO: STEP-BY-STEP WALKTHROUGH OF EVA NO. 3 PLAY


VIDEO: FRIDAY MORNING'S FLIGHT DIRECTOR INTERVIEW PLAY



HIGH DEFINITION TV DAY 7: STATION'S NEWEST MODULE PLAY


HIGH DEFINITION TV DAY 7: GETTING READY TO WALK IN SPACE PLAY


HIGH DEFINITION TV DAY 7: ATLANTIS' COMMANDER AND PILOT PLAY


HIGH DEFINITION TV DAY 7: CHATTING WITH STATION RESIDENT PLAY



VIDEO: FLIGHT DAY 7 HIGHLIGHTS MOVIE PLAY


VIDEO: CREW'S HOME MOVIES FOR FLIGHT DAY 7 PLAY


VIDEO: THURSDAY'S MISSION STATUS BRIEFING PLAY


VIDEO: ASSOCIATED PRESS, FOX AND CBS INTERVIEWS PLAY


VIDEO: THURSDAY MORNING'S FLIGHT DIRECTOR INTERVIEW PLAY



HIGH DEFINITION TV DAY 6: DINNER TIME IS FUN TMIE IN SPACE PLAY


HIGH DEFINITION TV DAY 6: THE VICTORIOUS SPACEWALKERS PLAY


HIGH DEFINITION TV DAY 6: MIKE AND STEVE RETURN FROM EVA PLAY



VIDEO: FLIGHT DAY 6 HIGHLIGHTS MOVIE PLAY


VIDEO: CREW'S HOME MOVIES FOR FLIGHT DAY 6 PLAY


VIDEO: WEDNESDAY'S MISSION STATUS BRIEFING PLAY


VIDEO: REMOVING GIMBAL LOCKS ON ANTENNA DISH PLAY


VIDEO: ADDING TO TORQUE TO NEW KU-BAND ATENNA PLAY


VIDEO: THE DAY'S FINAL NEW BATTERY INSTALLED PLAY


VIDEO: THIRD OLD BATTERY PULLED OUT AND STOWED PLAY


VIDEO: SECOND FRESH BATTERY PUT INTO STATION PLAY


VIDEO: FIRST OF THE NEW BATTERIES INSTALLED PLAY


VIDEO: SPACEWALKERS REMOVE FIRST OLD BATTERY PLAY


VIDEO: CABLE ON INSPECTION SENSOR UNTANGLED PLAY


VIDEO: WEDNESDAY MORNING'S FLIGHT DIRECTOR INTERVIEW PLAY


VIDEO: STEP-BY-STEP WALKTHROUGH OF EVA NO. 2 PLAY


VIDEO: PREVIEW OF FLIGHT DAY 6 ACTIVITIES PLAY



HIGH DEFINITION TV DAY 5: FLIGHT DECK OF ATLANTIS PLAY


HIGH DEFINITION TV DAY 5: GIVING WATER TO STATION PLAY


HIGH DEFINITION TV DAY 5: INSIDE DESTINY LABORATORY PLAY


HIGH DEFINITION TV DAY 5: ROBOTICS WORKSTATION IN CUPOLA PLAY


HIGH DEFINITION TV DAY 5: LOOKING OUT WINDOW AT EARTH PLAY


HIGH DEFINITION TV DAY 5: DAILY SHUTTLE CHORES PLAY



VIDEO: FLIGHT DAY 5 HIGHLIGHTS MOVIE PLAY


VIDEO: CREW'S HOME MOVIES FOR FLIGHT DAY 5 PLAY


VIDEO: TUESDAY'S MISSION STATUS BRIEFING PLAY


VIDEO: MSNBC AND CNN INTERVIEWS OF CREW PLAY


VIDEO: CONGRATULATIONS FROM ALL AROUND PLAY


VIDEO: RASSVET CAPTURED AND SECURED TO ZARYA MODULE! PLAY


VIDEO: TWEAKING FINAL ALIGNMENT OVER DOCKING PORT PLAY


VIDEO: DOCKING PROBE EXTENDED FROM RASSVET NOSE PLAY


VIDEO: SWINGING RASSVET FROM ATLANTIS TO STATION PLAY


VIDEO: RASSVET UNBERTHED FROM SHUTTLE BAY PLAY


VIDEO: PREVIEW OF FLIGHT DAY 5 ACTIVITIES PLAY


VIDEO: TUESDAY MORNING'S FLIGHT DIRECTOR INTERVIEW PLAY


VIDEO: ANIMATED OVERVIEW OF RUSSIA'S RASSVET MODULE PLAY


VIDEO: ANIMATED OVERVIEW OF MISSION'S CARGO CARRIER PLAY



VIDEO: FLIGHT DAY 4 HIGHLIGHTS MOVIE PLAY


VIDEO: MONDAY'S MISSION STATUS BRIEFING PLAY


VIDEO: AN ADDITION TO DEXTRE ROBOT PLAY


VIDEO: TORQUING ANTENNA ASSEMBLY INTO PLACE PLAY


VIDEO: FETCHING 6-FOOT-DIAMETER ANTENNA DISH PLAY


VIDEO: BOLTING BOOM ATOP STATION'S Z1 TRUSS PLAY


VIDEO: SPACEWALKERS HANDOFF ANTENNA BOOM PLAY


VIDEO: UNPACKING ANTENNA BOOM FROM CARRIER PLAY


VIDEO: SPACEWALK NO. 1 BEGINS PLAY


VIDEO: STEP-BY-STEP WALKTHROUGH OF EVA NO. 1 PLAY


VIDEO: PREVIEW OF FLIGHT DAY 4 ACTIVITIES PLAY


VIDEO: MONDAY MORNING'S FLIGHT DIRECTOR INTERVIEW PLAY



VIDEO: FLIGHT DAY 3 HIGHLIGHTS MOVIE PLAY


VIDEO: MISSION MANAGEMENT TEAM CHAIRMAN UPDATE PLAY


VIDEO: CARRIER ATTACHED TO STATION'S RAILCAR PLAY


VIDEO: CARGO PALLET LIFTED FROM SHUTTLE BAY PLAY


VIDEO: SUNDAY'S MISSION STATUS BRIEFING PLAY


VIDEO: WELCOMING CEREMONY FOR SHUTTLE CREW PLAY


VIDEO: ATLANTIS DOCKS TO INTERNATIONAL SPACE STATION PLAY


VIDEO: SHUTTLE ATLANTIS PERFORMS BACKFLIP MANEUVER PLAY


VIDEO: BEAUTIFUL VIEWS OF SHUTTLE ATLANTIS APPROACHING PLAY


VIDEO: ANIMATED PREVIEW OF FLIGHT DAY 3 ACTIVITIES PLAY



VIDEO: FLIGHT DAY 2 HIGHLIGHTS MOVIE PLAY


VIDEO: CREW'S HOME MOVIES FOR FLIGHT DAY 2 PLAY


VIDEO: MISSION MANAGEMENT TEAM CHAIRMAN UPDATE PLAY


VIDEO: SATURDAY'S MISSION STATUS BRIEFING PLAY



VIDEO: FLIGHT DAY 1 HIGHLIGHTS MOVIE PLAY


VIDEO: THE FULL STS-132 LAUNCH EXPERIENCE PLAY


VIDEO: SHUTTLE ATLANTIS BLASTS OFF! PLAY | HI-DEF


VIDEO: GO INSIDE MISSION CONTROL DURING LAUNCH PLAY


VIDEO: POST-LAUNCH NEWS CONFERENCE PLAY



VIDEO: LAUNCH REPLAY: VAB ROOF PLAY | HI-DEF


VIDEO: LAUNCH REPLAY: PRESS SITE PLAY | HI-DEF


VIDEO: LAUNCH REPLAY: PATRICK AFB PLAY | HI-DEF


VIDEO: LAUNCH REPLAY: PAD PERIMETER PLAY | HI-DEF


VIDEO: LAUNCH REPLAY: BEACH TRACKER PLAY | HI-DEF


VIDEO: LAUNCH REPLAY: PAD CAMERA 070 PLAY | HI-DEF


VIDEO: LAUNCH REPLAY: PAD CAMERA 071 PLAY | HI-DEF


VIDEO: LAUNCH REPLAY: PLAYALINDA BEACH PLAY | HI-DEF


VIDEO: LAUNCH REPLAY: PAD FRONT CAMERA PLAY | HI-DEF



VIDEO: CREW ARRIVES AT LAUNCH PAD 39A PLAY | HI-DEF


VIDEO: ASTRONAUTS LEAVE CREW QUARTERS PLAY | HI-DEF


VIDEO: CREW FINISHES GETTING SUITED UP PLAY | HI-DEF


VIDEO: ASTRONAUTS WEARING TUXEDOS LAUNCH DAY PLAY | HI-DEF



VIDEO: NARRATED REVIEW OF SHUTTLE'S PREPARATIONS PLAY | HI-DEF


VIDEO: NARRATED REVIEW OF PAYLOADS' PREPARATIONS PLAY | HI-DEF



VIDEO: ATLANTIS ON EVE OF FINAL PLANNED LAUNCH PLAY | HI-DEF


VIDEO: LAUNCH PAD'S SERVICE TOWER RETRACTED PLAY | HI-DEF


VIDEO: PAYLOAD BAY DOORS CLOSED FOR LAUNCH PLAY | HI-DEF


VIDEO: ASTRONAUTS INSPECT THE PAYLOAD BAY PLAY | HI-DEF



VIDEO: JERRY ROSS' LAUNCH ON MISSION STS-61B PLAY


VIDEO: MAIDEN LAUNCH OF ATLANTIS AS SEEN LIVE IN 1985 PLAY


VIDEO: ATLANTIS' FIRST MISSION ENDS WITH LAKEBED LANDING PLAY


VIDEO: AN ASTRONAUT'S TRIBUTE TO SHUTTLE ATLANTIS PLAY



VIDEO: COUNTDOWN STATUS AND WEATHER FORECAST PLAY


VIDEO: WATCH NASA'S PRE-LAUNCH NEWS CONFERENCE PLAY


VIDEO: GET BRIEFED ON THE LAUNCH COUNTDOWN PLAY


VIDEO: HEAR FROM THE COMMANDER AT THE RUNWAY PLAY | HI-DEF


VIDEO: ASTRONAUTS ARRIVE IN FLORIDA FOR LAUNCH PLAY | HI-DEF



VIDEO: PRE-LAUNCH INTERVIEW WITH KEN HAM PLAY


VIDEO: PRE-LAUNCH INTERVIEW WITH TONY ANTONELLI PLAY


VIDEO: PRE-LAUNCH INTERVIEW WITH GARRETT REISMAN PLAY


VIDEO: PRE-LAUNCH INTERVIEW WITH MIKE GOOD PLAY


VIDEO: PRE-LAUNCH INTERVIEW WITH STEVE BOWEN PLAY


VIDEO: PRE-LAUNCH INTERVIEW WITH PIERS SELLERS PLAY



VIDEO: STS-132 MISSION PREVIEW MOVIE PLAY | HI-DEF



VIDEO: FULL FLIGHT READINESS REVIEW NEWS BRIEFING PLAY


VIDEO: RECAP OF THE FLIGHT READINESS REVIEW PLAY | HI-DEF


VIDEO: MANAGERS ASSESS ISSUES BEFORE FLIGHT PLAY | HI-DEF


VIDEO: UPDATE ON PRE-LAUNCH PREPS AT PAD 39A PLAY | HI-DEF



VIDEO: PROGRAM BRIEFING BY SHUTTLE AND STATION CHIEFS PLAY


VIDEO: THE STS-132 MISSION OVERVIEW PRESENTATIONS PLAY


VIDEO: PREVIEW BRIEFING ON MISSION'S SPACEWALKS PLAY


VIDEO: THE ASTRONAUTS' PRE-FLIGHT NEWS BRIEFING PLAY



VIDEO: SHUTTLE EVACUATION PRACTICE PLAY | HI-DEF


VIDEO: ASTRONAUTS BOARD ATLANTIS PLAY | HI-DEF


VIDEO: LAUNCH DAY REHEARSAL BEGINS PLAY | HI-DEF


VIDEO: CREW BRIEFED ON EMERGENCY PROCEDURES PLAY | HI-DEF


VIDEO: TEST-DRIVING AN EMERGENCY ARMORED TANK PLAY | HI-DEF


VIDEO: CREW'S CHAT WITH REPORTERS AT PAD 39A PLAY


VIDEO: ASTRONAUTS AT KENNEDY SPACE CENTER RUNWAY PLAY | HI-DEF


VIDEO: CREW ARRIVES FOR PRACTICE COUNTDOWN PLAY | HI-DEF



VIDEO: GANTRY PLACED AROUND ATLANTIS PLAY | HI-DEF


VIDEO: SHUTTLE ATLANTIS REACHES PAD 39A PLAY | HI-DEF


VIDEO: CROWDS AND THE CREW CHEER ON ATLANTIS PLAY | HI-DEF


VIDEO: OVERNIGHT ROLLOUT TO THE PAD BEGINS PLAY | HI-DEF



VIDEO: SHUTTLE HOISTED FOR ATTACHMENT TO TANK PLAY | HI-DEF


VIDEO: CRANE ROTATES THE ORBITER VERTICALLY PLAY | HI-DEF


VIDEO: ATLANTIS RISES OFF THE TRANSPORTER PLAY | HI-DEF


VIDEO: ORBITER EMERGES FROM ITS HANGAR PLAY | HI-DEF


VIDEO: BUTTONING UP RUDDER/SPEED BRAKE PLAY | HI-DEF


VIDEO: DOME SHIELDS AROUND MAIN ENGINES PLAY | HI-DEF


VIDEO: EXTERNAL TANK ATTACHED TO BOOSTERS PLAY | HI-DEF



VIDEO: PAYLOADS HEAD FOR LAUNCH PAD PLAY | HI-DEF


VIDEO: RASSVET PLACED INTO THE TRANSPORTER PLAY | HI-DEF


VIDEO: PALLET LOADED WITH MISSION'S CARGO PLAY | HI-DEF


VIDEO: RUSSIAN RASSVET MODULE ON DISPLAY PLAY | HI-DEF


VIDEO: RUSSIAN ENGINEERS DISCUSS THEIR RASSVET MODULE PLAY


VIDEO: RASSVET HATCH CLOSED FOR FLIGHT PLAY | HI-DEF


VIDEO: FILLING MODULE WITH NASA SUPPLIES PLAY | HI-DEF



VIDEO: ASTRONAUTS VISIT THEIR SPACECRAFT PLAY | HI-DEF


VIDEO: CREW INSPECTS RASSVET MODULE PLAY | HI-DEF


SUBSCRIBE NOW