Atlantis crew taking final spacewalk outside station
BY WILLIAM HARWOOD
STORY WRITTEN FOR CBS NEWS "SPACE PLACE" & USED WITH PERMISSION
Posted: May 21, 2010


Astronauts Michael Good and Garrett Reisman are suiting up for a planned six-and-a-half-hour spacewalk today to finish replacing the International Space Station's oldest set of solar array batteries. They also plan to install an ammonia coolant jumper between two power truss segments, retrieve a robot arm grapple fixture and repair insulation on a Canadian robot arm extension.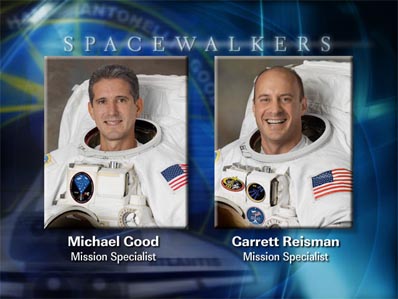 Credit: NASA



The spacewalk is scheduled to begin around 6:45 a.m. EDT when Reisman and Good, floating in the station's Quest airlock module, switch their spacesuits to battery power.

This will be the 146th spacewalk devoted to station assembly and maintenance since construction began in 1998, the 10th so far this year and the third and final excursion planned by the Atlantis astronauts. Good, call sign EV-1, will be making the fourth spacewalk of his career, while Reisman, EV-2, will be making his third.

One of the major objectives of Atlantis' mission was the replacement of six aging batteries in the P6 solar array segment on the far left end of the station's power truss. Four batteries were replaced by Good and Stephen Bowen during a spacewalk Wednesday, one more than called for in the flight plan.

"Because the crew's been so good this mission in getting ahead, we did add a couple of things to (Friday's) EVA," said space station Flight Director Scott Stover. "The first thing they do when they go out, they're going to be installing a jumper that runs between the P4 and P5 truss segments on the space station. ... It's an ammonia jumper, although it's going to be filled with nitrogen so we don't have to worry about any ammonia getting on the suits or anything like that."

The P5 truss segment acts as a spacer between the P4 and P6 solar arrays. The jumper will help complete a path from an inboard ammonia reservoir in the P3 segment to the outboard solar arrays.

"The P6 and the P4 modules both have ammonia cooling systems on there, but the ammonia tanks for the external thermal control system are inside the solar alpha rotary joint," Stover said. "If one of those outboard, P4 or P6, modules develop a leak or need to be refilled with ammonia, we need this jumper to help us with those refill operations. So that's the first thing they're going to do, install a jumper that in the future would be used for refill operations.

"The second thing they're going to do is (go) back to battery ops. They still have two new batteries to install and two old batteries to put onto the ICC (integrated cargo carrier). Plus, that one battery they left temp stowed needs to go back on the ICC. So those activities will finish up all the battery ops."

After that, Good and Reisman will make their way to the base of the station's robot arm where a Canadian hand-like extension known as DEXTRE is mounted. Engineers earlier spotted an insulation blanket that was not in the proper configuration and the astronauts will take a moment to fix that before moving to the shuttle's cargo bay.

"The final scheduled activity is to go down to the payload bay of Atlantis and get what we call a power and data grapple fixture, which is the structure the station arm connects to," Stover said. "It's an extra one we have brought up on Atlantis for planned install on a later EVA on the (Russian) Zarya module. That EVA is currently scheduled for the summer."

A final get-ahead task will be carried out if time is available, replacing tools in external tool boxes that were carried inside the station by previous spacewalkers.

Along with replacing the batteries in the P6 solar array segment, a second major objective of Atlantis' mission was installing a new Russian module known as Rassvet, or mini-research module No. 1. The new compartment was attached to the Earth-facing port of the Zarya module Tuesday and opened up on Thursday.

Entering the module, Expedition 23 commander Oleg Kotov reported seeing what appeared to be metal flakes, or shavings, floating in the air, debris presumably shaken loose during launch. As always when opening a new module, Kotov was wearing goggles and a dust mask as a safety precaution.

"One thing that we did find were some metal flakes, or shavings, that were unexpected," Stover said. "In the one-G environment when it was on the ground you can imagine they hide in the nooks and crannies of the module itself. Now in zero G, they're floating around.

"When the crew entered, we were prepared for it, we made sure they were wearing the protective gear, goggles and dust mask," he said. "They reported seeing the metal flakes, so we had them make sure the (air) scrubbers were running."

The module's hatch was closed overnight and "hopefully the scrubbers will collect all of that debris," Stover said. "When we do go back in, we'll again have them wear the protective equipment just in case there's something floating around in the air."

Here is an updated timeline of today's activity (in EDT and mission elapsed time; includes revision G of the NASA television schedule):

EDT........DD...HH...MM...EVENT

05/21
01:50 AM...06...11...30...STS/ISS crew wakeup
03:00 AM...06...12...40...EVA-3: 14.7 psi repress/hygiene break
03:15 AM...06...12...55...EVA-3: Airlock depress to 10.2 psi
03:40 AM...06...13...20...EVA-3: EVA prep
03:50 AM...06...13...30...ISS daily planning conference
05:10 AM...06...14...50...EVA-3: Spacesuit purge
05:25 AM...06...15...05...EVA-3: Spacesuit prebreathe
06:05 AM...06...15...45...SSRMS cargo pallet move to EVA worksite
06:15 AM...06...15...55...EVA-3: Crew lock depressurization
06:45 AM...06...16...25...EVA-3: Spacesuits to battery power
06:50 AM...06...16...30...EVA-3: Airlock egress/setup
07:05 AM...06...16...45...EVA-3: Setup
07:15 AM...06...16...55...EVA-3: Ammonia jumper install
07:30 AM...06...17...10...EVA-3: P6 battery 5 R&R
08:00 AM...06...17...40...EVA-3: P6 battery E/6 R&R
09:05 AM...06...18...45...EVA-3: P6 battery F R&R
09:40 AM...06...19...20...EVA-3: Install battery on pallet
10:15 AM...06...19...55...EVA-3: P6 cleanup
11:15 AM...06...20...55...EVA-3: Retrieve grapple fixture from cargo bay
11:35 AM...06...21...15...SSRMS moves cargo pallet to solar array truss
12:15 PM...06...21...55...EVA-3: Get aheads
12:20 PM...06...22...00...SSRMS releases cargo pallet
12:40 PM...06...22...20...EVA-3: Cleanup and ingress
01:15 PM...06...22...55...EVA-3: Airlock repressurization
01:25 PM...06...23...05...Spacesuit servicing
02:25 PM...07...05...00...ISS daily planning conference
03:15 PM...07...55...00...EVA tagup
04:00 PM...07...01...40...Mission status briefing on NTV
04:50 PM...07...02...30...ISS crew sleep begins
05:00 PM...07...02...40...SRB launch video
05:20 PM...07...03...00...STS crew sleep begins
06:00 PM...07...03...40...Daily highlights reel
09:00 PM...07...06...40...HD crew highlights



The final planned flight of space shuttle Atlantis is symbolized in the official embroidered crew patch for STS-132. Available in our store!


U.S. SHOPPERS | WORLDWIDE





Additional coverage for subscribers:


VIDEO: CREW'S HOME MOVIES FOR FLIGHT DAY 7 PLAY


VIDEO: THURSDAY'S MISSION STATUS BRIEFING PLAY


VIDEO: ASSOCIATED PRESS, FOX AND CBS INTERVIEWS PLAY


VIDEO: THURSDAY MORNING'S FLIGHT DIRECTOR INTERVIEW PLAY



HIGH DEFINITION TV DAY 6: DINNER TIME IS FUN TMIE IN SPACE PLAY


HIGH DEFINITION TV DAY 6: THE VICTORIOUS SPACEWALKERS PLAY


HIGH DEFINITION TV DAY 6: MIKE AND STEVE RETURN FROM EVA PLAY



VIDEO: FLIGHT DAY 6 HIGHLIGHTS MOVIE PLAY


VIDEO: CREW'S HOME MOVIES FOR FLIGHT DAY 6 PLAY


VIDEO: WEDNESDAY'S MISSION STATUS BRIEFING PLAY


VIDEO: REMOVING GIMBAL LOCKS ON ANTENNA DISH PLAY


VIDEO: ADDING TO TORQUE TO NEW KU-BAND ATENNA PLAY


VIDEO: THE DAY'S FINAL NEW BATTERY INSTALLED PLAY


VIDEO: THIRD OLD BATTERY PULLED OUT AND STOWED PLAY


VIDEO: SECOND FRESH BATTERY PUT INTO STATION PLAY


VIDEO: FIRST OF THE NEW BATTERIES INSTALLED PLAY


VIDEO: SPACEWALKERS REMOVE FIRST OLD BATTERY PLAY


VIDEO: CABLE ON INSPECTION SENSOR UNTANGLED PLAY


VIDEO: WEDNESDAY MORNING'S FLIGHT DIRECTOR INTERVIEW PLAY


VIDEO: STEP-BY-STEP WALKTHROUGH OF EVA NO. 2 PLAY


VIDEO: PREVIEW OF FLIGHT DAY 6 ACTIVITIES PLAY



HIGH DEFINITION TV DAY 5: FLIGHT DECK OF ATLANTIS PLAY


HIGH DEFINITION TV DAY 5: GIVING WATER TO STATION PLAY


HIGH DEFINITION TV DAY 5: INSIDE DESTINY LABORATORY PLAY


HIGH DEFINITION TV DAY 5: ROBOTICS WORKSTATION IN CUPOLA PLAY


HIGH DEFINITION TV DAY 5: LOOKING OUT WINDOW AT EARTH PLAY


HIGH DEFINITION TV DAY 5: DAILY SHUTTLE CHORES PLAY



VIDEO: FLIGHT DAY 5 HIGHLIGHTS MOVIE PLAY


VIDEO: CREW'S HOME MOVIES FOR FLIGHT DAY 5 PLAY


VIDEO: TUESDAY'S MISSION STATUS BRIEFING PLAY


VIDEO: MSNBC AND CNN INTERVIEWS OF CREW PLAY


VIDEO: CONGRATULATIONS FROM ALL AROUND PLAY


VIDEO: RASSVET CAPTURED AND SECURED TO ZARYA MODULE! PLAY


VIDEO: TWEAKING FINAL ALIGNMENT OVER DOCKING PORT PLAY


VIDEO: DOCKING PROBE EXTENDED FROM RASSVET NOSE PLAY


VIDEO: SWINGING RASSVET FROM ATLANTIS TO STATION PLAY


VIDEO: RASSVET UNBERTHED FROM SHUTTLE BAY PLAY


VIDEO: PREVIEW OF FLIGHT DAY 5 ACTIVITIES PLAY


VIDEO: TUESDAY MORNING'S FLIGHT DIRECTOR INTERVIEW PLAY


VIDEO: ANIMATED OVERVIEW OF RUSSIA'S RASSVET MODULE PLAY


VIDEO: ANIMATED OVERVIEW OF MISSION'S CARGO CARRIER PLAY



VIDEO: FLIGHT DAY 4 HIGHLIGHTS MOVIE PLAY


VIDEO: MONDAY'S MISSION STATUS BRIEFING PLAY


VIDEO: AN ADDITION TO DEXTRE ROBOT PLAY


VIDEO: TORQUING ANTENNA ASSEMBLY INTO PLACE PLAY


VIDEO: FETCHING 6-FOOT-DIAMETER ANTENNA DISH PLAY


VIDEO: BOLTING BOOM ATOP STATION'S Z1 TRUSS PLAY


VIDEO: SPACEWALKERS HANDOFF ANTENNA BOOM PLAY


VIDEO: UNPACKING ANTENNA BOOM FROM CARRIER PLAY


VIDEO: SPACEWALK NO. 1 BEGINS PLAY


VIDEO: STEP-BY-STEP WALKTHROUGH OF EVA NO. 1 PLAY


VIDEO: PREVIEW OF FLIGHT DAY 4 ACTIVITIES PLAY


VIDEO: MONDAY MORNING'S FLIGHT DIRECTOR INTERVIEW PLAY



VIDEO: FLIGHT DAY 3 HIGHLIGHTS MOVIE PLAY


VIDEO: MISSION MANAGEMENT TEAM CHAIRMAN UPDATE PLAY


VIDEO: CARRIER ATTACHED TO STATION'S RAILCAR PLAY


VIDEO: CARGO PALLET LIFTED FROM SHUTTLE BAY PLAY


VIDEO: SUNDAY'S MISSION STATUS BRIEFING PLAY


VIDEO: WELCOMING CEREMONY FOR SHUTTLE CREW PLAY


VIDEO: ATLANTIS DOCKS TO INTERNATIONAL SPACE STATION PLAY


VIDEO: SHUTTLE ATLANTIS PERFORMS BACKFLIP MANEUVER PLAY


VIDEO: BEAUTIFUL VIEWS OF SHUTTLE ATLANTIS APPROACHING PLAY


VIDEO: ANIMATED PREVIEW OF FLIGHT DAY 3 ACTIVITIES PLAY



VIDEO: FLIGHT DAY 2 HIGHLIGHTS MOVIE PLAY


VIDEO: CREW'S HOME MOVIES FOR FLIGHT DAY 2 PLAY


VIDEO: MISSION MANAGEMENT TEAM CHAIRMAN UPDATE PLAY


VIDEO: SATURDAY'S MISSION STATUS BRIEFING PLAY



VIDEO: FLIGHT DAY 1 HIGHLIGHTS MOVIE PLAY


VIDEO: THE FULL STS-132 LAUNCH EXPERIENCE PLAY


VIDEO: SHUTTLE ATLANTIS BLASTS OFF! PLAY | HI-DEF


VIDEO: GO INSIDE MISSION CONTROL DURING LAUNCH PLAY


VIDEO: POST-LAUNCH NEWS CONFERENCE PLAY



VIDEO: LAUNCH REPLAY: VAB ROOF PLAY | HI-DEF


VIDEO: LAUNCH REPLAY: PRESS SITE PLAY | HI-DEF


VIDEO: LAUNCH REPLAY: PATRICK AFB PLAY | HI-DEF


VIDEO: LAUNCH REPLAY: PAD PERIMETER PLAY | HI-DEF


VIDEO: LAUNCH REPLAY: BEACH TRACKER PLAY | HI-DEF


VIDEO: LAUNCH REPLAY: PAD CAMERA 070 PLAY | HI-DEF


VIDEO: LAUNCH REPLAY: PAD CAMERA 071 PLAY | HI-DEF


VIDEO: LAUNCH REPLAY: PLAYALINDA BEACH PLAY | HI-DEF


VIDEO: LAUNCH REPLAY: PAD FRONT CAMERA PLAY | HI-DEF



VIDEO: CREW ARRIVES AT LAUNCH PAD 39A PLAY | HI-DEF


VIDEO: ASTRONAUTS LEAVE CREW QUARTERS PLAY | HI-DEF


VIDEO: CREW FINISHES GETTING SUITED UP PLAY | HI-DEF


VIDEO: ASTRONAUTS WEARING TUXEDOS LAUNCH DAY PLAY | HI-DEF



VIDEO: NARRATED REVIEW OF SHUTTLE'S PREPARATIONS PLAY | HI-DEF


VIDEO: NARRATED REVIEW OF PAYLOADS' PREPARATIONS PLAY | HI-DEF



VIDEO: ATLANTIS ON EVE OF FINAL PLANNED LAUNCH PLAY | HI-DEF


VIDEO: LAUNCH PAD'S SERVICE TOWER RETRACTED PLAY | HI-DEF


VIDEO: PAYLOAD BAY DOORS CLOSED FOR LAUNCH PLAY | HI-DEF


VIDEO: ASTRONAUTS INSPECT THE PAYLOAD BAY PLAY | HI-DEF



VIDEO: JERRY ROSS' LAUNCH ON MISSION STS-61B PLAY


VIDEO: MAIDEN LAUNCH OF ATLANTIS AS SEEN LIVE IN 1985 PLAY


VIDEO: ATLANTIS' FIRST MISSION ENDS WITH LAKEBED LANDING PLAY


VIDEO: AN ASTRONAUT'S TRIBUTE TO SHUTTLE ATLANTIS PLAY



VIDEO: COUNTDOWN STATUS AND WEATHER FORECAST PLAY


VIDEO: WATCH NASA'S PRE-LAUNCH NEWS CONFERENCE PLAY


VIDEO: GET BRIEFED ON THE LAUNCH COUNTDOWN PLAY


VIDEO: HEAR FROM THE COMMANDER AT THE RUNWAY PLAY | HI-DEF


VIDEO: ASTRONAUTS ARRIVE IN FLORIDA FOR LAUNCH PLAY | HI-DEF



VIDEO: PRE-LAUNCH INTERVIEW WITH KEN HAM PLAY


VIDEO: PRE-LAUNCH INTERVIEW WITH TONY ANTONELLI PLAY


VIDEO: PRE-LAUNCH INTERVIEW WITH GARRETT REISMAN PLAY


VIDEO: PRE-LAUNCH INTERVIEW WITH MIKE GOOD PLAY


VIDEO: PRE-LAUNCH INTERVIEW WITH STEVE BOWEN PLAY


VIDEO: PRE-LAUNCH INTERVIEW WITH PIERS SELLERS PLAY



VIDEO: STS-132 MISSION PREVIEW MOVIE PLAY | HI-DEF



VIDEO: FULL FLIGHT READINESS REVIEW NEWS BRIEFING PLAY


VIDEO: RECAP OF THE FLIGHT READINESS REVIEW PLAY | HI-DEF


VIDEO: MANAGERS ASSESS ISSUES BEFORE FLIGHT PLAY | HI-DEF


VIDEO: UPDATE ON PRE-LAUNCH PREPS AT PAD 39A PLAY | HI-DEF



VIDEO: PROGRAM BRIEFING BY SHUTTLE AND STATION CHIEFS PLAY


VIDEO: THE STS-132 MISSION OVERVIEW PRESENTATIONS PLAY


VIDEO: PREVIEW BRIEFING ON MISSION'S SPACEWALKS PLAY


VIDEO: THE ASTRONAUTS' PRE-FLIGHT NEWS BRIEFING PLAY



VIDEO: SHUTTLE EVACUATION PRACTICE PLAY | HI-DEF


VIDEO: ASTRONAUTS BOARD ATLANTIS PLAY | HI-DEF


VIDEO: LAUNCH DAY REHEARSAL BEGINS PLAY | HI-DEF


VIDEO: CREW BRIEFED ON EMERGENCY PROCEDURES PLAY | HI-DEF


VIDEO: TEST-DRIVING AN EMERGENCY ARMORED TANK PLAY | HI-DEF


VIDEO: CREW'S CHAT WITH REPORTERS AT PAD 39A PLAY


VIDEO: ASTRONAUTS AT KENNEDY SPACE CENTER RUNWAY PLAY | HI-DEF


VIDEO: CREW ARRIVES FOR PRACTICE COUNTDOWN PLAY | HI-DEF



VIDEO: GANTRY PLACED AROUND ATLANTIS PLAY | HI-DEF


VIDEO: SHUTTLE ATLANTIS REACHES PAD 39A PLAY | HI-DEF


VIDEO: CROWDS AND THE CREW CHEER ON ATLANTIS PLAY | HI-DEF


VIDEO: OVERNIGHT ROLLOUT TO THE PAD BEGINS PLAY | HI-DEF



VIDEO: SHUTTLE HOISTED FOR ATTACHMENT TO TANK PLAY | HI-DEF


VIDEO: CRANE ROTATES THE ORBITER VERTICALLY PLAY | HI-DEF


VIDEO: ATLANTIS RISES OFF THE TRANSPORTER PLAY | HI-DEF


VIDEO: ORBITER EMERGES FROM ITS HANGAR PLAY | HI-DEF


VIDEO: BUTTONING UP RUDDER/SPEED BRAKE PLAY | HI-DEF


VIDEO: DOME SHIELDS AROUND MAIN ENGINES PLAY | HI-DEF


VIDEO: EXTERNAL TANK ATTACHED TO BOOSTERS PLAY | HI-DEF



VIDEO: PAYLOADS HEAD FOR LAUNCH PAD PLAY | HI-DEF


VIDEO: RASSVET PLACED INTO THE TRANSPORTER PLAY | HI-DEF


VIDEO: PALLET LOADED WITH MISSION'S CARGO PLAY | HI-DEF


VIDEO: RUSSIAN RASSVET MODULE ON DISPLAY PLAY | HI-DEF


VIDEO: RUSSIAN ENGINEERS DISCUSS THEIR RASSVET MODULE PLAY


VIDEO: RASSVET HATCH CLOSED FOR FLIGHT PLAY | HI-DEF


VIDEO: FILLING MODULE WITH NASA SUPPLIES PLAY | HI-DEF



VIDEO: ASTRONAUTS VISIT THEIR SPACECRAFT PLAY | HI-DEF


VIDEO: CREW INSPECTS RASSVET MODULE PLAY | HI-DEF


SUBSCRIBE NOW