Spacewalkers to begin replacing giant batteries
BY WILLIAM HARWOOD
STORY WRITTEN FOR CBS NEWS "SPACE PLACE" & USED WITH PERMISSION
Posted: May 19, 2010


Astronauts Michael Good and Stephen Bowen are gearing up for a planned six-and-a-half-hour spacewalk, the first of two devoted to replacing six of the International Space Station's oldest solar array batteries.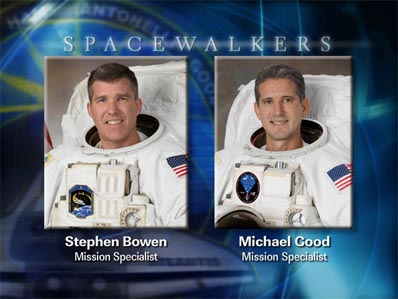 Credit: NASA TV



Bowen, a veteran submariner, also will take a moment at the beginning of the EVA to tie off a cable jamming the pan-and-tilt mechanism on the shuttle's heat shield inspection boom. Assuming the impromptu repair is successful, sensors on the end of the boom may be used later in the mission to collect additional imagery of critical areas that were not imaged earlier because of the cable snag.

NASA's Damage Assessment Team, based on imagery and other data collected earlier in the mission, has not spotted any damage that could cause problems during re-entry. While flight controllers are still considering using the repaired inspection boom for additional surveys of Atlantis' left wing leading edge panels, the inspections are not considered a requirement.

"Although the regular suite of imagery was not obtained, the teams used all the available assets to perform an engineering assessment on the thermal protection system," NASA's Mission Management Team said in an overnight message to the crew.

"The DAT cleared the TPS for entry based on these assessments. For the RCC (reinforced carbon carbon nose cap and wing leading edge panels), the DAT has high confidence, based on all available data, that there were no signatures indicating any damage from ascent debris. Based on these conclusions, there were no requirements from the DAT for additional docked surveys. Even without the full suite of imagery the MMT felt that it was a very low risk to wait until late inspection for the next survey."

The so-called late inspection is typically carried out after undocking to look for any signs of damage that might have occurred since the initial post-launch examination.

Today's spacewalk is scheduled to begin around 7:15 a.m. EDT. This will be the 145th spacewalk devoted to station assembly and maintenance since construction began in 1998, the ninth so far this year and the second of three planned by the Atlantis astronauts. Good, call sign EV-2, is a veteran of two Hubble Space Telescope spacewalks while Bowen, call sign EV-1, will be making his fifth excursion, his second during the current mission.

Today's excursion is the first of two devoted to replacing batteries in the P6 solar array at the far left end of the space station's power truss. The space station's solar array batteries are charged during daylight and provide the lab's electrical power during orbital darkness.

The P6 array, one of four NASA-supplied solar generators, was launched in November 2000. Six of its nickel-hydrogen batteries were replaced during a shuttle flight in July 2009 and the other six, well past their 6.5-year design life, are being replaced during Atlantis' mission.

"These aren't double As," Good joked before launch. "One of my brothers likes to give me a hard time about flying up in space and changing batteries, he thinks this is not a very difficult task, not a big deal. But these are like 400-pound nickel-hydrogen batteries, they're the size of a big suitcase, probably bigger than the airlines would let you take on without charging you extra. And they're pretty tricky. ... The alignment and the tolerances are very tight."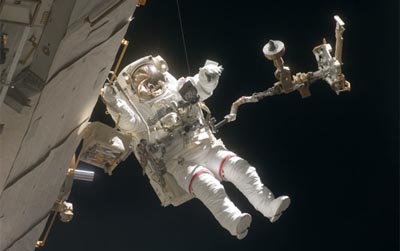 Credit: NASA TV



The six new batteries were carried aloft attached to an integrated cargo carrier in Atlantis' cargo bay. Astronaut Piers Sellers, using a robotic work station in the multi-window cupola, will extend the lab's robot arm to its maximum length to get the pallet as close as possible to the P6 array.

"This whole battery R & R is like a shell game, or one of those puzzles where you move the numbers around," said Lisa Shore, the lead spacewalk officer for Atlantis' mission. "The first thing you need to do is create an open spot to start the shuffle. So we'll install some handling aids onto the first battery we intend to remove. We're also going to install a ball stack, it's a metal tether that can be rigidized to temporarily stow the battery during the EVAs."

Good will be responsible for removing batteries from the truss and installing their replacements while Bowen moves batteries to and from the cargo carrier. After the first battery is removed from P6 and mounted on the ball stack, Bowen will pull a replacement battery from the cargo carrier. Both astronauts will carefully maneuver the massive power pack into place, taking special care not to damage fragile cooling fins on the back side.

Once the new battery is in place and electrically connected, the astronauts will move the old battery from its temporary mounting point and install it in the cargo carrier for return to Earth. That process will continue until at least three and possibly four batteries are installed. The remainder will be installed during the third and final spacewalk Friday.

"It's all about batteries," Good said before launch. "We're doing six of them on this flight and I get to do them all, with Steve on one EVA and Garret (Reisman) on the other. We've got to get them all done. They come up on a pallet in the shuttle's payload bay, the arm gets them out there to the very end of the truss on the space station, out there amongst the solar arrays. And that's probably got my biggest concern spacewalking wise, just getting through those batteries."

Lessons learned during the 2009 battery replacement work will be applied, but Good said problems are not unexpected.

"They got through them all, but they had a lot of curve balls thrown at them," he said. "The batteries are out there on this pallet, and they're on the end of the arm, and it's stretched out as far as it can go to get them out there, just to get them close. It can't actually get them all the way out to where we're going to be installing them. So we're going to take them off the pallet, shepherd them over to where they're going to go in and out of the truss, and it's kind of tricky to get them in and out."

Each battery is held in place by two bolts and "it seems like it would be pretty simple just to put them in and screw two bolts in," Good said. "But they go in on these posts, and they have to align just perfectly, and you have to overcome a soft dock to get them set in there before you can drive the bolts. And if you don't get it all the way in there just right, you could drive that bolt all you want, but you'd never catch a thread to make it draw into the slot where it goes. So there's going to be some work there."

Said Bowen: "A single stuck bolt, something slightly misaligned (can cause problems). ... It's a very delicate task. Hopefully we'll learn from the first one we do, we'll get into a groove and just be able to work our way through each of the batteries. How many batteries we get done on EVA-2 really sets up EVA-3."

Here is an updated timeline of today's activity (in EDT and mission elapsed time; includes revision D of the NASA television schedule):

EDT........DD...HH...MM...EVENT

05/19
02:20 AM...04...12...00...Crew wakeup
03:00 AM...04...12...40...EVA-1: Airlock repress/hygiene break
03:45 AM...04...13...25...EVA-1: Airlock depress to 10.2 psi
04:05 AM...04...13...45...ISS daily planning conference
04:10 AM...04...13...50...EVA-1: EVA prep
05:40 AM...04...15...20...EVA-2: Spacesuit purge
05:55 AM...04...15...35...EVA-2: Spacesuit prebreathe
06:45 AM...04...16...25...EVA-2: Crew lock depressurization
07:15 AM...04...16...55...EVA-2: Spacesuits to battery power
07:20 AM...04...17...00...EVA-2: Airlock egress
07:35 AM...04...17...15...EVA-2: Setup
07:45 AM...04...17...25...EVA-2 (Good): Worksite prep
07:45 AM...04...17...25...EVA-3 (Bowen): Inspection boom cable repair
08:05 AM...04...17...45...EVA-2 (Bowen): Worksite prep
08:45 AM...04...18...25...EVA-2: Temp stow battery
09:20 AM...04...19...00...EVA-2: P6 battery A/2 replacement
10:25 AM...04...20...05...EVA-2: P6 battery B/3 replacement
11:30 AM...04...21...10...EVA-2: P6 battery C replacement
12:05 PM...04...21...45...EVA-2: Install battery on pallet
12:40 PM...04...22...20...EVA-2: Cleanup and ingress
01:00 PM...04...22...40...SSRMS maneuvers to SARJ clear
01:45 PM...04...23...25...EVA-2: Airlock repressurization
01:55 PM...04...23...35...Spacesuit servicing
03:25 PM...05...01...05...ISS daily planning conference
04:00 PM...05...01...40...Mission status briefing on NTV
04:05 PM...05...01...45...EVA tagup
05:20 PM...05...03...00...ISS crew sleep begins
05:50 PM...05...03...30...STS crew sleep begins
06:00 PM...05...03...40...Daily highlights reel
10:00 PM...05...07...40...HD crew highlights



The final planned flight of space shuttle Atlantis is symbolized in the official embroidered crew patch for STS-132. Available in our store!


U.S. SHOPPERS | WORLDWIDE





Additional coverage for subscribers:


VIDEO: WEDNESDAY MORNING'S FLIGHT DIRECTOR INTERVIEW PLAY


VIDEO: STEP-BY-STEP WALKTHROUGH OF EVA NO. 2 PLAY


VIDEO: PREVIEW OF FLIGHT DAY 6 ACTIVITIES PLAY



HIGH DEFINITION TV DAY 5: FLIGHT DECK OF ATLANTIS PLAY


HIGH DEFINITION TV DAY 5: GIVING WATER TO STATION PLAY


HIGH DEFINITION TV DAY 5: INSIDE DESTINY LABORATORY PLAY


HIGH DEFINITION TV DAY 5: ROBOTICS WORKSTATION IN CUPOLA PLAY


HIGH DEFINITION TV DAY 5: LOOKING OUT WINDOW AT EARTH PLAY


HIGH DEFINITION TV DAY 5: DAILY SHUTTLE CHORES PLAY



VIDEO: FLIGHT DAY 5 HIGHLIGHTS MOVIE PLAY


VIDEO: CREW'S HOME MOVIES FOR FLIGHT DAY 5 PLAY


VIDEO: TUESDAY'S MISSION STATUS BRIEFING PLAY


VIDEO: MSNBC AND CNN INTERVIEWS OF CREW PLAY


VIDEO: CONGRATULATIONS FROM ALL AROUND PLAY


VIDEO: RASSVET CAPTURED AND SECURED TO ZARYA MODULE! PLAY


VIDEO: TWEAKING FINAL ALIGNMENT OVER DOCKING PORT PLAY


VIDEO: DOCKING PROBE EXTENDED FROM RASSVET NOSE PLAY


VIDEO: SWINGING RASSVET FROM ATLANTIS TO STATION PLAY


VIDEO: RASSVET UNBERTHED FROM SHUTTLE BAY PLAY


VIDEO: PREVIEW OF FLIGHT DAY 5 ACTIVITIES PLAY


VIDEO: TUESDAY MORNING'S FLIGHT DIRECTOR INTERVIEW PLAY


VIDEO: ANIMATED OVERVIEW OF RUSSIA'S RASSVET MODULE PLAY


VIDEO: ANIMATED OVERVIEW OF MISSION'S CARGO CARRIER PLAY



VIDEO: FLIGHT DAY 4 HIGHLIGHTS MOVIE PLAY


VIDEO: MONDAY'S MISSION STATUS BRIEFING PLAY


VIDEO: AN ADDITION TO DEXTRE ROBOT PLAY


VIDEO: TORQUING ANTENNA ASSEMBLY INTO PLACE PLAY


VIDEO: FETCHING 6-FOOT-DIAMETER ANTENNA DISH PLAY


VIDEO: BOLTING BOOM ATOP STATION'S Z1 TRUSS PLAY


VIDEO: SPACEWALKERS HANDOFF ANTENNA BOOM PLAY


VIDEO: UNPACKING ANTENNA BOOM FROM CARRIER PLAY


VIDEO: SPACEWALK NO. 1 BEGINS PLAY


VIDEO: STEP-BY-STEP WALKTHROUGH OF EVA NO. 1 PLAY


VIDEO: PREVIEW OF FLIGHT DAY 4 ACTIVITIES PLAY


VIDEO: MONDAY MORNING'S FLIGHT DIRECTOR INTERVIEW PLAY



VIDEO: FLIGHT DAY 3 HIGHLIGHTS MOVIE PLAY


VIDEO: MISSION MANAGEMENT TEAM CHAIRMAN UPDATE PLAY


VIDEO: CARRIER ATTACHED TO STATION'S RAILCAR PLAY


VIDEO: CARGO PALLET LIFTED FROM SHUTTLE BAY PLAY


VIDEO: SUNDAY'S MISSION STATUS BRIEFING PLAY


VIDEO: WELCOMING CEREMONY FOR SHUTTLE CREW PLAY


VIDEO: ATLANTIS DOCKS TO INTERNATIONAL SPACE STATION PLAY


VIDEO: SHUTTLE ATLANTIS PERFORMS BACKFLIP MANEUVER PLAY


VIDEO: BEAUTIFUL VIEWS OF SHUTTLE ATLANTIS APPROACHING PLAY


VIDEO: ANIMATED PREVIEW OF FLIGHT DAY 3 ACTIVITIES PLAY



VIDEO: FLIGHT DAY 2 HIGHLIGHTS MOVIE PLAY


VIDEO: CREW'S HOME MOVIES FOR FLIGHT DAY 2 PLAY


VIDEO: MISSION MANAGEMENT TEAM CHAIRMAN UPDATE PLAY


VIDEO: SATURDAY'S MISSION STATUS BRIEFING PLAY



VIDEO: FLIGHT DAY 1 HIGHLIGHTS MOVIE PLAY


VIDEO: THE FULL STS-132 LAUNCH EXPERIENCE PLAY


VIDEO: SHUTTLE ATLANTIS BLASTS OFF! PLAY | HI-DEF


VIDEO: GO INSIDE MISSION CONTROL DURING LAUNCH PLAY


VIDEO: POST-LAUNCH NEWS CONFERENCE PLAY



VIDEO: LAUNCH REPLAY: VAB ROOF PLAY | HI-DEF


VIDEO: LAUNCH REPLAY: PRESS SITE PLAY | HI-DEF


VIDEO: LAUNCH REPLAY: PATRICK AFB PLAY | HI-DEF


VIDEO: LAUNCH REPLAY: PAD PERIMETER PLAY | HI-DEF


VIDEO: LAUNCH REPLAY: BEACH TRACKER PLAY | HI-DEF


VIDEO: LAUNCH REPLAY: PAD CAMERA 070 PLAY | HI-DEF


VIDEO: LAUNCH REPLAY: PAD CAMERA 071 PLAY | HI-DEF


VIDEO: LAUNCH REPLAY: PLAYALINDA BEACH PLAY | HI-DEF


VIDEO: LAUNCH REPLAY: PAD FRONT CAMERA PLAY | HI-DEF



VIDEO: CREW ARRIVES AT LAUNCH PAD 39A PLAY | HI-DEF


VIDEO: ASTRONAUTS LEAVE CREW QUARTERS PLAY | HI-DEF


VIDEO: CREW FINISHES GETTING SUITED UP PLAY | HI-DEF


VIDEO: ASTRONAUTS WEARING TUXEDOS LAUNCH DAY PLAY | HI-DEF



VIDEO: NARRATED REVIEW OF SHUTTLE'S PREPARATIONS PLAY | HI-DEF


VIDEO: NARRATED REVIEW OF PAYLOADS' PREPARATIONS PLAY | HI-DEF



VIDEO: ATLANTIS ON EVE OF FINAL PLANNED LAUNCH PLAY | HI-DEF


VIDEO: LAUNCH PAD'S SERVICE TOWER RETRACTED PLAY | HI-DEF


VIDEO: PAYLOAD BAY DOORS CLOSED FOR LAUNCH PLAY | HI-DEF


VIDEO: ASTRONAUTS INSPECT THE PAYLOAD BAY PLAY | HI-DEF



VIDEO: JERRY ROSS' LAUNCH ON MISSION STS-61B PLAY


VIDEO: MAIDEN LAUNCH OF ATLANTIS AS SEEN LIVE IN 1985 PLAY


VIDEO: ATLANTIS' FIRST MISSION ENDS WITH LAKEBED LANDING PLAY


VIDEO: AN ASTRONAUT'S TRIBUTE TO SHUTTLE ATLANTIS PLAY



VIDEO: COUNTDOWN STATUS AND WEATHER FORECAST PLAY


VIDEO: WATCH NASA'S PRE-LAUNCH NEWS CONFERENCE PLAY


VIDEO: GET BRIEFED ON THE LAUNCH COUNTDOWN PLAY


VIDEO: HEAR FROM THE COMMANDER AT THE RUNWAY PLAY | HI-DEF


VIDEO: ASTRONAUTS ARRIVE IN FLORIDA FOR LAUNCH PLAY | HI-DEF



VIDEO: PRE-LAUNCH INTERVIEW WITH KEN HAM PLAY


VIDEO: PRE-LAUNCH INTERVIEW WITH TONY ANTONELLI PLAY


VIDEO: PRE-LAUNCH INTERVIEW WITH GARRETT REISMAN PLAY


VIDEO: PRE-LAUNCH INTERVIEW WITH MIKE GOOD PLAY


VIDEO: PRE-LAUNCH INTERVIEW WITH STEVE BOWEN PLAY


VIDEO: PRE-LAUNCH INTERVIEW WITH PIERS SELLERS PLAY



VIDEO: STS-132 MISSION PREVIEW MOVIE PLAY | HI-DEF



VIDEO: FULL FLIGHT READINESS REVIEW NEWS BRIEFING PLAY


VIDEO: RECAP OF THE FLIGHT READINESS REVIEW PLAY | HI-DEF


VIDEO: MANAGERS ASSESS ISSUES BEFORE FLIGHT PLAY | HI-DEF


VIDEO: UPDATE ON PRE-LAUNCH PREPS AT PAD 39A PLAY | HI-DEF



VIDEO: PROGRAM BRIEFING BY SHUTTLE AND STATION CHIEFS PLAY


VIDEO: THE STS-132 MISSION OVERVIEW PRESENTATIONS PLAY


VIDEO: PREVIEW BRIEFING ON MISSION'S SPACEWALKS PLAY


VIDEO: THE ASTRONAUTS' PRE-FLIGHT NEWS BRIEFING PLAY



VIDEO: SHUTTLE EVACUATION PRACTICE PLAY | HI-DEF


VIDEO: ASTRONAUTS BOARD ATLANTIS PLAY | HI-DEF


VIDEO: LAUNCH DAY REHEARSAL BEGINS PLAY | HI-DEF


VIDEO: CREW BRIEFED ON EMERGENCY PROCEDURES PLAY | HI-DEF


VIDEO: TEST-DRIVING AN EMERGENCY ARMORED TANK PLAY | HI-DEF


VIDEO: CREW'S CHAT WITH REPORTERS AT PAD 39A PLAY


VIDEO: ASTRONAUTS AT KENNEDY SPACE CENTER RUNWAY PLAY | HI-DEF


VIDEO: CREW ARRIVES FOR PRACTICE COUNTDOWN PLAY | HI-DEF



VIDEO: GANTRY PLACED AROUND ATLANTIS PLAY | HI-DEF


VIDEO: SHUTTLE ATLANTIS REACHES PAD 39A PLAY | HI-DEF


VIDEO: CROWDS AND THE CREW CHEER ON ATLANTIS PLAY | HI-DEF


VIDEO: OVERNIGHT ROLLOUT TO THE PAD BEGINS PLAY | HI-DEF



VIDEO: SHUTTLE HOISTED FOR ATTACHMENT TO TANK PLAY | HI-DEF


VIDEO: CRANE ROTATES THE ORBITER VERTICALLY PLAY | HI-DEF


VIDEO: ATLANTIS RISES OFF THE TRANSPORTER PLAY | HI-DEF


VIDEO: ORBITER EMERGES FROM ITS HANGAR PLAY | HI-DEF


VIDEO: BUTTONING UP RUDDER/SPEED BRAKE PLAY | HI-DEF


VIDEO: DOME SHIELDS AROUND MAIN ENGINES PLAY | HI-DEF


VIDEO: EXTERNAL TANK ATTACHED TO BOOSTERS PLAY | HI-DEF



VIDEO: PAYLOADS HEAD FOR LAUNCH PAD PLAY | HI-DEF


VIDEO: RASSVET PLACED INTO THE TRANSPORTER PLAY | HI-DEF


VIDEO: PALLET LOADED WITH MISSION'S CARGO PLAY | HI-DEF


VIDEO: RUSSIAN RASSVET MODULE ON DISPLAY PLAY | HI-DEF


VIDEO: RUSSIAN ENGINEERS DISCUSS THEIR RASSVET MODULE PLAY


VIDEO: RASSVET HATCH CLOSED FOR FLIGHT PLAY | HI-DEF


VIDEO: FILLING MODULE WITH NASA SUPPLIES PLAY | HI-DEF



VIDEO: ASTRONAUTS VISIT THEIR SPACECRAFT PLAY | HI-DEF


VIDEO: CREW INSPECTS RASSVET MODULE PLAY | HI-DEF


SUBSCRIBE NOW