It's a day to build another room on the space station
BY WILLIAM HARWOOD
STORY WRITTEN FOR CBS NEWS "SPACE PLACE" & USED WITH PERMISSION
Posted: May 18, 2010


Astronauts Garrett Reisman, operating the space station's robot arm, and Piers Sellers, sending commands from a laptop computer, plan to attach a nine-ton Russian module to the International Space Station today in a complex operation blending U.S. and Russian docking systems.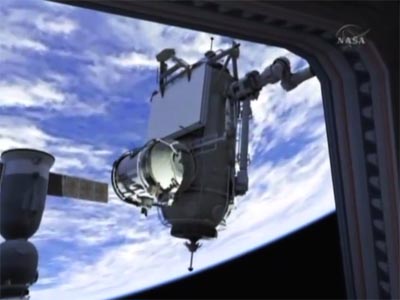 An illustration looking out the cupola windows shows Rassvet during installation. Credit: NASA



The station arm will move the "Rassvet" module in for docking at a much slower speed than Russian spacecraft typically employ. But Reisman and Sellers - the "Rassvet Rammers" - plan to make up for the lack of force by using the arm to precisely align the two docking systems, ensuring a successful capture.

"I think everything's going to work out just fine," shuttle commander Ken Ham told CBS News before launch. "But with any 'first' that you do, and this is the test pilot speaking, you've got to wonder about what is it that hasn't been thought about yet. And there are potentials in this scenario trying to get this on there with the arm. That makes it different."

The 17,760-pound mini-research module, known as Rassvet, or "Dawn," is packed with 3,086 pounds of NASA equipment and supplies and carrying an experiment airlock and European robot arm equipment that will be attached to other modules later.

Docked to the Earth-facing port of the central Zarya module, MRM-1 will bring additional pressurized volume for research and stowage and provide needed clearance between the forward Russian docking port and a U.S. storage module scheduled for attachment later this year.

Installation operations were scheduled to begin around 5:20 a.m. EDT when Atlantis commander Ken Ham and pilot Dominic Antonelli, operating the shuttle's robot arm, planned to pull the mini-research module, or MRM-1, from the orbiter's cargo bay.

After positioning the module within reach of the station's robot arm, Reisman and Sellers will take over and move MRM-1 into position for installation on Zarya's Earth-facing port.

"From that point, Garrett and Piers will maneuver the Rassvet module to where it's about five feet below the docking port where it's going to be installed," said space station Flight Director Scott Stover. "At that point, we check out the docking probe itself that's on Rassvet, making sure it's good."

The docking probe, extending from the front of the Rassvet module, is designed to fit into a cone-like receptacle in the Zarya docking interface. After the probe is in place, it will retract, pulling the two modules together so hooks and latches can engage to firmly seal the docking interface.

"Once the docking mechanism is activated, Garrett will go ahead and use the arm to push Rassvet into the docking port," Stover said. "They'll be looking for some telemetry from Rassvet, what we call 'capture confirmed' telemetry, which will tell us it's in place and ready for docking. At that point, Piers will use a Russian laptop to command Rassvet to do the docking.

"The docking probe will actually retract, which pulls the interface together. And then we'll drive some hooks that'll make a hard mate of Rassvet to Zarya."

After verifying Rassvet is securely attached and drawing power from the space station, Reisman will move the robot arm back to the shuttle's cargo bay to pick up the ship's heat shield inspection boom and hand it off to the shuttle arm.

Interference with a cable in the pan-and-tilt mechanism of the primary sensor package on the end of the boom forced the astronauts to use a backup procedure to inspect the shuttle's nose cap and wing leading edge panels the day after launch and additional inspections may be necessary later.

But engineers have developed a repair plan to move the offending cable and tie it out of the way. Repair plans were uplinked to the crew overnight for possible use during the crew's second spacewalk Wednesday.

The Russian module's docking system is virtually identical to the systems used by Progress and Soyuz spacecraft that dock with considerably more force than NASA typically employs. The station's robot arm cannot match that docking force, but by precisely centering the docking mechanisms, engineers are confident the Canadian space crane can get the job done.

"This module was originally designed to fly up, like all the other Russian modules, and dock under its own power, autonomously," Reisman said. "The way they do that is they have big cone (on one module) and a big probe (on the other), they get a good running start and it's almost like bringing train cars together. I was inside the station a couple of times when dockings occurred and you can feel her come in. It's definitely an event.

"What we're trying to do here is very different. ... They call it 'mini' but like many things, it's actually very big," said Reisman, who stands 5 feet 4 inches tall and is jokingly known as "Big G." "To have it on the very end of the arm, with the arm fully extended, there are a lot of dynamics at play. So the arm can't get the kind of ramming speed it normally develops under its nominal means of docking. So we're going to be restricted to coming in approximately five times slower, and that's the fastest the arm can do safely.

"What we hope to do is have very fine control and have it come right down the middle. There are a lot of people who have worked really hard, did a lot of analysis to verify this is going to work. But the exciting thing is it's never been done before and so I'm sure we'll all be watching very carefully as we bring that in on flight day five."

Commanding to the active side of the docking mechanism, inside the MRM-1 module, will be routed via ethernet from a laptop computer in the U.S. segment of the station to a Russian central computer and then back to the station's robot arm. Signals will move down the arm, through an electrically powered grapple fixture on the hull of the new module and then to an internal Russian computer.

On the positive side, Reisman and Sellers will be operating the arm and sending computer commands from the station's new multi-window cupola observation deck attached to the Tranquility module. Up until this point, the arm was operated from inside the Destiny lab module, using indirect television views to provide operators with views of various work sites.

For the MRM-1 installation, Reisman and Sellers will have a direct view of the module and the Russian docking port where it will be installed.

"This is going to be something," Sellers said. "Because up to now, the operators of the arm have never seen it, they've only watched it all on their TV screens. This is going to be kind of a first in that I'll be able to look out the window and see what I'm doing directly. Not all the time, but some of the time. I think it makes a huge difference. ... We're not looking at the toenail of the elephant here, we're seeing the whole elephant."

The direct view will help, but first, commanding through the Russian computer system must work properly.

"Getting data, power, communications, all of that is going through the arm," said station Flight Director Emily Nelson. "But the control goes from a laptop at the cupola robotic work station that Piers will be running that's connected through our ethernet connections on board all the way back to the Russian central computer and then comes back through the same ethernet connections, through the arm and into MRM-1. So all of that data's going through a pretty long path to get to where it's headed, which is new and different.

"Also, and I don't know how many of you have watched Progress and Soyuz dockings, but those vehicles don't come in slowly, they come in with quite a bit of force. There's a great deal of spring force in the probe head of the docking probe that has to be overcome, so we've also worked hard to ensure we've got the right rates on the arm, that the arm has sufficient rates to overcome those spring forces so that we can actually get the docking probe into the docking cone for the first physical mate."

The Russian docking system was designed to be tolerant of alignment errors. The approaching spacecraft's docking system features a long probe designed to fit into a cone-shaped receptacle on the target docking port. Once the probe is captured, hooks and latches are activated to firmly pull the two modules together.

"One of the reasons it's designed to bang together is then you can have tremendous errors in your alignment," Reisman said. "The receiving end is shaped like a cone. If you hit the side, with that momentum, the (probe) will just slide down the cone and end up in the hole."

The station's robot arm cannot drive MRM-1's probe into the docking cone on the Zarya module with the same amount of force. It makes up for that with high precision.

"Even though we're coming in five times slower, if we come in five times more accurately - which puts a lot of pressure on me! - (it will work)," Reisman said.

Assuming a successful docking, the station crew will be in no rush to open MRM-1 and begin unloading the NASA supplies and equipment that are stored inside. Because of the tight timeline for the Atlantis astronauts, that work is planned for after the shuttle departs.

Here is an updated timeline of today's activity (in EDT and mission elapsed time; includes revision C of the NASA television schedule):

EDT........DD...HH...MM...EVENT

05/18
02:50 AM...03...12...30...Crew wakeup
04:50 AM...03...14...30...ISS daily planning conference
05:20 AM...03...15...00...MRM-1 unberth
06:15 AM...03...15...55...MRM-1 docking operations
06:30 AM...03...16...10...EMU swap for EVA-2
06:55 AM...03...16...35...MRM-1 release
07:35 AM...03...17...15...OBSS repair tie wrap preps
07:55 AM...03...17...35...SRMS views docking
08:05 AM...03...17...45...EVA-2: Tools configured
09:35 AM...03...19...15...EVA-2: Equipment lock preps
10:05 AM...03...19...45...Crew meals begin
11:10 AM...03...20...50...SSRMS grapples OBSS
11:25 AM...03...21...05...SSRMS unberths OBSS
11:55 AM...03...21...35...SSRMS moves OBSS to handoff position
12:25 PM...03...22...05...SRMS grapples OBSS
12:45 PM...03...22...25...SSRMS releases OBSS
02:20 PM...04...00...00...PAO event
02:45 PM...04...25...00...EVA-2: Procedures review
03:30 PM...04...01...10...Mission status briefing on NTV
03:55 PM...04...01...35...ISS evening planning conference
05:15 PM...04...02...55...EVA-2: Mask pre-breathe
05:50 PM...04...03...30...EVA-2: 10.2 psi campout begins
06:20 PM...04...04...00...ISS crew sleep begins
06:50 PM...04...04...30...STS crew sleep begins
07:00 PM...04...04...40...Daily highlights reel
10:00 PM...04...07...40...HD crew highlights reel



The final planned flight of space shuttle Atlantis is symbolized in the official embroidered crew patch for STS-132. Available in our store!


U.S. SHOPPERS | WORLDWIDE





Additional coverage for subscribers:


VIDEO: PREVIEW OF FLIGHT DAY 5 ACTIVITIES PLAY


VIDEO: TUESDAY MORNING'S FLIGHT DIRECTOR INTERVIEW PLAY



VIDEO: FLIGHT DAY 4 HIGHLIGHTS MOVIE PLAY


VIDEO: MONDAY'S MISSION STATUS BRIEFING PLAY


VIDEO: AN ADDITION TO DEXTRE ROBOT PLAY


VIDEO: TORQUING ANTENNA ASSEMBLY INTO PLACE PLAY


VIDEO: FETCHING 6-FOOT-DIAMETER ANTENNA DISH PLAY


VIDEO: BOLTING BOOM ATOP STATION'S Z1 TRUSS PLAY


VIDEO: SPACEWALKERS HANDOFF ANTENNA BOOM PLAY


VIDEO: UNPACKING ANTENNA BOOM FROM CARRIER PLAY


VIDEO: SPACEWALK NO. 1 BEGINS PLAY


VIDEO: STEP-BY-STEP WALKTHROUGH OF EVA NO. 1 PLAY


VIDEO: PREVIEW OF FLIGHT DAY 4 ACTIVITIES PLAY


VIDEO: MONDAY MORNING'S FLIGHT DIRECTOR INTERVIEW PLAY



VIDEO: FLIGHT DAY 3 HIGHLIGHTS MOVIE PLAY


VIDEO: MISSION MANAGEMENT TEAM CHAIRMAN UPDATE PLAY


VIDEO: CARRIER ATTACHED TO STATION'S RAILCAR PLAY


VIDEO: CARGO PALLET LIFTED FROM SHUTTLE BAY PLAY


VIDEO: SUNDAY'S MISSION STATUS BRIEFING PLAY


VIDEO: WELCOMING CEREMONY FOR SHUTTLE CREW PLAY


VIDEO: ATLANTIS DOCKS TO INTERNATIONAL SPACE STATION PLAY


VIDEO: SHUTTLE ATLANTIS PERFORMS BACKFLIP MANEUVER PLAY


VIDEO: BEAUTIFUL VIEWS OF SHUTTLE ATLANTIS APPROACHING PLAY


VIDEO: ANIMATED PREVIEW OF FLIGHT DAY 3 ACTIVITIES PLAY



VIDEO: FLIGHT DAY 2 HIGHLIGHTS MOVIE PLAY


VIDEO: CREW'S HOME MOVIES FOR FLIGHT DAY 2 PLAY


VIDEO: MISSION MANAGEMENT TEAM CHAIRMAN UPDATE PLAY


VIDEO: SATURDAY'S MISSION STATUS BRIEFING PLAY



VIDEO: FLIGHT DAY 1 HIGHLIGHTS MOVIE PLAY


VIDEO: THE FULL STS-132 LAUNCH EXPERIENCE PLAY


VIDEO: SHUTTLE ATLANTIS BLASTS OFF! PLAY | HI-DEF


VIDEO: GO INSIDE MISSION CONTROL DURING LAUNCH PLAY


VIDEO: POST-LAUNCH NEWS CONFERENCE PLAY



VIDEO: LAUNCH REPLAY: VAB ROOF PLAY | HI-DEF


VIDEO: LAUNCH REPLAY: PRESS SITE PLAY | HI-DEF


VIDEO: LAUNCH REPLAY: PATRICK AFB PLAY | HI-DEF


VIDEO: LAUNCH REPLAY: PAD PERIMETER PLAY | HI-DEF


VIDEO: LAUNCH REPLAY: BEACH TRACKER PLAY | HI-DEF


VIDEO: LAUNCH REPLAY: PAD CAMERA 070 PLAY | HI-DEF


VIDEO: LAUNCH REPLAY: PAD CAMERA 071 PLAY | HI-DEF


VIDEO: LAUNCH REPLAY: PLAYALINDA BEACH PLAY | HI-DEF


VIDEO: LAUNCH REPLAY: PAD FRONT CAMERA PLAY | HI-DEF



VIDEO: CREW ARRIVES AT LAUNCH PAD 39A PLAY | HI-DEF


VIDEO: ASTRONAUTS LEAVE CREW QUARTERS PLAY | HI-DEF


VIDEO: CREW FINISHES GETTING SUITED UP PLAY | HI-DEF


VIDEO: ASTRONAUTS WEARING TUXEDOS LAUNCH DAY PLAY | HI-DEF



VIDEO: NARRATED REVIEW OF SHUTTLE'S PREPARATIONS PLAY | HI-DEF


VIDEO: NARRATED REVIEW OF PAYLOADS' PREPARATIONS PLAY | HI-DEF



VIDEO: ATLANTIS ON EVE OF FINAL PLANNED LAUNCH PLAY | HI-DEF


VIDEO: LAUNCH PAD'S SERVICE TOWER RETRACTED PLAY | HI-DEF


VIDEO: PAYLOAD BAY DOORS CLOSED FOR LAUNCH PLAY | HI-DEF


VIDEO: ASTRONAUTS INSPECT THE PAYLOAD BAY PLAY | HI-DEF



VIDEO: JERRY ROSS' LAUNCH ON MISSION STS-61B PLAY


VIDEO: MAIDEN LAUNCH OF ATLANTIS AS SEEN LIVE IN 1985 PLAY


VIDEO: ATLANTIS' FIRST MISSION ENDS WITH LAKEBED LANDING PLAY


VIDEO: AN ASTRONAUT'S TRIBUTE TO SHUTTLE ATLANTIS PLAY



VIDEO: COUNTDOWN STATUS AND WEATHER FORECAST PLAY


VIDEO: WATCH NASA'S PRE-LAUNCH NEWS CONFERENCE PLAY


VIDEO: GET BRIEFED ON THE LAUNCH COUNTDOWN PLAY


VIDEO: HEAR FROM THE COMMANDER AT THE RUNWAY PLAY | HI-DEF


VIDEO: ASTRONAUTS ARRIVE IN FLORIDA FOR LAUNCH PLAY | HI-DEF



VIDEO: PRE-LAUNCH INTERVIEW WITH KEN HAM PLAY


VIDEO: PRE-LAUNCH INTERVIEW WITH TONY ANTONELLI PLAY


VIDEO: PRE-LAUNCH INTERVIEW WITH GARRETT REISMAN PLAY


VIDEO: PRE-LAUNCH INTERVIEW WITH MIKE GOOD PLAY


VIDEO: PRE-LAUNCH INTERVIEW WITH STEVE BOWEN PLAY


VIDEO: PRE-LAUNCH INTERVIEW WITH PIERS SELLERS PLAY



VIDEO: STS-132 MISSION PREVIEW MOVIE PLAY | HI-DEF



VIDEO: FULL FLIGHT READINESS REVIEW NEWS BRIEFING PLAY


VIDEO: RECAP OF THE FLIGHT READINESS REVIEW PLAY | HI-DEF


VIDEO: MANAGERS ASSESS ISSUES BEFORE FLIGHT PLAY | HI-DEF


VIDEO: UPDATE ON PRE-LAUNCH PREPS AT PAD 39A PLAY | HI-DEF



VIDEO: PROGRAM BRIEFING BY SHUTTLE AND STATION CHIEFS PLAY


VIDEO: THE STS-132 MISSION OVERVIEW PRESENTATIONS PLAY


VIDEO: PREVIEW BRIEFING ON MISSION'S SPACEWALKS PLAY


VIDEO: THE ASTRONAUTS' PRE-FLIGHT NEWS BRIEFING PLAY



VIDEO: SHUTTLE EVACUATION PRACTICE PLAY | HI-DEF


VIDEO: ASTRONAUTS BOARD ATLANTIS PLAY | HI-DEF


VIDEO: LAUNCH DAY REHEARSAL BEGINS PLAY | HI-DEF


VIDEO: CREW BRIEFED ON EMERGENCY PROCEDURES PLAY | HI-DEF


VIDEO: TEST-DRIVING AN EMERGENCY ARMORED TANK PLAY | HI-DEF


VIDEO: CREW'S CHAT WITH REPORTERS AT PAD 39A PLAY


VIDEO: ASTRONAUTS AT KENNEDY SPACE CENTER RUNWAY PLAY | HI-DEF


VIDEO: CREW ARRIVES FOR PRACTICE COUNTDOWN PLAY | HI-DEF



VIDEO: GANTRY PLACED AROUND ATLANTIS PLAY | HI-DEF


VIDEO: SHUTTLE ATLANTIS REACHES PAD 39A PLAY | HI-DEF


VIDEO: CROWDS AND THE CREW CHEER ON ATLANTIS PLAY | HI-DEF


VIDEO: OVERNIGHT ROLLOUT TO THE PAD BEGINS PLAY | HI-DEF



VIDEO: SHUTTLE HOISTED FOR ATTACHMENT TO TANK PLAY | HI-DEF


VIDEO: CRANE ROTATES THE ORBITER VERTICALLY PLAY | HI-DEF


VIDEO: ATLANTIS RISES OFF THE TRANSPORTER PLAY | HI-DEF


VIDEO: ORBITER EMERGES FROM ITS HANGAR PLAY | HI-DEF


VIDEO: BUTTONING UP RUDDER/SPEED BRAKE PLAY | HI-DEF


VIDEO: DOME SHIELDS AROUND MAIN ENGINES PLAY | HI-DEF


VIDEO: EXTERNAL TANK ATTACHED TO BOOSTERS PLAY | HI-DEF



VIDEO: PAYLOADS HEAD FOR LAUNCH PAD PLAY | HI-DEF


VIDEO: RASSVET PLACED INTO THE TRANSPORTER PLAY | HI-DEF


VIDEO: PALLET LOADED WITH MISSION'S CARGO PLAY | HI-DEF


VIDEO: RUSSIAN RASSVET MODULE ON DISPLAY PLAY | HI-DEF


VIDEO: RUSSIAN ENGINEERS DISCUSS THEIR RASSVET MODULE PLAY


VIDEO: RASSVET HATCH CLOSED FOR FLIGHT PLAY | HI-DEF


VIDEO: FILLING MODULE WITH NASA SUPPLIES PLAY | HI-DEF



VIDEO: ASTRONAUTS VISIT THEIR SPACECRAFT PLAY | HI-DEF


VIDEO: CREW INSPECTS RASSVET MODULE PLAY | HI-DEF


SUBSCRIBE NOW