Spacewalking handymen add new features to the station
BY WILLIAM HARWOOD
STORY WRITTEN FOR CBS NEWS "SPACE PLACE" & USED WITH PERMISSION
Posted: May 17, 2010


Astronauts Garrett Reisman and Stephen Bowen carried out an extended seven-hour 25-minute spacewalk Monday, moving a backup Ku-band antenna to the International Space Station along with an equipment mounting platform. They also loosened bolts holding six new solar array batteries to a cargo pallet as get-ahead work for two upcoming spacewalks.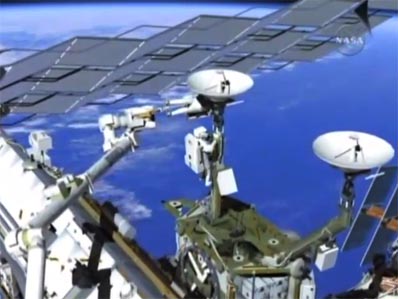 An illustration of the spacewalkers working on the station's new communications antenna next to the original one. Credit: NASA



"The EVA was pretty much a raging success," said Lisa Shore, the lead spacewalk officer for Atlantis' mission at the Johnson Space Center. "We met every one of our major objectives. These EVAs were a challenge to train because we could not complete them end to end in (ground facilities). Until we actually performed them, we weren't sure how the timing was going to come out. And the crew just did a fantastic job."

The spacewalkers had to contend with a space station computer glitch during the excursion, struggled with a balky electrical connector and were unable to completely tighten down the new dish antenna on its eight-foot-tall support mast.

Engineers are considering whether the bolts in question should be re-tightened at some point down he road to close up a 1-millimeter gap in the dish-boom interface. Because the current configuration has never been analyzed in terms of its response to structural loads, the astronauts were told to re-engage the antenna's steering system launch locks and to tether the antenna to the truss as a safety precaution.

Even so, mission managers said they considered the spacewalk and the progress of the Atlantis mission to this point to be an overall success.

"We couldn't be more pleased with how the mission is going so far," said LeRoy Cain, chairman of NASA's Mission Management Team. "We've had a few glitches here and there, but they're not significant in the grand scheme of the kinds of things we're trying to accomplish on this docked mission."

The computer glitch occurred as Reisman, anchored to the end of the station's robot arm, was in the process of getting the dish antenna from a cargo pallet before moving it up to the Z1 truss for installation. One of the station's three primary command-and-control computers, or C&C machines, dropped off line and handed operations over to a backup.

That, in turn, shut down the station's video system and the lab's robot arm. The robot arm was re-enabled after a brief interruption and the spacewalk proceeded.

Flight Director Emily Nelson said engineers believe the glitch may have been triggered when Bowen removed caps from electrical connectors in preparation for installation of the new Ku-band antenna.

"When the cap was removed, what we suspect is that that broke continuity in one of our data buses and that confused our C&C, our command and control computer, such that it suspected a failure," she said. "And in case the failure is with that computer, it goes off line and allows its backup to come up.

"All of the critical functions that that computer provides are handed over immediately to the backup machine. So we maintained communications via S-band, the (robot) arm safed itself because of that transition of its controller. But all of our other functions within the machine were handed over from one to the next."

The space station currently is operating with two C&C machines, a primary and a backup, pending a review of telemetry to make sure the problem with C&C No. 3 is fully understood.

Monday's spacewalk was the 144th devoted to station assembly and maintenance since construction began in 1998, the eighth so far this year and the first of three planned by the shuttle Atlantis' crew. Total EVA time now stands at 900 hours and 58 minutes, or 37.5 days. Bowen's EVA time through four spacewalks is 27 hours and 21 minutes while Reisman's total through two EVAs stands at 14 hours and 26 minutes.





The final planned flight of space shuttle Atlantis is symbolized in the official embroidered crew patch for STS-132. Available in our store!


U.S. SHOPPERS | WORLDWIDE





Additional coverage for subscribers:


VIDEO: MONDAY'S MISSION STATUS BRIEFING PLAY


VIDEO: AN ADDITION TO DEXTRE ROBOT PLAY


VIDEO: TORQUING ANTENNA ASSEMBLY INTO PLACE PLAY


VIDEO: FETCHING 6-FOOT-DIAMETER ANTENNA DISH PLAY


VIDEO: BOLTING BOOM ATOP STATION'S Z1 TRUSS PLAY


VIDEO: SPACEWALKERS HANDOFF ANTENNA BOOM PLAY


VIDEO: UNPACKING ANTENNA BOOM FROM CARRIER PLAY


VIDEO: SPACEWALK NO. 1 BEGINS PLAY


VIDEO: STEP-BY-STEP WALKTHROUGH OF EVA NO. 1 PLAY


VIDEO: PREVIEW OF FLIGHT DAY 4 ACTIVITIES PLAY


VIDEO: MONDAY MORNING'S FLIGHT DIRECTOR INTERVIEW PLAY



VIDEO: FLIGHT DAY 3 HIGHLIGHTS MOVIE PLAY


VIDEO: MISSION MANAGEMENT TEAM CHAIRMAN UPDATE PLAY


VIDEO: CARRIER ATTACHED TO STATION'S RAILCAR PLAY


VIDEO: CARGO PALLET LIFTED FROM SHUTTLE BAY PLAY


VIDEO: SUNDAY'S MISSION STATUS BRIEFING PLAY


VIDEO: WELCOMING CEREMONY FOR SHUTTLE CREW PLAY


VIDEO: ATLANTIS DOCKS TO INTERNATIONAL SPACE STATION PLAY


VIDEO: SHUTTLE ATLANTIS PERFORMS BACKFLIP MANEUVER PLAY


VIDEO: BEAUTIFUL VIEWS OF SHUTTLE ATLANTIS APPROACHING PLAY


VIDEO: ANIMATED PREVIEW OF FLIGHT DAY 3 ACTIVITIES PLAY



VIDEO: FLIGHT DAY 2 HIGHLIGHTS MOVIE PLAY


VIDEO: CREW'S HOME MOVIES FOR FLIGHT DAY 2 PLAY


VIDEO: MISSION MANAGEMENT TEAM CHAIRMAN UPDATE PLAY


VIDEO: SATURDAY'S MISSION STATUS BRIEFING PLAY



VIDEO: FLIGHT DAY 1 HIGHLIGHTS MOVIE PLAY


VIDEO: SHUTTLE ATLANTIS BLASTS OFF! PLAY | HI-DEF


VIDEO: GO INSIDE MISSION CONTROL DURING LAUNCH PLAY


VIDEO: POST-LAUNCH NEWS CONFERENCE PLAY



VIDEO: LAUNCH REPLAY: VAB ROOF PLAY | HI-DEF


VIDEO: LAUNCH REPLAY: PRESS SITE PLAY | HI-DEF


VIDEO: LAUNCH REPLAY: PATRICK AFB PLAY | HI-DEF


VIDEO: LAUNCH REPLAY: PAD PERIMETER PLAY | HI-DEF


VIDEO: LAUNCH REPLAY: BEACH TRACKER PLAY | HI-DEF


VIDEO: LAUNCH REPLAY: PAD CAMERA 070 PLAY | HI-DEF


VIDEO: LAUNCH REPLAY: PAD CAMERA 071 PLAY | HI-DEF


VIDEO: LAUNCH REPLAY: PLAYALINDA BEACH PLAY | HI-DEF


VIDEO: LAUNCH REPLAY: PAD FRONT CAMERA PLAY | HI-DEF



VIDEO: CREW ARRIVES AT LAUNCH PAD 39A PLAY | HI-DEF


VIDEO: ASTRONAUTS LEAVE CREW QUARTERS PLAY | HI-DEF


VIDEO: CREW FINISHES GETTING SUITED UP PLAY | HI-DEF


VIDEO: ASTRONAUTS WEARING TUXEDOS LAUNCH DAY PLAY | HI-DEF



VIDEO: NARRATED REVIEW OF SHUTTLE'S PREPARATIONS PLAY | HI-DEF


VIDEO: NARRATED REVIEW OF PAYLOADS' PREPARATIONS PLAY | HI-DEF



VIDEO: ATLANTIS ON EVE OF FINAL PLANNED LAUNCH PLAY | HI-DEF


VIDEO: LAUNCH PAD'S SERVICE TOWER RETRACTED PLAY | HI-DEF


VIDEO: PAYLOAD BAY DOORS CLOSED FOR LAUNCH PLAY | HI-DEF


VIDEO: ASTRONAUTS INSPECT THE PAYLOAD BAY PLAY | HI-DEF



VIDEO: JERRY ROSS' LAUNCH ON MISSION STS-61B PLAY


VIDEO: MAIDEN LAUNCH OF ATLANTIS AS SEEN LIVE IN 1985 PLAY


VIDEO: ATLANTIS' FIRST MISSION ENDS WITH LAKEBED LANDING PLAY


VIDEO: AN ASTRONAUT'S TRIBUTE TO SHUTTLE ATLANTIS PLAY



VIDEO: COUNTDOWN STATUS AND WEATHER FORECAST PLAY


VIDEO: WATCH NASA'S PRE-LAUNCH NEWS CONFERENCE PLAY


VIDEO: GET BRIEFED ON THE LAUNCH COUNTDOWN PLAY


VIDEO: HEAR FROM THE COMMANDER AT THE RUNWAY PLAY | HI-DEF


VIDEO: ASTRONAUTS ARRIVE IN FLORIDA FOR LAUNCH PLAY | HI-DEF



VIDEO: PRE-LAUNCH INTERVIEW WITH KEN HAM PLAY


VIDEO: PRE-LAUNCH INTERVIEW WITH TONY ANTONELLI PLAY


VIDEO: PRE-LAUNCH INTERVIEW WITH GARRETT REISMAN PLAY


VIDEO: PRE-LAUNCH INTERVIEW WITH MIKE GOOD PLAY


VIDEO: PRE-LAUNCH INTERVIEW WITH STEVE BOWEN PLAY


VIDEO: PRE-LAUNCH INTERVIEW WITH PIERS SELLERS PLAY



VIDEO: STS-132 MISSION PREVIEW MOVIE PLAY | HI-DEF



VIDEO: FULL FLIGHT READINESS REVIEW NEWS BRIEFING PLAY


VIDEO: RECAP OF THE FLIGHT READINESS REVIEW PLAY | HI-DEF


VIDEO: MANAGERS ASSESS ISSUES BEFORE FLIGHT PLAY | HI-DEF


VIDEO: UPDATE ON PRE-LAUNCH PREPS AT PAD 39A PLAY | HI-DEF



VIDEO: PROGRAM BRIEFING BY SHUTTLE AND STATION CHIEFS PLAY


VIDEO: THE STS-132 MISSION OVERVIEW PRESENTATIONS PLAY


VIDEO: PREVIEW BRIEFING ON MISSION'S SPACEWALKS PLAY


VIDEO: THE ASTRONAUTS' PRE-FLIGHT NEWS BRIEFING PLAY



VIDEO: SHUTTLE EVACUATION PRACTICE PLAY | HI-DEF


VIDEO: ASTRONAUTS BOARD ATLANTIS PLAY | HI-DEF


VIDEO: LAUNCH DAY REHEARSAL BEGINS PLAY | HI-DEF


VIDEO: CREW BRIEFED ON EMERGENCY PROCEDURES PLAY | HI-DEF


VIDEO: TEST-DRIVING AN EMERGENCY ARMORED TANK PLAY | HI-DEF


VIDEO: CREW'S CHAT WITH REPORTERS AT PAD 39A PLAY


VIDEO: ASTRONAUTS AT KENNEDY SPACE CENTER RUNWAY PLAY | HI-DEF


VIDEO: CREW ARRIVES FOR PRACTICE COUNTDOWN PLAY | HI-DEF



VIDEO: GANTRY PLACED AROUND ATLANTIS PLAY | HI-DEF


VIDEO: SHUTTLE ATLANTIS REACHES PAD 39A PLAY | HI-DEF


VIDEO: CROWDS AND THE CREW CHEER ON ATLANTIS PLAY | HI-DEF


VIDEO: OVERNIGHT ROLLOUT TO THE PAD BEGINS PLAY | HI-DEF



VIDEO: SHUTTLE HOISTED FOR ATTACHMENT TO TANK PLAY | HI-DEF


VIDEO: CRANE ROTATES THE ORBITER VERTICALLY PLAY | HI-DEF


VIDEO: ATLANTIS RISES OFF THE TRANSPORTER PLAY | HI-DEF


VIDEO: ORBITER EMERGES FROM ITS HANGAR PLAY | HI-DEF


VIDEO: BUTTONING UP RUDDER/SPEED BRAKE PLAY | HI-DEF


VIDEO: DOME SHIELDS AROUND MAIN ENGINES PLAY | HI-DEF


VIDEO: EXTERNAL TANK ATTACHED TO BOOSTERS PLAY | HI-DEF



VIDEO: PAYLOADS HEAD FOR LAUNCH PAD PLAY | HI-DEF


VIDEO: RASSVET PLACED INTO THE TRANSPORTER PLAY | HI-DEF


VIDEO: PALLET LOADED WITH MISSION'S CARGO PLAY | HI-DEF


VIDEO: RUSSIAN RASSVET MODULE ON DISPLAY PLAY | HI-DEF


VIDEO: RUSSIAN ENGINEERS DISCUSS THEIR RASSVET MODULE PLAY


VIDEO: RASSVET HATCH CLOSED FOR FLIGHT PLAY | HI-DEF


VIDEO: FILLING MODULE WITH NASA SUPPLIES PLAY | HI-DEF



VIDEO: ASTRONAUTS VISIT THEIR SPACECRAFT PLAY | HI-DEF


VIDEO: CREW INSPECTS RASSVET MODULE PLAY | HI-DEF


SUBSCRIBE NOW