Spacewalkers to give space station external upgrades
BY WILLIAM HARWOOD
STORY WRITTEN FOR CBS NEWS "SPACE PLACE" & USED WITH PERMISSION
Posted: May 17, 2010


Astronauts Garrett Reisman and Stephen Bowen are suiting up for a planned six-and-a-half-hour spacewalk to install a backup Ku-band dish antenna on the International Space Station, along with a robot arm equipment mounting platform.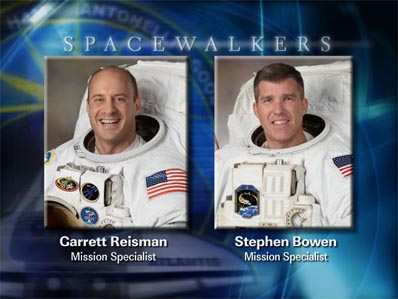 Credit: NASA



The spacewalk is scheduled to begin at 8:15 a.m. EDT when Reisman and Bowen, floating in the Quest airlock module, switch their spacesuits to battery power. Reisman, call sign EV-1, will be wearing an unmarked suit while Bowen, EV-2, will be wearing a suit with red stripes around the legs.

This is the 144th spacewalk devoted to station assembly and maintenance since construction began in 1998, the eighth so far this year and the first of three planned by the shuttle Atlantis' crew. Bowen is making his fourth spacewalk and Reisman is making his second. Total space station EVA time going into Monday's excursion was 893 hours and 33 minutes, or 37.2 days.

Reisman and Bowen spent the night in the Quest module at a reduced pressure of 10.2 pounds per square inch to help purge nitrogen from their bloodstreams, a routine protocol intended to prevent decompression sickness, or the bends, when working in NASA's 5 psi spacesuits.

"It's going to be a long EVA," said station flight director Scott Stover. "We have two major objectives. The first one is installing the new space-to-ground antenna system that came up with Atlantis. What this is going to be is a backup high-data-rate antenna that's used for space station video and experiment data. Right now there's only one on board the space station and this will be a backup for that.

"Garrett will be on the end of the arm and he will be handling the big pieces of this antenna, moving (them) back and forth while Steve is there to run cables and bolts to make sure everything is being attached," Stover said. "So you'll see multiple times where Garrett is getting a piece of equipment off the ICC (integrated cargo carrier) and moving it over to the right place on space station for it to be installed by Steve."

The second objective of the spacewalk is to install an enhanced spare parts storage platform on the Canadian special purpose dexterous manipulator, or DEXTRE, a hand-like robot arm attachment that can be used to install replacement components or service external experiments.

"The current one that's installed on DEXTRE can only handle one spare box," Stover said. "This new enhanced version is able to handle multiple boxes, so what Garrett and Steve are going to do is remove the old one, temporarily stow it on that on the space station and install the new one."

The backup antenna dish and its support beam, along with robot arm storage platform and six new solar array batteries, are mounted on the integrated cargo carrier. The carrier was pulled from the shuttle's cargo bay after docking Sunday and mounted on the robot arm transporter on the front side of the station's solar power truss.

After exiting the airlock, Reisman and Bowen will make their way to the cargo pallet and install foot restraints, one on the pallet itself and one of the robot arm. The eight-foot-long boom that will support the spare antenna will be removed from the pallet, and Reisman, riding on the end of the robot arm, will carry it to the Z1 truss atop the station's central Unity module.

The spacewalkers then will secure the boom with two bolts. While Bowen is making electrical connections, Reisman will ride the arm, operated by Piers Sellers from the new multi-window cupola, in a windshield wiper-like trajectory back to the cargo pallet to pick up the six-foot-wide Ku-band antenna.

"The dish is pretty fragile and we're instructed not to bump that into anything," Reisman said. "Piers is going to be operating the big arm, and I'll be standing on the end of it while we bring the dish out. At that point, the dish comes very close to the boom of the arm.

"The worrisome thing for me is I can't really see it because I have a big face full of dish, and the boom is on the other side. So I'll be counting on Piers to talk me through it and give me nice calls. We'll have to coordinate very carefully. It's definitely an area of concern."

Reisman, holding the dish, will follow another windshield wiper trajectory back to the top of the Z1 truss where Bowen will help move it into position before driving four bolts to hold it in place and hooking up two electrical connectors.

After installing insulation around the base of the antenna, Reisman will ride the arm back to the cargo pallet to retrieve an equipment stowage platform that will be attached to the Canadian special purpose dexterous manipulator, or SPDM, robot arm extension. The platform will be used down the road to temporarily hold components that are being replaced by the space crane.

Once the platform is in place the astronauts will turn their attention to a get-ahead task if time is available, loosening the bolts holding new solar array batteries to the cargo pallet.

"While the pallet's based on the truss there, we can actually break all the torque on the bolts with a ratchet wrench instead of using this heavy torque multiplier," Reisman said. "Just like lug nuts on your car, we can do it very quickly."

Bowen said the key to the first spacewalk is "a very intricate choreography."

"And the reason for that is using the arm to remove the pieces off the pallet and then taking them all over station to install them. ... I get to climb all over, he gets to fly all over. But the choreography is key to EVA-1. If the choreography works and the timing works out and we complete all the tasks on EVA-1, we will be well set up for EVA-2.

"Everything has to work," he said. "Any one of these EVAs, a single bolt can put everything behind. So we have to be very efficient and hopefully get through our tasks in a very nominal timeframe so the next piece is ready to go."

Here is an updated timeline of today's activity (in EDT and mission elapsed time; includes revision B of the NASA television schedule; best viewed with fixed-width font):

EDT........DD...HH...MM...EVENT

05/17
03:20 AM...02...13...00...Crew wakeup
04:00 AM...02...13...40...EVA-1: Airlock repress/hygiene break
04:45 AM...02...14...25...EVA-1: Airlock depress to 10.2 psi
04:50 AM...02...14...30...ISS daily planning conference
06:40 AM...02...16...20...EVA-1: Spacesuit purge
06:55 AM...02...16...35...EVA-1: Spacesuit prebreathe
07:10 AM...02...16...50...Docking playback
07:45 AM...02...17...25...EVA-1: Crew lock depressurization
08:15 AM...02...17...55...EVA-1: Spacesuits to battery power
08:20 AM...02...18...00...EVA-1: Egress
08:35 AM...02...18...15...EVA-1: Setup
08:45 AM...02...18...25...EVA-1: Pallet preps
09:40 AM...02...19...20...EVA-1 (Reisman): SGANT installation
10:05 AM...02...19...45...EVA-1 (Bowen): SGANT installation
12:20 PM...02...22...00...EVA-1 (Reisman): EOTP install
01:15 PM...02...22...55...EVA-1 (Bowen): EOTP install
01:50 PM...02...23...30...EVA-1 (Reisman): SSRMS cleanup
01:50 PM...02...23...30...EVA-1 (Bowen): Battery preps
02:15 PM...02...23...55...Cleanup and ingress
02:45 PM...03...25...00...EVA-1: Airlock repressurization
02:55 PM...03...35...00...Post-EVA servicing
03:45 PM...03...01...25...ISS daily planning conference
04:00 PM...03...01...40...Mission status briefing on NTV
04:15 PM...03...01...55...EVA tagup
06:20 PM...03...04...00...ISS crew sleep begins
06:50 PM...03...04...30...STS crew sleep begins
07:00 PM...03...04...40...Daily highlights reel



The final planned flight of space shuttle Atlantis is symbolized in the official embroidered crew patch for STS-132. Available in our store!


U.S. SHOPPERS | WORLDWIDE





Additional coverage for subscribers:


VIDEO: MISSION MANAGEMENT TEAM CHAIRMAN UPDATE PLAY


VIDEO: CARRIER ATTACHED TO STATION'S RAILCAR PLAY


VIDEO: CARGO PALLET LIFTED FROM SHUTTLE BAY PLAY


VIDEO: SUNDAY'S MISSION STATUS BRIEFING PLAY


VIDEO: WELCOMING CEREMONY FOR SHUTTLE CREW PLAY


VIDEO: ATLANTIS DOCKS TO INTERNATIONAL SPACE STATION PLAY


VIDEO: SHUTTLE ATLANTIS PERFORMS BACKFLIP MANEUVER PLAY


VIDEO: BEAUTIFUL VIEWS OF SHUTTLE ATLANTIS APPROACHING PLAY


VIDEO: ANIMATED PREVIEW OF FLIGHT DAY 3 ACTIVITIES PLAY



VIDEO: FLIGHT DAY 2 HIGHLIGHTS MOVIE PLAY


VIDEO: CREW'S HOME MOVIES FOR FLIGHT DAY 2 PLAY


VIDEO: MISSION MANAGEMENT TEAM CHAIRMAN UPDATE PLAY


VIDEO: SATURDAY'S MISSION STATUS BRIEFING PLAY



VIDEO: FLIGHT DAY 1 HIGHLIGHTS MOVIE PLAY


VIDEO: SHUTTLE ATLANTIS BLASTS OFF! PLAY | HI-DEF


VIDEO: GO INSIDE MISSION CONTROL DURING LAUNCH PLAY


VIDEO: POST-LAUNCH NEWS CONFERENCE PLAY



VIDEO: CREW ARRIVES AT LAUNCH PAD 39A PLAY | HI-DEF


VIDEO: ASTRONAUTS LEAVE CREW QUARTERS PLAY | HI-DEF


VIDEO: CREW FINISHES GETTING SUITED UP PLAY | HI-DEF



VIDEO: NARRATED REVIEW OF SHUTTLE'S PREPARATIONS PLAY | HI-DEF


VIDEO: NARRATED REVIEW OF PAYLOADS' PREPARATIONS PLAY | HI-DEF



VIDEO: ATLANTIS ON EVE OF FINAL PLANNED LAUNCH PLAY | HI-DEF


VIDEO: LAUNCH PAD'S SERVICE TOWER RETRACTED PLAY | HI-DEF


VIDEO: PAYLOAD BAY DOORS CLOSED FOR LAUNCH PLAY | HI-DEF


VIDEO: ASTRONAUTS INSPECT THE PAYLOAD BAY PLAY | HI-DEF



VIDEO: JERRY ROSS' LAUNCH ON MISSION STS-61B PLAY


VIDEO: MAIDEN LAUNCH OF ATLANTIS AS SEEN LIVE IN 1985 PLAY


VIDEO: ATLANTIS' FIRST MISSION ENDS WITH LAKEBED LANDING PLAY


VIDEO: AN ASTRONAUT'S TRIBUTE TO SHUTTLE ATLANTIS PLAY



VIDEO: COUNTDOWN STATUS AND WEATHER FORECAST PLAY


VIDEO: WATCH NASA'S PRE-LAUNCH NEWS CONFERENCE PLAY


VIDEO: GET BRIEFED ON THE LAUNCH COUNTDOWN PLAY


VIDEO: HEAR FROM THE COMMANDER AT THE RUNWAY PLAY | HI-DEF


VIDEO: ASTRONAUTS ARRIVE IN FLORIDA FOR LAUNCH PLAY | HI-DEF



VIDEO: PRE-LAUNCH INTERVIEW WITH KEN HAM PLAY


VIDEO: PRE-LAUNCH INTERVIEW WITH TONY ANTONELLI PLAY


VIDEO: PRE-LAUNCH INTERVIEW WITH GARRETT REISMAN PLAY


VIDEO: PRE-LAUNCH INTERVIEW WITH MIKE GOOD PLAY


VIDEO: PRE-LAUNCH INTERVIEW WITH STEVE BOWEN PLAY


VIDEO: PRE-LAUNCH INTERVIEW WITH PIERS SELLERS PLAY



VIDEO: STS-132 MISSION PREVIEW MOVIE PLAY | HI-DEF



VIDEO: FULL FLIGHT READINESS REVIEW NEWS BRIEFING PLAY


VIDEO: RECAP OF THE FLIGHT READINESS REVIEW PLAY | HI-DEF


VIDEO: MANAGERS ASSESS ISSUES BEFORE FLIGHT PLAY | HI-DEF


VIDEO: UPDATE ON PRE-LAUNCH PREPS AT PAD 39A PLAY | HI-DEF



VIDEO: PROGRAM BRIEFING BY SHUTTLE AND STATION CHIEFS PLAY


VIDEO: THE STS-132 MISSION OVERVIEW PRESENTATIONS PLAY


VIDEO: PREVIEW BRIEFING ON MISSION'S SPACEWALKS PLAY


VIDEO: THE ASTRONAUTS' PRE-FLIGHT NEWS BRIEFING PLAY



VIDEO: SHUTTLE EVACUATION PRACTICE PLAY | HI-DEF


VIDEO: ASTRONAUTS BOARD ATLANTIS PLAY | HI-DEF


VIDEO: LAUNCH DAY REHEARSAL BEGINS PLAY | HI-DEF


VIDEO: CREW BRIEFED ON EMERGENCY PROCEDURES PLAY | HI-DEF


VIDEO: TEST-DRIVING AN EMERGENCY ARMORED TANK PLAY | HI-DEF


VIDEO: CREW'S CHAT WITH REPORTERS AT PAD 39A PLAY


VIDEO: ASTRONAUTS AT KENNEDY SPACE CENTER RUNWAY PLAY | HI-DEF


VIDEO: CREW ARRIVES FOR PRACTICE COUNTDOWN PLAY | HI-DEF



VIDEO: GANTRY PLACED AROUND ATLANTIS PLAY | HI-DEF


VIDEO: SHUTTLE ATLANTIS REACHES PAD 39A PLAY | HI-DEF


VIDEO: CROWDS AND THE CREW CHEER ON ATLANTIS PLAY | HI-DEF


VIDEO: OVERNIGHT ROLLOUT TO THE PAD BEGINS PLAY | HI-DEF



VIDEO: SHUTTLE HOISTED FOR ATTACHMENT TO TANK PLAY | HI-DEF


VIDEO: CRANE ROTATES THE ORBITER VERTICALLY PLAY | HI-DEF


VIDEO: ATLANTIS RISES OFF THE TRANSPORTER PLAY | HI-DEF


VIDEO: ORBITER EMERGES FROM ITS HANGAR PLAY | HI-DEF


VIDEO: BUTTONING UP RUDDER/SPEED BRAKE PLAY | HI-DEF


VIDEO: DOME SHIELDS AROUND MAIN ENGINES PLAY | HI-DEF


VIDEO: EXTERNAL TANK ATTACHED TO BOOSTERS PLAY | HI-DEF



VIDEO: PAYLOADS HEAD FOR LAUNCH PAD PLAY | HI-DEF


VIDEO: RASSVET PLACED INTO THE TRANSPORTER PLAY | HI-DEF


VIDEO: PALLET LOADED WITH MISSION'S CARGO PLAY | HI-DEF


VIDEO: RUSSIAN RASSVET MODULE ON DISPLAY PLAY | HI-DEF


VIDEO: RUSSIAN ENGINEERS DISCUSS THEIR RASSVET MODULE PLAY


VIDEO: RASSVET HATCH CLOSED FOR FLIGHT PLAY | HI-DEF


VIDEO: FILLING MODULE WITH NASA SUPPLIES PLAY | HI-DEF



VIDEO: ASTRONAUTS VISIT THEIR SPACECRAFT PLAY | HI-DEF


VIDEO: CREW INSPECTS RASSVET MODULE PLAY | HI-DEF


SUBSCRIBE NOW