Space station's Harmony port receives shuttle Atlantis
BY WILLIAM HARWOOD
STORY WRITTEN FOR CBS NEWS "SPACE PLACE" & USED WITH PERMISSION
Posted: May 16, 2010


The shuttle Atlantis, carrying a Russian docking module and critical spare parts, glided to a smooth docking with the International Space Station Sunday, capping a two-day orbital chase that began with blastoff Friday.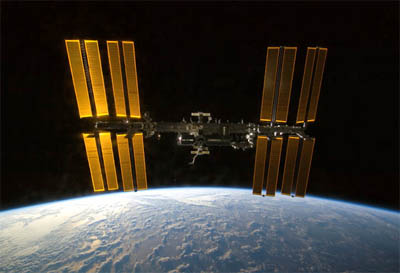 Credit: NASA



Piloting the shuttle from the aft flight deck, commander Kenneth Ham deftly guided the 120-ton spacecraft to a picture-perfect docking with the lab's forward port at 10:28 a.m. EDT as the 1-million-pound shuttle-station complex sailed 220 miles above the South Pacific Ocean.

"Houston and station, capture confirmed," pilot Dominic Antonelli radioed as the shuttle's payload bay docking mechanism engaged its station counterpart.

"Atlantis, station, ISS is in free drift," Japanese astronaut Soichi Noguchi replied. "And welcome to station." A few moments later, flight engineer Timothy Creamer rang the ship's bell in the forward Harmony module to formally announce Atlantis' arrival.

It took a bit less than two hours to firmly lock the two spacecraft together and complete leak checks before hatches are opened at 12:18 p.m. and the station crew - Noguchi, Creamer, Expedition 23 commander Oleg Kotov, Tracy Caldwell Dyson, Alexander Skvortsov and Mikhail Kornienko - welcome their shuttle colleagues aboard.

"And Houston, station, on the big loop, with Atlantis crew on board ISS," Kotov called down as the two crews shared hugs and handshakes in the forward Harmony module. "It is our pleasure to welcome them and to see them here. It's a really big event for us, bringing us a new Russian module to station."

With the exception of Michael Good, veteran of a Hubble Space Telescope servicing mission, the rest of the Atlantis crew - Ham, Antonelli, Stephen Bowen, Piers Sellers and Garrett Reisman - are veterans of at least one previous space station visit.

"For almost all of us on board Atlantis, we've been here before but it's bigger than we remember and speaking for myself, better than I remember," Ham said. "I love this place!"

After a brief safety briefing from Kotov, the astronauts got back to work, transferring equipment to the lab and gearing up for a spacewalk Monday, the first of three planned for the mission.

Just before 3 p.m., Sellers and Caldwell Dyson used the station's robot arm to pull a cargo pallet out of the shuttle's payload bay so it could be mounted on a stowage fixture on the front side of the station's solar power truss. The cargo carrier holds a spare Ku-band dish antenna that will be installed by Reisman and Bowen during Monday's spacewalk, along with an equipment mounting platform that will be attached to a Canadian robot arm extension.

The cargo carrier also holds six 375-pound batteries that will be installed during the mission's second and third spacewalks.

Ham and company began the shuttle's final approach to the station with a rocket firing at 7:40 a.m. to begin closing the final 9.2. miles. Moving in to a point about 600 feet directly below the lab complex, Ham guided Atlantis through a spectacular 360-degree back-flip maneuver as the spaceplane sailed across southern Europe, exposing the shuttle's underside to the station.

Kotov and Creamer, using digital cameras equipped with powerful telephoto lenses, photographed the heat shield tiles on the belly of the orbiter while Caldwell Dyson focused on the shuttle's left wing leading edge panels.

The shuttle's carbon composite nose cap and wing leading edge panels, which experience the most extreme heating during re-entry, were inspected Saturday. But problems with a pan-and-tilt mechanism on the end of the shuttle's inspection boom forced the crew to use backup procedures and they were unable to complete the left wing.

Lead shuttle Flight Director Mike Sarafin said inspection procedures may be added to the crew's timeline later, depending on the quality of the photos shot by Caldwell Dyson during Sunday's approach.

"All of the images, roughly 400 digital still images, are on the ground, currently being assessed and analyzed," Sarafin said. "We expect those folks to meet later this evening to decide whether we need to go off and gather additional imagery to clear Atlantis' heat shield or if we have everything we need.

"We're looking at backup methods to use the shuttle's robotic arm in the event some of those activities do require arm support from the shuttle," he said. "The activities we have ahead of us tomorrow, with our first spacewalk as well as installation of the (Russian) Rassvet module, are going to be performed as planned. So any changes to the mission timeline will occur after the module is installed on flight day five."

Late last week, flight controllers began monitoring a piece of unidentified space debris that was expected to pass within a few miles of the station shortly after the shuttle docking.

Saturday evening, after additional radar tracking showed the debris would not pass close enough to cause any problems, plans for a possible avoidance maneuver were called off. Sarafin said Sunday the actual miss distance was about 10 statute miles, well outside the station's safety zone.



The final planned flight of space shuttle Atlantis is symbolized in the official embroidered crew patch for STS-132. Available in our store!


U.S. SHOPPERS | WORLDWIDE





Additional coverage for subscribers:


VIDEO: SUNDAY'S MISSION STATUS BRIEFING PLAY


VIDEO: WELCOMING CEREMONY FOR SHUTTLE CREW PLAY


VIDEO: ATLANTIS DOCKS TO INTERNATIONAL SPACE STATION PLAY


VIDEO: SHUTTLE ATLANTIS PERFORMS BACKFLIP MANEUVER PLAY


VIDEO: BEAUTIFUL VIEWS OF SHUTTLE ATLANTIS APPROACHING PLAY


VIDEO: ANIMATED PREVIEW OF FLIGHT DAY 3 ACTIVITIES PLAY



VIDEO: FLIGHT DAY 2 HIGHLIGHTS MOVIE PLAY


VIDEO: CREW'S HOME MOVIES FOR FLIGHT DAY 2 PLAY


VIDEO: MISSION MANAGEMENT TEAM CHAIRMAN UPDATE PLAY


VIDEO: SATURDAY'S MISSION STATUS BRIEFING PLAY



VIDEO: FLIGHT DAY 1 HIGHLIGHTS MOVIE PLAY


VIDEO: SHUTTLE ATLANTIS BLASTS OFF! PLAY | HI-DEF


VIDEO: GO INSIDE MISSION CONTROL DURING LAUNCH PLAY


VIDEO: POST-LAUNCH NEWS CONFERENCE PLAY



VIDEO: CREW ARRIVES AT LAUNCH PAD 39A PLAY | HI-DEF


VIDEO: ASTRONAUTS LEAVE CREW QUARTERS PLAY | HI-DEF


VIDEO: CREW FINISHES GETTING SUITED UP PLAY | HI-DEF



VIDEO: NARRATED REVIEW OF SHUTTLE'S PREPARATIONS PLAY | HI-DEF


VIDEO: NARRATED REVIEW OF PAYLOADS' PREPARATIONS PLAY | HI-DEF



VIDEO: ATLANTIS ON EVE OF FINAL PLANNED LAUNCH PLAY | HI-DEF


VIDEO: LAUNCH PAD'S SERVICE TOWER RETRACTED PLAY | HI-DEF


VIDEO: PAYLOAD BAY DOORS CLOSED FOR LAUNCH PLAY | HI-DEF


VIDEO: ASTRONAUTS INSPECT THE PAYLOAD BAY PLAY | HI-DEF



VIDEO: JERRY ROSS' LAUNCH ON MISSION STS-61B PLAY


VIDEO: MAIDEN LAUNCH OF ATLANTIS AS SEEN LIVE IN 1985 PLAY


VIDEO: ATLANTIS' FIRST MISSION ENDS WITH LAKEBED LANDING PLAY


VIDEO: AN ASTRONAUT'S TRIBUTE TO SHUTTLE ATLANTIS PLAY



VIDEO: COUNTDOWN STATUS AND WEATHER FORECAST PLAY


VIDEO: WATCH NASA'S PRE-LAUNCH NEWS CONFERENCE PLAY


VIDEO: GET BRIEFED ON THE LAUNCH COUNTDOWN PLAY


VIDEO: HEAR FROM THE COMMANDER AT THE RUNWAY PLAY | HI-DEF


VIDEO: ASTRONAUTS ARRIVE IN FLORIDA FOR LAUNCH PLAY | HI-DEF



VIDEO: PRE-LAUNCH INTERVIEW WITH KEN HAM PLAY


VIDEO: PRE-LAUNCH INTERVIEW WITH TONY ANTONELLI PLAY


VIDEO: PRE-LAUNCH INTERVIEW WITH GARRETT REISMAN PLAY


VIDEO: PRE-LAUNCH INTERVIEW WITH MIKE GOOD PLAY


VIDEO: PRE-LAUNCH INTERVIEW WITH STEVE BOWEN PLAY


VIDEO: PRE-LAUNCH INTERVIEW WITH PIERS SELLERS PLAY



VIDEO: STS-132 MISSION PREVIEW MOVIE PLAY | HI-DEF



VIDEO: FULL FLIGHT READINESS REVIEW NEWS BRIEFING PLAY


VIDEO: RECAP OF THE FLIGHT READINESS REVIEW PLAY | HI-DEF


VIDEO: MANAGERS ASSESS ISSUES BEFORE FLIGHT PLAY | HI-DEF


VIDEO: UPDATE ON PRE-LAUNCH PREPS AT PAD 39A PLAY | HI-DEF



VIDEO: PROGRAM BRIEFING BY SHUTTLE AND STATION CHIEFS PLAY


VIDEO: THE STS-132 MISSION OVERVIEW PRESENTATIONS PLAY


VIDEO: PREVIEW BRIEFING ON MISSION'S SPACEWALKS PLAY


VIDEO: THE ASTRONAUTS' PRE-FLIGHT NEWS BRIEFING PLAY



VIDEO: SHUTTLE EVACUATION PRACTICE PLAY | HI-DEF


VIDEO: ASTRONAUTS BOARD ATLANTIS PLAY | HI-DEF


VIDEO: LAUNCH DAY REHEARSAL BEGINS PLAY | HI-DEF


VIDEO: CREW BRIEFED ON EMERGENCY PROCEDURES PLAY | HI-DEF


VIDEO: TEST-DRIVING AN EMERGENCY ARMORED TANK PLAY | HI-DEF


VIDEO: CREW'S CHAT WITH REPORTERS AT PAD 39A PLAY


VIDEO: ASTRONAUTS AT KENNEDY SPACE CENTER RUNWAY PLAY | HI-DEF


VIDEO: CREW ARRIVES FOR PRACTICE COUNTDOWN PLAY | HI-DEF



VIDEO: GANTRY PLACED AROUND ATLANTIS PLAY | HI-DEF


VIDEO: SHUTTLE ATLANTIS REACHES PAD 39A PLAY | HI-DEF


VIDEO: CROWDS AND THE CREW CHEER ON ATLANTIS PLAY | HI-DEF


VIDEO: OVERNIGHT ROLLOUT TO THE PAD BEGINS PLAY | HI-DEF



VIDEO: SHUTTLE HOISTED FOR ATTACHMENT TO TANK PLAY | HI-DEF


VIDEO: CRANE ROTATES THE ORBITER VERTICALLY PLAY | HI-DEF


VIDEO: ATLANTIS RISES OFF THE TRANSPORTER PLAY | HI-DEF


VIDEO: ORBITER EMERGES FROM ITS HANGAR PLAY | HI-DEF


VIDEO: BUTTONING UP RUDDER/SPEED BRAKE PLAY | HI-DEF


VIDEO: DOME SHIELDS AROUND MAIN ENGINES PLAY | HI-DEF


VIDEO: EXTERNAL TANK ATTACHED TO BOOSTERS PLAY | HI-DEF



VIDEO: PAYLOADS HEAD FOR LAUNCH PAD PLAY | HI-DEF


VIDEO: RASSVET PLACED INTO THE TRANSPORTER PLAY | HI-DEF


VIDEO: PALLET LOADED WITH MISSION'S CARGO PLAY | HI-DEF


VIDEO: RUSSIAN RASSVET MODULE ON DISPLAY PLAY | HI-DEF


VIDEO: RUSSIAN ENGINEERS DISCUSS THEIR RASSVET MODULE PLAY


VIDEO: RASSVET HATCH CLOSED FOR FLIGHT PLAY | HI-DEF


VIDEO: FILLING MODULE WITH NASA SUPPLIES PLAY | HI-DEF



VIDEO: ASTRONAUTS VISIT THEIR SPACECRAFT PLAY | HI-DEF


VIDEO: CREW INSPECTS RASSVET MODULE PLAY | HI-DEF


SUBSCRIBE NOW