Astronauts resort to Plan B for inspecting Atlantis
BY WILLIAM HARWOOD
STORY WRITTEN FOR CBS NEWS "SPACE PLACE" & USED WITH PERMISSION
Posted: May 15, 2010


The Atlantis astronauts used a less-capable backup sensor system to inspect the shuttle's carbon composite nose cap and wing leading edge panels today after an overly-tight cable prevented them from using a more sophisticated, steerable sensor package. The crew lost several hours troubleshooting the problem, but the lead flight director said he was confident all the necessary data would be collected when all was said and done.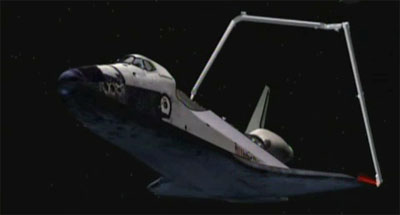 Credit: NASA TV



"We've got some of the best engineers and imagery analysts on the planet supporting Atlantis," Mike Sarafin told reporters Saturday afternoon. "I'm confident that given a little bit of time, we'll come up with a solution that will cover the entire heat shield on Atlantis and we'll get there well in advance of when a decision is required to bring her home. We just need to give that process a little bit of time ... I'll bet you given a day, things will come together very quickly."

Space station flight controllers, meanwhile, continued to track a piece of unidentified space debris in a highly elliptical orbit that was projected to pass within about 6 miles of the space station shortly after Atlantis' planned docking Sunday around 10:27 a.m. EDT. Engineers were considering a rocket firing Saturday evening to lower the station's altitude by about 3,000 feet to eliminate any chance of a close encounter.

"We're kind of cutting it close as to whether we can dock and get structurally mated to the International Space Station and then into the docked attitude relative to this debris avoidance maneuver," Sarafin said. "We really can't get confident that if we need to get out of the way of this piece of space debris we'll be able to do that after the shuttle docks, just due to the timeline.

Given the five-mile-per-second orbital velocity of the space station, "just a small error in the amount of time we determine where something is could make a big difference in your total miss distance," Sarafin said. "A couple of seconds at that speed could mean you'd miss by a huge amount or you'd miss by a very little distance. That's being factored into the debris avoidance maneuver plan."

A decision on whether or not to maneuver the station was expected around 6 p.m.

As usual for post-Columbia shuttle missions, the Atlantis astronauts faced a busy second day in space Saturday with the heat shield inspection the most time-consuming activity. The idea was to scan the nose cap and leading edge panels, which experience the most heat during re-entry, with a steerable laser and camera system on the end of a 50-foot-long boom attached to the shuttle's robot arm.

But a cable interference issue prevented the sensor system's pan-and-tilt unit from working properly.

"We determined that we had quite literally run into a snag with the gimbal system on the end of the boom," Sarafin said. "One of the cables on the end of the boom is pulling taut and causing us to not be able to tilt our primary camera system fully up, which is affecting our ability to see all of the heat shield on Atlantis.

"So what we've done is, we've gone to a secondary mode, which is a different camera, it's a digital camera that is hard mounted to the boom, it doesn't sit on this pan-and-tilt unit, and we're proceeding with the inspection of the starboard wing, we completed that earlier today, we're currently in the process of scanning the nose cap and we expect to get the majority of the port wing later."

The secondary system can only be used during the daylight portions of each orbit and it was not clear whether the crew would be able to complete the inspection of the shuttle's left wing by the end of the day.

To fill in any gaps, station astronaut Tracy Caldwell Dyson plans to use a digital camera equipped with a powerful telephoto lens to photograph the parts of the left wing's leading edge during Atlantis' approach to the station Sunday.

Positioned 600 feet directly below the station, commander Ken Ham plans to guide Atlantis through a 360-degree back-flip maneuver to expose the shuttle's heat shield tiles to view. Station commander Oleg Kotov, Soichi Noguchi and Timothy Creamer already planned to photograph the shuttle's heat shield tiles from the station. Caldwell Dyson now will join them to photograph the left wing's leading edge panels.

"Once we get all that imagery on the ground, the team will determine if we need to go get additional information or views of Atlantis before we're ready to declare the heat shield ready to go or if we've got al of what we need," Sarafin said.

A block of time is available on flight day five for an additional "focused" inspection if necessary.



The final planned flight of space shuttle Atlantis is symbolized in the official embroidered crew patch for STS-132. Available in our store!


U.S. SHOPPERS | WORLDWIDE





Additional coverage for subscribers:


VIDEO: JERRY ROSS' LAUNCH ON MISSION STS-61B PLAY


VIDEO: MAIDEN LAUNCH OF ATLANTIS AS SEEN LIVE IN 1985 PLAY


VIDEO: ATLANTIS' FIRST MISSION ENDS WITH LAKEBED LANDING PLAY


VIDEO: AN ASTRONAUT'S TRIBUTE TO SHUTTLE ATLANTIS PLAY



VIDEO: COUNTDOWN STATUS AND WEATHER FORECAST PLAY


VIDEO: WATCH NASA'S PRE-LAUNCH NEWS CONFERENCE PLAY


VIDEO: GET BRIEFED ON THE LAUNCH COUNTDOWN PLAY


VIDEO: HEAR FROM THE COMMANDER AT THE RUNWAY PLAY | HI-DEF


VIDEO: ASTRONAUTS ARRIVE IN FLORIDA FOR LAUNCH PLAY | HI-DEF



VIDEO: PRE-LAUNCH INTERVIEW WITH KEN HAM PLAY


VIDEO: PRE-LAUNCH INTERVIEW WITH TONY ANTONELLI PLAY


VIDEO: PRE-LAUNCH INTERVIEW WITH GARRETT REISMAN PLAY


VIDEO: PRE-LAUNCH INTERVIEW WITH MIKE GOOD PLAY


VIDEO: PRE-LAUNCH INTERVIEW WITH STEVE BOWEN PLAY


VIDEO: PRE-LAUNCH INTERVIEW WITH PIERS SELLERS PLAY



VIDEO: STS-132 MISSION PREVIEW MOVIE PLAY | HI-DEF



VIDEO: FULL FLIGHT READINESS REVIEW NEWS BRIEFING PLAY


VIDEO: RECAP OF THE FLIGHT READINESS REVIEW PLAY | HI-DEF


VIDEO: MANAGERS ASSESS ISSUES BEFORE FLIGHT PLAY | HI-DEF


VIDEO: UPDATE ON PRE-LAUNCH PREPS AT PAD 39A PLAY | HI-DEF



VIDEO: PROGRAM BRIEFING BY SHUTTLE AND STATION CHIEFS PLAY


VIDEO: THE STS-132 MISSION OVERVIEW PRESENTATIONS PLAY


VIDEO: PREVIEW BRIEFING ON MISSION'S SPACEWALKS PLAY


VIDEO: THE ASTRONAUTS' PRE-FLIGHT NEWS BRIEFING PLAY



VIDEO: SHUTTLE EVACUATION PRACTICE PLAY | HI-DEF


VIDEO: ASTRONAUTS BOARD ATLANTIS PLAY | HI-DEF


VIDEO: LAUNCH DAY REHEARSAL BEGINS PLAY | HI-DEF


VIDEO: CREW BRIEFED ON EMERGENCY PROCEDURES PLAY | HI-DEF


VIDEO: TEST-DRIVING AN EMERGENCY ARMORED TANK PLAY | HI-DEF


VIDEO: CREW'S CHAT WITH REPORTERS AT PAD 39A PLAY


VIDEO: ASTRONAUTS AT KENNEDY SPACE CENTER RUNWAY PLAY | HI-DEF


VIDEO: CREW ARRIVES FOR PRACTICE COUNTDOWN PLAY | HI-DEF



VIDEO: GANTRY PLACED AROUND ATLANTIS PLAY | HI-DEF


VIDEO: SHUTTLE ATLANTIS REACHES PAD 39A PLAY | HI-DEF


VIDEO: CROWDS AND THE CREW CHEER ON ATLANTIS PLAY | HI-DEF


VIDEO: OVERNIGHT ROLLOUT TO THE PAD BEGINS PLAY | HI-DEF



VIDEO: SHUTTLE HOISTED FOR ATTACHMENT TO TANK PLAY | HI-DEF


VIDEO: CRANE ROTATES THE ORBITER VERTICALLY PLAY | HI-DEF


VIDEO: ATLANTIS RISES OFF THE TRANSPORTER PLAY | HI-DEF


VIDEO: ORBITER EMERGES FROM ITS HANGAR PLAY | HI-DEF


VIDEO: BUTTONING UP RUDDER/SPEED BRAKE PLAY | HI-DEF


VIDEO: DOME SHIELDS AROUND MAIN ENGINES PLAY | HI-DEF


VIDEO: EXTERNAL TANK ATTACHED TO BOOSTERS PLAY | HI-DEF



VIDEO: PAYLOADS HEAD FOR LAUNCH PAD PLAY | HI-DEF


VIDEO: RASSVET PLACED INTO THE TRANSPORTER PLAY | HI-DEF


VIDEO: PALLET LOADED WITH MISSION'S CARGO PLAY | HI-DEF


VIDEO: RUSSIAN RASSVET MODULE ON DISPLAY PLAY | HI-DEF


VIDEO: RUSSIAN ENGINEERS DISCUSS THEIR RASSVET MODULE PLAY


VIDEO: RASSVET HATCH CLOSED FOR FLIGHT PLAY | HI-DEF


VIDEO: FILLING MODULE WITH NASA SUPPLIES PLAY | HI-DEF



VIDEO: ASTRONAUTS VISIT THEIR SPACECRAFT PLAY | HI-DEF


VIDEO: CREW INSPECTS RASSVET MODULE PLAY | HI-DEF


SUBSCRIBE NOW