Astronauts to give Atlantis full post-launch inspection
BY WILLIAM HARWOOD
STORY WRITTEN FOR CBS NEWS "SPACE PLACE" & USED WITH PERMISSION
Posted: May 15, 2010


The Atlantis astronauts, awakened at 4:20 a.m. EDT to begin their first full day in space, plan to inspect the shuttle's carbon composite nose cap and wing leading edge panels Saturday and to check out equipment needed for upcoming spacewalks. Two rendezvous rocket firings are planned to fine tune the shuttle's approach to the International Space Station for a docking Sunday morning.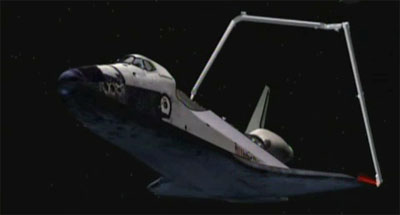 Credit: NASA TV



Space station flight controllers, meanwhile, are continuing to discuss a possible debris avoidance maneuver to increase the distance between the lab complex and a piece of space junk expected to fly past Sunday morning. If additional radar tracking indicates an avoidance maneuver is needed, it likely would be carried out remotely during crew sleep Saturday evening. A decision one way or the other is expected by 5 p.m.

The heat shield inspection, standard fare for post-Columbia shuttle crews, uses an instrumented 50-foot-long boom attached to the end of the ship's robot arm to scan the nose cap and wing leading edge panels to look for any signs of impact damage that might have occurred during the climb to space.

"Back in those first couple (post-Columbia) flights when they were doing this, this was considered a very difficult and unique robotics maneuver so a lot of attention was spent on it," commander Ken Ham said in a NASA interview. "Since those flights, we've flown a bunch more. We've a lot more confidence in how this works and at the risk of sounding cavalier ... that task is now almost considered somewhat mundane.

The heat shield inspection will be carried out by Ham, pilot Dominic Antonelli, Piers Sellers and Garrett Reisman. Crewmates Michael Good and Stephen Bowen will spend part of the day checking out spacesuits and other equipment needed for upcoming station assembly spacewalks. Later this afternoon, Reisman and Bowen will make sure the crew's rendezvous tools are set up for docking Sunday around 10:27 a.m.

"It's a little bit of a long day, a long inspection," Antonelli said of the heat shield examination. "We'll use the space shuttle's robotic (arm), and we'll pick up what we'll call the 'boom.' On the end of that there's a still camera, a laser camera and then also a video camera. We're going to use that to inspect the leading edge of both wings and the nose.

"It's a long series of automated robotic procedures. We'll put the arm and the boom in a starting configuration, hit 'go,' and it should run through an auto sequence kind of thing to scan the leading edge of the wings. We have to do the top, the front and the bottom so it'll be several of these in a row, and it'll take most of the day. We'll (take) turns either flying the arm or running the checklist or keeping the extra computers and data recording going. It's kind of a three-person job. Then we'll rotate out because it's a bit of a long day."

A mission status briefing is planned for 2 p.m., followed by a post-Mission Management Team briefing at 4 p.m. to provide a status report on the progress of work to access the shuttle's overall health following Friday's launch.

Here is an updated timeline of today's activity (in EDT and mission elapsed time; includes revision A of the NASA television schedule; best viewed with fixed-width font):

EDT........DD...HH...MM...EVENT

05/15
04:20 AM...00...14...00...Crew wakeup
06:25 AM...00...16...05...OMS pod survey
06:45 AM...00...16...25...Ergometer setup
07:15 AM...00...16...55...Shuttle arm (SRMS) unberths inspection boom (OBSS)
07:20 AM...00...17...00...Window 4 minicam downlink
07:14 AM...00...17...13...NC-2 rendezvous rocket firing
07:40 AM...00...17...20...Spacesuit checkout preps
07:45 AM...00...17...25...SAFER emergency jetpack checkout
08:10 AM...00...17...50...Spacesuit checkout
08:30 AM...00...18...10...OBSS starboard wing survey
10:10 AM...00...19...50...Crew meals begin
10:15 AM...00...19...55...Middeck transfer preps
10:35 AM...00...20...15...OBSS nose cap survey
11:10 AM...00...20...50...Spacesuit prepped for transfer to station
12:25 PM...00...22...05...OBSS port wing survey
02:00 PM...00...23...40...Mission status briefing on NTV
02:40 PM...01...00...20...SRMS berths OBSS
02:45 PM...01...00...25...Rendezvous tools checkout
03:15 PM...01...00...55...Laser scan data (LDRI) downlink
03:55 PM...01...01...35...Centerline camera setup
04:00 PM...01...01...40...Post-MMT briefing on NTV
04:25 PM...01...02...05...Orbiter docking system ring extension
05:35 PM...01...03...15...NC-3 rendezvous rocket firing
07:20 PM...01...05...00...Crew sleep begins
08:00 PM...01...05...40...Daily highlights reel on NTV



The final planned flight of space shuttle Atlantis is symbolized in the official embroidered crew patch for STS-132. Available in our store!


U.S. SHOPPERS | WORLDWIDE





Additional coverage for subscribers:


VIDEO: JERRY ROSS' LAUNCH ON MISSION STS-61B PLAY


VIDEO: MAIDEN LAUNCH OF ATLANTIS AS SEEN LIVE IN 1985 PLAY


VIDEO: ATLANTIS' FIRST MISSION ENDS WITH LAKEBED LANDING PLAY


VIDEO: AN ASTRONAUT'S TRIBUTE TO SHUTTLE ATLANTIS PLAY



VIDEO: COUNTDOWN STATUS AND WEATHER FORECAST PLAY


VIDEO: WATCH NASA'S PRE-LAUNCH NEWS CONFERENCE PLAY


VIDEO: GET BRIEFED ON THE LAUNCH COUNTDOWN PLAY


VIDEO: HEAR FROM THE COMMANDER AT THE RUNWAY PLAY | HI-DEF


VIDEO: ASTRONAUTS ARRIVE IN FLORIDA FOR LAUNCH PLAY | HI-DEF



VIDEO: PRE-LAUNCH INTERVIEW WITH KEN HAM PLAY


VIDEO: PRE-LAUNCH INTERVIEW WITH TONY ANTONELLI PLAY


VIDEO: PRE-LAUNCH INTERVIEW WITH GARRETT REISMAN PLAY


VIDEO: PRE-LAUNCH INTERVIEW WITH MIKE GOOD PLAY


VIDEO: PRE-LAUNCH INTERVIEW WITH STEVE BOWEN PLAY


VIDEO: PRE-LAUNCH INTERVIEW WITH PIERS SELLERS PLAY



VIDEO: STS-132 MISSION PREVIEW MOVIE PLAY | HI-DEF



VIDEO: FULL FLIGHT READINESS REVIEW NEWS BRIEFING PLAY


VIDEO: RECAP OF THE FLIGHT READINESS REVIEW PLAY | HI-DEF


VIDEO: MANAGERS ASSESS ISSUES BEFORE FLIGHT PLAY | HI-DEF


VIDEO: UPDATE ON PRE-LAUNCH PREPS AT PAD 39A PLAY | HI-DEF



VIDEO: PROGRAM BRIEFING BY SHUTTLE AND STATION CHIEFS PLAY


VIDEO: THE STS-132 MISSION OVERVIEW PRESENTATIONS PLAY


VIDEO: PREVIEW BRIEFING ON MISSION'S SPACEWALKS PLAY


VIDEO: THE ASTRONAUTS' PRE-FLIGHT NEWS BRIEFING PLAY



VIDEO: SHUTTLE EVACUATION PRACTICE PLAY | HI-DEF


VIDEO: ASTRONAUTS BOARD ATLANTIS PLAY | HI-DEF


VIDEO: LAUNCH DAY REHEARSAL BEGINS PLAY | HI-DEF


VIDEO: CREW BRIEFED ON EMERGENCY PROCEDURES PLAY | HI-DEF


VIDEO: TEST-DRIVING AN EMERGENCY ARMORED TANK PLAY | HI-DEF


VIDEO: CREW'S CHAT WITH REPORTERS AT PAD 39A PLAY


VIDEO: ASTRONAUTS AT KENNEDY SPACE CENTER RUNWAY PLAY | HI-DEF


VIDEO: CREW ARRIVES FOR PRACTICE COUNTDOWN PLAY | HI-DEF



VIDEO: GANTRY PLACED AROUND ATLANTIS PLAY | HI-DEF


VIDEO: SHUTTLE ATLANTIS REACHES PAD 39A PLAY | HI-DEF


VIDEO: CROWDS AND THE CREW CHEER ON ATLANTIS PLAY | HI-DEF


VIDEO: OVERNIGHT ROLLOUT TO THE PAD BEGINS PLAY | HI-DEF



VIDEO: SHUTTLE HOISTED FOR ATTACHMENT TO TANK PLAY | HI-DEF


VIDEO: CRANE ROTATES THE ORBITER VERTICALLY PLAY | HI-DEF


VIDEO: ATLANTIS RISES OFF THE TRANSPORTER PLAY | HI-DEF


VIDEO: ORBITER EMERGES FROM ITS HANGAR PLAY | HI-DEF


VIDEO: BUTTONING UP RUDDER/SPEED BRAKE PLAY | HI-DEF


VIDEO: DOME SHIELDS AROUND MAIN ENGINES PLAY | HI-DEF


VIDEO: EXTERNAL TANK ATTACHED TO BOOSTERS PLAY | HI-DEF



VIDEO: PAYLOADS HEAD FOR LAUNCH PAD PLAY | HI-DEF


VIDEO: RASSVET PLACED INTO THE TRANSPORTER PLAY | HI-DEF


VIDEO: PALLET LOADED WITH MISSION'S CARGO PLAY | HI-DEF


VIDEO: RUSSIAN RASSVET MODULE ON DISPLAY PLAY | HI-DEF


VIDEO: RUSSIAN ENGINEERS DISCUSS THEIR RASSVET MODULE PLAY


VIDEO: RASSVET HATCH CLOSED FOR FLIGHT PLAY | HI-DEF


VIDEO: FILLING MODULE WITH NASA SUPPLIES PLAY | HI-DEF



VIDEO: ASTRONAUTS VISIT THEIR SPACECRAFT PLAY | HI-DEF


VIDEO: CREW INSPECTS RASSVET MODULE PLAY | HI-DEF


SUBSCRIBE NOW