Station crew clears the path for space shuttle mission
BY JUSTIN RAY
SPACEFLIGHT NOW
Posted: May 12, 2010


The International Space Station residents moved their Soyuz capsule from one docking port to another Wednesday morning, freeing up the spot where space shuttle Atlantis' astronauts will install the new Rassvet module next Tuesday.
Commander Oleg Kotov and flight engineers T.J. Creamer and Soichi Noguchi boarded the Soyuz TMA-17 spacecraft early in the day and donned their Sokol for the brief ride around the outpost.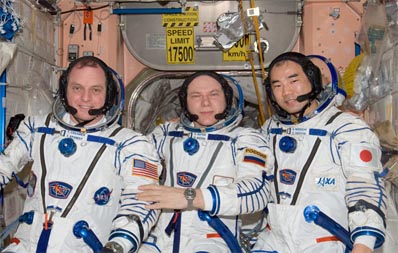 Creamer, Kotov and Noguchi. Credit: NASA



Originally parked at the Earth-facing port of the station's Zarya module, the Soyuz's relocation was a critical pre-requisite for Atlantis' upcoming construction mission. The shuttle is bringing the Russian Mini Research Module 1, or Rassvet, that will be permanently attached to that Zarya port.

The new module has a dual role of accommodating a room for conducting science and serving as a docking compartment for future visiting vehicles. Now that the station has grown, Rassvet will give a lengthy extension away from other structures when spacecraft approach for docking.

With Kotov at the controls, Soyuz TMA-17 departed Zarya at 9:26 a.m. EDT while flying 220 miles over northern Africa. A camera on the capsule's nose afforded the crew the chance to inspect the docking port and ensured it's clear of obstructions or debris for Rassvet.

The capsule backed a safe distance away from the station's underside, completed a roll maneuver, then flew around to the backside of the complex to align with the rear port on the Zvezda module.

Russian flight controllers outside Moscow gave the cosmonaut approval to begin the final approach as orbital nighttime began. The spacecraft flew a tight corridor to successful latch ahold of the station again at 9:53 a.m. EDT over the Pacific southeast of Japan.

Leak and pressure checks will take a couple of orbits to complete before the hatchway can be opened around 12:40 p.m. EDT for the crew to float back inside the station.

The Soyuz TMA-17 capsule, which launched them to the outpost last December, will remain at the Zvezda port until Kotov, Creamer and Noguchi depart the station on June 1 for return to Earth.



The final planned flight of space shuttle Atlantis is symbolized in the official embroidered crew patch for STS-132. Available in our store!


U.S. SHOPPERS | WORLDWIDE





Additional coverage for subscribers:


VIDEO: AN ASTRONAUT'S TRIBUTE TO SHUTTLE ATLANTIS PLAY



VIDEO: GET BRIEFED ON THE LAUNCH COUNTDOWN PLAY


VIDEO: HEAR FROM THE COMMANDER AT THE RUNWAY PLAY | HI-DEF


VIDEO: ASTRONAUTS ARRIVE IN FLORIDA FOR LAUNCH PLAY | HI-DEF



VIDEO: PRE-LAUNCH INTERVIEW WITH KEN HAM PLAY


VIDEO: PRE-LAUNCH INTERVIEW WITH TONY ANTONELLI PLAY


VIDEO: PRE-LAUNCH INTERVIEW WITH GARRETT REISMAN PLAY


VIDEO: PRE-LAUNCH INTERVIEW WITH MIKE GOOD PLAY


VIDEO: PRE-LAUNCH INTERVIEW WITH STEVE BOWEN PLAY


VIDEO: PRE-LAUNCH INTERVIEW WITH PIERS SELLERS PLAY



VIDEO: STS-132 MISSION PREVIEW MOVIE PLAY | HI-DEF



VIDEO: FULL FLIGHT READINESS REVIEW NEWS BRIEFING PLAY


VIDEO: RECAP OF THE FLIGHT READINESS REVIEW PLAY | HI-DEF


VIDEO: MANAGERS ASSESS ISSUES BEFORE FLIGHT PLAY | HI-DEF


VIDEO: UPDATE ON PRE-LAUNCH PREPS AT PAD 39A PLAY | HI-DEF



VIDEO: PROGRAM BRIEFING BY SHUTTLE AND STATION CHIEFS PLAY


VIDEO: THE STS-132 MISSION OVERVIEW PRESENTATIONS PLAY


VIDEO: PREVIEW BRIEFING ON MISSION'S SPACEWALKS PLAY


VIDEO: THE ASTRONAUTS' PRE-FLIGHT NEWS BRIEFING PLAY



VIDEO: SHUTTLE EVACUATION PRACTICE PLAY | HI-DEF


VIDEO: ASTRONAUTS BOARD ATLANTIS PLAY | HI-DEF


VIDEO: LAUNCH DAY REHEARSAL BEGINS PLAY | HI-DEF


VIDEO: CREW BRIEFED ON EMERGENCY PROCEDURES PLAY | HI-DEF


VIDEO: TEST-DRIVING AN EMERGENCY ARMORED TANK PLAY | HI-DEF


VIDEO: CREW'S CHAT WITH REPORTERS AT PAD 39A PLAY


VIDEO: ASTRONAUTS AT KENNEDY SPACE CENTER RUNWAY PLAY | HI-DEF


VIDEO: CREW ARRIVES FOR PRACTICE COUNTDOWN PLAY | HI-DEF



VIDEO: GANTRY PLACED AROUND ATLANTIS PLAY | HI-DEF


VIDEO: SHUTTLE ATLANTIS REACHES PAD 39A PLAY | HI-DEF


VIDEO: CROWDS AND THE CREW CHEER ON ATLANTIS PLAY | HI-DEF


VIDEO: OVERNIGHT ROLLOUT TO THE PAD BEGINS PLAY | HI-DEF



VIDEO: SHUTTLE HOISTED FOR ATTACHMENT TO TANK PLAY | HI-DEF


VIDEO: CRANE ROTATES THE ORBITER VERTICALLY PLAY | HI-DEF


VIDEO: ATLANTIS RISES OFF THE TRANSPORTER PLAY | HI-DEF


VIDEO: ORBITER EMERGES FROM ITS HANGAR PLAY | HI-DEF


VIDEO: BUTTONING UP RUDDER/SPEED BRAKE PLAY | HI-DEF


VIDEO: DOME SHIELDS AROUND MAIN ENGINES PLAY | HI-DEF


VIDEO: EXTERNAL TANK ATTACHED TO BOOSTERS PLAY | HI-DEF



VIDEO: PAYLOADS HEAD FOR LAUNCH PAD PLAY | HI-DEF


VIDEO: RASSVET PLACED INTO THE TRANSPORTER PLAY | HI-DEF


VIDEO: PALLET LOADED WITH MISSION'S CARGO PLAY | HI-DEF


VIDEO: RUSSIAN RASSVET MODULE ON DISPLAY PLAY | HI-DEF


VIDEO: RUSSIAN ENGINEERS DISCUSS THEIR RASSVET MODULE PLAY


VIDEO: RASSVET HATCH CLOSED FOR FLIGHT PLAY | HI-DEF


VIDEO: FILLING MODULE WITH NASA SUPPLIES PLAY | HI-DEF



VIDEO: ASTRONAUTS VISIT THEIR SPACECRAFT PLAY | HI-DEF


VIDEO: CREW INSPECTS RASSVET MODULE PLAY | HI-DEF


SUBSCRIBE NOW