Saying goodbye to shuttles is future's only certainty
BY JUSTIN RAY
SPACEFLIGHT NOW
Posted: May 12, 2010


And then there were three. Just three flights remain for the space shuttle, a sobering reminder of the tumultuous times surrounding America's space program.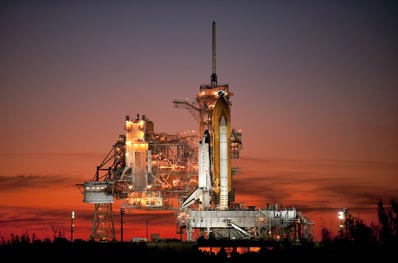 Credit: NASA



President George W. Bush steered NASA on the trajectory to stop flying the space shuttles when he announced at agency headquarters on January 14, 2004, that the program would end in 2010 and efforts diverted to new exploration concepts.

But enthusiasm for the Ares rockets and Orion capsule born from Bush's vision didn't captivate, proper funding wasn't there, schedules slipped and the dreaded gap between the end of shuttle and introduction of the successor grew longer.

A savior for the shuttle program never stepped forward as production lines fell silent, painful layoffs began and ending the program remained the unwavering policy for the past six years.

"The space shuttle, as a machine, is the single-most incredible machine humanity has ever built," said Ken Ham, commander of Atlantis' upcoming mission.

"The fact of the matter is, though, if we want to use our national assets to do space exploration beyond low-Earth orbit, you can't do that in the space shuttle. So there is a logical side in all of us that realizes the program has to come to an end at some point."

Now, the stark reality of shuttle retirement is knocking at the door with little rational hope of being reversed. But the unanswered question is what comes next?

President Barack Obama wants to cancel the Ares/Orion duo that's still years away from being fielded, instead advocating commercial companies burst into human space travel.

"There is an anticipation of where we could go in the future. There is a frustration of where we are now in terms of mixed messages we seem to continue to get from Headquarters," said Jerry Ross, a former astronaut who flew on seven shuttle missions.

"There is in some people's minds a fact that we should continue to operate the vehicles. The shuttles seem to be flying as well as they've ever flown. We are flying longer missions and having less problems on-orbit than we've ever had on the vehicles.

"My own private, personal opinion is that the shuttle has run its course, it's time to press on with something different."
| | |
| --- | --- |
| | Credit: NASA |
Yet what the next focal point for the American space program will be after the space shuttles stop flying is a clouded unknown. The shuttles have been NASA's icon for 30 years and they are the only spacecraft that the post-Apollo generation has known.

The International Space Station will keep circling the planet for years to come. However, Russian Soyuz capsules will be the only way for astronauts to get there for the foreseeable future, at least until some commercial company comes along to fill the void in American access to orbit created by no more space shuttle launches.

"There is uncertainty in the future as we try to figure out how to implement the President's vision, which I'm sure we're going to do. But that leads to uncertainty and uncertainty is always a little bit scary," said Ham.

Once the three shuttles -- Atlantis, Discovery and Endeavour -- complete their final flights and become museum pieces, the vast workforce will be disbanded through layoffs and retirements.

"Let's take ourselves back in time maybe a year or maybe 18 months or so when we were talking about the end of the program and a lot of people didn't believe it and were in denial. They thought 'heck, you know, the program can't end, we're going to fly forever.' Well now we know that's not the case. The program will end. People have absolutely come to grips with that," said shuttle launch director Mike Leinbach.

Despite the shuttle workers knowing their unfortunate fate, NASA officials remain confident the technicians and engineers will continue to prepare safe vehicles that the astronauts' lives depend upon.

"Everybody is really focused and they are very excited about getting to do what they normally do. They know about the end but they're enjoying as much as they can in this last activity to do something that's really special. I see the tank guys, the solid rocket motor guys, it is program-wide. This is a really special workforce that has this ability to stay focused, to compartmentalize that when it comes time to do this work," said Bill Gerstenmaier, NASA's chief of space operations.

"The guys, when they are working on the vehicles, are absolutely committed to their tasks and they do them properly. If you start getting into the question about if they are distracted, when they are working on the vehicle, no. When they are in the lunch room, they are talking about the future, that's when they start to vent a little bit about the end of the program. But when we're working on the vehicle, they're absolutely focused and dedicated on that machine," said Leinbach.

Ham and his crew recently visited with workers around the Kennedy Space Center and heard what those people are going through.

"We talked to a lot of folks who are down there working on the vehicle, working at the launch pad, working in launch control. Almost every time you have a conversation with someone, some sentence in there ends with 'if I still have a job.' This is because the future is somewhat uncertain right now. On a very personal level, that affects their paycheck, their ability to pay their mortgage and all that.

"As you can imagine, that's pretty scary. However, every single person we met down there has a smile on their face and is motivated to do the best job they can do. That attitude is present here at the Johnson Space Center, and I think it's a testament to the caliber of the folks that work in this program. I think the folks that want to get involved in space exploration aren't in it for the money, they're in it for space exploration. They're true professionals, they're working it all the way to the end."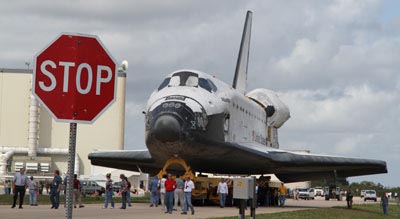 Credit: Steven Young/Spaceflight Now



But Gerstenmaier says he wants to avoid big celebrations about the final launches to ensure the team doesn't lose sight of the task at hand.

"I want the teams to figure out what they want to do and we're going to keep it low-key and we're going to stay focused. It's just another shuttle flight and we're going to do the absolute best we can and just keep moving forward. But in your heart remember this is a special time and cherish a little bit what you're getting to go do because it is a unique experience that may not be repeated for a little while."

"I think from the beginning of human spaceflight to where we are today may someday be referred to as the golden age of space travel. It's this really unique time where there was a national will to access space, to get to low-Earth orbit, get to the moon. We're at a point right now where, from a national perspective, we're trying to figure out what to do next," said Ham.

"I think we're faced with a little vacuum of progress, where we're going to sit and figure this out as we watch other countries develop."



The final planned flight of space shuttle Atlantis is symbolized in the official embroidered crew patch for STS-132. Available in our store!


U.S. SHOPPERS | WORLDWIDE





Additional coverage for subscribers:


VIDEO: AN ASTRONAUT'S TRIBUTE TO SHUTTLE ATLANTIS PLAY



VIDEO: WATCH NASA'S PRE-LAUNCH NEWS CONFERENCE PLAY


VIDEO: GET BRIEFED ON THE LAUNCH COUNTDOWN PLAY


VIDEO: HEAR FROM THE COMMANDER AT THE RUNWAY PLAY | HI-DEF


VIDEO: ASTRONAUTS ARRIVE IN FLORIDA FOR LAUNCH PLAY | HI-DEF



VIDEO: PRE-LAUNCH INTERVIEW WITH KEN HAM PLAY


VIDEO: PRE-LAUNCH INTERVIEW WITH TONY ANTONELLI PLAY


VIDEO: PRE-LAUNCH INTERVIEW WITH GARRETT REISMAN PLAY


VIDEO: PRE-LAUNCH INTERVIEW WITH MIKE GOOD PLAY


VIDEO: PRE-LAUNCH INTERVIEW WITH STEVE BOWEN PLAY


VIDEO: PRE-LAUNCH INTERVIEW WITH PIERS SELLERS PLAY



VIDEO: STS-132 MISSION PREVIEW MOVIE PLAY | HI-DEF



VIDEO: FULL FLIGHT READINESS REVIEW NEWS BRIEFING PLAY


VIDEO: RECAP OF THE FLIGHT READINESS REVIEW PLAY | HI-DEF


VIDEO: MANAGERS ASSESS ISSUES BEFORE FLIGHT PLAY | HI-DEF


VIDEO: UPDATE ON PRE-LAUNCH PREPS AT PAD 39A PLAY | HI-DEF



VIDEO: PROGRAM BRIEFING BY SHUTTLE AND STATION CHIEFS PLAY


VIDEO: THE STS-132 MISSION OVERVIEW PRESENTATIONS PLAY


VIDEO: PREVIEW BRIEFING ON MISSION'S SPACEWALKS PLAY


VIDEO: THE ASTRONAUTS' PRE-FLIGHT NEWS BRIEFING PLAY



VIDEO: SHUTTLE EVACUATION PRACTICE PLAY | HI-DEF


VIDEO: ASTRONAUTS BOARD ATLANTIS PLAY | HI-DEF


VIDEO: LAUNCH DAY REHEARSAL BEGINS PLAY | HI-DEF


VIDEO: CREW BRIEFED ON EMERGENCY PROCEDURES PLAY | HI-DEF


VIDEO: TEST-DRIVING AN EMERGENCY ARMORED TANK PLAY | HI-DEF


VIDEO: CREW'S CHAT WITH REPORTERS AT PAD 39A PLAY


VIDEO: ASTRONAUTS AT KENNEDY SPACE CENTER RUNWAY PLAY | HI-DEF


VIDEO: CREW ARRIVES FOR PRACTICE COUNTDOWN PLAY | HI-DEF



VIDEO: GANTRY PLACED AROUND ATLANTIS PLAY | HI-DEF


VIDEO: SHUTTLE ATLANTIS REACHES PAD 39A PLAY | HI-DEF


VIDEO: CROWDS AND THE CREW CHEER ON ATLANTIS PLAY | HI-DEF


VIDEO: OVERNIGHT ROLLOUT TO THE PAD BEGINS PLAY | HI-DEF



VIDEO: SHUTTLE HOISTED FOR ATTACHMENT TO TANK PLAY | HI-DEF


VIDEO: CRANE ROTATES THE ORBITER VERTICALLY PLAY | HI-DEF


VIDEO: ATLANTIS RISES OFF THE TRANSPORTER PLAY | HI-DEF


VIDEO: ORBITER EMERGES FROM ITS HANGAR PLAY | HI-DEF


VIDEO: BUTTONING UP RUDDER/SPEED BRAKE PLAY | HI-DEF


VIDEO: DOME SHIELDS AROUND MAIN ENGINES PLAY | HI-DEF


VIDEO: EXTERNAL TANK ATTACHED TO BOOSTERS PLAY | HI-DEF



VIDEO: PAYLOADS HEAD FOR LAUNCH PAD PLAY | HI-DEF


VIDEO: RASSVET PLACED INTO THE TRANSPORTER PLAY | HI-DEF


VIDEO: PALLET LOADED WITH MISSION'S CARGO PLAY | HI-DEF


VIDEO: RUSSIAN RASSVET MODULE ON DISPLAY PLAY | HI-DEF


VIDEO: RUSSIAN ENGINEERS DISCUSS THEIR RASSVET MODULE PLAY


VIDEO: RASSVET HATCH CLOSED FOR FLIGHT PLAY | HI-DEF


VIDEO: FILLING MODULE WITH NASA SUPPLIES PLAY | HI-DEF



VIDEO: ASTRONAUTS VISIT THEIR SPACECRAFT PLAY | HI-DEF


VIDEO: CREW INSPECTS RASSVET MODULE PLAY | HI-DEF


SUBSCRIBE NOW