Respecting Atlantis as the shuttle faces retirement
BY JUSTIN RAY
SPACEFLIGHT NOW
Posted: May 11, 2010


Whether it was launching satellites to orbit our planet and even other worlds, breathing new life into humanity's telescope, fostering international relationships or building a laboratory in the sky, the space shuttle Atlantis has been a workhorse for mankind over the past 25 years.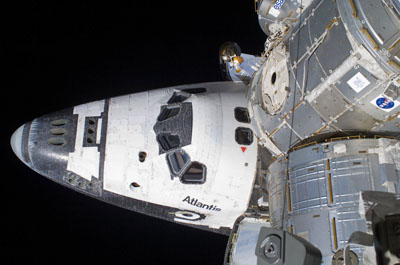 Atlantis at the International Space Station. Credit: NASA



No one knows for sure if Friday's launch will be Atlantis' last blastoff before retirement. But barring the addition of one more mission to the shuttle manifest, this is the scheduled finale for the grand ole ship.

"If this does turn out to be the last flight of Atlantis, this is the kind of thing that will hit all of us after we're done with the mission and we realize what part of history we may have played," said mission commander Ken Ham.

Atlantis has spent 282 days in space, circled the globe in 4,462 orbits and traveled 115 million miles during 31 flights that featured 185 different astronauts.

Jerry Ross, a seven-time shuttle astronaut, flew a remarkable five missions aboard the Atlantis during his long career. He hopes NASA will arrange one more flight for his self-described favorite orbiter, which would launch next year and be dubbed STS-135. Yet the veteran doesn't advocate an endless extension of the shuttle program.

"I think we all have mixed feelings with respect to the termination of the program. I'm kind of hoping we'll find a way to fly 135 and Atlantis will get one last hurrah, but it's not certain.

"I personally feel that it is the proper thing to do, to stop the shuttle program. I think it's time. I wish we had not had the gap develop between the termination of this program and the start of the next. But all that being said, I am looking forward to seeing it fly. It is a great flying bird."
| | |
| --- | --- |
| | A declassified picture shows the two DSCS satellites in Atlantis' cargo bay before deployment in 1985. Credit: Air Force/NASA |
Construction of the spaceplane began in March 1980. It rolled out of the Rockwell assembly plant in Palmdale, California, as America's fourth flight-worthy shuttle on April 6, 1985 and towed over land to Edwards Air Force Base on April 9 for mounting atop the 747 carrier jet. The cross-country piggyback ride flew to Ellington Field in Houston on April 12 for an overnight stay before continuing onward to reach the ship's homeport at the Kennedy Space Center on April 13, 1985.

Atlantis underwent preparations for its inaugural voyage, moving to launch pad 39A for the first time on August 30 and blasting off October 3 on a four-day classified military mission that deployed a pair of Defense Satellite Communications System spacecraft aboard an inertial upper stage booster.

Less than two months later, Atlantis returned to space to launch three commercial satellites on the flight that was Ross' first.

Several hush-hush missions for the Defense Department used Atlantis to haul a Lacrosse radar-imaging satellite into orbit in 1988, a stealthy bird and another top-secret payload on two 1990 launches and an early warning missile-detection spacecraft in 1991.

Memorable scientific probes for interplanetary adventures -- the Magellan radar mapper to Venus and Galileo to tour the king of planets, Jupiter -- were launched in 1989. And the Compton Gamma Ray Observatory was put into orbit around Earth in 1991 to unravel mysteries of the Universe's most extreme and powerful objects.

The new era of cooperative spaceflight between the United States and Russia saw Atlantis at the forefront, flying seven trips to dock with the orbiting space station Mir for the delivery of goods and the exchange of American astronauts staying there for scientific tours-of-duty.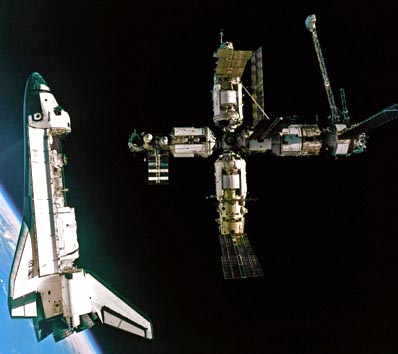 Atlantis undocks after its first visit at Mir. Credit: Roscosmos/NASA



That partnership blossomed into the International Space Station effort, and building the massive complex more than 200 miles above the planet has used Atlantis to lift the American laboratory module Destiny, Europe's laboratory module Columbus, the airlock named Quest, plus major sections of the outpost's truss backbone and power grid.

And Atlantis made the final service call to the Hubble Space Telescope last year, accomplishing a dramatic five-spacewalk mission that overhauled the iconic observatory with new scientific instruments and internal gear to bring about another revolution in discovery.

The upcoming 32nd flight of the orbiter will carry Russia's Rassvet to the International Space Station, a dual-purpose module to serve as a docking port and room for science at the complex.

"This is a very exciting mission," shuttle program manager John Shannon says. "Twelve days, three EVAs, tons of robotics, we're putting on spares that will make us feel good about the long-term sustainability of ISS, we're replacing batteries that have been up there for a while, docking a Russian-built ISS module. This flight has a little bit of everything."



The final planned flight of space shuttle Atlantis is symbolized in the official embroidered crew patch for STS-132. Available in our store!


U.S. SHOPPERS | WORLDWIDE





Additional coverage for subscribers:


VIDEO: AN ASTRONAUT'S TRIBUTE TO SHUTTLE ATLANTIS PLAY



VIDEO: GET BRIEFED ON THE LAUNCH COUNTDOWN PLAY


VIDEO: HEAR FROM THE COMMANDER AT THE RUNWAY PLAY | HI-DEF


VIDEO: ASTRONAUTS ARRIVE IN FLORIDA FOR LAUNCH PLAY | HI-DEF



VIDEO: PRE-LAUNCH INTERVIEW WITH KEN HAM PLAY


VIDEO: PRE-LAUNCH INTERVIEW WITH TONY ANTONELLI PLAY


VIDEO: PRE-LAUNCH INTERVIEW WITH GARRETT REISMAN PLAY


VIDEO: PRE-LAUNCH INTERVIEW WITH MIKE GOOD PLAY


VIDEO: PRE-LAUNCH INTERVIEW WITH STEVE BOWEN PLAY


VIDEO: PRE-LAUNCH INTERVIEW WITH PIERS SELLERS PLAY



VIDEO: STS-132 MISSION PREVIEW MOVIE PLAY | HI-DEF



VIDEO: FULL FLIGHT READINESS REVIEW NEWS BRIEFING PLAY


VIDEO: RECAP OF THE FLIGHT READINESS REVIEW PLAY | HI-DEF


VIDEO: MANAGERS ASSESS ISSUES BEFORE FLIGHT PLAY | HI-DEF


VIDEO: UPDATE ON PRE-LAUNCH PREPS AT PAD 39A PLAY | HI-DEF



VIDEO: PROGRAM BRIEFING BY SHUTTLE AND STATION CHIEFS PLAY


VIDEO: THE STS-132 MISSION OVERVIEW PRESENTATIONS PLAY


VIDEO: PREVIEW BRIEFING ON MISSION'S SPACEWALKS PLAY


VIDEO: THE ASTRONAUTS' PRE-FLIGHT NEWS BRIEFING PLAY



VIDEO: SHUTTLE EVACUATION PRACTICE PLAY | HI-DEF


VIDEO: ASTRONAUTS BOARD ATLANTIS PLAY | HI-DEF


VIDEO: LAUNCH DAY REHEARSAL BEGINS PLAY | HI-DEF


VIDEO: CREW BRIEFED ON EMERGENCY PROCEDURES PLAY | HI-DEF


VIDEO: TEST-DRIVING AN EMERGENCY ARMORED TANK PLAY | HI-DEF


VIDEO: CREW'S CHAT WITH REPORTERS AT PAD 39A PLAY


VIDEO: ASTRONAUTS AT KENNEDY SPACE CENTER RUNWAY PLAY | HI-DEF


VIDEO: CREW ARRIVES FOR PRACTICE COUNTDOWN PLAY | HI-DEF



VIDEO: GANTRY PLACED AROUND ATLANTIS PLAY | HI-DEF


VIDEO: SHUTTLE ATLANTIS REACHES PAD 39A PLAY | HI-DEF


VIDEO: CROWDS AND THE CREW CHEER ON ATLANTIS PLAY | HI-DEF


VIDEO: OVERNIGHT ROLLOUT TO THE PAD BEGINS PLAY | HI-DEF



VIDEO: SHUTTLE HOISTED FOR ATTACHMENT TO TANK PLAY | HI-DEF


VIDEO: CRANE ROTATES THE ORBITER VERTICALLY PLAY | HI-DEF


VIDEO: ATLANTIS RISES OFF THE TRANSPORTER PLAY | HI-DEF


VIDEO: ORBITER EMERGES FROM ITS HANGAR PLAY | HI-DEF


VIDEO: BUTTONING UP RUDDER/SPEED BRAKE PLAY | HI-DEF


VIDEO: DOME SHIELDS AROUND MAIN ENGINES PLAY | HI-DEF


VIDEO: EXTERNAL TANK ATTACHED TO BOOSTERS PLAY | HI-DEF



VIDEO: PAYLOADS HEAD FOR LAUNCH PAD PLAY | HI-DEF


VIDEO: RASSVET PLACED INTO THE TRANSPORTER PLAY | HI-DEF


VIDEO: PALLET LOADED WITH MISSION'S CARGO PLAY | HI-DEF


VIDEO: RUSSIAN RASSVET MODULE ON DISPLAY PLAY | HI-DEF


VIDEO: RUSSIAN ENGINEERS DISCUSS THEIR RASSVET MODULE PLAY


VIDEO: RASSVET HATCH CLOSED FOR FLIGHT PLAY | HI-DEF


VIDEO: FILLING MODULE WITH NASA SUPPLIES PLAY | HI-DEF



VIDEO: ASTRONAUTS VISIT THEIR SPACECRAFT PLAY | HI-DEF


VIDEO: CREW INSPECTS RASSVET MODULE PLAY | HI-DEF


SUBSCRIBE NOW