Shuttle Atlantis crew is six humorous astronauts
BY JUSTIN RAY
SPACEFLIGHT NOW
Posted: May 10, 2010


The six jovial guys who will take space shuttle Atlantis on the orbiter's final scheduled voyage are an entertaining bunch and having fun is one their mission priorities.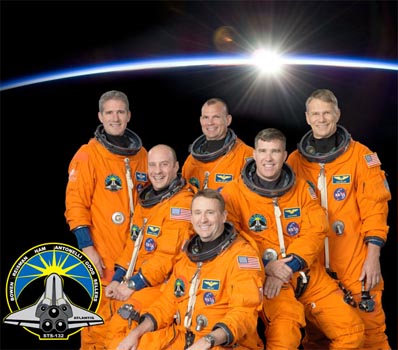 Credit: NASA



Commander Ken Ham, a 45-year-old Navy captain with over 5,000 flight hours in more than 40 different aircraft, is known by his nickname "Hock" -- as in ham hock. Born in New Jersey and a Naval Academy graduate, he came to NASA in 1998 and served as pilot on the Discovery mission two years ago that launched the Japanese Kibo laboratory to the space station.

He's now the skipper of Atlantis for this upcoming flight that will haul a Russian module to the outpost.

"I know I'm looking forward to the ride to orbit because I think I'll see and remember a lot more than last time. Last time was a yahoo 8 minutes and 23 seconds. That's pretty much what I remember. This time I think I'll remember a lot more," he says.

The countdown clocks will start ticking Tuesday afternoon in the Kennedy Space Center control room, leading toward blastoff at 2:20 p.m. EDT Friday.

Dominic "Tony" Antonelli is returning to space for the second time as pilot. Born in Detroit, then raised in Indiana and North Carolina, the self-described NASCAR fan was educated at the Massachusetts Institute of Technology and served in the Navy where he's now a captain-select. He arrived at NASA in 2000 and flew on the Discovery mission last year that completed construction of the station's power grid.

"It'll be interesting to see how we look back on the space shuttle program," he said. "All of my adult life, that's been our way to get people to and from low Earth orbit. It's just everything that we've been able to accomplish the last, wow, it's been a while now, huh? A lot has happened since we've been flying space shuttles, since John Young and Bob Crippen started it for us."

They call him "Big G" for this overwhelming 5-foot, 4-inch stature, but Garrett Reisman does have tall responsibilities on Atlantis' flight as leader of the first spacewalk to assemble a delicate communications antenna and as the robotic arm operator during installation of the Russian Mini Research Module 1.

"I have a whole bunch of responsibilities. It's kind of scary because there's a lot of different ways I could completely mess up," Resiman quipped.

The New Jersey native earned a Ph.D. in mechanical engineering from the California Institute of Technology before working on the Aqua environmental satellite at TRW and then joining the astronaut corps. in 1998. He lived aboard the space station for three months in 2008 on the Expedition 16 and 17 missions.



The final planned flight of space shuttle Atlantis is symbolized in the official embroidered crew patch for STS-132. Available in our store!


U.S. SHOPPERS | WORLDWIDE




Mike Good -- or simply "Bueno" -- was among the headliner crew that serviced the Hubble Space Telescope last year. Born in Ohio and a product of Notre Dame, he rose to the rank of colonel in the Air Force before retirement as a weapon systems officer. Heading back to orbit for the second time now, Good will lead the mission's third spacewalk.
"For Hubble, we brought Hubble into our payload bay and we worked on it out there so it was kind of like working in your garage. This is going to be more like going out into the neighborhood. It will be more of an adventure crawling around the space station," he said. "Going all the way out there to the very end of the P6 truss. I can't wait to see the view from out there of Earth and just being so far away from our ship, the space shuttle, that we came up in and just hanging out there on the very tip of the space station. I can't wait."
"Steveo" Bowen, the only submarine officer to become an astronaut, hails from Massachusetts and has degrees from the Naval Academy and MIT. He visited the space station on the Endeavour mission in late 2008 that saw him conduct three spacewalks.
"You get on the boat and it has a very distinct and peculiar odor. But you get used to it real fast and I just thought it was ironic because that was the first thing I noticed when I crossed over to space station on 126. It had that hint, that little scent that was 'this smells like a submarine.'"
He'll lead EVA No. 2 on the upcoming trek to replace the 10-year-old batteries on the space station's original power module.
The most experienced member of the Atlantis crew is Piers Sellers, a veteran of two previous shuttle flights in 2002 and 2005. The United Kingdom-born astronaut is fluent in the Russian language and will be operating the docking mechanism when the Mini Research Module 1 is attached to the space station. The module, also known as Rassvet, is being delivered to the station in the payload bay of Atlantis.
"I am the MRM 1 whisperer," he joked.
"On Flight Day 5, we'll reach in with the arm, pull it out and plug it into the bottom of the Russian segment. What that will give us is a long tube docking extension so spacecraft can dock to the ISS without coming close to other structure. And that's the main function, otherwise it will be a place to put things and do some science."


Additional coverage for subscribers:


VIDEO: PRE-LAUNCH INTERVIEW WITH KEN HAM PLAY


VIDEO: PRE-LAUNCH INTERVIEW WITH TONY ANTONELLI PLAY


VIDEO: PRE-LAUNCH INTERVIEW WITH GARRETT REISMAN PLAY


VIDEO: PRE-LAUNCH INTERVIEW WITH MIKE GOOD PLAY


VIDEO: PRE-LAUNCH INTERVIEW WITH STEVE BOWEN PLAY


VIDEO: PRE-LAUNCH INTERVIEW WITH PIERS SELLERS PLAY



VIDEO: STS-132 MISSION PREVIEW MOVIE PLAY | HI-DEF



VIDEO: FULL FLIGHT READINESS REVIEW NEWS BRIEFING PLAY


VIDEO: RECAP OF THE FLIGHT READINESS REVIEW PLAY | HI-DEF


VIDEO: MANAGERS ASSESS ISSUES BEFORE FLIGHT PLAY | HI-DEF


VIDEO: UPDATE ON PRE-LAUNCH PREPS AT PAD 39A PLAY | HI-DEF



VIDEO: PROGRAM BRIEFING BY SHUTTLE AND STATION CHIEFS PLAY


VIDEO: THE STS-132 MISSION OVERVIEW PRESENTATIONS PLAY


VIDEO: PREVIEW BRIEFING ON MISSION'S SPACEWALKS PLAY


VIDEO: THE ASTRONAUTS' PRE-FLIGHT NEWS BRIEFING PLAY



VIDEO: SHUTTLE EVACUATION PRACTICE PLAY | HI-DEF


VIDEO: ASTRONAUTS BOARD ATLANTIS PLAY | HI-DEF


VIDEO: LAUNCH DAY REHEARSAL BEGINS PLAY | HI-DEF


VIDEO: CREW BRIEFED ON EMERGENCY PROCEDURES PLAY | HI-DEF


VIDEO: TEST-DRIVING AN EMERGENCY ARMORED TANK PLAY | HI-DEF


VIDEO: CREW'S CHAT WITH REPORTERS AT PAD 39A PLAY


VIDEO: ASTRONAUTS AT KENNEDY SPACE CENTER RUNWAY PLAY | HI-DEF


VIDEO: CREW ARRIVES FOR PRACTICE COUNTDOWN PLAY | HI-DEF



VIDEO: GANTRY PLACED AROUND ATLANTIS PLAY | HI-DEF


VIDEO: SHUTTLE ATLANTIS REACHES PAD 39A PLAY | HI-DEF


VIDEO: CROWDS AND THE CREW CHEER ON ATLANTIS PLAY | HI-DEF


VIDEO: OVERNIGHT ROLLOUT TO THE PAD BEGINS PLAY | HI-DEF



VIDEO: SHUTTLE HOISTED FOR ATTACHMENT TO TANK PLAY | HI-DEF


VIDEO: CRANE ROTATES THE ORBITER VERTICALLY PLAY | HI-DEF


VIDEO: ATLANTIS RISES OFF THE TRANSPORTER PLAY | HI-DEF


VIDEO: ORBITER EMERGES FROM ITS HANGAR PLAY | HI-DEF


VIDEO: BUTTONING UP RUDDER/SPEED BRAKE PLAY | HI-DEF


VIDEO: DOME SHIELDS AROUND MAIN ENGINES PLAY | HI-DEF


VIDEO: EXTERNAL TANK ATTACHED TO BOOSTERS PLAY | HI-DEF



VIDEO: PAYLOADS HEAD FOR LAUNCH PAD PLAY | HI-DEF


VIDEO: RASSVET PLACED INTO THE TRANSPORTER PLAY | HI-DEF


VIDEO: PALLET LOADED WITH MISSION'S CARGO PLAY | HI-DEF


VIDEO: RUSSIAN RASSVET MODULE ON DISPLAY PLAY | HI-DEF


VIDEO: RUSSIAN ENGINEERS DISCUSS THEIR RASSVET MODULE PLAY


VIDEO: RASSVET HATCH CLOSED FOR FLIGHT PLAY | HI-DEF


VIDEO: FILLING MODULE WITH NASA SUPPLIES PLAY | HI-DEF



VIDEO: ASTRONAUTS VISIT THEIR SPACECRAFT PLAY | HI-DEF


VIDEO: CREW INSPECTS RASSVET MODULE PLAY | HI-DEF


SUBSCRIBE NOW