Atlantis astronauts climb aboard for countdown test
BY JUSTIN RAY
SPACEFLIGHT NOW
Posted: April 24, 2010


Kennedy Space Center's launch control room and pad 39A were abuzz Saturday morning as the space shuttle team and the six Atlantis astronauts conducted a realistic countdown dress rehearsal for next month's flight.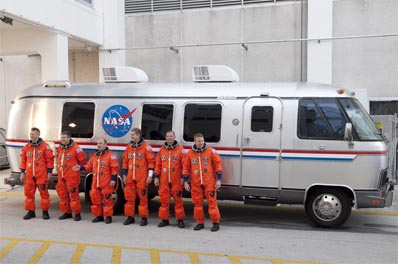 Credit: NASA-KSC



Commander Ken Ham, pilot Tony Antonelli and mission specialists Garrett Reisman, Mike Good, Steve Bowen and Piers Sellers got dressed in their bright orange spacesuits and followed the scripted launch morning routine, departing crew quarters around 7:45 a.m.

The Astrovan delivered the astronauts to the seaside pad to begin entering the orbiter and taking their assigned seats for the final three hours of the "dry" test, which did not involve fueling the shuttle.

The mock countdown culminated several days of emergency skills training and practicing for the real launch that is targeted for May 14.

"CDR is go and thanks for all the work getting to this point. I know it was tough this week," Ham radioed from the flight deck before the countdown resumed from the T-minus 9 minute hold.

The KSC team did have a busy week that began with shuttle Discovery's landing from its 15-day spaceflight, plus Atlantis finally rolled from the Vehicle Assembly Building to the pad after three weather-related delays. The practice countdown then picked up in Firing Room 4 yesterday.

Clocks ticked down to T-minus 4 seconds before ending with a simulated shutdown of the three main engines at 11:05 a.m. today.

"This went exactly as briefed," Ham said prior to egressing the orbiter. "Thanks and we'll see you again soon."

The Terminal Countdown Demonstration Test concluded with the astronauts exiting the shuttle at 11:24 a.m. to rehearse the "Mode 1" emergency evacuation procedures and hopping in the escape baskets hanging on the launch tower.

Every shuttle crew undergoes the TCDT before a planned launch. While in Florida, the astronauts spent time learning how to escape if an emergency arises, including procedures to operate those slide-wire baskets that would quickly whisk the crew from the launch tower to a bunker west of the pad. They also test-drove an armored tank available for the astronauts to leave the area.

Atlantis mission will deliver the Russian Mini Research Module 1, dubbed Rassvet, to the International Space Station. Spacewalkers also plan to install new power module batteries and other assorted hardware on the outpost. The payloads are inside the pad's cleanroom awaiting insertion into the shuttle's cargo bay on Sunday.

The real launch countdown begins on the afternoon of Tuesday, May 11, leading toward a blastoff on Friday, May 14 at 2:19 p.m. EDT.