Shuttle Discovery safely returns to Florida spaceport
BY WILLIAM HARWOOD
STORY WRITTEN FOR CBS NEWS "SPACE PLACE" & USED WITH PERMISSION
Posted: April 20, 2010


The shuttle Discovery, delayed a day by cloudy Florida weather, blazed across the heartland of America Tuesday, gliding to a pinpoint landing at the Kennedy Space Center to close out an extended space station assembly mission.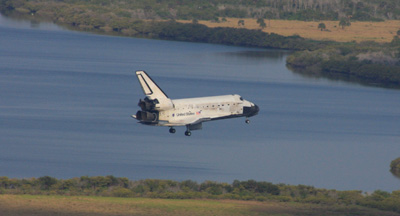 Credit: Stephen Clark/Spaceflight Now



Approaching the spaceport from the northwest, commander Alan Poindexter took over manual control at an altitude of 50,000 feet, guiding the shuttle through a 200-degree left turn to line up on runway 33. After giving pilot James Dutton a few moments of stick time, Poindexter flew the shuttle to a picture-perfect touchdown at 9:08:35 a.m. EDT.

"Wheels stopped, Houston," Poindexter radioed as Discovery rolled to a halt on the 300-foot-wide runway.

"Roger, wheels stopped, Discovery. Welcome home," called astronaut Rick Sturckow from mission control. "Dex, congratulations to you and the crew on an outstanding mission."

"Thanks for the words, it was a great mission, we enjoyed working with you and all the teams in mission control," Poindexter replied. "And we're glad the International Space Station is stocked up again. Thanks a lot."

The 131st shuttle mission covered 238 complete orbits and 6.2 million miles since blastoff April 5 for a mission duration of 15 days two hours 47 minutes and 10 seconds.

Poindexter, Dutton and their crewmates - flight engineer Dorothy Metcalf-Lindenburger, Stephanie Wilson, Japanese astronaut Naoko Yamazaki and spacewalkers Richard Mastracchio and Clayton Anderson - planned to doff their pressure suits and gather on the runway for a traditional walk-around inspection of the shuttle.

All seven astronauts plan to fly back to Houston early Wednesday after reunions with friends and family members.


The crew patch for Discovery's flight delivering
science and supplies to the space station is
available in the Spaceflight Now Store.


U.S. SHOPPERS | WORLDWIDE




Already running a day late because of low clouds at the space center Monday, the astronauts were aiming for a 7:34 a.m. landing in Florida Tuesday, but nearby showers and concern about fog prompted entry Flight Director Bryan Lunney to order a one-orbit wave off.
As the sun came up, showers moved outside NASA's 30-nautical-mile safety zone, fog was minimal and Lunney cleared Poindexter to begin a descent that gave shuttle viewers in the continental United States a rare chance to witness the fiery streak of a shuttle re-entry.
In the wake of the 2003 Columbia disaster, NASA has favored southwest-to-northeast entry trajectories that carry the shuttle above the Pacific Ocean and the Caribbean, avoiding seasonal, potentially dangerous noctilucent clouds in the northern hemisphere.
The favored trajectories also require less propellant and, while not a requirement, keep descending shuttles well away from any densely populated areas in the United States.
Discovery's return was only the second so-called "descending node" entry since 2003. NASA managers ordered the change of plans to give the astronauts more time to complete the station resupply mission and to bring in a daylight landing opportunity at the end of a long flight. The high, icy clouds that can be a concern are not an issue at this time of year.
"The neat thing about the descending opportunities is it's going to come across the country and folks will get a good opportunity, hopefully, to see the orbiter as it goes overhead," Lunney said Sunday.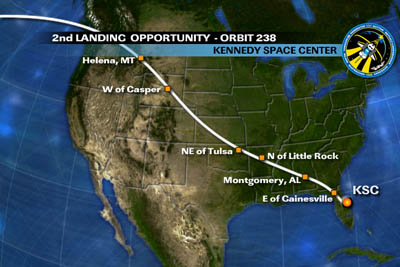 Credit: NASA



Discovery plunged back into the discernible atmosphere at an altitude of about 76 miles above the central Pacific Ocean south of the Aleutian Islands at 8:36 a.m., crossing the western Canadian coast near Vancouver at an altitude of about 40 miles.

With the shuttle surrounded by superheated plasma as atmospheric friction reduced its 5-mile-per-second orbital velocity, viewers in the west with a clear sky could expect to see a "streak of white light way up high," Lunney said. "When it's down lower, it's going to be more the glowing cloud plowing through. I think both will be clearly visible" weather permitting.

With its heat shield protecting the shuttle from temperatures of up to 3,000 degrees, Discovery sailed high above Helena, Mont., just west of Casper, Wyo., and across the northeastern corner of Colorado before descending across Kansas, Oklahoma and Arkansas, passing north of Little Rock before continuing across Mississippi, Alabama and Georgia.

The shuttle crossed into Florida and then passed east of Gainesville before beginning its final approach to the Kennedy Space Center.

"It was a beautiful entry this morning," Poindexter said before leaving the runway. "We got the bonus of coming over the entire United States and it was just absolutely gorgeous. The entry track took us over the Rockies and over the midwest and across the Mississippi delta, it was just a fantastic entry.

"The landing back here at the Kennedy Space Center was really nice. It's a beautiful day, it was a great mission and we're just happy to be back here in Florida with Discovery."

With Discovery back on the ground, engineers at the nearby Vehicle Assembly Building were readying the shuttle Atlantis for an overnight trip to launch pad 39A for liftoff May 14 on another space station assembly mission. It will be the 32nd and final planned flight for Atlantis as NASA faces the shuttle program's last three flights.

The final missions are devoted to delivering as much in the way of spare parts and supplies as possible before the shuttle fleet is retired and the station is dependent on less capable Russian, European and Japanese cargo craft.

Discovery's crew delivered more than 17,000 pounds of supplies, equipment and science gear and staged three spacewalks to replace an ammonia coolant tank o the station's main power truss. The new tank was successfully installed, but flight controllers were unable to pressurize the coolant loop because of trouble with a valve in an associated nitrogen tank.

Mission managers briefly considered asking Mastracchio and Anderson to carry out a fourth spacewalk to install a spare nitrogen tank. But after a detailed assessment, engineers concluded the coolant loop could be safely operated for at least a month without pressurization. As it now stands, the station's crew likely will stage a spacewalk later this spring to install a replacement tank.


Additional coverage for subscribers:


VIDEO: SHUTTLE DISCOVERY SAFELY LANDS PLAY | HI-DEF


VIDEO: POST-LANDING COMMENTS FROM THE CREW PLAY | HI-DEF


VIDEO: ASTRONAUTS WALK AROUND RUNWAY PLAY | HI-DEF


VIDEO: NASA AND JAXA POST-LANDING BRIEFING PLAY



VIDEO: LANDING REPLAYS: INSIDE MISSION CONTROL PLAY


VIDEO: LANDING REPLAYS: RUNWAY NORTH PLAY


VIDEO: LANDING REPLAYS: RUNWAY SOUTH PLAY


VIDEO: LANDING REPLAYS: VAB ROOF PLAY | HI-DEF


VIDEO: LANDING REPLAYS: RUNWAY EAST PLAY | HI-DEF


VIDEO: LANDING REPLAYS: RUNWAY WEST PLAY | HI-DEF


VIDEO: LANDING REPLAYS: EDGE OF RUNWAY PLAY | HI-DEF


VIDEO: LANDING REPLAYS: RUNWAY MID-FIELD PLAY | HI-DEF


VIDEO: LANDING REPLAYS: PATRICK AIR FORCE BASE PLAY | HI-DEF


VIDEO: LANDING REPLAYS: KENNEDY TRACKER PLAY | HI-DEF



VIDEO: GO FOR THE DEORBIT BURN! PLAY


VIDEO: MORNING'S FIRST LANDING OPPORTUNITY WAVED OFF PLAY



VIDEO: SECOND LANDING OPPORTUNITY WAVED OFF PLAY


VIDEO: FIRST LANDING OPPORTUNITY WAVED OFF PLAY



VIDEO: LEFT-HAND BOOSTER CAMERA LOOKING UPWARD PLAY


VIDEO: LEFT-HAND BOOSTER CAMERA LOOKING INBOARD PLAY


VIDEO: LEFT-HAND BOOSTER CAMERA LOOKING DOWNWARD PLAY


VIDEO: RIGHT-HAND BOOSTER CAMERA LOOKING UPWARD PLAY


VIDEO: RIGHT-HAND BOOSTER CAMERA LOOKING INBOARD PLAY


VIDEO: RIGHT-HAND BOOSTER CAMERA LOOKING DOWNWARD PLAY


VIDEO: EXTERNAL TANK CAMERA FROM LIFTOFF TO SEPARATION PLAY


VIDEO: JETTISONED FUEL TANK FALLS AWAY PLAY



VIDEO: FLIGHT DAY 14 HIGHLIGHTS MOVIE PLAY


VIDEO: SUNDAY MORNING'S MISSION STATUS BRIEFING PLAY


VIDEO: BOSTON, ASSOCIATED PRESS AND OREGON INTERVIEWS PLAY



VIDEO: FLIGHT DAY 13 HIGHLIGHTS MOVIE PLAY


VIDEO: SATURDAY MORNING'S MISSION STATUS BRIEFING PLAY


VIDEO: STATION FLYAROUND BY THE SHUTTLE PLAY


VIDEO: DISCOVERY UNDOCKS FROM THE STATION PLAY


VIDEO: SHUTTLE AND STATION CREWS BID FAREWELL PLAY



HIGH DEFINITION TV DAY 12: CELEBRATING THE MISSION PLAY


HIGH DEFINITION TV DAY 12: A GROUP DINNER IN SPACE PLAY


HIGH DEFINITION TV DAY 12: ASTRONAUT ACROBATICS PLAY


HIGH DEFINITION TV DAY 12: LIFE ON THE MIDDECK PLAY


HIGH DEFINITION TV DAY 12: FLYING BOTH ROBOT ARMS PLAY



VIDEO: FLIGHT DAY 12 HIGHLIGHTS MOVIE PLAY


VIDEO: CREW'S HOME MOVIES FOR FLIGHT DAY 12 PLAY


VIDEO: FRIDAY MORNING'S MISSION STATUS BRIEFING PLAY


VIDEO: LEONARDO PLACED INTO SHUTTLE BAY FOR LANDING PLAY


VIDEO: THURSDAY EVENING'S FLIGHT DIRECTOR INTERVIEW PLAY



VIDEO: FLIGHT DAY 11 HIGHLIGHTS MOVIE PLAY


VIDEO: ROBOTIC ARM PLUCKS LEONARDO OFF THE STATION PLAY


VIDEO: SEALING LEONARDO FOR DETACHMENT FROM HARMONY PLAY


VIDEO: THURSDAY AFTERNOON'S MISSION STATUS BRIEFING PLAY


VIDEO: NASA RULES OUT EXTRA EVA FOR DISCOVERY CREW PLAY


VIDEO: PREVIEW OF FLIGHT DAY 11 ACTIVITIES PLAY


VIDEO: WEDNESDAY EVENING'S FLIGHT DIRECTOR INTERVIEW PLAY



VIDEO: FLIGHT DAY 10 HIGHLIGHTS MOVIE PLAY


VIDEO: PLANNING UNDERWAY FOR POSSIBLE FOURTH EVA PLAY


VIDEO: EDUCATIONAL EVENT WITH NORTH CAROLINA SCHOOL PLAY


VIDEO: WEDNESDAY MORNING'S MISSION STATUS BRIEFING PLAY


VIDEO: JOINT SHUTTLE AND STATION CREW NEWS CONFERENCE PLAY


VIDEO: TUESDAY EVENING'S FLIGHT DIRECTOR INTERVIEW PLAY



HIGH DEFINITION TV DAY 9: EXERCISING IN SPACE PLAY


HIGH DEFINITION TV DAY 9: SPACEWALKERS STOW OLD TANK PLAY


HIGH DEFINITION TV DAY 9: MISSION'S LAST SPACEWALKPLAY


HIGH DEFINITION TV DAY 9: LOOKING OUT THE WINDOW PLAY


HIGH DEFINITION TV DAY 9: PACKING UP LEONARDO PLAY



VIDEO: FLIGHT DAY 9 HIGHLIGHTS MOVIE PLAY


VIDEO: CREW'S HOME MOVIES FOR FLIGHT DAY 9 PLAY


VIDEO: TUESDAY MORNING'S MISSION STATUS BRIEFING PLAY


VIDEO: ROBOT ARM MOVES OLD TANK SHUTTLE PAYLOAD BAY PLAY


VIDEO: SPACEWALKERS REMOVE HANDLING BAR FROM OLD TANK PLAY


VIDEO: UMBILICALS HOOKED UP TO NEW AMMONIA TANK PLAY


VIDEO: PREVIEW OF FLIGHT DAY 9 ACTIVITIES PLAY


VIDEO: MONDAY EVENING'S FLIGHT DIRECTOR INTERVIEW PLAY



VIDEO: FLIGHT DAY 8 HIGHLIGHTS MOVIE PLAY


VIDEO: MONDAY AFTERNOON'S MISSION STATUS UPDATE PLAY


VIDEO: RUSSIAN PRESIDENT CALLS THE SPACE STATION PLAY


VIDEO: SPACE STATION CREW MARKS COSMONAUTICS DAY PLAY


VIDEO: ABC, MSNBC, FOX NEWS AND KUSA-TV INTERVIEWS PLAY


VIDEO: JAXA EVENT WITH JAPANESE ASTRONAUTS PLAY


VIDEO: SUNDAY EVENING'S FLIGHT DIRECTOR INTERVIEW PLAY



HIGH DEFINITION TV DAY 7: MEAL TIME IN ZVEZDA PLAY


HIGH DEFINITION TV DAY 7: GRUELING 7.5-HOUR EVA FINSHES PLAY


HIGH DEFINITION TV DAY 7: VENTURING OUTSIDE THE STATION PLAY


HIGH DEFINITION TV DAY 7: GETTING READY FOR ANOTHER EVA PLAY


HIGH DEFINITION TV DAY 7: OLD CREW SLEEP BUNK REMOVED PLAY


HIGH DEFINITION TV DAY 7: TRANSFERS AND MORE TRANSFERS PLAY



VIDEO: FLIGHT DAY 7 HIGHLIGHTS MOVIE PLAY


VIDEO: CREW'S HOME MOVIES FOR FLIGHT DAY 7 PLAY


VIDEO: SUNDAY MORNING'S MISSION STATUS BRIEFING PLAY


VIDEO: FINALLY WINNING THE BATTLE WITH TANK BOLTS PLAY


VIDEO: NEW COOLANT TANK MANEUVERED INTO POSITION PLAY


VIDEO: DEPLETED AMMONIA TANK REMOVED FROM STATION PLAY


VIDEO: STEP-BY-STEP WALKTHROUGH OF EVA NO. 2 PLAY


VIDEO: PREVIEW OF FLIGHT DAY 7 ACTIVITIES PLAY


VIDEO: SATURDAY EVENING'S FLIGHT DIRECTOR INTERVIEW PLAY



HIGH DEFINITION TV DAY 6: LIFE OF A SHUTTLE ASTRONAUT PLAY


HIGH DEFINITION TV DAY 6: "BUCKET BRIGADE" ON THE STATION PLAY


HIGH DEFINITION TV DAY 6: WORF INSTALLED IN DESTINY LAB PLAY



VIDEO: FLIGHT DAY 6 HIGHLIGHTS MOVIE PLAY


VIDEO: CREW'S HOME MOVIES FOR FLIGHT DAY 6 PLAY


VIDEO: SATURDAY MORNING'S MISSION STATUS BRIEFING PLAY


VIDEO: SCIENCE RACK INSTALLED BY JAPANESE ASTRONAUTS PLAY


VIDEO: NAVAL POSTGRADUATE SCHOOL EDUCATIONAL EVENT PLAY


VIDEO: CBS AND NEBRASKA MEDIA INTERVIEWS WITH CREW PLAY


VIDEO: SMOKE ALARM IN THE ZVEZDA SERVICE MODULE PLAY


VIDEO: PREVIEW OF FLIGHT DAY 6 ACTIVITIES PLAY



VIDEO: MISSION EXTENSION NEWS FROM FLIGHT DIRECTOR PLAY



HIGH DEFINITION TV DAY 5: SPACEWALKERS RETURN TO AIRLOCK PLAY


HIGH DEFINITION TV DAY 5: UNLOADING THE LEONARDO MODULE PLAY


HIGH DEFINITION TV DAY 5: STATION'S NEW EXERCISE MACHINE PLAY


HIGH DEFINITION TV DAY 5: OPERATORS OF THE ROBOTIC ARM PLAY


HIGH DEFINITION TV DAY 5: SPACEWALKERS FREE AMMONIA TANK PLAY



VIDEO: FLIGHT DAY 5 HIGHLIGHTS MOVIE PLAY


VIDEO: CREW'S HOME MOVIES FOR FLIGHT DAY 5 PLAY


VIDEO: STOWAGE RACKS MOVED INTO STATION PLAY


VIDEO: NEW LABORATORY FREEZER FOR KIBO PLAY


VIDEO: FRIDAY MORNING'S MISSION STATUS BRIEFING PLAY


VIDEO: RATE GYRO ASSEMBLY REMOVED FROM STATION PLAY


VIDEO: NEW AMMONIA TANK STOWED IN TEMPORARY SPOT PLAY


VIDEO: ANCHORING FIXTURE ATTACHED TO AMMONIA TANK PLAY


VIDEO: EXPERIMENT RETRIEVED FROM JAPAN'S SCIENCE DECK PLAY


VIDEO: STATION'S ROBOTIC ARM LIFTS TANK FROM SHUTTLE PLAY


VIDEO: NEW AMMONIA COOLANT TANK UNBOLTED FROM CARRIER PLAY


VIDEO: SPACEWALKER PREPS AMMONIA TANK IN SHUTTLE BAY PLAY


VIDEO: THE START OF MISSION'S FIRST SPACEWALK PLAY


VIDEO: STEP-BY-STEP WALKTHROUGH OF EVA NO. 1 PLAY


VIDEO: PREVIEW OF FLIGHT DAY 5 ACTIVITIES PLAY


VIDEO: THURSDAY EVENING'S FLIGHT DIRECTOR INTERVIEW PLAY


VIDEO: THURSDAY AFTERNOON'S MANAGEMENT TEAM UPDATE PLAY



VIDEO: FLIGHT DAY 4 HIGHLIGHTS MOVIE PLAY


VIDEO: RADIO AND TV INTERVIEWS WITH CREW PLAY


VIDEO: THURSDAY MORNING'S MISSION STATUS BRIEFING PLAY


VIDEO: LEONARDO MODULE ATTACHED TO SPACE STATION PLAY


VIDEO: STATION'S ARM GRAPPLES THE LEONARDO MODULE PLAY


VIDEO: NARRATED PREVIEW OF LEONARDO'S INSTALLATION PLAY


VIDEO: WEDNESDAY EVENING'S FLIGHT DIRECTOR INTERVIEW PLAY


VIDEO: WEDNESDAY AFTERNOON'S MANAGEMENT TEAM UPDATE PLAY



VIDEO: FLIGHT DAY 3 HIGHLIGHTS MOVIE PLAY


VIDEO: WEDNESDAY MORNING'S MISSION STATUS BRIEFING PLAY


VIDEO: SHUTTLE CREW WELCOMED ABOARD THE STATION PLAY


VIDEO: POST-DOCKING OF THE SHUTTLE BAY AND TAIL PLAY


VIDEO: DISCOVERY DOCKS TO THE SPACE STATION PLAY


VIDEO: SHUTTLE PERFORMS 360-DEGREE BACKFLIP PLAY


VIDEO: PREVIEW OF RENDEZVOUS AND DOCKING ACTIVITIES PLAY


VIDEO: OBJECT LOST FROM SHUTTLE TAIL DURING LAUNCH PLAY


VIDEO: TUESDAY AFTERNOON'S MANAGEMENT TEAM UPDATE PLAY


VIDEO: THE FULL STS-131 LAUNCH EXPERIENCE PLAY



VIDEO: FLIGHT DAY 2 HIGHLIGHTS MOVIE PLAY


VIDEO: TUESDAY MORNING'S MISSION STATUS BRIEFING PLAY


VIDEO: PREVIEW OF FLIGHT DAY 2 ACTIVITIES PLAY


VIDEO: NARRATED TOUR OF DISCOVERY'S PAYLOAD BAY PLAY


VIDEO: DESCRIPTION OF KU-BAND ANTENNA PROBLEM PLAY



VIDEO: FLIGHT DAY 1 HIGHLIGHTS MOVIE PLAY


VIDEO: SHUTTLE DISCOVERY BLASTS OFF! PLAY | HI-DEF


VIDEO: GO INSIDE MISSION CONTROL DURING LAUNCH PLAY


VIDEO: POST-LAUNCH NEWS CONFERENCE PLAY



VIDEO: LAUNCH REPLAY: VAB ROOF PLAY | HI-DEF


VIDEO: LAUNCH REPLAY: PRESS SITE PLAY | HI-DEF


VIDEO: LAUNCH REPLAY: PATRICK AFB PLAY | HI-DEF


VIDEO: LAUNCH REPLAY: PAD PERIMETER PLAY | HI-DEF


VIDEO: LAUNCH REPLAY: BEACH TRACKER PLAY | HI-DEF


VIDEO: LAUNCH REPLAY: PAD CAMERA 070 PLAY | HI-DEF


VIDEO: LAUNCH REPLAY: PAD CAMERA 071 PLAY | HI-DEF


VIDEO: LAUNCH REPLAY: PLAYALINDA BEACH PLAY | HI-DEF


VIDEO: LAUNCH REPLAY: PAD FRONT CAMERA PLAY | HI-DEF


VIDEO: LAUNCH REPLAY: KSC WEST TOWER PLAY | HI-DEF



VIDEO: ASTRONAUTS LEAVE CREW QUARTERS PLAY | HI-DEF


VIDEO: CREW FINISHES GETTING SUITED UP PLAY | HI-DEF



VIDEO: NARRATED REVIEW OF SHUTTLE'S PREPARATIONS PLAY | HI-DEF


VIDEO: NARRATED REVIEW OF PAYLOADS' PREPARATIONS PLAY | HI-DEF


VIDEO: PREPARING AN EXTERNAL TANK FOR LAUNCH PLAY | HI-DEF



VIDEO: TIME-LAPSE OF GANTRY ROLLING BACK FOR LAUNCH PLAY


VIDEO: LAUNCH PAD'S SERVICE TOWER RETRACTED PLAY | HI-DEF


VIDEO: PAYLOAD BAY DOORS CLOSED FOR LAUNCH PLAY | HI-DEF


VIDEO: ASTRONAUTS INSPECT THE PAYLOAD BAY PLAY | HI-DEF



VIDEO: STS-131 MISSION PREVIEW MOVIE PLAY | HI-DEF


VIDEO: PRE-LAUNCH INTERVIEW WITH COMMANDER POINDEXTER PLAY


VIDEO: PRE-LAUNCH INTERVIEW WITH PILOT JIM DUTTON PLAY


VIDEO: PRE-LAUNCH INTERVIEW WITH RICK MASTRACCHIOPLAY


VIDEO: PRE-LAUNCH INTERVIEW WITH METCALF-LINDENBURGER PLAY


VIDEO: PRE-LAUNCH INTERVIEW WITH STEPHANIE WILSON PLAY


VIDEO: PRE-LAUNCH INTERVIEW WITH NAOKO YAMAZAKI PLAY


VIDEO: PRE-LAUNCH INTERVIEW WITH CLAY ANDERSON PLAY



VIDEO: PRE-LAUNCH NEWS CONFERENCE PLAY


VIDEO: COUNTDOWN STATUS AND WEATHER OUTLOOK PLAY


VIDEO: PREVIEW OF DISCOVERY'S LAUNCH COUNTDOWN PLAY


VIDEO: ASTRONAUTS ARRIVE FOR LAUNCH PLAY | HI-DEF



VIDEO: FULL FLIGHT READINESS REVIEW NEWS BRIEFING PLAY


VIDEO: RECAP OF THE FLIGHT READINESS REVIEW PLAY | HI-DEF


VIDEO: HELIUM VALVE NO CONSTRAINT TO LAUNCH PLAY | HI-DEF


VIDEO: MANAGERS ASSESS ISSUES BEFORE FLIGHT PLAY | HI-DEF


VIDEO: UPDATE ON PRE-LAUNCH PREPS AT PAD 39A PLAY | HI-DEF



VIDEO: SPACEWALKING SUITS LOADED ABOARD PLAY | HI-DEF


VIDEO: INTERVIEW WITH STS-131 PAYLOAD MANAGER PLAY | HI-DEF


VIDEO: INTERVIEW WITH BOEING PAYLOAD MANAGER PLAY | HI-DEF


VIDEO: PAYLOADS DELIVERED TO LAUNCH PAD 39A PLAY | HI-DEF


VIDEO: TRANSPORT CANISTER ROTATED VERTICALLY PLAY | HI-DEF


VIDEO: LEONARDO PLACED INTO THE TRANSPORTER PLAY | HI-DEF


VIDEO: STATION'S NEW AMMONIA COOLANT TANK PLAY | HI-DEF


VIDEO: LEONARDO HATCH CLOSED FOR FLIGHT PLAY | HI-DEF


VIDEO: FILLING UP ONE OF THE SUPPLY RACKS PLAY | HI-DEF



VIDEO: CAN THE SHUTTLE PROGRAM AVOID LOOMING RETIREMENT? PLAY


VIDEO: WHAT ABOUT ADDING ONE MORE SHUTTLE MISSION? PLAY


VIDEO: FULL BRIEFING BY SHUTTLE AND STATION OFFICIALS PLAY


VIDEO: THE STS-131 MISSION OVERVIEW PRESENTATIONS PLAY


VIDEO: PREVIEW BRIEFING ON MISSION'S SPACEWALKS PLAY


VIDEO: THE ASTRONAUTS' PRE-FLIGHT NEWS BRIEFING PLAY



VIDEO: SHUTTLE EVACUATION PRACTICE PLAY | HI-DEF


VIDEO: CREW MODULE HATCH IS CLOSED PLAY | HI-DEF


VIDEO: ASTRONAUTS BOARD DISCOVERY PLAY | HI-DEF


VIDEO: CREW BRIEFED ON EMERGENCY PROCEDURES PLAY | HI-DEF


VIDEO: TEST-DRIVING AN EMERGENCY ARMORED TANK PLAY | HI-DEF


VIDEO: NIGHTTIME APPROACHES IN TRAINING AIRCRAFT PLAY | HI-DEF


VIDEO: ASTRONAUTS CHAT WITH REPORTERS AT PAD 39A PLAY


VIDEO: CREW ARRIVES FOR PRACTICE COUNTDOWN PLAY | HI-DEF



VIDEO: GANTRY PLACED AROUND DISCOVERY PLAY | HI-DEF


VIDEO: DISCOVERY REACHES PAD 39A PLAY | HI-DEF


VIDEO: OVERNIGHT ROLLOUT BEGINS PLAY | HI-DEF


VIDEO: SHUTTLE HOISTED FOR ATTACHMENT TO TANK PLAY | HI-DEF


VIDEO: CRANE ROTATES THE ORBITER VERTICALLY PLAY | HI-DEF


VIDEO: DISCOVERY MOVES TO ASSEMBLY BUILDING PLAY | HI-DEF



VIDEO: ASTRONAUTS VISIT THEIR SPACECRAFT PLAY | HI-DEF


VIDEO: CREW GOES INSIDE LEONARDO MODULE PLAY | HI-DEF



VIDEO: EXTERNAL TANK ATTACHED TO BOOSTERS PLAY | HI-DEF


VIDEO: FUEL TANK LIFTED INTO CHECKOUT CELL PLAY | HI-DEF


VIDEO: EXTERNAL TANK ARRIVES AT SPACEPORT PLAY | HI-DEF



VIDEO: DISCOVERY'S NOSE POD ATTACHED PLAY | HI-DEF


VIDEO: INSTALLING DISCOVERY'S MAIN ENGINES PLAY | HI-DEF


VIDEO: KSC'S SHUTTLE MAIN ENGINE SHOP PLAY | HI-DEF


VIDEO: GASEOUS NITROGEN TANK REMOVED PLAY | HI-DEF


SUBSCRIBE NOW