Russian president calls station for Cosmonautics Day
BY WILLIAM HARWOOD
STORY WRITTEN FOR CBS NEWS "SPACE PLACE" & USED WITH PERMISSION
Posted: April 12, 2010


Russian President Dmitry Medvedev called the International Space Station early Monday to mark the 49th anniversary of Yuri Gagarin's historic flight, suggesting an international space summit to discuss ongoing and future cooperative ventures on the high frontier.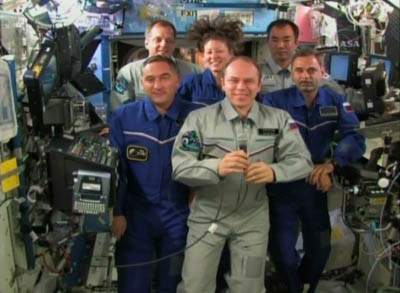 Credit: NASA



"Space is our highest priority, regardless of how hard the economic situation is in the country," Medvedev said in translated remarks. "Space will always remain our priority. This is not just somebody's interpretation, it's our official state position. I am here in my presidential office and when addressing you, I can confirm again the significance of space for the government."

"We want to thank you again for today's holiday," station commander Oleg Kotov replied.

All six Expedition 23 crew members - Kotov, Alexander Skvortsov, Mikhail Kornienko, Tracy Caldwell Dyson, Timothy Creamer and Soichi Noguchi - gathered for the conversation in the U.S. Destiny laboratory module.

"On behalf of all of us here on the International Space Station, including our shuttle colleagues, we just want to wish everyone congratulations on this historic day," Caldwell Dyson told the Russian president. "It means as much to us for the event of Yuri's first launch as it does for all of the people involved in making this space program possible. We're all filled with gratitude and appreciation. Congratulations to all of you."

Medvedev told the space station crew that in the early years of the space program, "development of cosmonautics was based on ideology and now, this is the area where we should try to assist each other in creating the mechanisms that will yield collective results. And this cooperation, I believe, is extremely important for the future, taking into account that space programs become more and more complicated, more and more costly, and the goals that we set become more and more complicated.

"No country can develop space alone, we need to combine our efforts and we need to talk about it more often," he said. "So maybe we could have some sort of international meeting, maybe at the heads of governments level. Because we talk about various issues, such as tackling all kinds of challenges, dangers and hazards that humanity is facing these days, various disarmament programs, etc., but there is a very important and positive factor that unites us all. So maybe it would be good to have a summit, maybe at the heads of governments level, for the countries that are working in space. So see, I have a very good idea on this holiday. What do you think? We could invite you to participate as well."

Kotov called the International Space Station "a great example of international cooperation where we have two completely different technical schools, Russian and U.S., and we combine our effort, we found the interfaces not only for machines but also for humans and we've created this wonderful, fully functional station ... and that is something that should be used in the future.

"Together, we have created a single organism," Kotov said. "The crew functions as one body even though it consists of representatives from different countries. We have had a European astronaut on board, we have Japanese astronauts on board right now, we have American astronauts, Russian, and we understand each other perfectly, we don't have any conflicts and I hope this will be true also regarding our cooperation everywhere else."

"Oleg, those are very good words, it's nice to hear that," Medvedev replied. Then he changed the subject, saying "I think it will be a mistake if I don't ask you some simple questions. How's life?"

"Well, it's like one of the most popular questions that we're asked - what do you like best in space?" Kotov said. "And my answer is always two things: weightlessness and the view out of the window. Also, just life in this three dimensional space, where walls and floor and ceiling become all the same. That's very interesting, and it takes changing your mind the way you think about your surroundings."

Medvedev asked if the absence of gravity caused any problems for the station crew.

"I can tell you honestly in my first flight, I noticed one month into the flight I had this feeling as though I had been living in space and weightlessness my entire life, it became such a natural part of my thinking that I didn't have any problems," Kotov said.

"Everything was so natural, so pleasant, so comfortable, you get used to all the minor negative details of being in weightless, you begin to enjoy the positives tremendously. And that's something you don't forget and your body remembers that. It was interesting. After I came back to Earth, I was uncomfortable, actually, experiencing Earth's gravitation. To me, it was strange to see the people not only walking on the surface of the planet, but also running. It seemed very difficult."

Medvedev asked about the food on the International Space Station, wondering "are they feeding you well?"

"Food in space is different from the ideas people have based on what they knew in the 60s or 70s," Kotov said. "The food becomes more and more similar to what we eat on Earth. We don't have any tubes. We do have cans and the variety is pretty good. Because we're using the resources of all the space agencies, we have a very international cuisine. We have Japanese food, we have American food, European style, no complaints here."


Additional coverage for subscribers:


VIDEO: RUSSIAN PRESIDENT CALLS THE SPACE STATION PLAY


VIDEO: SPACE STATION CREW MARKS COSMONAUTICS DAY PLAY



HIGH DEFINITION TV DAY 7: MEAL TIME IN ZVEZDA PLAY


HIGH DEFINITION TV DAY 7: GRUELING 7.5-HOUR EVA FINSHES PLAY


HIGH DEFINITION TV DAY 7: VENTURING OUTSIDE THE STATION PLAY


HIGH DEFINITION TV DAY 7: GETTING READY FOR ANOTHER EVA PLAY


HIGH DEFINITION TV DAY 7: OLD CREW SLEEP BUNK REMOVED PLAY


HIGH DEFINITION TV DAY 7: TRANSFERS AND MORE TRANSFERS PLAY



VIDEO: FLIGHT DAY 7 HIGHLIGHTS MOVIE PLAY


VIDEO: CREW'S HOME MOVIES FOR FLIGHT DAY 7 PLAY


VIDEO: SUNDAY MORNING'S MISSION STATUS BRIEFING PLAY


VIDEO: FINALLY WINNING THE BATTLE WITH TANK BOLTS PLAY


VIDEO: NEW COOLANT TANK MANEUVERED INTO POSITION PLAY


VIDEO: DEPLETED AMMONIA TANK REMOVED FROM STATION PLAY


VIDEO: STEP-BY-STEP WALKTHROUGH OF EVA NO. 2 PLAY


VIDEO: PREVIEW OF FLIGHT DAY 7 ACTIVITIES PLAY


VIDEO: SATURDAY EVENING'S FLIGHT DIRECTOR INTERVIEW PLAY



HIGH DEFINITION TV DAY 6: LIFE OF A SHUTTLE ASTRONAUT PLAY


HIGH DEFINITION TV DAY 6: "BUCKET BRIGADE" ON THE STATION PLAY


HIGH DEFINITION TV DAY 6: WORF INSTALLED IN DESTINY LAB PLAY



VIDEO: FLIGHT DAY 6 HIGHLIGHTS MOVIE PLAY


VIDEO: CREW'S HOME MOVIES FOR FLIGHT DAY 6 PLAY


VIDEO: SATURDAY MORNING'S MISSION STATUS BRIEFING PLAY


VIDEO: SCIENCE RACK INSTALLED BY JAPANESE ASTRONAUTS PLAY


VIDEO: NAVAL POSTGRADUATE SCHOOL EDUCATIONAL EVENT PLAY


VIDEO: CBS AND NEBRASKA MEDIA INTERVIEWS WITH CREW PLAY


VIDEO: SMOKE ALARM IN THE ZVEZDA SERVICE MODULE PLAY


VIDEO: PREVIEW OF FLIGHT DAY 6 ACTIVITIES PLAY



VIDEO: MISSION EXTENSION NEWS FROM FLIGHT DIRECTOR PLAY



HIGH DEFINITION TV DAY 5: SPACEWALKERS RETURN TO AIRLOCK PLAY


HIGH DEFINITION TV DAY 5: UNLOADING THE LEONARDO MODULE PLAY


HIGH DEFINITION TV DAY 5: STATION'S NEW EXERCISE MACHINE PLAY


HIGH DEFINITION TV DAY 5: OPERATORS OF THE ROBOTIC ARM PLAY


HIGH DEFINITION TV DAY 5: SPACEWALKERS FREE AMMONIA TANK PLAY



VIDEO: FLIGHT DAY 5 HIGHLIGHTS MOVIE PLAY


VIDEO: CREW'S HOME MOVIES FOR FLIGHT DAY 5 PLAY


VIDEO: STOWAGE RACKS MOVED INTO STATION PLAY


VIDEO: NEW LABORATORY FREEZER FOR KIBO PLAY


VIDEO: FRIDAY MORNING'S MISSION STATUS BRIEFING PLAY


VIDEO: RATE GYRO ASSEMBLY REMOVED FROM STATION PLAY


VIDEO: NEW AMMONIA TANK STOWED IN TEMPORARY SPOT PLAY


VIDEO: ANCHORING FIXTURE ATTACHED TO AMMONIA TANK PLAY


VIDEO: EXPERIMENT RETRIEVED FROM JAPAN'S SCIENCE DECK PLAY


VIDEO: STATION'S ROBOTIC ARM LIFTS TANK FROM SHUTTLE PLAY


VIDEO: NEW AMMONIA COOLANT TANK UNBOLTED FROM CARRIER PLAY


VIDEO: SPACEWALKER PREPS AMMONIA TANK IN SHUTTLE BAY PLAY


VIDEO: THE START OF MISSION'S FIRST SPACEWALK PLAY


VIDEO: STEP-BY-STEP WALKTHROUGH OF EVA NO. 1 PLAY


VIDEO: PREVIEW OF FLIGHT DAY 5 ACTIVITIES PLAY


VIDEO: THURSDAY EVENING'S FLIGHT DIRECTOR INTERVIEW PLAY


VIDEO: THURSDAY AFTERNOON'S MANAGEMENT TEAM UPDATE PLAY



VIDEO: FLIGHT DAY 4 HIGHLIGHTS MOVIE PLAY


VIDEO: RADIO AND TV INTERVIEWS WITH CREW PLAY


VIDEO: THURSDAY MORNING'S MISSION STATUS BRIEFING PLAY


VIDEO: LEONARDO MODULE ATTACHED TO SPACE STATION PLAY


VIDEO: STATION'S ARM GRAPPLES THE LEONARDO MODULE PLAY


VIDEO: NARRATED PREVIEW OF LEONARDO'S INSTALLATION PLAY


VIDEO: WEDNESDAY EVENING'S FLIGHT DIRECTOR INTERVIEW PLAY


VIDEO: WEDNESDAY AFTERNOON'S MANAGEMENT TEAM UPDATE PLAY



VIDEO: FLIGHT DAY 3 HIGHLIGHTS MOVIE PLAY


VIDEO: WEDNESDAY MORNING'S MISSION STATUS BRIEFING PLAY


VIDEO: SHUTTLE CREW WELCOMED ABOARD THE STATION PLAY


VIDEO: POST-DOCKING OF THE SHUTTLE BAY AND TAIL PLAY


VIDEO: DISCOVERY DOCKS TO THE SPACE STATION PLAY


VIDEO: SHUTTLE PERFORMS 360-DEGREE BACKFLIP PLAY


VIDEO: PREVIEW OF RENDEZVOUS AND DOCKING ACTIVITIES PLAY


VIDEO: OBJECT LOST FROM SHUTTLE TAIL DURING LAUNCH PLAY


VIDEO: TUESDAY AFTERNOON'S MANAGEMENT TEAM UPDATE PLAY


VIDEO: THE FULL STS-131 LAUNCH EXPERIENCE PLAY



VIDEO: FLIGHT DAY 2 HIGHLIGHTS MOVIE PLAY


VIDEO: TUESDAY MORNING'S MISSION STATUS BRIEFING PLAY


VIDEO: PREVIEW OF FLIGHT DAY 2 ACTIVITIES PLAY


VIDEO: NARRATED TOUR OF DISCOVERY'S PAYLOAD BAY PLAY


VIDEO: DESCRIPTION OF KU-BAND ANTENNA PROBLEM PLAY



VIDEO: FLIGHT DAY 1 HIGHLIGHTS MOVIE PLAY


VIDEO: SHUTTLE DISCOVERY BLASTS OFF! PLAY | HI-DEF


VIDEO: GO INSIDE MISSION CONTROL DURING LAUNCH PLAY


VIDEO: POST-LAUNCH NEWS CONFERENCE PLAY



VIDEO: LAUNCH REPLAY: VAB ROOF PLAY | HI-DEF


VIDEO: LAUNCH REPLAY: PRESS SITE PLAY | HI-DEF


VIDEO: LAUNCH REPLAY: PATRICK AFB PLAY | HI-DEF


VIDEO: LAUNCH REPLAY: PAD PERIMETER PLAY | HI-DEF


VIDEO: LAUNCH REPLAY: BEACH TRACKER PLAY | HI-DEF


VIDEO: LAUNCH REPLAY: PAD CAMERA 070 PLAY | HI-DEF


VIDEO: LAUNCH REPLAY: PAD CAMERA 071 PLAY | HI-DEF


VIDEO: LAUNCH REPLAY: PLAYALINDA BEACH PLAY | HI-DEF


VIDEO: LAUNCH REPLAY: PAD FRONT CAMERA PLAY | HI-DEF


VIDEO: LAUNCH REPLAY: KSC WEST TOWER PLAY | HI-DEF



VIDEO: ASTRONAUTS LEAVE CREW QUARTERS PLAY | HI-DEF


VIDEO: CREW FINISHES GETTING SUITED UP PLAY | HI-DEF



VIDEO: NARRATED REVIEW OF SHUTTLE'S PREPARATIONS PLAY | HI-DEF


VIDEO: NARRATED REVIEW OF PAYLOADS' PREPARATIONS PLAY | HI-DEF


VIDEO: PREPARING AN EXTERNAL TANK FOR LAUNCH PLAY | HI-DEF



VIDEO: TIME-LAPSE OF GANTRY ROLLING BACK FOR LAUNCH PLAY


VIDEO: LAUNCH PAD'S SERVICE TOWER RETRACTED PLAY | HI-DEF


VIDEO: PAYLOAD BAY DOORS CLOSED FOR LAUNCH PLAY | HI-DEF


VIDEO: ASTRONAUTS INSPECT THE PAYLOAD BAY PLAY | HI-DEF



VIDEO: STS-131 MISSION PREVIEW MOVIE PLAY | HI-DEF


VIDEO: PRE-LAUNCH INTERVIEW WITH COMMANDER POINDEXTER PLAY


VIDEO: PRE-LAUNCH INTERVIEW WITH PILOT JIM DUTTON PLAY


VIDEO: PRE-LAUNCH INTERVIEW WITH RICK MASTRACCHIOPLAY


VIDEO: PRE-LAUNCH INTERVIEW WITH METCALF-LINDENBURGER PLAY


VIDEO: PRE-LAUNCH INTERVIEW WITH STEPHANIE WILSON PLAY


VIDEO: PRE-LAUNCH INTERVIEW WITH NAOKO YAMAZAKI PLAY


VIDEO: PRE-LAUNCH INTERVIEW WITH CLAY ANDERSON PLAY



VIDEO: PRE-LAUNCH NEWS CONFERENCE PLAY


VIDEO: COUNTDOWN STATUS AND WEATHER OUTLOOK PLAY


VIDEO: PREVIEW OF DISCOVERY'S LAUNCH COUNTDOWN PLAY


VIDEO: ASTRONAUTS ARRIVE FOR LAUNCH PLAY | HI-DEF



VIDEO: FULL FLIGHT READINESS REVIEW NEWS BRIEFING PLAY


VIDEO: RECAP OF THE FLIGHT READINESS REVIEW PLAY | HI-DEF


VIDEO: HELIUM VALVE NO CONSTRAINT TO LAUNCH PLAY | HI-DEF


VIDEO: MANAGERS ASSESS ISSUES BEFORE FLIGHT PLAY | HI-DEF


VIDEO: UPDATE ON PRE-LAUNCH PREPS AT PAD 39A PLAY | HI-DEF



VIDEO: SPACEWALKING SUITS LOADED ABOARD PLAY | HI-DEF


VIDEO: INTERVIEW WITH STS-131 PAYLOAD MANAGER PLAY | HI-DEF


VIDEO: INTERVIEW WITH BOEING PAYLOAD MANAGER PLAY | HI-DEF


VIDEO: PAYLOADS DELIVERED TO LAUNCH PAD 39A PLAY | HI-DEF


VIDEO: TRANSPORT CANISTER ROTATED VERTICALLY PLAY | HI-DEF


VIDEO: LEONARDO PLACED INTO THE TRANSPORTER PLAY | HI-DEF


VIDEO: STATION'S NEW AMMONIA COOLANT TANK PLAY | HI-DEF


VIDEO: LEONARDO HATCH CLOSED FOR FLIGHT PLAY | HI-DEF


VIDEO: FILLING UP ONE OF THE SUPPLY RACKS PLAY | HI-DEF



VIDEO: CAN THE SHUTTLE PROGRAM AVOID LOOMING RETIREMENT? PLAY


VIDEO: WHAT ABOUT ADDING ONE MORE SHUTTLE MISSION? PLAY


VIDEO: FULL BRIEFING BY SHUTTLE AND STATION OFFICIALS PLAY


VIDEO: THE STS-131 MISSION OVERVIEW PRESENTATIONS PLAY


VIDEO: PREVIEW BRIEFING ON MISSION'S SPACEWALKS PLAY


VIDEO: THE ASTRONAUTS' PRE-FLIGHT NEWS BRIEFING PLAY



VIDEO: SHUTTLE EVACUATION PRACTICE PLAY | HI-DEF


VIDEO: CREW MODULE HATCH IS CLOSED PLAY | HI-DEF


VIDEO: ASTRONAUTS BOARD DISCOVERY PLAY | HI-DEF


VIDEO: CREW BRIEFED ON EMERGENCY PROCEDURES PLAY | HI-DEF


VIDEO: TEST-DRIVING AN EMERGENCY ARMORED TANK PLAY | HI-DEF


VIDEO: NIGHTTIME APPROACHES IN TRAINING AIRCRAFT PLAY | HI-DEF


VIDEO: ASTRONAUTS CHAT WITH REPORTERS AT PAD 39A PLAY


VIDEO: CREW ARRIVES FOR PRACTICE COUNTDOWN PLAY | HI-DEF



VIDEO: GANTRY PLACED AROUND DISCOVERY PLAY | HI-DEF


VIDEO: DISCOVERY REACHES PAD 39A PLAY | HI-DEF


VIDEO: OVERNIGHT ROLLOUT BEGINS PLAY | HI-DEF


VIDEO: SHUTTLE HOISTED FOR ATTACHMENT TO TANK PLAY | HI-DEF


VIDEO: CRANE ROTATES THE ORBITER VERTICALLY PLAY | HI-DEF


VIDEO: DISCOVERY MOVES TO ASSEMBLY BUILDING PLAY | HI-DEF



VIDEO: ASTRONAUTS VISIT THEIR SPACECRAFT PLAY | HI-DEF


VIDEO: CREW GOES INSIDE LEONARDO MODULE PLAY | HI-DEF



VIDEO: EXTERNAL TANK ATTACHED TO BOOSTERS PLAY | HI-DEF


VIDEO: FUEL TANK LIFTED INTO CHECKOUT CELL PLAY | HI-DEF


VIDEO: EXTERNAL TANK ARRIVES AT SPACEPORT PLAY | HI-DEF



VIDEO: DISCOVERY'S NOSE POD ATTACHED PLAY | HI-DEF


VIDEO: INSTALLING DISCOVERY'S MAIN ENGINES PLAY | HI-DEF


VIDEO: KSC'S SHUTTLE MAIN ENGINE SHOP PLAY | HI-DEF


VIDEO: GASEOUS NITROGEN TANK REMOVED PLAY | HI-DEF


SUBSCRIBE NOW