Astronauts take a breather at mission's half-way mark
BY WILLIAM HARWOOD
STORY WRITTEN FOR CBS NEWS "SPACE PLACE" & USED WITH PERMISSION
Posted: April 11, 2010


The Discovery astronauts looked forward to a half day off early Monday to relax, share a meal with their space station counterparts and enjoy the view from 220 miles up. Later in the day, they will resume cargo transfer work before gearing up for a third and final spacewalk early Tuesday.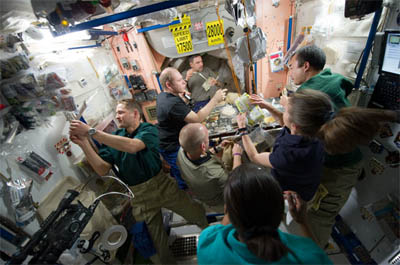 Credit: NASA



Monday is the 49th anniversary of cosmonaut Yuri Gagarin's historic launch on the first manned space flight and the 29th anniversary of the U.S. shuttle program's maiden voyage. Russian space officials planned to call station commander Oleg Kotov, Alexander Skvortsov and Mikhail Kornienko to mark Cosmonautics Day and the Gagarin anniversary.

"Tomorrow's a really historic day," said station Flight Director Ed Van Cise. "First, the crew's going to get a half day off, they've been very busy and will be very busy for the rest of the week, so we're giving them a little bit of time off.

"But tomorrow's April 12 and that is Cosmonautics Day for Russia and for all our Russian partners and crew members, it commemorates the first human being to fly in space, Yuri Gagarin. He launched in (1961) on April 12."

Cosmonautics Day and the shuttle anniversary "is just a good day in general to reflect on the fact that we have a lot of amazing things going on in space flight now," Van Cise said. "We have four women in space for the first time ever, we have two Japanese (astronauts) in space for the first time ever and we have three Russians living long term on space station for the first time. So there are a lot of firsts going on in space right now and tomorrow's going to be a chance to commemorate all those different things.

Later Monday, the Discovery astronauts will participate in round-robin interviews with reporters on Earth before calling it a day. Rick Mastracchio and Clay Anderson plan to spend the night in the space station's Quest airlock module at a reduced air pressure to prepare for a planned six-and-a-half-hour spacewalk early Tuesday.

The primary goals of the mission's three EVAs are to install a new ammonia coolant tank in the space station's main power truss and to move a partially depleted tank to Discovery's cargo bay for return to Earth.


The crew patch for Discovery's flight delivering
science and supplies to the space station is
available in the Spaceflight Now Store.


U.S. SHOPPERS | WORLDWIDE




The new tank was moved from the shuttle to a temporary mounting point during the crew's initial spacewalk Friday. The old tank was removed and temporarily mounted on an astronaut equipment cart during a second spacewalk early Saturday and the new tank was moved into its place.
But Anderson and Mastracchio had problems getting the new tank bolted down and because of time lost resolving that issue, they were unable to hook up ammonia and nitrogen pressurization lines. They also ran out of time to retrieve a set of no-longer-needed debris shields and move them into the station for return to Earth aboard Discovery.
Those tasks will be added to the final spacewalk Tuesday, along with a few lower-priority get-ahead items if time is available.
"We will complete connecting the fluid lines to the new ammonia tank," Van Cise said. "We'll bring those shields in and we will take the old tank ... with the space station (robot) arm and secure it into the payload bay of the shuttle.
"And then we'll have a couple of other items we'll be doing at the tail end. For example, there's (an experiment) platform out on the Columbus module, we'll be taking that off Columbus and putting that in the payload bay so we can bring that home."
Mastracchio and Anderson also will install two radiator servicing fixtures to go along with two that were installed Saturday and possibly perform a few other minor get ahead tasks if time is available.
Here is an updated timeline of today's activity (in EDT and mission elapsed time; includes revision H of the NASA television schedule; best viewed with fixed-width font):

EDT........DD...HH...MM...EVENT

04/11
09:51 PM...06...15...30...Crew wakeup
11:31 PM...06...17...10...Russian PAO event

04/12
12:01 AM...06...17...40...ISS daily planning conference
12:31 AM...06...18...10...Robot arm maneuver
12:51 AM...06...18...30...Crew off duty
05:21 AM...06...23...00...Joint crew meal
06:26 AM...07...05...00...MARES stowage configuration
06:41 AM...07...20...00...Japanese PAO event
06:51 AM...07...30...00...Cargo transfers resume
07:21 AM...07...01...00...EVA-3: Tools configured
08:46 AM...07...02...25...EVA-3: Equipment lock preps
09:46 AM...07...03...25...EVA-3: Procedures review
11:21 AM...07...05...00...ISS daily planning conference
11:36 AM...07...05...15...NASA PAO event
12:15 PM...07...05...54...Mission status briefing on NTV
12:46 PM...07...06...25...EVA-3: Nitrogen purge procedure
01:31 PM...07...07...10...EVA-3: Airlock depress to 10.2 psi
01:51 PM...07...07...30...ISS crew sleep begins
02:21 PM...07...08...00...STS crew sleep begins
03:00 PM...07...09...39...Daily highlights reel on NTV
07:00 PM...07...12...39...Flight director's update on NTV
10:21 PM...07...16...00...Crew wakeup



Additional coverage for subscribers:


HIGH DEFINITION TV DAY 7: MEAL TIME IN ZVEZDA PLAY


HIGH DEFINITION TV DAY 7: GRUELING 7.5-HOUR EVA FINSHES PLAY


HIGH DEFINITION TV DAY 7: VENTURING OUTSIDE THE STATION PLAY


HIGH DEFINITION TV DAY 7: GETTING READY FOR ANOTHER EVA PLAY


HIGH DEFINITION TV DAY 7: OLD CREW SLEEP BUNK REMOVED PLAY


HIGH DEFINITION TV DAY 7: TRANSFERS AND MORE TRANSFERS PLAY



VIDEO: FLIGHT DAY 7 HIGHLIGHTS MOVIE PLAY


VIDEO: CREW'S HOME MOVIES FOR FLIGHT DAY 7 PLAY


VIDEO: SUNDAY MORNING'S MISSION STATUS BRIEFING PLAY


VIDEO: FINALLY WINNING THE BATTLE WITH TANK BOLTS PLAY


VIDEO: NEW COOLANT TANK MANEUVERED INTO POSITION PLAY


VIDEO: DEPLETED AMMONIA TANK REMOVED FROM STATION PLAY


VIDEO: STEP-BY-STEP WALKTHROUGH OF EVA NO. 2 PLAY


VIDEO: PREVIEW OF FLIGHT DAY 7 ACTIVITIES PLAY


VIDEO: SATURDAY EVENING'S FLIGHT DIRECTOR INTERVIEW PLAY



HIGH DEFINITION TV DAY 6: LIFE OF A SHUTTLE ASTRONAUT PLAY


HIGH DEFINITION TV DAY 6: "BUCKET BRIGADE" ON THE STATION PLAY


HIGH DEFINITION TV DAY 6: WORF INSTALLED IN DESTINY LAB PLAY



VIDEO: FLIGHT DAY 6 HIGHLIGHTS MOVIE PLAY


VIDEO: CREW'S HOME MOVIES FOR FLIGHT DAY 6 PLAY


VIDEO: SATURDAY MORNING'S MISSION STATUS BRIEFING PLAY


VIDEO: SCIENCE RACK INSTALLED BY JAPANESE ASTRONAUTS PLAY


VIDEO: NAVAL POSTGRADUATE SCHOOL EDUCATIONAL EVENT PLAY


VIDEO: CBS AND NEBRASKA MEDIA INTERVIEWS WITH CREW PLAY


VIDEO: SMOKE ALARM IN THE ZVEZDA SERVICE MODULE PLAY


VIDEO: PREVIEW OF FLIGHT DAY 6 ACTIVITIES PLAY



VIDEO: MISSION EXTENSION NEWS FROM FLIGHT DIRECTOR PLAY



HIGH DEFINITION TV DAY 5: SPACEWALKERS RETURN TO AIRLOCK PLAY


HIGH DEFINITION TV DAY 5: UNLOADING THE LEONARDO MODULE PLAY


HIGH DEFINITION TV DAY 5: STATION'S NEW EXERCISE MACHINE PLAY


HIGH DEFINITION TV DAY 5: OPERATORS OF THE ROBOTIC ARM PLAY


HIGH DEFINITION TV DAY 5: SPACEWALKERS FREE AMMONIA TANK PLAY



VIDEO: FLIGHT DAY 5 HIGHLIGHTS MOVIE PLAY


VIDEO: CREW'S HOME MOVIES FOR FLIGHT DAY 5 PLAY


VIDEO: STOWAGE RACKS MOVED INTO STATION PLAY


VIDEO: NEW LABORATORY FREEZER FOR KIBO PLAY


VIDEO: FRIDAY MORNING'S MISSION STATUS BRIEFING PLAY


VIDEO: RATE GYRO ASSEMBLY REMOVED FROM STATION PLAY


VIDEO: NEW AMMONIA TANK STOWED IN TEMPORARY SPOT PLAY


VIDEO: ANCHORING FIXTURE ATTACHED TO AMMONIA TANK PLAY


VIDEO: EXPERIMENT RETRIEVED FROM JAPAN'S SCIENCE DECK PLAY


VIDEO: STATION'S ROBOTIC ARM LIFTS TANK FROM SHUTTLE PLAY


VIDEO: NEW AMMONIA COOLANT TANK UNBOLTED FROM CARRIER PLAY


VIDEO: SPACEWALKER PREPS AMMONIA TANK IN SHUTTLE BAY PLAY


VIDEO: THE START OF MISSION'S FIRST SPACEWALK PLAY


VIDEO: STEP-BY-STEP WALKTHROUGH OF EVA NO. 1 PLAY


VIDEO: PREVIEW OF FLIGHT DAY 5 ACTIVITIES PLAY


VIDEO: THURSDAY EVENING'S FLIGHT DIRECTOR INTERVIEW PLAY


VIDEO: THURSDAY AFTERNOON'S MANAGEMENT TEAM UPDATE PLAY



VIDEO: FLIGHT DAY 4 HIGHLIGHTS MOVIE PLAY


VIDEO: RADIO AND TV INTERVIEWS WITH CREW PLAY


VIDEO: THURSDAY MORNING'S MISSION STATUS BRIEFING PLAY


VIDEO: LEONARDO MODULE ATTACHED TO SPACE STATION PLAY


VIDEO: STATION'S ARM GRAPPLES THE LEONARDO MODULE PLAY


VIDEO: NARRATED PREVIEW OF LEONARDO'S INSTALLATION PLAY


VIDEO: WEDNESDAY EVENING'S FLIGHT DIRECTOR INTERVIEW PLAY


VIDEO: WEDNESDAY AFTERNOON'S MANAGEMENT TEAM UPDATE PLAY



VIDEO: FLIGHT DAY 3 HIGHLIGHTS MOVIE PLAY


VIDEO: WEDNESDAY MORNING'S MISSION STATUS BRIEFING PLAY


VIDEO: SHUTTLE CREW WELCOMED ABOARD THE STATION PLAY


VIDEO: POST-DOCKING OF THE SHUTTLE BAY AND TAIL PLAY


VIDEO: DISCOVERY DOCKS TO THE SPACE STATION PLAY


VIDEO: SHUTTLE PERFORMS 360-DEGREE BACKFLIP PLAY


VIDEO: PREVIEW OF RENDEZVOUS AND DOCKING ACTIVITIES PLAY


VIDEO: OBJECT LOST FROM SHUTTLE TAIL DURING LAUNCH PLAY


VIDEO: TUESDAY AFTERNOON'S MANAGEMENT TEAM UPDATE PLAY


VIDEO: THE FULL STS-131 LAUNCH EXPERIENCE PLAY



VIDEO: FLIGHT DAY 2 HIGHLIGHTS MOVIE PLAY


VIDEO: TUESDAY MORNING'S MISSION STATUS BRIEFING PLAY


VIDEO: PREVIEW OF FLIGHT DAY 2 ACTIVITIES PLAY


VIDEO: NARRATED TOUR OF DISCOVERY'S PAYLOAD BAY PLAY


VIDEO: DESCRIPTION OF KU-BAND ANTENNA PROBLEM PLAY



VIDEO: FLIGHT DAY 1 HIGHLIGHTS MOVIE PLAY


VIDEO: SHUTTLE DISCOVERY BLASTS OFF! PLAY | HI-DEF


VIDEO: GO INSIDE MISSION CONTROL DURING LAUNCH PLAY


VIDEO: POST-LAUNCH NEWS CONFERENCE PLAY



VIDEO: LAUNCH REPLAY: VAB ROOF PLAY | HI-DEF


VIDEO: LAUNCH REPLAY: PRESS SITE PLAY | HI-DEF


VIDEO: LAUNCH REPLAY: PATRICK AFB PLAY | HI-DEF


VIDEO: LAUNCH REPLAY: PAD PERIMETER PLAY | HI-DEF


VIDEO: LAUNCH REPLAY: BEACH TRACKER PLAY | HI-DEF


VIDEO: LAUNCH REPLAY: PAD CAMERA 070 PLAY | HI-DEF


VIDEO: LAUNCH REPLAY: PAD CAMERA 071 PLAY | HI-DEF


VIDEO: LAUNCH REPLAY: PLAYALINDA BEACH PLAY | HI-DEF


VIDEO: LAUNCH REPLAY: PAD FRONT CAMERA PLAY | HI-DEF


VIDEO: LAUNCH REPLAY: KSC WEST TOWER PLAY | HI-DEF



VIDEO: ASTRONAUTS LEAVE CREW QUARTERS PLAY | HI-DEF


VIDEO: CREW FINISHES GETTING SUITED UP PLAY | HI-DEF



VIDEO: NARRATED REVIEW OF SHUTTLE'S PREPARATIONS PLAY | HI-DEF


VIDEO: NARRATED REVIEW OF PAYLOADS' PREPARATIONS PLAY | HI-DEF


VIDEO: PREPARING AN EXTERNAL TANK FOR LAUNCH PLAY | HI-DEF



VIDEO: TIME-LAPSE OF GANTRY ROLLING BACK FOR LAUNCH PLAY


VIDEO: LAUNCH PAD'S SERVICE TOWER RETRACTED PLAY | HI-DEF


VIDEO: PAYLOAD BAY DOORS CLOSED FOR LAUNCH PLAY | HI-DEF


VIDEO: ASTRONAUTS INSPECT THE PAYLOAD BAY PLAY | HI-DEF



VIDEO: STS-131 MISSION PREVIEW MOVIE PLAY | HI-DEF


VIDEO: PRE-LAUNCH INTERVIEW WITH COMMANDER POINDEXTER PLAY


VIDEO: PRE-LAUNCH INTERVIEW WITH PILOT JIM DUTTON PLAY


VIDEO: PRE-LAUNCH INTERVIEW WITH RICK MASTRACCHIOPLAY


VIDEO: PRE-LAUNCH INTERVIEW WITH METCALF-LINDENBURGER PLAY


VIDEO: PRE-LAUNCH INTERVIEW WITH STEPHANIE WILSON PLAY


VIDEO: PRE-LAUNCH INTERVIEW WITH NAOKO YAMAZAKI PLAY


VIDEO: PRE-LAUNCH INTERVIEW WITH CLAY ANDERSON PLAY



VIDEO: PRE-LAUNCH NEWS CONFERENCE PLAY


VIDEO: COUNTDOWN STATUS AND WEATHER OUTLOOK PLAY


VIDEO: PREVIEW OF DISCOVERY'S LAUNCH COUNTDOWN PLAY


VIDEO: ASTRONAUTS ARRIVE FOR LAUNCH PLAY | HI-DEF



VIDEO: FULL FLIGHT READINESS REVIEW NEWS BRIEFING PLAY


VIDEO: RECAP OF THE FLIGHT READINESS REVIEW PLAY | HI-DEF


VIDEO: HELIUM VALVE NO CONSTRAINT TO LAUNCH PLAY | HI-DEF


VIDEO: MANAGERS ASSESS ISSUES BEFORE FLIGHT PLAY | HI-DEF


VIDEO: UPDATE ON PRE-LAUNCH PREPS AT PAD 39A PLAY | HI-DEF



VIDEO: SPACEWALKING SUITS LOADED ABOARD PLAY | HI-DEF


VIDEO: INTERVIEW WITH STS-131 PAYLOAD MANAGER PLAY | HI-DEF


VIDEO: INTERVIEW WITH BOEING PAYLOAD MANAGER PLAY | HI-DEF


VIDEO: PAYLOADS DELIVERED TO LAUNCH PAD 39A PLAY | HI-DEF


VIDEO: TRANSPORT CANISTER ROTATED VERTICALLY PLAY | HI-DEF


VIDEO: LEONARDO PLACED INTO THE TRANSPORTER PLAY | HI-DEF


VIDEO: STATION'S NEW AMMONIA COOLANT TANK PLAY | HI-DEF


VIDEO: LEONARDO HATCH CLOSED FOR FLIGHT PLAY | HI-DEF


VIDEO: FILLING UP ONE OF THE SUPPLY RACKS PLAY | HI-DEF



VIDEO: CAN THE SHUTTLE PROGRAM AVOID LOOMING RETIREMENT? PLAY


VIDEO: WHAT ABOUT ADDING ONE MORE SHUTTLE MISSION? PLAY


VIDEO: FULL BRIEFING BY SHUTTLE AND STATION OFFICIALS PLAY


VIDEO: THE STS-131 MISSION OVERVIEW PRESENTATIONS PLAY


VIDEO: PREVIEW BRIEFING ON MISSION'S SPACEWALKS PLAY


VIDEO: THE ASTRONAUTS' PRE-FLIGHT NEWS BRIEFING PLAY



VIDEO: SHUTTLE EVACUATION PRACTICE PLAY | HI-DEF


VIDEO: CREW MODULE HATCH IS CLOSED PLAY | HI-DEF


VIDEO: ASTRONAUTS BOARD DISCOVERY PLAY | HI-DEF


VIDEO: CREW BRIEFED ON EMERGENCY PROCEDURES PLAY | HI-DEF


VIDEO: TEST-DRIVING AN EMERGENCY ARMORED TANK PLAY | HI-DEF


VIDEO: NIGHTTIME APPROACHES IN TRAINING AIRCRAFT PLAY | HI-DEF


VIDEO: ASTRONAUTS CHAT WITH REPORTERS AT PAD 39A PLAY


VIDEO: CREW ARRIVES FOR PRACTICE COUNTDOWN PLAY | HI-DEF



VIDEO: GANTRY PLACED AROUND DISCOVERY PLAY | HI-DEF


VIDEO: DISCOVERY REACHES PAD 39A PLAY | HI-DEF


VIDEO: OVERNIGHT ROLLOUT BEGINS PLAY | HI-DEF


VIDEO: SHUTTLE HOISTED FOR ATTACHMENT TO TANK PLAY | HI-DEF


VIDEO: CRANE ROTATES THE ORBITER VERTICALLY PLAY | HI-DEF


VIDEO: DISCOVERY MOVES TO ASSEMBLY BUILDING PLAY | HI-DEF



VIDEO: ASTRONAUTS VISIT THEIR SPACECRAFT PLAY | HI-DEF


VIDEO: CREW GOES INSIDE LEONARDO MODULE PLAY | HI-DEF



VIDEO: EXTERNAL TANK ATTACHED TO BOOSTERS PLAY | HI-DEF


VIDEO: FUEL TANK LIFTED INTO CHECKOUT CELL PLAY | HI-DEF


VIDEO: EXTERNAL TANK ARRIVES AT SPACEPORT PLAY | HI-DEF



VIDEO: DISCOVERY'S NOSE POD ATTACHED PLAY | HI-DEF


VIDEO: INSTALLING DISCOVERY'S MAIN ENGINES PLAY | HI-DEF


VIDEO: KSC'S SHUTTLE MAIN ENGINE SHOP PLAY | HI-DEF


VIDEO: GASEOUS NITROGEN TANK REMOVED PLAY | HI-DEF


SUBSCRIBE NOW