Astronauts discuss upcoming spacewalks, space summit
BY WILLIAM HARWOOD
STORY WRITTEN FOR CBS NEWS "SPACE PLACE" & USED WITH PERMISSION
Posted: April 10, 2010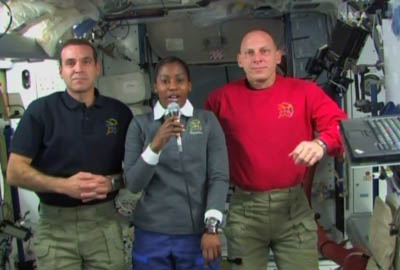 Credit: NASA TV



Spacewalkers Rick Mastracchio and Clay Anderson, along with robot arm operator Stephanie Wilson, fielded questions from reporters early Saturday, taking a few moments to discuss the crew's upcoming spacewalks, a "space summit" next week and the 40th anniversary of Apollo 13. Here is the conversation with CBS Radio's Peter King and space consultant William Harwood:

Peter King: Morning, Stephanie Wilson, Rick Mastracchio and Clay Anderson. This is Peter King in Florida, Bill Harwood will be joining us from the Johnson Space Center. Let's start with Rick and Clay. You had a great first EVA yesterday, tomorrow morning you head out for the second of three. Just wondering what's the biggest challenge you face in tomorrow's EVA?

Rick Mastracchio: "Tomorrow's EVA, we will be installing the new ammonia tank and removing the old ammonia tank. The biggest challenge is just the integration of all the robotics and the EVA. A couple of times during tomorrow's EVA we're going to have to lift up this 1,800-pound ammonia tank while the robotic arm folks, Stephanie and Jim Dutton, come in and grapple it. It's going to require a lot of teamwork to get that to work out smoothly.

Peter King: Stephanie, for the EVA and also for the late heat shield inspection, which is now going to be while you're attached to station, what are the special challenges there? Are there a lot of clearances you have to look after on both the EVA and the inspection?

Stephanie Wilson: "Always with the robotics operations clearances are a concern. Luckily, during EVA we have Clay and Rick to help us clear things. So when the (ammonia) tank gets close to structure, we're using their eyes for clearances. We wish we could have them outside also when we do this docked inspection. It is true that while we're docked, the clearances of the arm and the (sensor) boom to structure will be very tight and we don't always have cameras to get as good of a view as we would like to the station structure. But we'll do our best, we've got folks working on the ground, actually as we speak, reviewing procedures and getting all of that ready for us. So we expect it to go very well.

William Harwood: Hey guys, this is Bill Harwood at the Johnson Space Center. As you know, President Obama is visiting KSC next week to discuss the administration's new space policy. I realize it's probably career limiting for astronauts to talk politics, but this is a major sea change. Some people think it's the end of manned space flight, some think it's a bold step forward. Clay, can you share the short version of what you think about this big change that's coming?

Clay Anderson: Life is full of changes and change is hard. We know that from many different aspects of all our lives. New parents find that change is a little tough in the beginning but eventually they figure it out. That's what we'll do with NASA and the space program. I have no idea what real changes are coming. There is one side, one view, and then there's the other side and we'll just have to see how it all falls out. A lot of people get paid a lot of money to figure out this stuff and my job's to go out and perform as an astronaut and do spacewalk duty. So we'll just have to see what happens.

William Harwood: Let me ask you an operator question in that case. You're obviously a shuttle veteran and you've lived on the space station. No matter what happens, it looks like the station's going to be the only game in town for quite a while in the manned spaceflight world. How confident are you that NASA and the partners can sustain the lab complex, keep it going, without the shuttle there to support it?

Clay Anderson: The shuttle was a big workhorse, but we have a lot of new players on the block. The Automated Transfer Vehicle from the European Space Agency, the H2 transfer vehicle from the Japanese, the Progress from the Russians, and the Soyuz. We have a lot of very talented countries participating in this endeavor and right now, I don't have any reason to believe that we can't continue to do what we've been doing all along. It just remains to be seen in the future. But I think, I have a high confidence in all these international partners being able to sustain the station and do some really excellent work.

Peter King: A lot of people are wondering what the president will say when he comes to the Cape this coming week. What do you hope to hear from him?

Rick Mastracchio: Well, I hope to hear that in the future NASA will be a big part, have a large part in the human spaceflight. Obviously, NASA is meant to be a leader of the country and a leader of the world in technology and innovation and that's what it's been for many, many years. I hope that NASA will continue to be that way and I have no doubt that it will be. No matter which direction we take, I think NASA's going to be a big contributor to technologies and new ideas in manned spaceflight.

Peter King: This question is for any and all of you. You had a smoke alarm that got everybody scrambling early this morning. We know that turned out to be OK, but 40 years ago this coming week a very real emergency took place on Apollo 13. I'm just wondering your thoughts on that ... and what the Apollo 13 experience has meant to the program in the 40 years since it happened?

Stephanie Wilson: That's an excellent question and it really is a testament to teamwork. Flight crews, the mission control centers, the folks who train us and work on procedures, folks that get our vehicles ready and really know the ins and outs of the vehicles, really all have to come together in an emergency. But from every emergency, we learn something new, we update our procedures, we update our response times and it really is an opportunity to get to be more familiar with things but also to come together and work better together as a team.

Peter King: For Clay and Rick, one quick question. You have just one day off between your EVAs. We know how hard it is physically. Is one day's rest really enough to recoup your energy and go back and do it again?

Clay Anderson: "I've played a lot of sports in my life and there were a lot of days when we had double headers and a lot of days we play ed basketball games in back to back days. I think we're very well prepared. We're in pretty good shape for old men and I think we'll be ready to rock and roll.

Peter King: Thank you so much for spending time with us this morning.


Additional coverage for subscribers:


VIDEO: MISSION EXTENSION NEWS FROM FLIGHT DIRECTOR PLAY



VIDEO: FRIDAY MORNING'S MISSION STATUS BRIEFING PLAY


VIDEO: RATE GYRO ASSEMBLY REMOVED FROM STATION PLAY


VIDEO: NEW AMMONIA TANK STOWED IN TEMPORARY SPOT PLAY


VIDEO: ANCHORING FIXTURE ATTACHED TO AMMONIA TANK PLAY


VIDEO: EXPERIMENT RETRIEVED FROM JAPAN'S SCIENCE DECK PLAY


VIDEO: STATION'S ROBOTIC ARM LIFTS TANK FROM SHUTTLE PLAY


VIDEO: NEW AMMONIA COOLANT TANK UNBOLTED FROM CARRIER PLAY


VIDEO: SPACEWALKER PREPS AMMONIA TANK IN SHUTTLE BAY PLAY


VIDEO: THE START OF MISSION'S FIRST SPACEWALK PLAY


VIDEO: STEP-BY-STEP WALKTHROUGH OF EVA NO. 1 PLAY


VIDEO: PREVIEW OF FLIGHT DAY 5 ACTIVITIES PLAY


VIDEO: THURSDAY EVENING'S FLIGHT DIRECTOR INTERVIEW PLAY


VIDEO: THURSDAY AFTERNOON'S MANAGEMENT TEAM UPDATE PLAY



VIDEO: FLIGHT DAY 4 HIGHLIGHTS MOVIE PLAY


VIDEO: RADIO AND TV INTERVIEWS WITH CREW PLAY


VIDEO: THURSDAY MORNING'S MISSION STATUS BRIEFING PLAY


VIDEO: LEONARDO MODULE ATTACHED TO SPACE STATION PLAY


VIDEO: STATION'S ARM GRAPPLES THE LEONARDO MODULE PLAY


VIDEO: NARRATED PREVIEW OF LEONARDO'S INSTALLATION PLAY


VIDEO: WEDNESDAY EVENING'S FLIGHT DIRECTOR INTERVIEW PLAY


VIDEO: WEDNESDAY AFTERNOON'S MANAGEMENT TEAM UPDATE PLAY



VIDEO: FLIGHT DAY 3 HIGHLIGHTS MOVIE PLAY


VIDEO: WEDNESDAY MORNING'S MISSION STATUS BRIEFING PLAY


VIDEO: SHUTTLE CREW WELCOMED ABOARD THE STATION PLAY


VIDEO: POST-DOCKING OF THE SHUTTLE BAY AND TAIL PLAY


VIDEO: DISCOVERY DOCKS TO THE SPACE STATION PLAY


VIDEO: SHUTTLE PERFORMS 360-DEGREE BACKFLIP PLAY


VIDEO: PREVIEW OF RENDEZVOUS AND DOCKING ACTIVITIES PLAY


VIDEO: OBJECT LOST FROM SHUTTLE TAIL DURING LAUNCH PLAY


VIDEO: TUESDAY AFTERNOON'S MANAGEMENT TEAM UPDATE PLAY


VIDEO: THE FULL STS-131 LAUNCH EXPERIENCE PLAY



VIDEO: FLIGHT DAY 2 HIGHLIGHTS MOVIE PLAY


VIDEO: TUESDAY MORNING'S MISSION STATUS BRIEFING PLAY


VIDEO: PREVIEW OF FLIGHT DAY 2 ACTIVITIES PLAY


VIDEO: NARRATED TOUR OF DISCOVERY'S PAYLOAD BAY PLAY


VIDEO: DESCRIPTION OF KU-BAND ANTENNA PROBLEM PLAY



VIDEO: FLIGHT DAY 1 HIGHLIGHTS MOVIE PLAY


VIDEO: SHUTTLE DISCOVERY BLASTS OFF! PLAY | HI-DEF


VIDEO: GO INSIDE MISSION CONTROL DURING LAUNCH PLAY


VIDEO: POST-LAUNCH NEWS CONFERENCE PLAY



VIDEO: LAUNCH REPLAY: VAB ROOF PLAY | HI-DEF


VIDEO: LAUNCH REPLAY: PRESS SITE PLAY | HI-DEF


VIDEO: LAUNCH REPLAY: PATRICK AFB PLAY | HI-DEF


VIDEO: LAUNCH REPLAY: PAD PERIMETER PLAY | HI-DEF


VIDEO: LAUNCH REPLAY: BEACH TRACKER PLAY | HI-DEF


VIDEO: LAUNCH REPLAY: PAD CAMERA 070 PLAY | HI-DEF


VIDEO: LAUNCH REPLAY: PAD CAMERA 071 PLAY | HI-DEF


VIDEO: LAUNCH REPLAY: PLAYALINDA BEACH PLAY | HI-DEF


VIDEO: LAUNCH REPLAY: PAD FRONT CAMERA PLAY | HI-DEF


VIDEO: LAUNCH REPLAY: KSC WEST TOWER PLAY | HI-DEF



VIDEO: ASTRONAUTS LEAVE CREW QUARTERS PLAY | HI-DEF


VIDEO: CREW FINISHES GETTING SUITED UP PLAY | HI-DEF



VIDEO: NARRATED REVIEW OF SHUTTLE'S PREPARATIONS PLAY | HI-DEF


VIDEO: NARRATED REVIEW OF PAYLOADS' PREPARATIONS PLAY | HI-DEF


VIDEO: PREPARING AN EXTERNAL TANK FOR LAUNCH PLAY | HI-DEF



VIDEO: TIME-LAPSE OF GANTRY ROLLING BACK FOR LAUNCH PLAY


VIDEO: LAUNCH PAD'S SERVICE TOWER RETRACTED PLAY | HI-DEF


VIDEO: PAYLOAD BAY DOORS CLOSED FOR LAUNCH PLAY | HI-DEF


VIDEO: ASTRONAUTS INSPECT THE PAYLOAD BAY PLAY | HI-DEF



VIDEO: STS-131 MISSION PREVIEW MOVIE PLAY | HI-DEF


VIDEO: PRE-LAUNCH INTERVIEW WITH COMMANDER POINDEXTER PLAY


VIDEO: PRE-LAUNCH INTERVIEW WITH PILOT JIM DUTTON PLAY


VIDEO: PRE-LAUNCH INTERVIEW WITH RICK MASTRACCHIOPLAY


VIDEO: PRE-LAUNCH INTERVIEW WITH METCALF-LINDENBURGER PLAY


VIDEO: PRE-LAUNCH INTERVIEW WITH STEPHANIE WILSON PLAY


VIDEO: PRE-LAUNCH INTERVIEW WITH NAOKO YAMAZAKI PLAY


VIDEO: PRE-LAUNCH INTERVIEW WITH CLAY ANDERSON PLAY



VIDEO: PRE-LAUNCH NEWS CONFERENCE PLAY


VIDEO: COUNTDOWN STATUS AND WEATHER OUTLOOK PLAY


VIDEO: PREVIEW OF DISCOVERY'S LAUNCH COUNTDOWN PLAY


VIDEO: ASTRONAUTS ARRIVE FOR LAUNCH PLAY | HI-DEF



VIDEO: FULL FLIGHT READINESS REVIEW NEWS BRIEFING PLAY


VIDEO: RECAP OF THE FLIGHT READINESS REVIEW PLAY | HI-DEF


VIDEO: HELIUM VALVE NO CONSTRAINT TO LAUNCH PLAY | HI-DEF


VIDEO: MANAGERS ASSESS ISSUES BEFORE FLIGHT PLAY | HI-DEF


VIDEO: UPDATE ON PRE-LAUNCH PREPS AT PAD 39A PLAY | HI-DEF



VIDEO: SPACEWALKING SUITS LOADED ABOARD PLAY | HI-DEF


VIDEO: INTERVIEW WITH STS-131 PAYLOAD MANAGER PLAY | HI-DEF


VIDEO: INTERVIEW WITH BOEING PAYLOAD MANAGER PLAY | HI-DEF


VIDEO: PAYLOADS DELIVERED TO LAUNCH PAD 39A PLAY | HI-DEF


VIDEO: TRANSPORT CANISTER ROTATED VERTICALLY PLAY | HI-DEF


VIDEO: LEONARDO PLACED INTO THE TRANSPORTER PLAY | HI-DEF


VIDEO: STATION'S NEW AMMONIA COOLANT TANK PLAY | HI-DEF


VIDEO: LEONARDO HATCH CLOSED FOR FLIGHT PLAY | HI-DEF


VIDEO: FILLING UP ONE OF THE SUPPLY RACKS PLAY | HI-DEF



VIDEO: CAN THE SHUTTLE PROGRAM AVOID LOOMING RETIREMENT? PLAY


VIDEO: WHAT ABOUT ADDING ONE MORE SHUTTLE MISSION? PLAY


VIDEO: FULL BRIEFING BY SHUTTLE AND STATION OFFICIALS PLAY


VIDEO: THE STS-131 MISSION OVERVIEW PRESENTATIONS PLAY


VIDEO: PREVIEW BRIEFING ON MISSION'S SPACEWALKS PLAY


VIDEO: THE ASTRONAUTS' PRE-FLIGHT NEWS BRIEFING PLAY



VIDEO: SHUTTLE EVACUATION PRACTICE PLAY | HI-DEF


VIDEO: CREW MODULE HATCH IS CLOSED PLAY | HI-DEF


VIDEO: ASTRONAUTS BOARD DISCOVERY PLAY | HI-DEF


VIDEO: CREW BRIEFED ON EMERGENCY PROCEDURES PLAY | HI-DEF


VIDEO: TEST-DRIVING AN EMERGENCY ARMORED TANK PLAY | HI-DEF


VIDEO: NIGHTTIME APPROACHES IN TRAINING AIRCRAFT PLAY | HI-DEF


VIDEO: ASTRONAUTS CHAT WITH REPORTERS AT PAD 39A PLAY


VIDEO: CREW ARRIVES FOR PRACTICE COUNTDOWN PLAY | HI-DEF



VIDEO: GANTRY PLACED AROUND DISCOVERY PLAY | HI-DEF


VIDEO: DISCOVERY REACHES PAD 39A PLAY | HI-DEF


VIDEO: OVERNIGHT ROLLOUT BEGINS PLAY | HI-DEF


VIDEO: SHUTTLE HOISTED FOR ATTACHMENT TO TANK PLAY | HI-DEF


VIDEO: CRANE ROTATES THE ORBITER VERTICALLY PLAY | HI-DEF


VIDEO: DISCOVERY MOVES TO ASSEMBLY BUILDING PLAY | HI-DEF



VIDEO: ASTRONAUTS VISIT THEIR SPACECRAFT PLAY | HI-DEF


VIDEO: CREW GOES INSIDE LEONARDO MODULE PLAY | HI-DEF



VIDEO: EXTERNAL TANK ATTACHED TO BOOSTERS PLAY | HI-DEF


VIDEO: FUEL TANK LIFTED INTO CHECKOUT CELL PLAY | HI-DEF


VIDEO: EXTERNAL TANK ARRIVES AT SPACEPORT PLAY | HI-DEF



VIDEO: DISCOVERY'S NOSE POD ATTACHED PLAY | HI-DEF


VIDEO: INSTALLING DISCOVERY'S MAIN ENGINES PLAY | HI-DEF


VIDEO: KSC'S SHUTTLE MAIN ENGINE SHOP PLAY | HI-DEF


VIDEO: GASEOUS NITROGEN TANK REMOVED PLAY | HI-DEF


SUBSCRIBE NOW