Extra day added to space shuttle Discovery's mission
BY WILLIAM HARWOOD
STORY WRITTEN FOR CBS NEWS "SPACE PLACE" & USED WITH PERMISSION
Posted: April 9, 2010


The shuttle Discovery's mission to the International Space Station has been extended one day to give the astronauts more time to conduct a final heat shield inspection while docked to the lab complex. Landing is now expected on April 19.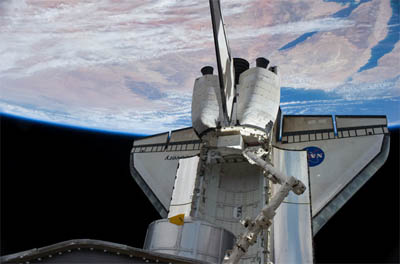 Credit: NASA



The so-called late inspection normally is carried out immediately after undocking. Video and laser scan data is downlinked in realtime using the shuttle's Ku-band antenna system. But Discovery's Ku antenna failed to activate after launch and the astronauts were forced to use the space station's communications system to downlink inspection data collected the day after launch.

Likewise, the astronauts will use the station again to downlink the late inspection data.

"The Mission Management Team elected to add a day to the mission," said space station Flight Director Ed Van Cise. "The reason for that goes all the way to ... when the space shuttle Ku-band system was determined not to be operating. We have flight rules that say if the Ku-band is not operational, we need to an inspection of the orbiter while it is still docked to the space station. We call it late inspection.

"When the Ku-band system is working, they will actually do that late inspection after they have undocked and that will clear the thermal protection system for entry. Since we need to use the ISS Ku-band system to downlink all those files and the video, obviously we need to do that before they have undocked. So we needed to have the time to perform those inspections.

"We could either do that with our 13-day mission at the expense of some of the other mission objectives we already had planned, including all of this transfer, or we could add a day to the mission," V an Cise said. "And since we were carrying some contingency time we could add that extra day and make it a 14-day mission so that we could spend an extra day to go do that late inspection while we are docked."

One other post-Columbia late inspection was carried out prior to a shuttle's undocking but in that case, the crew was leaving the shuttle's heat shield inspection boom behind on the space station for use by the next visiting shuttle crew.

An updated flight plan for the remainder of Discovery's revised mission will be posted as soon as possible.


Additional coverage for subscribers:


VIDEO: MISSION EXTENSION NEWS FROM FLIGHT DIRECTOR PLAY



VIDEO: FRIDAY MORNING'S MISSION STATUS BRIEFING PLAY


VIDEO: RATE GYRO ASSEMBLY REMOVED FROM STATION PLAY


VIDEO: NEW AMMONIA TANK STOWED IN TEMPORARY SPOT PLAY


VIDEO: ANCHORING FIXTURE ATTACHED TO AMMONIA TANK PLAY


VIDEO: EXPERIMENT RETRIEVED FROM JAPAN'S SCIENCE DECK PLAY


VIDEO: STATION'S ROBOTIC ARM LIFTS TANK FROM SHUTTLE PLAY


VIDEO: NEW AMMONIA COOLANT TANK UNBOLTED FROM CARRIER PLAY


VIDEO: SPACEWALKER PREPS AMMONIA TANK IN SHUTTLE BAY PLAY


VIDEO: THE START OF MISSION'S FIRST SPACEWALK PLAY


VIDEO: STEP-BY-STEP WALKTHROUGH OF EVA NO. 1 PLAY


VIDEO: PREVIEW OF FLIGHT DAY 5 ACTIVITIES PLAY


VIDEO: THURSDAY EVENING'S FLIGHT DIRECTOR INTERVIEW PLAY


VIDEO: THURSDAY AFTERNOON'S MANAGEMENT TEAM UPDATE PLAY



VIDEO: FLIGHT DAY 4 HIGHLIGHTS MOVIE PLAY


VIDEO: RADIO AND TV INTERVIEWS WITH CREW PLAY


VIDEO: THURSDAY MORNING'S MISSION STATUS BRIEFING PLAY


VIDEO: LEONARDO MODULE ATTACHED TO SPACE STATION PLAY


VIDEO: STATION'S ARM GRAPPLES THE LEONARDO MODULE PLAY


VIDEO: NARRATED PREVIEW OF LEONARDO'S INSTALLATION PLAY


VIDEO: WEDNESDAY EVENING'S FLIGHT DIRECTOR INTERVIEW PLAY


VIDEO: WEDNESDAY AFTERNOON'S MANAGEMENT TEAM UPDATE PLAY



VIDEO: FLIGHT DAY 3 HIGHLIGHTS MOVIE PLAY


VIDEO: WEDNESDAY MORNING'S MISSION STATUS BRIEFING PLAY


VIDEO: SHUTTLE CREW WELCOMED ABOARD THE STATION PLAY


VIDEO: POST-DOCKING OF THE SHUTTLE BAY AND TAIL PLAY


VIDEO: DISCOVERY DOCKS TO THE SPACE STATION PLAY


VIDEO: SHUTTLE PERFORMS 360-DEGREE BACKFLIP PLAY


VIDEO: PREVIEW OF RENDEZVOUS AND DOCKING ACTIVITIES PLAY


VIDEO: OBJECT LOST FROM SHUTTLE TAIL DURING LAUNCH PLAY


VIDEO: TUESDAY AFTERNOON'S MANAGEMENT TEAM UPDATE PLAY


VIDEO: THE FULL STS-131 LAUNCH EXPERIENCE PLAY



VIDEO: FLIGHT DAY 2 HIGHLIGHTS MOVIE PLAY


VIDEO: TUESDAY MORNING'S MISSION STATUS BRIEFING PLAY


VIDEO: PREVIEW OF FLIGHT DAY 2 ACTIVITIES PLAY


VIDEO: NARRATED TOUR OF DISCOVERY'S PAYLOAD BAY PLAY


VIDEO: DESCRIPTION OF KU-BAND ANTENNA PROBLEM PLAY



VIDEO: FLIGHT DAY 1 HIGHLIGHTS MOVIE PLAY


VIDEO: SHUTTLE DISCOVERY BLASTS OFF! PLAY | HI-DEF


VIDEO: GO INSIDE MISSION CONTROL DURING LAUNCH PLAY


VIDEO: POST-LAUNCH NEWS CONFERENCE PLAY



VIDEO: LAUNCH REPLAY: VAB ROOF PLAY | HI-DEF


VIDEO: LAUNCH REPLAY: PRESS SITE PLAY | HI-DEF


VIDEO: LAUNCH REPLAY: PATRICK AFB PLAY | HI-DEF


VIDEO: LAUNCH REPLAY: PAD PERIMETER PLAY | HI-DEF


VIDEO: LAUNCH REPLAY: BEACH TRACKER PLAY | HI-DEF


VIDEO: LAUNCH REPLAY: PAD CAMERA 070 PLAY | HI-DEF


VIDEO: LAUNCH REPLAY: PAD CAMERA 071 PLAY | HI-DEF


VIDEO: LAUNCH REPLAY: PLAYALINDA BEACH PLAY | HI-DEF


VIDEO: LAUNCH REPLAY: PAD FRONT CAMERA PLAY | HI-DEF


VIDEO: LAUNCH REPLAY: KSC WEST TOWER PLAY | HI-DEF



VIDEO: ASTRONAUTS LEAVE CREW QUARTERS PLAY | HI-DEF


VIDEO: CREW FINISHES GETTING SUITED UP PLAY | HI-DEF



VIDEO: NARRATED REVIEW OF SHUTTLE'S PREPARATIONS PLAY | HI-DEF


VIDEO: NARRATED REVIEW OF PAYLOADS' PREPARATIONS PLAY | HI-DEF


VIDEO: PREPARING AN EXTERNAL TANK FOR LAUNCH PLAY | HI-DEF



VIDEO: TIME-LAPSE OF GANTRY ROLLING BACK FOR LAUNCH PLAY


VIDEO: LAUNCH PAD'S SERVICE TOWER RETRACTED PLAY | HI-DEF


VIDEO: PAYLOAD BAY DOORS CLOSED FOR LAUNCH PLAY | HI-DEF


VIDEO: ASTRONAUTS INSPECT THE PAYLOAD BAY PLAY | HI-DEF



VIDEO: STS-131 MISSION PREVIEW MOVIE PLAY | HI-DEF


VIDEO: PRE-LAUNCH INTERVIEW WITH COMMANDER POINDEXTER PLAY


VIDEO: PRE-LAUNCH INTERVIEW WITH PILOT JIM DUTTON PLAY


VIDEO: PRE-LAUNCH INTERVIEW WITH RICK MASTRACCHIOPLAY


VIDEO: PRE-LAUNCH INTERVIEW WITH METCALF-LINDENBURGER PLAY


VIDEO: PRE-LAUNCH INTERVIEW WITH STEPHANIE WILSON PLAY


VIDEO: PRE-LAUNCH INTERVIEW WITH NAOKO YAMAZAKI PLAY


VIDEO: PRE-LAUNCH INTERVIEW WITH CLAY ANDERSON PLAY



VIDEO: PRE-LAUNCH NEWS CONFERENCE PLAY


VIDEO: COUNTDOWN STATUS AND WEATHER OUTLOOK PLAY


VIDEO: PREVIEW OF DISCOVERY'S LAUNCH COUNTDOWN PLAY


VIDEO: ASTRONAUTS ARRIVE FOR LAUNCH PLAY | HI-DEF



VIDEO: FULL FLIGHT READINESS REVIEW NEWS BRIEFING PLAY


VIDEO: RECAP OF THE FLIGHT READINESS REVIEW PLAY | HI-DEF


VIDEO: HELIUM VALVE NO CONSTRAINT TO LAUNCH PLAY | HI-DEF


VIDEO: MANAGERS ASSESS ISSUES BEFORE FLIGHT PLAY | HI-DEF


VIDEO: UPDATE ON PRE-LAUNCH PREPS AT PAD 39A PLAY | HI-DEF



VIDEO: SPACEWALKING SUITS LOADED ABOARD PLAY | HI-DEF


VIDEO: INTERVIEW WITH STS-131 PAYLOAD MANAGER PLAY | HI-DEF


VIDEO: INTERVIEW WITH BOEING PAYLOAD MANAGER PLAY | HI-DEF


VIDEO: PAYLOADS DELIVERED TO LAUNCH PAD 39A PLAY | HI-DEF


VIDEO: TRANSPORT CANISTER ROTATED VERTICALLY PLAY | HI-DEF


VIDEO: LEONARDO PLACED INTO THE TRANSPORTER PLAY | HI-DEF


VIDEO: STATION'S NEW AMMONIA COOLANT TANK PLAY | HI-DEF


VIDEO: LEONARDO HATCH CLOSED FOR FLIGHT PLAY | HI-DEF


VIDEO: FILLING UP ONE OF THE SUPPLY RACKS PLAY | HI-DEF



VIDEO: CAN THE SHUTTLE PROGRAM AVOID LOOMING RETIREMENT? PLAY


VIDEO: WHAT ABOUT ADDING ONE MORE SHUTTLE MISSION? PLAY


VIDEO: FULL BRIEFING BY SHUTTLE AND STATION OFFICIALS PLAY


VIDEO: THE STS-131 MISSION OVERVIEW PRESENTATIONS PLAY


VIDEO: PREVIEW BRIEFING ON MISSION'S SPACEWALKS PLAY


VIDEO: THE ASTRONAUTS' PRE-FLIGHT NEWS BRIEFING PLAY



VIDEO: SHUTTLE EVACUATION PRACTICE PLAY | HI-DEF


VIDEO: CREW MODULE HATCH IS CLOSED PLAY | HI-DEF


VIDEO: ASTRONAUTS BOARD DISCOVERY PLAY | HI-DEF


VIDEO: CREW BRIEFED ON EMERGENCY PROCEDURES PLAY | HI-DEF


VIDEO: TEST-DRIVING AN EMERGENCY ARMORED TANK PLAY | HI-DEF


VIDEO: NIGHTTIME APPROACHES IN TRAINING AIRCRAFT PLAY | HI-DEF


VIDEO: ASTRONAUTS CHAT WITH REPORTERS AT PAD 39A PLAY


VIDEO: CREW ARRIVES FOR PRACTICE COUNTDOWN PLAY | HI-DEF



VIDEO: GANTRY PLACED AROUND DISCOVERY PLAY | HI-DEF


VIDEO: DISCOVERY REACHES PAD 39A PLAY | HI-DEF


VIDEO: OVERNIGHT ROLLOUT BEGINS PLAY | HI-DEF


VIDEO: SHUTTLE HOISTED FOR ATTACHMENT TO TANK PLAY | HI-DEF


VIDEO: CRANE ROTATES THE ORBITER VERTICALLY PLAY | HI-DEF


VIDEO: DISCOVERY MOVES TO ASSEMBLY BUILDING PLAY | HI-DEF



VIDEO: ASTRONAUTS VISIT THEIR SPACECRAFT PLAY | HI-DEF


VIDEO: CREW GOES INSIDE LEONARDO MODULE PLAY | HI-DEF



VIDEO: EXTERNAL TANK ATTACHED TO BOOSTERS PLAY | HI-DEF


VIDEO: FUEL TANK LIFTED INTO CHECKOUT CELL PLAY | HI-DEF


VIDEO: EXTERNAL TANK ARRIVES AT SPACEPORT PLAY | HI-DEF



VIDEO: DISCOVERY'S NOSE POD ATTACHED PLAY | HI-DEF


VIDEO: INSTALLING DISCOVERY'S MAIN ENGINES PLAY | HI-DEF


VIDEO: KSC'S SHUTTLE MAIN ENGINE SHOP PLAY | HI-DEF


VIDEO: GASEOUS NITROGEN TANK REMOVED PLAY | HI-DEF


SUBSCRIBE NOW