Crew inspects shuttle, but data downlink has to wait
BY WILLIAM HARWOOD
STORY WRITTEN FOR CBS NEWS "SPACE PLACE" & USED WITH PERMISSION
Posted: April 6, 2010


The Discovery astronauts carried out a detailed inspection of the shuttle's carbon composite nose cap and wing leading edge panels early Tuesday, storing video files on board because of a Ku-band antenna failure that is preventing high-speed data transmission to mission control.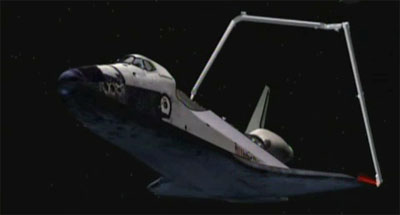 Credit: NASA TV



Flight Director Richard Jones said the inspection, a now-routine part of all post-Columbia missions, went well and that the crew did not report any unusual, or obvious problems with the critical heat shield components, which experience the most extreme heating during re-entry.

Each 40-minute tape used to store the inspection data will be converted into a 7.2-gigabyte digital file for transmission to Earth using the Ku-band communications system aboard the International Space Station. Jones said five to six tapes were required, resulting in about 40 gigabytes of data that will be downlinked after docking early Wednesday.

"One of the biggest impacts we have suffered as a result (of the Ku-band antenna failure) is we haven't had a lot of the high rate data exchange with video, you're not going to see any of that, we haven't been able to get that down to the ground and we can't get it back up to the orbiter itself, either," he told reporters.

"We have been working very hard to overcome what the loss of the Ku antenna has done to our flight-day-two inspections, which we just finished accomplishing. The files that we normally send down, video files that the ground damage assessment team is looking at, that usually is coming down for the most part in real time and it's coming down normally through the Ku system.

"Since we don't have that, what we have put in place is a file conversion process where we're getting these video files and putting them on a tape and converting them to a digital file that we're going to downlink once we get docked to the International Space Station. So once we get docked, we're going to get those files to the ground as soon as possible."


The crew patch for Discovery's flight delivering
science and supplies to the space station is
available in the Spaceflight Now Store.


U.S. SHOPPERS | WORLDWIDE




While the problem will delay the damage assessment team's analysis, Jones said the work would get done in time to perform a more detailed "focused" inspection later in the mission if any problem areas are seen.
Engineers are still assessing how to carry out a second, "late" inspection that is normally conducted after the shuttle undocks from the space station. Without an operational Ku-band antenna system, Jones said the crew likely will carry out the second inspection while still docked to the lab complex.
The only other major Ku-related change in the crew's flight plan - aside from the loss of routine television views from the shuttle, email, remote commanding and mission control uplinks - involves procedures that will be used during the final stages of Discovery's rendezvous with the space station early Wednesday.
"That's a big day, obviously, getting docked with the International Space Station," Jones said. "That's our next major milestone. We had a chance to talk to the crew about radar failed procedures. We ... don't expect that radar to be functioning tomorrow. We're going to give it a shot, we're going to see if it actually comes up. If it does, we will use it appropriately. But if it doesn't, we've got procedures already built into our checklists on how to perform a rendezvous without that Ku radar available."
The last time a shuttle crew had to carry out a Ku-failed rendezvous was in 2000. But Jones said astronauts routinely train for dockings without a working radar.
"The (Discovery) crew, right before they launched, their last stand-alone (simulation) session they had, roughly about two weeks ago, they walked through this exact scenario, performing a rendezvous without the radar," Jones said. "So they're very familiar with it. ... We are very comfortable where we're at."
Along with inspecting the shuttle's heat shield Tuesday, the astronauts also checked out the spacesuits that will be used for three planned spacewalks during the docked phase of the mission to replace ammonia coolant tanks.
Commander Alan Poindexter and his six crewmates plan to go to bed around 12:21 p.m. Wakeup is scheduled for 8:21 p.m. The rendezvous timeline will being just after 10 p.m. and by 1:06 a.m. Wednesday, Discovery should be in position to begin the final phase of the rendezvous procedure, trailing the station by about nine miles. Docking is expected around 3:44 a.m.


Additional coverage for subscribers:


VIDEO: DESCRIPTION OF KU-BAND ANTENNA PROBLEM PLAY



VIDEO: TUESDAY MORNING'S MISSION STATUS BRIEFING PLAY


VIDEO: PREVIEW OF FLIGHT DAY 2 ACTIVITIES PLAY


VIDEO: NARRATED TOUR OF DISCOVERY'S PAYLOAD BAY PLAY



VIDEO: FLIGHT DAY 1 HIGHLIGHTS MOVIE PLAY


VIDEO: SHUTTLE DISCOVERY BLASTS OFF! PLAY | HI-DEF


VIDEO: GO INSIDE MISSION CONTROL DURING LAUNCH PLAY


VIDEO: POST-LAUNCH NEWS CONFERENCE PLAY



VIDEO: LAUNCH REPLAY: VAB ROOF PLAY | HI-DEF


VIDEO: LAUNCH REPLAY: PRESS SITE PLAY | HI-DEF


VIDEO: LAUNCH REPLAY: PATRICK AFB PLAY | HI-DEF


VIDEO: LAUNCH REPLAY: PAD PERIMETER PLAY | HI-DEF


VIDEO: LAUNCH REPLAY: BEACH TRACKER PLAY | HI-DEF


VIDEO: LAUNCH REPLAY: PAD CAMERA 070 PLAY | HI-DEF


VIDEO: LAUNCH REPLAY: PAD CAMERA 071 PLAY | HI-DEF


VIDEO: LAUNCH REPLAY: PLAYALINDA BEACH PLAY | HI-DEF


VIDEO: LAUNCH REPLAY: PAD FRONT CAMERA PLAY | HI-DEF


VIDEO: LAUNCH REPLAY: KSC WEST TOWER PLAY | HI-DEF



VIDEO: ASTRONAUTS LEAVE CREW QUARTERS PLAY | HI-DEF


VIDEO: CREW FINISHES GETTING SUITED UP PLAY | HI-DEF



VIDEO: NARRATED REVIEW OF SHUTTLE'S PREPARATIONS PLAY | HI-DEF


VIDEO: NARRATED REVIEW OF PAYLOADS' PREPARATIONS PLAY | HI-DEF


VIDEO: PREPARING AN EXTERNAL TANK FOR LAUNCH PLAY | HI-DEF



VIDEO: TIME-LAPSE OF GANTRY ROLLING BACK FOR LAUNCH PLAY


VIDEO: LAUNCH PAD'S SERVICE TOWER RETRACTED PLAY | HI-DEF


VIDEO: PAYLOAD BAY DOORS CLOSED FOR LAUNCH PLAY | HI-DEF


VIDEO: ASTRONAUTS INSPECT THE PAYLOAD BAY PLAY | HI-DEF



VIDEO: STS-131 MISSION PREVIEW MOVIE PLAY | HI-DEF


VIDEO: PRE-LAUNCH INTERVIEW WITH COMMANDER POINDEXTER PLAY


VIDEO: PRE-LAUNCH INTERVIEW WITH PILOT JIM DUTTON PLAY


VIDEO: PRE-LAUNCH INTERVIEW WITH RICK MASTRACCHIOPLAY


VIDEO: PRE-LAUNCH INTERVIEW WITH METCALF-LINDENBURGER PLAY


VIDEO: PRE-LAUNCH INTERVIEW WITH STEPHANIE WILSON PLAY


VIDEO: PRE-LAUNCH INTERVIEW WITH NAOKO YAMAZAKI PLAY


VIDEO: PRE-LAUNCH INTERVIEW WITH CLAY ANDERSON PLAY



VIDEO: PRE-LAUNCH NEWS CONFERENCE PLAY


VIDEO: COUNTDOWN STATUS AND WEATHER OUTLOOK PLAY


VIDEO: PREVIEW OF DISCOVERY'S LAUNCH COUNTDOWN PLAY


VIDEO: ASTRONAUTS ARRIVE FOR LAUNCH PLAY | HI-DEF



VIDEO: FULL FLIGHT READINESS REVIEW NEWS BRIEFING PLAY


VIDEO: RECAP OF THE FLIGHT READINESS REVIEW PLAY | HI-DEF


VIDEO: HELIUM VALVE NO CONSTRAINT TO LAUNCH PLAY | HI-DEF


VIDEO: MANAGERS ASSESS ISSUES BEFORE FLIGHT PLAY | HI-DEF


VIDEO: UPDATE ON PRE-LAUNCH PREPS AT PAD 39A PLAY | HI-DEF



VIDEO: SPACEWALKING SUITS LOADED ABOARD PLAY | HI-DEF


VIDEO: INTERVIEW WITH STS-131 PAYLOAD MANAGER PLAY | HI-DEF


VIDEO: INTERVIEW WITH BOEING PAYLOAD MANAGER PLAY | HI-DEF


VIDEO: PAYLOADS DELIVERED TO LAUNCH PAD 39A PLAY | HI-DEF


VIDEO: TRANSPORT CANISTER ROTATED VERTICALLY PLAY | HI-DEF


VIDEO: LEONARDO PLACED INTO THE TRANSPORTER PLAY | HI-DEF


VIDEO: STATION'S NEW AMMONIA COOLANT TANK PLAY | HI-DEF


VIDEO: LEONARDO HATCH CLOSED FOR FLIGHT PLAY | HI-DEF


VIDEO: FILLING UP ONE OF THE SUPPLY RACKS PLAY | HI-DEF



VIDEO: CAN THE SHUTTLE PROGRAM AVOID LOOMING RETIREMENT? PLAY


VIDEO: WHAT ABOUT ADDING ONE MORE SHUTTLE MISSION? PLAY


VIDEO: FULL BRIEFING BY SHUTTLE AND STATION OFFICIALS PLAY


VIDEO: THE STS-131 MISSION OVERVIEW PRESENTATIONS PLAY


VIDEO: PREVIEW BRIEFING ON MISSION'S SPACEWALKS PLAY


VIDEO: THE ASTRONAUTS' PRE-FLIGHT NEWS BRIEFING PLAY



VIDEO: SHUTTLE EVACUATION PRACTICE PLAY | HI-DEF


VIDEO: CREW MODULE HATCH IS CLOSED PLAY | HI-DEF


VIDEO: ASTRONAUTS BOARD DISCOVERY PLAY | HI-DEF


VIDEO: CREW BRIEFED ON EMERGENCY PROCEDURES PLAY | HI-DEF


VIDEO: TEST-DRIVING AN EMERGENCY ARMORED TANK PLAY | HI-DEF


VIDEO: NIGHTTIME APPROACHES IN TRAINING AIRCRAFT PLAY | HI-DEF


VIDEO: ASTRONAUTS CHAT WITH REPORTERS AT PAD 39A PLAY


VIDEO: CREW ARRIVES FOR PRACTICE COUNTDOWN PLAY | HI-DEF



VIDEO: GANTRY PLACED AROUND DISCOVERY PLAY | HI-DEF


VIDEO: DISCOVERY REACHES PAD 39A PLAY | HI-DEF


VIDEO: OVERNIGHT ROLLOUT BEGINS PLAY | HI-DEF


VIDEO: SHUTTLE HOISTED FOR ATTACHMENT TO TANK PLAY | HI-DEF


VIDEO: CRANE ROTATES THE ORBITER VERTICALLY PLAY | HI-DEF


VIDEO: DISCOVERY MOVES TO ASSEMBLY BUILDING PLAY | HI-DEF



VIDEO: ASTRONAUTS VISIT THEIR SPACECRAFT PLAY | HI-DEF


VIDEO: CREW GOES INSIDE LEONARDO MODULE PLAY | HI-DEF



VIDEO: EXTERNAL TANK ATTACHED TO BOOSTERS PLAY | HI-DEF


VIDEO: FUEL TANK LIFTED INTO CHECKOUT CELL PLAY | HI-DEF


VIDEO: EXTERNAL TANK ARRIVES AT SPACEPORT PLAY | HI-DEF



VIDEO: DISCOVERY'S NOSE POD ATTACHED PLAY | HI-DEF


VIDEO: INSTALLING DISCOVERY'S MAIN ENGINES PLAY | HI-DEF


VIDEO: KSC'S SHUTTLE MAIN ENGINE SHOP PLAY | HI-DEF


VIDEO: GASEOUS NITROGEN TANK REMOVED PLAY | HI-DEF


SUBSCRIBE NOW