Discovery's pilot is ready to achieve life-long aspiration
BY JUSTIN RAY
SPACEFLIGHT NOW
Posted: April 3, 2010


Growing up in a generation that's known only the space shuttle, Jim Dutton's life dream of becoming an astronaut will rocket him to orbit aboard Discovery in one of the final voyages of the iconic spaceplanes.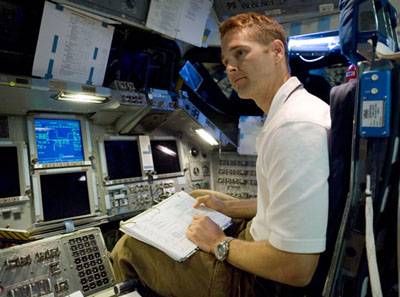 Credit: NASA



The rookie shuttle pilot and his six crewmates will crawl inside the shuttle early Monday for their predawn blastoff at 6:21 a.m. EDT (1021 GMT) on a two-week supply run to the International Space Station.

"It's been so many years, really 30 some years now, that this has been a hope and a dream so I know it will be very special," the Air Force colonel said in a pre-flight interview.

As a little boy growing up in Oregon, Dutton remembers a rocket on an early birthday cake and his fascination with the starry night sky.

"One night in particular I can remember looking up and it was kind of a rarity in Eugene except in the summer to get to see the sky because it's usually very cloudy. Looking up and just being amazed at the number of stars up there, seeing the Milky Way, and I don't know, it just always seemed to be a part of who I was, that I wanted to fly and I wanted to go to space."

Dutton put himself on the right trajectory to become an astronaut, graduating from the Air Force Academy and then earning a master's degree in aeronautics and astronautics from the University of Washington in Seattle.

"If you want to be a pilot astronaut you have to go to test pilot school. So from the time I set out to be a pilot I wanted to try and fly fighters knowing that would be the best path and because that's something I'd always wanted to do as well. Then after one operational tour and one test tour in fighters I applied to go to test pilot school, the Air Force Test Pilot School at Edwards Air Force Base and was selected to go there. Once you complete that training then you're really competitive for the first time as a pilot to apply to NASA."


The crew patch for Discovery's flight delivering
science and supplies to the space station is
available in the Spaceflight Now Store.


U.S. SHOPPERS | WORLDWIDE




He applied for the 2004 astronaut class and was selected on the first try, which came as a surprise after a roller-coaster ride, Dutton said.
"I came out of the interview not feeling really good about it and so I told my wife I thought maybe I had a ten percent chance, but I was pretty much preparing myself to not get selected and to face what I was going to do next.
"The way the process works is NASA conducts background checks after that first round of interviews on those that they're considering, and I got word that I had a background check, which was a great surprise to me. So now all of a sudden I went from thinking I had very little chance to I had a pretty decent chance.
"But there was a long wait after that, several months, before we got the final word and I'll never forget that day. I was out flying in an F-16, just doing a proficiency sortie and came back in and there was a sticky note on my desk that said to call Kent Rominger, who I knew was the chief of the Astronaut Office. I didn't know if that meant good news or bad news. I was naive in that sense. I found out later that's usually a good sign, but when I called Kent he talked for a little while and asked me what I was doing that day. He asked me about my flight and kept asking questions and I thought, 'He must be letting me down easy.' But, in the end, he said, 'Well, what do you think about coming to work here?' and I said, 'That sounds great. I'd love to.'"
Dutton will be flying on Discovery with two others from his astronaut training class -- Dottie Metcalf-Lindenburger, a former teacher, and Naoko Yamazaki from the Japan Aerospace Exploration Agency.


| | |
| --- | --- |
| | Credit: NASA |
When the 2004 class of astronauts came to NASA, officials told them they may never get to fly on the space shuttle before it is retired. But eventually managers picking the crews for the remaining missions were able to get them assigned.

Now, Dutton is poised to fulfill his ambitions of flying the space shuttle before the program concludes later this year.

"The space shuttle was really the vehicle that I grew up watching and, like I said earlier, that I was pretty young when I decided I wanted to be an astronaut, so most of what I knew in my lifetime was the space shuttle. I think, for my generation most people feel that way," Dutton said.

"It's almost hard to believe that the space shuttle could actually retire when that's the space vehicle we've known and what NASA has primarily been involved with in our lifetime. But I think everyone understands that there comes a time and that the shuttle has been a tremendous workhorse for our nation's space program. We've proven that we can get to space routinely. We've also proven to ourselves that it's never routine getting to space with the space shuttle."

Once the program is history, Dutton says assembly of the International Space Station will be the space shuttle's lasting legacy.

"I think that the space shuttle was asked to do a tremendous amount in the design of it. It really was spread very thin in terms of everything it was asked to do and it ended up accomplishing an amazing amount. But I think the greatest legacy the shuttle's going to leave is the space station, especially when you look at all the thousands and thousands of pounds of cargo that was taken up into space and assembled by spacewalkers largely due to the space shuttle.

"I think that as we look back we'll look at how much was done throughout the entire shuttle era, but I really believe that space station is going to be the crowning jewel at the top for the legacy of the shuttle."


Additional coverage for subscribers:


VIDEO: STS-131 MISSION PREVIEW MOVIE PLAY | HI-DEF


VIDEO: PRE-LAUNCH INTERVIEW WITH COMMANDER POINDEXTER PLAY


VIDEO: PRE-LAUNCH INTERVIEW WITH PILOT JIM DUTTON PLAY


VIDEO: PRE-LAUNCH INTERVIEW WITH RICK MASTRACCHIOPLAY


VIDEO: PRE-LAUNCH INTERVIEW WITH METCALF-LINDENBURGER PLAY


VIDEO: PRE-LAUNCH INTERVIEW WITH STEPHANIE WILSON PLAY


VIDEO: PRE-LAUNCH INTERVIEW WITH NAOKO YAMAZAKI PLAY


VIDEO: PRE-LAUNCH INTERVIEW WITH CLAY ANDERSON PLAY



VIDEO: PRE-LAUNCH NEWS CONFERENCE PLAY


VIDEO: COUNTDOWN STATUS AND WEATHER OUTLOOK PLAY


VIDEO: PREVIEW OF DISCOVERY'S LAUNCH COUNTDOWN PLAY


VIDEO: ASTRONAUTS ARRIVE FOR LAUNCH PLAY | HI-DEF



VIDEO: FULL FLIGHT READINESS REVIEW NEWS BRIEFING PLAY


VIDEO: RECAP OF THE FLIGHT READINESS REVIEW PLAY | HI-DEF


VIDEO: HELIUM VALVE NO CONSTRAINT TO LAUNCH PLAY | HI-DEF


VIDEO: MANAGERS ASSESS ISSUES BEFORE FLIGHT PLAY | HI-DEF


VIDEO: UPDATE ON PRE-LAUNCH PREPS AT PAD 39A PLAY | HI-DEF



VIDEO: SPACEWALKING SUITS LOADED ABOARD PLAY | HI-DEF


VIDEO: INTERVIEW WITH STS-131 PAYLOAD MANAGER PLAY | HI-DEF


VIDEO: INTERVIEW WITH BOEING PAYLOAD MANAGER PLAY | HI-DEF


VIDEO: PAYLOADS DELIVERED TO LAUNCH PAD 39A PLAY | HI-DEF


VIDEO: TRANSPORT CANISTER ROTATED VERTICALLY PLAY | HI-DEF


VIDEO: LEONARDO PLACED INTO THE TRANSPORTER PLAY | HI-DEF


VIDEO: STATION'S NEW AMMONIA COOLANT TANK PLAY | HI-DEF


VIDEO: LEONARDO HATCH CLOSED FOR FLIGHT PLAY | HI-DEF


VIDEO: FILLING UP ONE OF THE SUPPLY RACKS PLAY | HI-DEF



VIDEO: CAN THE SHUTTLE PROGRAM AVOID LOOMING RETIREMENT? PLAY


VIDEO: WHAT ABOUT ADDING ONE MORE SHUTTLE MISSION? PLAY


VIDEO: FULL BRIEFING BY SHUTTLE AND STATION OFFICIALS PLAY


VIDEO: THE STS-131 MISSION OVERVIEW PRESENTATIONS PLAY


VIDEO: PREVIEW BRIEFING ON MISSION'S SPACEWALKS PLAY


VIDEO: THE ASTRONAUTS' PRE-FLIGHT NEWS BRIEFING PLAY



VIDEO: SHUTTLE EVACUATION PRACTICE PLAY | HI-DEF


VIDEO: CREW MODULE HATCH IS CLOSED PLAY | HI-DEF


VIDEO: ASTRONAUTS BOARD DISCOVERY PLAY | HI-DEF


VIDEO: CREW BRIEFED ON EMERGENCY PROCEDURES PLAY | HI-DEF


VIDEO: TEST-DRIVING AN EMERGENCY ARMORED TANK PLAY | HI-DEF


VIDEO: NIGHTTIME APPROACHES IN TRAINING AIRCRAFT PLAY | HI-DEF


VIDEO: ASTRONAUTS CHAT WITH REPORTERS AT PAD 39A PLAY


VIDEO: CREW ARRIVES FOR PRACTICE COUNTDOWN PLAY | HI-DEF



VIDEO: GANTRY PLACED AROUND DISCOVERY PLAY | HI-DEF


VIDEO: DISCOVERY REACHES PAD 39A PLAY | HI-DEF


VIDEO: OVERNIGHT ROLLOUT BEGINS PLAY | HI-DEF


VIDEO: SHUTTLE HOISTED FOR ATTACHMENT TO TANK PLAY | HI-DEF


VIDEO: CRANE ROTATES THE ORBITER VERTICALLY PLAY | HI-DEF


VIDEO: DISCOVERY MOVES TO ASSEMBLY BUILDING PLAY | HI-DEF



VIDEO: ASTRONAUTS VISIT THEIR SPACECRAFT PLAY | HI-DEF


VIDEO: CREW GOES INSIDE LEONARDO MODULE PLAY | HI-DEF



VIDEO: EXTERNAL TANK ATTACHED TO BOOSTERS PLAY | HI-DEF


VIDEO: FUEL TANK LIFTED INTO CHECKOUT CELL PLAY | HI-DEF


VIDEO: EXTERNAL TANK ARRIVES AT SPACEPORT PLAY | HI-DEF



VIDEO: DISCOVERY'S NOSE POD ATTACHED PLAY | HI-DEF


VIDEO: INSTALLING DISCOVERY'S MAIN ENGINES PLAY | HI-DEF


VIDEO: KSC'S SHUTTLE MAIN ENGINE SHOP PLAY | HI-DEF


VIDEO: GASEOUS NITROGEN TANK REMOVED PLAY | HI-DEF


SUBSCRIBE NOW