Shuttle Discovery's launch countdown going smoothly
BY WILLIAM HARWOOD
STORY WRITTEN FOR CBS NEWS "SPACE PLACE" & USED WITH PERMISSION
Posted: April 3, 2010


NASA's Mission Management Team reviewed the shuttle Discovery's launch processing Saturday, discussed two recent booster issues and received a favorable weather forecast, giving engineers a unanimous "go" to proceed with launch Monday on a space station resupply mission.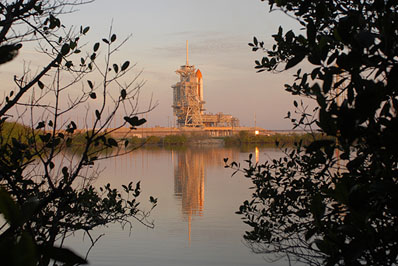 Credit: Ben Cooper/Spaceflight Now
See Saturday morning's photo gallery



With work on the ground in high gear, the crew of the Soyuz TMA-18 spacecraft, launched from the Baikonur Cosmodrome in Kazakhstan early Friday, continued its approach to the International Space Station, gearing up for a docking around 1:26 a.m. EDT Sunday to cap a two-day orbital chase.

Soyuz commander Alexander Skvortsov, Mikhail Kornienko and Tracy Caldwell Dyson will join Expedition 23 commander Oleg Kotov, Japanese astronaut Soichi Noguchi and NASA flight engineer Timothy Creamer, aboard the lab complex, boosting the station's full-time crew back up to six.

The new arrivals will face a hectic first few days in orbit, learning their way around the space station while preparing for the arrival of Discovery later in the week.

At the Kennedy Space Center, engineers are readying the space shuttle for liftoff at 6:21:23 a.m. Monday. A protective gantry will be pulled away from the spacecraft around 9:30 a.m. Sunday and engineers will load the ship's external tank with a half-million gallons of liquid oxygen and hydrogen rocket fuel starting around 8:56 p.m.

Commander Alan Poindexter, pilot James Dutton, flight engineer Dorothy Metcalf-Lindenburger, Stephanie Wilson, Japanese astronaut Naoko Yamazaki and spacewalkers Richard Mastracchio and Clayton Anderson plan to begin strapping in just after 3 a.m. Monday to await liftoff on the 131st shuttle mission.

Shuttle weather officer Kathy Winters said forecasters are predicting an 80 percent chance of good weather Monday and Tuesday, dropping to 70 percent "go" on Wednesday. The primary concern Monday is a chance for ground fog that could reduce visibility for a return-to-launch-site abort.

"We've had fog in the area the last couple of days," she said. "This morning, though, it did not happen nearly as much, just down to five nautical mile visibility, which is a go (observation). So right now, it does look like things are starting to improve."


The crew patch for Discovery's flight delivering
science and supplies to the space station is
available in the Spaceflight Now Store.


U.S. SHOPPERS | WORLDWIDE




Launch Director Pete Nickolenko said the countdown was proceeding smoothly and "we're on track and ready to go for Monday."
He said NASA can made back-to-back launch tries Monday and Tuesday or make attempts Monday and Wednesday. After the second try, the team would stand down for 72 hours to top off the shuttle's fuel cell hydrogen and oxygen supplies.
Mike Moses, chairman of NASA's Mission Management Team, said two late-breaking booster issues were discussed Saturday, both involving anomalies seen in booster hardware used for ground testing.
In a test motor recently fired in Utah, engineers discovered unusual charring in a small section of insulation between the case of the booster segment and the solid propellant where two segments were bolted together. Engineers suspect the charring was the result of an air bubble in an inhibitor that is applied the the propellant where segments are bolted together to prevent unwanted burning in that interface.
Taking a conservative approach, Moses said engineers modeled worst-case scenarios and concluded that even if no insulation was present, the booster would still operate within NASA's safety guidelines.
"They just layered up conservatism over conservatism and even when they did all that, we showed that we'd get about an extra 90 square inches of propellant burning for about seven seconds and that causes us no problem whatsoever," Moses said.
"From a ballistics standpoint, everything is good, structurally everything is good and thermally, the casing and the case joint still maintains a factor of safety greater than 2.6, which is well above our required safety factor. So even in that worst case, we're still well above our margin."
Another issue reviewed by the MMT was the failure of a speed sensor in a booster hydraulic power unit being "hot fired" prior to a ground test. The hydraulic power units direct hot gas through a turbine that drives a pump to generate the hydraulic muscle needed to move the booster's nozzle for steering.
In the ground test firing, a speed sensor failed, apparently the result of a wire breaking. Moses said a similar failure in one of Discovery's hydraulic power units would simply trigger a launch delay if it occurred before liftoff. The power units are equipped with redundant sensors and if a failure happened after launch, the flight would continue using the other sensor.
"To wrap it all up, at the end of the day, a unanimous poll from the MMT that we're go to launch," Mosses said. "We're really excited about this mission."
The goal of Discovery's flight is to deliver some 10 tons of supplies and equipment to the space station, including ammonia coolant, science wracks, an experiment sample freezer, a crew sleep station and a darkroom-like enclosure for the U.S. lab module's optical-grade window.


Additional coverage for subscribers:


VIDEO: STS-131 MISSION PREVIEW MOVIE PLAY | HI-DEF


VIDEO: PRE-LAUNCH INTERVIEW WITH COMMANDER POINDEXTER PLAY


VIDEO: PRE-LAUNCH INTERVIEW WITH PILOT JIM DUTTON PLAY


VIDEO: PRE-LAUNCH INTERVIEW WITH RICK MASTRACCHIOPLAY


VIDEO: PRE-LAUNCH INTERVIEW WITH METCALF-LINDENBURGER PLAY


VIDEO: PRE-LAUNCH INTERVIEW WITH STEPHANIE WILSON PLAY


VIDEO: PRE-LAUNCH INTERVIEW WITH NAOKO YAMAZAKI PLAY


VIDEO: PRE-LAUNCH INTERVIEW WITH CLAY ANDERSON PLAY



VIDEO: PRE-LAUNCH NEWS CONFERENCE PLAY


VIDEO: COUNTDOWN STATUS AND WEATHER OUTLOOK PLAY


VIDEO: PREVIEW OF DISCOVERY'S LAUNCH COUNTDOWN PLAY


VIDEO: ASTRONAUTS ARRIVE FOR LAUNCH PLAY | HI-DEF



VIDEO: FULL FLIGHT READINESS REVIEW NEWS BRIEFING PLAY


VIDEO: RECAP OF THE FLIGHT READINESS REVIEW PLAY | HI-DEF


VIDEO: HELIUM VALVE NO CONSTRAINT TO LAUNCH PLAY | HI-DEF


VIDEO: MANAGERS ASSESS ISSUES BEFORE FLIGHT PLAY | HI-DEF


VIDEO: UPDATE ON PRE-LAUNCH PREPS AT PAD 39A PLAY | HI-DEF



VIDEO: SPACEWALKING SUITS LOADED ABOARD PLAY | HI-DEF


VIDEO: INTERVIEW WITH STS-131 PAYLOAD MANAGER PLAY | HI-DEF


VIDEO: INTERVIEW WITH BOEING PAYLOAD MANAGER PLAY | HI-DEF


VIDEO: PAYLOADS DELIVERED TO LAUNCH PAD 39A PLAY | HI-DEF


VIDEO: TRANSPORT CANISTER ROTATED VERTICALLY PLAY | HI-DEF


VIDEO: LEONARDO PLACED INTO THE TRANSPORTER PLAY | HI-DEF


VIDEO: STATION'S NEW AMMONIA COOLANT TANK PLAY | HI-DEF


VIDEO: LEONARDO HATCH CLOSED FOR FLIGHT PLAY | HI-DEF


VIDEO: FILLING UP ONE OF THE SUPPLY RACKS PLAY | HI-DEF



VIDEO: CAN THE SHUTTLE PROGRAM AVOID LOOMING RETIREMENT? PLAY


VIDEO: WHAT ABOUT ADDING ONE MORE SHUTTLE MISSION? PLAY


VIDEO: FULL BRIEFING BY SHUTTLE AND STATION OFFICIALS PLAY


VIDEO: THE STS-131 MISSION OVERVIEW PRESENTATIONS PLAY


VIDEO: PREVIEW BRIEFING ON MISSION'S SPACEWALKS PLAY


VIDEO: THE ASTRONAUTS' PRE-FLIGHT NEWS BRIEFING PLAY



VIDEO: SHUTTLE EVACUATION PRACTICE PLAY | HI-DEF


VIDEO: CREW MODULE HATCH IS CLOSED PLAY | HI-DEF


VIDEO: ASTRONAUTS BOARD DISCOVERY PLAY | HI-DEF


VIDEO: CREW BRIEFED ON EMERGENCY PROCEDURES PLAY | HI-DEF


VIDEO: TEST-DRIVING AN EMERGENCY ARMORED TANK PLAY | HI-DEF


VIDEO: NIGHTTIME APPROACHES IN TRAINING AIRCRAFT PLAY | HI-DEF


VIDEO: ASTRONAUTS CHAT WITH REPORTERS AT PAD 39A PLAY


VIDEO: CREW ARRIVES FOR PRACTICE COUNTDOWN PLAY | HI-DEF



VIDEO: GANTRY PLACED AROUND DISCOVERY PLAY | HI-DEF


VIDEO: DISCOVERY REACHES PAD 39A PLAY | HI-DEF


VIDEO: OVERNIGHT ROLLOUT BEGINS PLAY | HI-DEF


VIDEO: SHUTTLE HOISTED FOR ATTACHMENT TO TANK PLAY | HI-DEF


VIDEO: CRANE ROTATES THE ORBITER VERTICALLY PLAY | HI-DEF


VIDEO: DISCOVERY MOVES TO ASSEMBLY BUILDING PLAY | HI-DEF



VIDEO: ASTRONAUTS VISIT THEIR SPACECRAFT PLAY | HI-DEF


VIDEO: CREW GOES INSIDE LEONARDO MODULE PLAY | HI-DEF



VIDEO: EXTERNAL TANK ATTACHED TO BOOSTERS PLAY | HI-DEF


VIDEO: FUEL TANK LIFTED INTO CHECKOUT CELL PLAY | HI-DEF


VIDEO: EXTERNAL TANK ARRIVES AT SPACEPORT PLAY | HI-DEF



VIDEO: DISCOVERY'S NOSE POD ATTACHED PLAY | HI-DEF


VIDEO: INSTALLING DISCOVERY'S MAIN ENGINES PLAY | HI-DEF


VIDEO: KSC'S SHUTTLE MAIN ENGINE SHOP PLAY | HI-DEF


VIDEO: GASEOUS NITROGEN TANK REMOVED PLAY | HI-DEF


SUBSCRIBE NOW