NASA clears space shuttle Discovery for April 5 launch
BY WILLIAM HARWOOD
STORY WRITTEN FOR CBS NEWS "SPACE PLACE" & USED WITH PERMISSION
Posted: March 26, 2010


NASA managers reviewed the shuttle Discovery's flight readiness Friday and formally cleared the ship for launch April 5 on a three-spacewalk mission to deliver ammonia coolant, supplies and science gear to the International Space Station.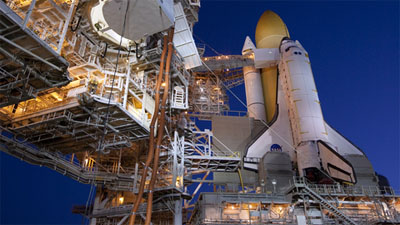 Credit: NASA



Engineers plan to begin Discovery's countdown at 3 a.m. EDT on April 2, setting up a launch attempt at 6:21:22 a.m. Monday, April 5, roughly the moment Earth's rotation carries the launch pad into the plane of the space station's orbit.

Discovery's crew - commander Alan Poindexter, pilot James Dutton, flight engineer Dorothy Metcalf-Lindenburger, Stephanie Wilson, Japanese astronaut Naoko Yamazaki and spacewalkers Richard Mastracchio and Clayton Anderson - plans to fly to Florida early Thursday for final preparations.

Launch processing has proceeded smoothly, but engineers ran into a potential problem March 13 during work to load propellant into the orbital maneuvering system rocket pods on either side of Discovery's tail fin. One of two helium isolation valves in the right-side OMS pod failed in the open position.

High pressure helium, routed through regulators, is used to push propellants from storage tanks into small rocket motors used for routine orbital maneuvers. With one isolation valve stuck in the open position, engineers needed to assess whether subsequent failures could result in downstream pressurization problems with the right OMS pod.

As it turns out, one isolation valve normally is left open in orbit. If one of the downstream regulators also failed, a relief valve would prevent the high-pressure helium from damaging any of the pod's rocket thrusters. In addition, engineers concluded the pressure could be managed by actually firing the thrusters periodically.

"The helium isolation valve, the valve that's failed open, we discussed that in a lot of detail," said Bill Gerstenmaier, director of space operations at NASA headquarters. "Basically, why is it OK to fly with a valve that's essentially failed in the open position?

"The logic is simply that that valve is typically open most of the time during flight anyway, so it failed in a position that's pretty benign for us. We went through every failure case that could result in any kind of off-nominal operations. ... We went through very logically and methodically each of the conditions that could occur with this failure in the system and made sure there's no additional risk that's unacceptable."

The valve in question cannot be repaired at the launch pad. If a fix had been required, engineers would have been forced to haul Discovery back to its processing hangar for repairs, work that would have triggered a significant launch delay.

NASA is working to fly a final four shuttle flights and retire the winged spaceplanes by the end of September. Gerstenmaier said NASA could have accommodated a rollback and still launched all four missions by the end of 2010. Shuttle program manager John Shannon agreed, and said "schedule pressure" was not a factor in the decision to press ahead for launch.

"If we needed to roll back and slip we could do that, it was not a big deal to us overall," Gerstenmaier said. "But the better part of valor was to go fly, the systems are there, we understand the failure well enough that it's OK to go fly with."

Managers also discussed a potential issue with ceramic inserts around bolts that extend through shuttle heat shield tiles to secure various components to the underlying structure. During the most recent shuttle flight, one such insert around a bolt in a cockpit window frame backed out slightly. Such inserts pose an impact threat should one work free during ascent or entry.

Each shuttle is equipped with 335 such inserts but only two have ever backed all the way out in flight. Shannon said a detailed analysis indicated Discovery could be launched as is and Gerstenmaier concluded by saying "we're really ready to go fly."

The primary goals of the 131st shuttle mission are to deliver a large tank of ammonia coolant to the orbital lab complex along with a pressurized module loaded with experiment hardware, supplies, a crew sleep station and a darkroom-like housing for a large Earth-facing porthole in the U.S. Destiny lab module.

"The ammonia tank transfer is a real dance if you look at how you take the old tank off and put the new tank on," Gerstenmaier said. "That's a real ballet of hardware getting moved around on station. ... The timeline looks pretty good, pretty reasonable from an overall standpoint."


Additional coverage for subscribers:


VIDEO: FULL FLIGHT READINESS REVIEW NEWS BRIEFING PLAY


VIDEO: RECAP OF THE FLIGHT READINESS REVIEW PLAY | HI-DEF


VIDEO: HELIUM VALVE NO CONSTRAINT TO LAUNCH PLAY | HI-DEF


VIDEO: MANAGERS ASSESS ISSUES BEFORE FLIGHT PLAY | HI-DEF


VIDEO: UPDATE ON PRE-LAUNCH PREPS AT PAD 39A PLAY | HI-DEF



VIDEO: INTERVIEW WITH STS-131 PAYLOAD MANAGER PLAY | HI-DEF


VIDEO: INTERVIEW WITH BOEING PAYLOAD MANAGER PLAY | HI-DEF


VIDEO: PAYLOADS DELIVERED TO LAUNCH PAD 39A PLAY | HI-DEF


VIDEO: TRANSPORT CANISTER ROTATED VERTICALLY PLAY | HI-DEF


VIDEO: LEONARDO PLACED INTO THE TRANSPORTER PLAY | HI-DEF


VIDEO: STATION'S NEW AMMONIA COOLANT TANK PLAY | HI-DEF


VIDEO: LEONARDO HATCH CLOSED FOR FLIGHT PLAY | HI-DEF



VIDEO: CAN THE SHUTTLE PROGRAM AVOID LOOMING RETIREMENT? PLAY


VIDEO: WHAT ABOUT ADDING ONE MORE SHUTTLE MISSION? PLAY


VIDEO: FULL BRIEFING BY SHUTTLE AND STATION OFFICIALS PLAY


VIDEO: THE STS-131 MISSION OVERVIEW PRESENTATIONS PLAY


VIDEO: PREVIEW BRIEFING ON MISSION'S SPACEWALKS PLAY


VIDEO: THE ASTRONAUTS' PRE-FLIGHT NEWS BRIEFING PLAY



VIDEO: SHUTTLE EVACUATION PRACTICE PLAY | HI-DEF


VIDEO: CREW MODULE HATCH IS CLOSED PLAY | HI-DEF


VIDEO: ASTRONAUTS BOARD DISCOVERY PLAY | HI-DEF


VIDEO: CREW BRIEFED ON EMERGENCY PROCEDURES PLAY | HI-DEF


VIDEO: TEST-DRIVING AN EMERGENCY ARMORED TANK PLAY | HI-DEF


VIDEO: NIGHTTIME APPROACHES IN TRAINING AIRCRAFT PLAY | HI-DEF


VIDEO: ASTRONAUTS CHAT WITH REPORTERS AT PAD 39A PLAY


VIDEO: CREW ARRIVES FOR PRACTICE COUNTDOWN PLAY | HI-DEF



VIDEO: GANTRY PLACED AROUND DISCOVERY PLAY | HI-DEF


VIDEO: DISCOVERY REACHES PAD 39A PLAY | HI-DEF


VIDEO: OVERNIGHT ROLLOUT BEGINS PLAY | HI-DEF


VIDEO: SHUTTLE HOISTED FOR ATTACHMENT TO TANK PLAY | HI-DEF


VIDEO: CRANE ROTATES THE ORBITER VERTICALLY PLAY | HI-DEF


VIDEO: DISCOVERY MOVES TO ASSEMBLY BUILDING PLAY | HI-DEF



VIDEO: ASTRONAUTS VISIT THEIR SPACECRAFT PLAY | HI-DEF


VIDEO: CREW GOES INSIDE LEONARDO MODULE PLAY | HI-DEF



VIDEO: EXTERNAL TANK ATTACHED TO BOOSTERS PLAY | HI-DEF


VIDEO: FUEL TANK LIFTED INTO CHECKOUT CELL PLAY | HI-DEF


VIDEO: EXTERNAL TANK ARRIVES AT SPACEPORT PLAY | HI-DEF


SUBSCRIBE NOW