Valve problem threatens to delay April shuttle launch
BY WILLIAM HARWOOD
STORY WRITTEN FOR CBS NEWS "SPACE PLACE" & USED WITH PERMISSION
Posted: March 13, 2010


Engineers are troubleshooting the apparent failure of a helium isolation valve in the shuttle Discovery's right-side orbital maneuvering system rocket pod, officials said Saturday. If the problem cannot be resolved at the pad - and sources said the engineering options are limited - NASA could be forced to haul the shuttle back to its hangar for repairs, delaying a planned April 5 launch.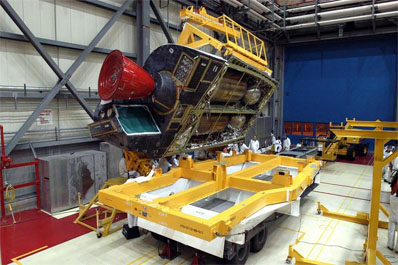 File photo of an OMS pod being handled inside a shuttle hangar. Credit: NASA



Managers and engineers plan to review the issue Monday and to discuss repair options as well as possible rationale to fly as is.

The two OMS pods on either side of the shuttle's tail fin house the big braking rockets used for major maneuvers and to drop the shuttle out of orbit, along with smaller reaction control system steering jets. Helium tanks provide the pressure needed to push propellants from storage tanks to the rocket thrusters.

The isolation valve issue cropped up overnight Friday during work to load propellants into the OMS pods. Data indicated a major leak in the right OMS pod's fuel line plumbing, the apparent result of an electrically driven isolation valve failing to "seat."

The pressurization system is critical for engine operation and it features three levels of redundancy. It may be possible to develop a rationale to launch as is, but that remains to be seen.

Engineers familiar with the system said the valve cannot be directly serviced at the launch pad. If the problem cannot be resolved by indirect methods or development of an acceptable flight rationale, the only option would be to roll Discovery back to the Vehicle Assembly Building, detach it from its external tank, haul it to its processing hangar and remove the OMS pod for repairs or replacement.

Launch on a three-spacewalk space station assembly and resupply mission currently is targeted for April 5. A decision to roll Discovery back to its hangar to swap out the OMS pod would trigger a major delay. But a NASA spokesman said it was too early to tell how the issue might ultimately be resolved. In the meantime, launch processing is continuing.


Additional coverage for subscribers:


VIDEO: CAN THE SHUTTLE PROGRAM AVOID LOOMING RETIREMENT? PLAY


VIDEO: WHAT ABOUT ADDING ONE MORE SHUTTLE MISSION? PLAY


VIDEO: FULL BRIEFING BY SHUTTLE AND STATION OFFICIALS PLAY



VIDEO: DISCOVERY REACHES PAD 39A PLAY | HI-DEF


VIDEO: OVERNIGHT ROLLOUT BEGINS PLAY | HI-DEF


VIDEO: ASTRONAUTS ARRIVE AT KENNEDY SPACE CENTER HI-DEF


VIDEO: ORBITER ROLLS OVER TO THE VAB HI-DEF


SUBSCRIBE NOW