Discovery astronauts ready for practice countdown
BY JUSTIN RAY
SPACEFLIGHT NOW
Posted: March 1, 2010


The one-day delay in space shuttle Discovery's move to the launch pad didn't keep the seven astronauts away from the Kennedy Space Center, as commander Alan Poindexter and his crew jetted into the spaceport Monday for this week's emergency training and countdown dress rehearsal.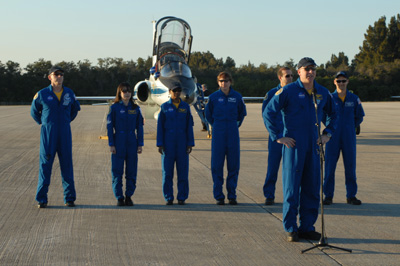 Credit: Ben Cooper/Spaceflight Now



NASA officials scrubbed a planned midnight rollout of Discovery from the Vehicle Assembly Building due to the threat of rain and lightning from a passing cold front. The shuttle's 3.5-mile trip to pad 39A has been reset for Wednesday beginning at 12:01 a.m. EST (0501 GMT).

Traveling from their training base in Houston, the astronauts arrived in waves of T-38 jets between 3:45 p.m. and 5:40 p.m. EST.

Poindexter's crew includes pilot Jim Dutton and mission specialists Rick Mastracchio, Dotty Metcalf-Lindenburger, Clay Anderson, Stephanie Wilson and Naoko Yamazaki of the Japan Aerospace Exploration Agency.

"We're just real happy to be here at the Kennedy Space Center today," Poindexter told reporters gathered at the runway to cover the crew's arrival.

"It's great to be here. We've been waiting for this day for a long time," Dutton added. "We sure appreciate all the long hours people put in to prepare the vehicle for us."

Every shuttle crew undergoes the Terminal Countdown Demonstration Test, or TCDT, in the final weeks before a planned launch. While in Florida, the astronauts will spend time learning how to evacuate pad 39A if an emergency arises, including procedures to operate the slide-wire baskets that would quickly whisk the crew from the launch tower to a bunker west of the pad, and test-drive an armored tank available for the astronauts to escape the area.

On Friday, the crew will board Discovery for a full countdown simulation. The astronauts will follow a normal launch morning routine with breakfast, a weather briefing on conditions at the Cape and various abort landing sites, then don their suits and depart crew quarters at about 7:45 a.m. to board the Astrovan that will take them to pad 39A.

After reach the pad shortly past 8 a.m., all seven astronauts will climb inside Discovery and strap into their assigned seats for the final three hours of the mock countdown.

Clocks will halt in the final seconds to simulate a shutdown of the three main engines just prior to liftoff around 11 a.m. The crew will egress the shuttle and practice scurrying to the slide-wire baskets.

Discovery is scheduled for blastoff April 5 on a two-week mission to deliver science equipment and spare parts to the International Space Station.


Additional coverage for subscribers:


VIDEO: ASTRONAUTS ARRIVE AT KENNEDY SPACE CENTER HI-DEF


VIDEO: ORBITER ROLLS OVER TO THE VAB HI-DEF


SUBSCRIBE NOW