Next shuttle launch slips a couple of weeks to April 5
BY WILLIAM HARWOOD
STORY WRITTEN FOR CBS NEWS "SPACE PLACE" & USED WITH PERMISSION
Posted: February 16, 2010


Launch of shuttle Discovery on the next mission to the International Space Station will slip from March 18 to April 5 because of an unusual cold snap in Florida that has delayed processing and to avoid having a shuttle at the lab when the next Russian Soyuz crew transport arrives.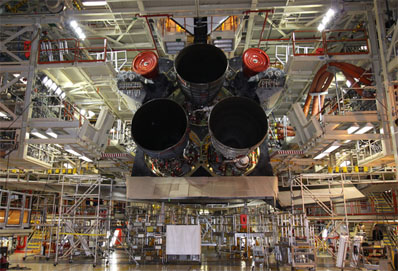 Discovery is pictured inside its hangar after being outfitted with three main engines. Credit: NASA



The shuttle must launch into the plane of the space station's orbit to reach the outpost and the launch window moves about 24 minutes earlier each day. Because of the delay to April 5, liftoff will move from daylight to predawn darkness at around 6:27 a.m. EDT. Assuming an on-time launch, landing would be expected around 12:30 a.m. on April 18.

The goal of shuttle mission STS-131 is to deliver science racks to the station, along with supplies and other equipment. Three spacewalks are planned to replace an ammonia coolant tank, to change out a rate gyro assembly and to retrieve an external Japanese experiment.

NASA had hoped to haul Discovery to the pad this week for a launch on March 18. But unusually low temperatures, which can cause problems for the shuttle's maneuvering jets, delayed Discovery's move from its hangar to the Vehicle Assembly Building for attachment to an external tank and solid rocket boosters.

NASA could have had Discovery ready for launch in late March, but a Russian Soyuz crew transport mission is scheduled for take off April 2 and it could arrive before the shuttle departed, depending on the shuttle's launch date. Space station managers opted to avoid the complexities associated with "dual docked ops," agreeing to delay Discovery to April 5, the day after Easter.

Rollout to the pad is targeted for March 2, followed by a dress-rehearsal countdown with the crew March 5. An executive-level flight readiness review to assess processing and set an official launch date is planned for March 26.

How the delay for Discovery might impact NASA's three subsequent shuttle missions is not yet clear. The final flight is currently targeted for launch Sept. 16.