Endeavour beats the weather and lands on schedule
BY WILLIAM HARWOOD
STORY WRITTEN FOR CBS NEWS "SPACE PLACE" & USED WITH PERMISSION
Posted: February 21, 2010


The shuttle Endeavour dropped through a partly cloudy sky and glided to a ghostly night landing at the Kennedy Space Center Sunday, leaving the International Space Station behind with a new life support module and observation deck.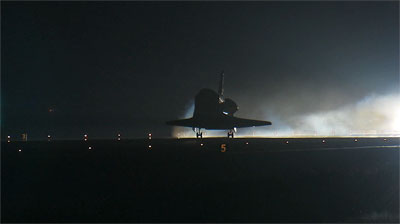 Credit: NASA TV



Approaching the spaceport in a steep dive, commander George Zamka guided the shuttle through a sweeping left overhead turn, lined up on runway 15 and swooped to a picture-perfect touchdown at 10:20:31 p.m. EST. Pilot Terry Virts then released a red-and-white braking parachute and a few moments later, the spaceplane rolled to a stop.

"Houston, Endeavour, wheels stopped," Zamka radioed in a tradition call to mission control.

"Roger wheels stopped, Endeavour. Welcome home," replied astronaut Rick Sturckow from Houston. "Congratulations to you and the crew on an outstanding mission, installing the Tranquility node and opening up the cupola's windows to the world."

"Well Houston, it's great to be home," Zamka said. "It was a great adventure."

Space station flight engineer Soichi Noguchi watched Endeavour's fiery re-entry from a window in the new cupola observation deck, tweeting via the internet "I watched the shuttle atmospheric reentry from Cupola window. The view was definitely out-of-the-world."

Mission duration was 13 days 18 hours six minutes and 24 seconds, covering 217 complete orbits and 5.6 million miles since blastoff Oct. 8 from nearby pad 39A.

Zamka, Virts, Kathryn Hire, flight engineer Stephen Robinson and spacewalkers Robert Behnken and Nicholas Patrick doffed their pressure suits for a traditional runway inspection before heading to crew quarters for reunions with friends and family.

"STS-130 is mission complete, we're safe on deck here at Kennedy Space Center and that's due to the work of a lot of people," Zamka said. "We had a great team, we had tremendous hardware to bring up - node 3 was pristine, cupola was beautiful ... and Endeavour, my goodness, what a machine! She was perfect throughout the flight and we brought her back safe and sound due to a great mission control team. So thanks to all who were involved."

Landing was in doubt earlier in the day as entry Flight Director Norm Knight assessed cloudy weather at the Kennedy Space Center.

But conditions improved as the night wore on and based on observations by astronaut Christopher Ferguson, flying a shuttle training jet near the runway, Knight cleared Zamka and Virts to fire Endeavour's braking rockets on time at 9:14 p.m. to begin the descent. Zamka had no problems and touchdown was uneventful.

Endeavour undocked from the space station Friday night, leaving the outpost more than 98 percent complete with the addition of the Tranquility habitation module and a seven-window cupola observation deck.

The station's total pressurized volume is now 28,947 cubic feet - roughly the same as a 747 jumbo jet - and a habitable volume of 12,420 cubic feet. Total mass now stands at a bit more than 799,000 pounds. When the shuttle is attached, the two spacecraft mass more than a million pounds.

The station's U.S. life support equipment - an oxygen generator, carbon dioxide scrubber, a water processing rack, a urine recycling rack and a toilet - were moved into Tranquility after it was attached to the station, along with a high tech exercise machine.

The cupola, launched on the outboard end of Tranquility, was moved to its Earth-facing port for use as an observation station and robot arm work station.

Only four more shuttle flights are planned to deliver supplies, equipment, experiment racks and other gear in a final push to leave the lab complex in the best possible shape when the shuttle fleet is retired this fall. And with every successful launch and landing, the reality of the looming end of the shuttle program gains more traction among the men and women who maintain the iconic orbiters.

"I got to watch a lot of the folks out on the runway tonight just kind of stand there and look up at Endeavour and think about the majesty of that ship and its next to last flight," said Launch Director Mike Leinbach. "There's a whole series of 'lasts' coming up. The people fall in love with the machines. It's going to be hard to let them go. But we've been given our direction. We're mature about it, we're professional about it so we're going to process and fly that last mission. And move on."

With Endeavour back on the ground, engineers at the Kennedy Space Center plan to haul the shuttle Discovery from its processing hangar to the Vehicle Assembly Building Tuesday for attachment to an external tank and solid fuel boosters. If all goes well, Discovery will be hauled to pad 39A on March 2, setting the stage for launch April 5.

On March 18, the Russian Soyuz TMA-16 capsule is scheduled to undock from the station, bringing Expedition 22 commander Jeffrey Williams and cosmonaut Maxim Suraev back to Earth after six months in orbit.

Another Soyuz, TMA-18, is scheduled for launch from the Baikonur Cosmodrome in Kazakhstan on April 2 to carry three fresh crew members to the outpost: Alexander Skvortsov, Mikhail Kornienko and NASA astronaut Tracy Caldwell.

Discovery is scheduled for take off three days later to deliver new science racks, a replacement ammonia coolant tank assembly, a rate gyroscope and to retrieve a Japanese experiment package.


Additional coverage for subscribers:


VIDEO: SHUTTLE ENDEAVOUR SAFELY LANDS PLAY | HI-DEF


VIDEO: LANDING REPLAYS: INSIDE MISSION CONTROL PLAY


VIDEO: LANDING REPLAYS: VAB ROOF PLAY | HI-DEF


VIDEO: LANDING REPLAYS: RUNWAY SOUTH PLAY | HI-DEF


VIDEO: LANDING REPLAYS: EDGE OF RUNWAY PLAY | HI-DEF


VIDEO: LANDING REPLAYS: RUNWAY MID-FIELD PLAY | HI-DEF


VIDEO: LANDING REPLAYS: EAST SIDE OF RUNWAY PLAY | HI-DEF


VIDEO: LANDING REPLAYS: INFRARED TRACKING CAMERA PLAY


VIDEO: CREW WALKS AROUND SHUTTLE ON RUNWAY PLAY | HI-DEF


VIDEO: POST-LANDING COMMENTS FROM THE CREW PLAY | HI-DEF



VIDEO: SATURDAY AFTERNOON'S MANAGEMENT TEAM UPDATE PLAY



VIDEO: CREW HOME MOVIES: FLIGHT DAY 1 PLAY


VIDEO: CREW HOME MOVIES: FLIGHT DAY 3 PLAY


VIDEO: CREW HOME MOVIES: FLIGHT DAY 4 PLAY


VIDEO: CREW HOME MOVIES: FLIGHT DAY 5 PLAY


VIDEO: CREW HOME MOVIES: FLIGHT DAY 6 PLAY


VIDEO: CREW HOME MOVIES: FLIGHT DAY 7 PLAY


VIDEO: CREW HOME MOVIES: FLIGHT DAY 8 PLAY


VIDEO: CREW HOME MOVIES: FLIGHT DAY 9 PLAY


VIDEO: CREW HOME MOVIES: FLIGHT DAY 10 PLAY


VIDEO: CREW HOME MOVIES: FLIGHT DAY 11 PLAY


VIDEO: CREW HOME MOVIES: FLIGHT DAY 12 PLAY


VIDEO: CREW HOME MOVIES: FLIGHT DAY 13 PLAY


VIDEO: CREW HOME MOVIES: FLIGHT DAY 14 PLAY



VIDEO: FLIGHT DAY 13 HIGHLIGHTS MOVIE PLAY


VIDEO: STUNNING TIME-LAPSE OF STATION FLYAROUND PLAY


VIDEO: SATURDAY MORNING'S MISSION STATUS BRIEFING PLAY


VIDEO: VIEWS OF ENDEAVOUR DURING THE FLYAROUND PLAY


VIDEO: VIEWS OF THE SPACE STATION DURING FLYAROUND PLAY


VIDEO: ENDEAVOUR UNDOCKS FROM THE SPACE STATION PLAY


VIDEO: PREVIEW OF FLIGHT DAY 13 ACTIVITIES PLAY



VIDEO: FLIGHT DAY 12 HIGHLIGHTS MOVIE PLAY


VIDEO: FRIDAY MORNING'S MISSION STATUS BRIEFING PLAY


VIDEO: SHUTTLE AND STATION CREWS BID THEIR FAREWELLS PLAY


VIDEO: RIBBON-CUTTING CEREMONY FOR STATION'S CUPOLA PLAY


VIDEO: IN-FLIGHT CREW NEWS CONFERENCE FOR U.S AND JAPAN PLAY



VIDEO: FLIGHT DAY 11 HIGHLIGHTS MOVIE PLAY


VIDEO: THURSDAY MORNING'S MISSION STATUS BRIEFING PLAY


VIDEO: OXYGEN GENERATOR RELOCATED TO TRANQUILITY PLAY


VIDEO: STATION'S TOILET INSTALLED IN THE NEW MODULE PLAY


VIDEO: WATER GENERATING EQUIPMENT MOVED INTO TRANQUILITY PLAY


VIDEO: PRESIDENT OBAMA CALLS SHUTTLE AND STATION CREWS PLAY



VIDEO: DAZZLING VIEWS FROM INSIDE CUPOLA PLAY


VIDEO: CUPOLA WINDOW SHUTTERS ARE TESTED PLAY


VIDEO: STATION ASTRONAUT'S CAMCORDER VIEWS OF CUPOLA PLAY


VIDEO: FLIGHT DAY 10 HIGHLIGHTS MOVIE PLAY


VIDEO: WEDNESDAY MORNING'S MISSION STATUS BRIEFING PLAY


VIDEO: CUPOLA OPEN FOR VIEWING PLAY


VIDEO: FREEING THE SHUTTERS PLAY


VIDEO: CUPOLA IS UNVEILED! PLAY


VIDEO: FIRST HALF OF CUPOLA UNCOVERED PLAY


VIDEO: WIRING UP DOCKING ADAPTER ON TRANQUILITY PLAY


VIDEO: ACTIVATING TRANQUILITY'S OTHER COOLING LOOP PLAY


VIDEO: SPACEWALKERS FLOAT OUT OF AIRLOCK PLAY


VIDEO: STEP-BY-STEP PREVIEW OF SPACEWALK NO. 3 PLAY


VIDEO: PREVIEW OF FLIGHT DAY 10 ACTIVITIES PLAY



VIDEO: FLY WITH THE ASTRONAUTS IN THE COCKPIT PLAY


VIDEO: LOOKING OUT THE PILOT'S FRONT WINDOW PLAY


VIDEO: LEFT-HAND BOOSTER CAMERA LOOKING UPWARD PLAY


VIDEO: LEFT-HAND BOOSTER CAMERA LOOKING INBOARD PLAY


VIDEO: LEFT-HAND BOOSTER CAMERA LOOKING DOWNWARD PLAY


VIDEO: RIGHT-HAND BOOSTER CAMERA LOOKING UPWARD PLAY


VIDEO: RIGHT-HAND BOOSTER CAMERA LOOKING INBOARD PLAY


VIDEO: RIGHT-HAND BOOSTER CAMERA LOOKING DOWNWARD PLAY


VIDEO: EXTERNAL TANK CAMERA FROM LIFTOFF TO SEPARATION PLAY



VIDEO: FLIGHT DAY 9 HIGHLIGHTS MOVIE PLAY


VIDEO: TUESDAY MORNING'S MISSION STATUS BRIEFING PLAY


VIDEO: DOCKING ADAPTER PLACED ONTO TRANQUILITY PLAY


VIDEO: PREVIEW OF FLIGHT DAY 9 ACTIVITIES PLAY



VIDEO: FLIGHT DAY 8 HIGHLIGHTS MOVIE PLAY


VIDEO: NEW YORK, ST. LOUIS AND MEMPHIS MEDIA INTERVIEWS PLAY


VIDEO: MONDAY MORNING'S MISSION STATUS BRIEFING PLAY


VIDEO: OBSERVATION PORTAL RELOCATED TO NEW HOME PLAY


VIDEO: CUPOLA PLUCKED FROM OUTBOARD PORT PLAY


VIDEO: ROBOTIC ARM GRAPPLES CUPOLA PLAY


VIDEO: CREW'S EDUCATIONAL EVENT PLAY


VIDEO: PREVIEW OF FLIGHT DAY 8 ACTIVITIES PLAY


VIDEO: SUNDAY AFTERNOON'S FLIGHT DIRECTOR INTERVIEW PLAY



VIDEO: FLIGHT DAY 7 HIGHLIGHTS MOVIE PLAY


VIDEO: SUNDAY MORNING'S MISSION STATUS BRIEFING PLAY


VIDEO: PREPPING CUPOLA'S NEW HOME PORT PLAY


VIDEO: SPACEWALKERS COMPLETE OTHER OUTFITTING WORK PLAY


VIDEO: AMMONIA BEGINS FLOWING TO COOL TRANQUILITY PLAY


VIDEO: PATRICK'S SPACESUIT CONTAMINATION CHECKS PLAY


VIDEO: SPACEWALKERS INSTALL SECOND COOLANT LOOP PLAY


VIDEO: FIRST SET OF AMMONIA LINES HOOKED UP PLAY


VIDEO: PREVIEW OF FLIGHT DAY 7 ACTIVITIES PLAY


VIDEO: STEP-BY-STEP PREVIEW OF SPACEWALK NO. 2 PLAY



VIDEO: FLIGHT DAY 6 HIGHLIGHTS MOVIE PLAY


VIDEO: OPENING CUPOLA'S HATCHWAY BRIEFLY PLAY


VIDEO: ENTERING TRANQUILITY FOR FIRST TIME PLAY


VIDEO: SPACEWALKERS ANSWER TWITTER QUESTIONS PLAY


VIDEO: ASSOCIATED PRESS, CBS AND REUTERS MEDIA INTERVIEWS PLAY


VIDEO: SATURDAY MORNING'S MISSION STATUS BRIEFING PLAY


VIDEO: PREVIEW OF FLIGHT DAY 6 ACTIVITIES PLAY



VIDEO: FRIDAY AFTERNOON'S MANAGEMENT TEAM UPDATE PLAY


VIDEO: FRIDAY MORNING'S MISSION STATUS BRIEFING PLAY


VIDEO: FLIGHT DAY 5 HIGHLIGHTS MOVIE PLAY


VIDEO: STEP-BY-STEP PREVIEW OF SPACEWALK NO. 1 PLAY


VIDEO: PREVIEW OF FLIGHT DAY 5 ACTIVITIES PLAY



VIDEO: FLIGHT DAY 4 HIGHLIGHTS MOVIE PLAY


VIDEO: WEDNESDAY NIGHT'S MISSION STATUS BRIEFING PLAY


VIDEO: SACRAMENTO, MOBILE AND ST. LOUIS MEDIA INTERVIEWS PLAY


VIDEO: WEDNESDAY AFTERNOON'S MANAGEMENT TEAM UPDATE PLAY


VIDEO: WEDNESDAY MORNING'S FLIGHT DIRECTOR INTERVIEW PLAY


VIDEO: PREVIEW OF FLIGHT DAY 4 ACTIVITIES PLAY



VIDEO: FLIGHT DAY 3 HIGHLIGHTS MOVIE PLAY


VIDEO: WEDNESDAY MORNING'S MISSION STATUS BRIEFING PLAY


VIDEO: SHUTTLE CREW WELCOMED ABOARD STATION PLAY


VIDEO: HATCHWAY OPENED BETWEEN TWO SPACECRAFT PLAY


VIDEO: ENDEAVOUR DOCKS TO THE SPACE STATION PLAY


VIDEO: SHUTTLE FLIES OUT IN FRONT OF STATION PLAY


VIDEO: ENDEAVOUR PERFORMS 360-DEGREE BACKFLIP PLAY


VIDEO: STUNNING SHOT OF SHUTTLE AGAINST HORIZON PLAY


VIDEO: STATION'S VIEW OF SHUTTLE ENGINE FIRING PLAY


VIDEO: PREVIEW OF FLIGHT DAY 3 ACTIVITIES PLAY


VIDEO: TUESDAY AFTERNOON'S MANAGEMENT TEAM UPDATE PLAY



VIDEO: AMAZING LAUNCH FOOTAGE FROM COCKPIT CAMERA PLAY



VIDEO: FLIGHT DAY 2 HIGHLIGHTS MOVIE PLAY


VIDEO: TUESDAY'S MISSION STATUS BRIEFING PLAY


VIDEO: TIME-LAPSE OF WING INSPECTIONS PLAY


VIDEO: INSPECTION BOOM READIED FOR USE PLAY


VIDEO: PREVIEW OF FLIGHT DAY 2 ACTIVITIES PLAY


VIDEO: NARRATED TOUR OF ENDEAVOUR'S PAYLOAD BAY PLAY



VIDEO: FLIGHT DAY 1 HIGHLIGHTS MOVIE PLAY


VIDEO: THE FULL STS-130 LAUNCH EXPERIENCE PLAY


VIDEO: SHUTTLE ENDEAVOUR BLASTS OFF! PLAY | HI-DEF


VIDEO: GO BEHIND THE SCENES IN MISSION CONTROL PLAY


VIDEO: JETTISONED EXTERNAL FUEL TANK TUMBLES AWAY PLAY


VIDEO: PAYLOAD BAY DOORS OPENED FOLLOWING LAUNCH PLAY



VIDEO: CREW FINISHES GETTING SUITED UP PLAY


VIDEO: ASTRONAUTS LEAVE CREW QUARTERS PLAY | HI-DEF


VIDEO: CREW ARRIVES AT LAUNCH PAD 39A PLAY


VIDEO: ASTRONAUTS BOARD THEIR SPACECRAFT PLAY



VIDEO: LAUNCH REPLAY: VAB ROOF PLAY | HI-DEF


VIDEO: LAUNCH REPLAY: PRESS SITE PLAY | HI-DEF


VIDEO: LAUNCH REPLAY: PAD PERIMETER PLAY | HI-DEF


VIDEO: LAUNCH REPLAY: BEACH TRACKER PLAY | HI-DEF


VIDEO: LAUNCH REPLAY: PAD CAMERA 070 PLAY | HI-DEF


VIDEO: LAUNCH REPLAY: PAD CAMERA 071 PLAY | HI-DEF


VIDEO: LAUNCH REPLAY: UCS-23 TRACKER PLAY | HI-DEF


VIDEO: LAUNCH REPLAY: PLAYALINDA BEACH PLAY | HI-DEF


VIDEO: LAUNCH REPLAY: PAD FRONT CAMERA PLAY | HI-DEF


VIDEO: LAUNCH REPLAY: BANANA CREEK SITE PLAY | HI-DEF



VIDEO: NARRATED REVIEW OF SHUTTLE'S PREPARATIONS PLAY | HI-DEF


VIDEO: NARRATED REVIEW OF PAYLOADS' PREPARATIONS PLAY | HI-DEF



VIDEO: EXPLANATION OF WEATHER PROBLEMS PLAY | HI-DEF


VIDEO: LOW CLOUDS SCRUB FIRST COUNTDOWN PLAY | HI-DEF


VIDEO: ASTRONAUTS DEPART QUARTERS FOR PAD 39A PLAY | HI-DEF


VIDEO: CREW GETS SUITED UP FOR LAUNCH ATTEMPT PLAY | HI-DEF


VIDEO: PAD SERVICE GANTRY RETRACTED PLAY | HI-DEF


VIDEO: TIME-LAPSE OF MOBILE TOWER ROLLBACK PLAY



VIDEO: INTERVIEW WITH COMMANDER GEORGE ZAMKA PLAY


VIDEO: INTERVIEW WITH PILOT TERRY VIRTS PLAY


VIDEO: INTERVIEW WITH MISSION SPECIALIST 1 KAY HIRE PLAY


VIDEO: INTERVIEW WITH MISSION SPECIALIST 2 STEVE ROBINSON PLAY


VIDEO: INTERVIEW WITH MISSION SPECIALIST 3 NICK PATRICK PLAY


VIDEO: INTERVIEW WITH MISSION SPECIALIST 4 BOB BEHNKEN PLAY



VIDEO: ENDEAVOUR'S PRE-LAUNCH NEWS CONFERENCE PLAY


VIDEO: THURSDAY STATUS AND WEATHER UPDATE PLAY


VIDEO: COUNTDOWN PREVIEW BRIEFING PLAY


VIDEO: ASTRONAUTS ARRIVE FOR LAUNCH PLAY | HI-DEF



VIDEO: LAUNCH DATE SET AT FLIGHT READINESS REVIEW PLAY


VIDEO: PAYLOAD BAY DOORS CLOSED FOR LAUNCH PLAY | HI-DEF


VIDEO: CREW SEES TRANQUILITY LOADED INTO SHUTTLE PLAY | HI-DEF



VIDEO: SHUTTLE EVACUATION PRACTICE PLAY | HI-DEF


VIDEO: ASTRONAUTS BOARD ENDEAVOUR PLAY | HI-DEF


VIDEO: THE LAUNCH DAY SIMULATION BEGINS PLAY | HI-DEF


VIDEO: PAD BUNKER TRAINING FOR THE CREW PLAY | HI-DEF


VIDEO: CREW BRIEFED ON EMERGENCY PROCEDURES PLAY | HI-DEF


VIDEO: TEST-DRIVING AN EMERGENCY ARMORED TANK PLAY | HI-DEF


VIDEO: NIGHTTIME APPROACHES IN TRAINING AIRCRAFT PLAY | HI-DEF


VIDEO: ASTRONAUTS CHAT WITH REPORTERS AT PAD 39A PLAY


VIDEO: SPACEWALKER UPDATES COOLING HOSE FIX PLAY | HI-DEF


VIDEO: ROBINSON'S THOUGHTS ON SHUTTLE RETIREMENT PLAY | HI-DEF


VIDEO: ASTRONAUTS ARRIVE FOR PRACTICE COUNTDOWN PLAY | HI-DEF



VIDEO: TRANQUILITY DELIVERED TO PAD 39A PLAY | HI-DEF


VIDEO: PAYLOAD TRANSPORTER GOES UPRIGHT PLAY | HI-DEF


VIDEO: PACKING UP PAYLOAD FOR LAUNCH PLAY | HI-DEF



VIDEO: SHUTTLE ENDEAVOUR'S FRIGID ROLLOUT TO PAD PLAY | HI-DEF


VIDEO: ENDEAVOUR HOISTED FOR ATTACHMENT TO TANK PLAY | HI-DEF


VIDEO: CRANE ROTATES THE ORBITER VERTICALLY PLAY | HI-DEF


VIDEO: ENDEAVOUR MOVES TO ASSEMBLY BUILDING PLAY | HI-DEF


VIDEO: TIME-LAPSE SHOWS ENDEAVOUR ASCENDING IN VAB PLAY


VIDEO: TIME-LAPSE SHOWS THE MOVE TO ASSEMBLY BUILDING PLAY



VIDEO: ORBITER READY TO LEAVE HANGAR PLAY | HI-DEF


VIDEO: EXTERNAL TANK ATTACHED TO BOOSTERS PLAY | HI-DEF


VIDEO: ENDEAVOUR'S MAIN ENGINE INSTALLATION PLAY | HI-DEF


VIDEO: ASTRONAUTS VISIT THEIR SPACECRAFT PLAY | HI-DEF


VIDEO: CREW INSPECTS MISSION PAYLOADS PLAY | HI-DEF


VIDEO: FUEL TANK UNLOADED FROM THE BARGE PLAY | HI-DEF


VIDEO: EXTERNAL TANK ARRIVES AT SPACEPORT PLAY | HI-DEF


VIDEO: FORWARD THRUSTER POD CHECKED OUT PLAY | HI-DEF


VIDEO: ENDEAVOUR TOWED OFF RUNWAY FROM STS-127 PLAY | HI-DEF



VIDEO: TRANQUILITY HATCH SEALED FOR LAUNCH PLAY | HI-DEF


VIDEO: CUPOLA ATTACHED TO TRANQUILITY PLAY | HI-DEF


VIDEO: THE SPACE STATION'S NEW CUPOLA PLAY | HI-DEF


VIDEO: TRANQUILITY UNPACKED IN FLORIDA PLAY | HI-DEF


VIDEO: NEW MODULE ARRIVES FROM EUROPE PLAY | HI-DEF


SUBSCRIBE NOW