Crew praises 'phenomenal' view from station's cupola
BY WILLIAM HARWOOD
STORY WRITTEN FOR CBS NEWS "SPACE PLACE" & USED WITH PERMISSION
Posted: February 19, 2010


Space station commander Jeffrey Williams and George Zamka, commander of the shuttle Endeavour, cut a ceremonial red ribbon late Thursday and declared the new cupola observation deck "open for business."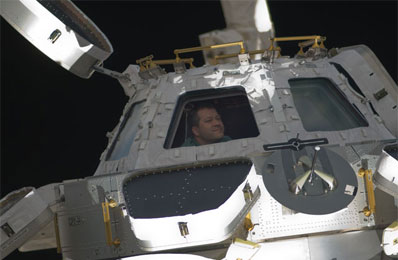 Credit: NASA



"Today, we are here in Tranquility standing above the cupola to formally open the cupola for use by other crews that will be here on the space station," Zamka said. "Arguably, mankind has been after this view for centuries, this perspective, this view of the world. And we finally have it, and we're going to take advantage and enjoy it."

"We on the station crew are especially happy to get this, to be able to enjoy this," Williams said. "I know for me personally it's a milestone that I will remember for the rest of my life."

He described the cupola as a "window on the world" marking the virtual completion of the International Space Station's assembly. He and Zamka then thanked the late Lacy Veach, an astronaut who participated in the cupola's initial design, and held up a container holding small moon rocks collected during the Apollo 11 mission and later carried to the top of Mount Everest.

"These moon rocks have had quite a journey and they will continue their journey for thousands and millions of miles in a very short amount of time," Zamka said. "They will be placed in the cupola as a reminder of man's reach and man's grit as they go out and explore."

Zamka then cut a ceremonial red ribbon and Williams said "the cupola is open for business! Let's take a look."

The combined shuttle-station crews then floated into the cupola one at a time to take in the view.

Endeavour's crew delivered and installed the new Tranquility habitation module and then mounted the cupola on its Earth-facing port. The seven-window cupola will be used as an observation deck and robotics work station, giving robot arm operators direct views of work sites and approaching cargo ships.

"It's so hard to put into words the view that we see out those beautiful seven windows," astronaut Kay Hire told reporters earlier. "It's (like) comparing a black-and-white analog picture to a super high-def color picture. It's just phenomenal what we can see out there. ... The most stunning thing I've seen so far is just some beautiful thunderstorms from above. It's really interesting to watch the way the lightning jumps from cloud to cloud far below us."

Endeavour pilot Terry Virts, making his first spaceflight, said all aspects of the experience have been "new and completely amazing."

"Getting to look out the shuttle windows and the station windows has been awesome," he said. "But when we looked out the cupola, it's impossible to put into words, but it took my breath away. We've only had a few opportunities to go down there because we have been busy inside doing work, but I think the favorite view that I've had has been watching a sunrise.

"At night, you can see cities if you're over land and then when you pass into the sunlight you get the blue limb (of Earth) and then it turns into pink and different colors like that and then when the sun pops up, it's like an instantaneous floodlight in your eyes, it kind of overwhelms you. But the view is amazing. You can sit there and ... perceive the entire Earth limb and you can really see the Earth has that round shape. It's just amazing."

Williams agreed, saying "to be able to see the entire Earth in one glance and see the entire limb of the Earth all the way around and see the spherical shape of the Earth is going to be new to us."

"Obviously, we've seen a lot of those segments of that view before, but only one segment at a time through a narrower field of view," he said. "We have taken a lot of photography up here, we will continue to do so. The cupola will offer us a very unique and new opportunity for photography in a new way, particularly with wide angle lenses, which we're already playing with a little bit to try to be able to share that experience with folks on Earth."

Spacewalker Robert Behnken said the view from the cupola rivaled and in some ways exceeded the view from a space helmet.

"The reason being you actually have time to look around through all the windows," he said. "Usually during a spacewalk, there's a fair amount of work to get done. ... There wasn't a lot of time for the sightseeing you might like to do out of a window like cupola.

"The other thing the cupola affords you is the opportunity to share some of those views with other people. We're really limited on the photography we can do during a spacewalk, but taking one of the HD cameras or some still photos inside the cupola is really going to allow us to share those beautiful sunrises and sunsets and Earth views in general with everyone on the ground."


Additional coverage for subscribers:


VIDEO: FRIDAY MORNING'S MISSION STATUS BRIEFING PLAY


VIDEO: SHUTTLE AND STATION CREWS BID THEIR FAREWELLS PLAY


VIDEO: RIBBON-CUTTING CEREMONY FOR STATION'S CUPOLA PLAY


VIDEO: IN-FLIGHT CREW NEWS CONFERENCE FOR U.S AND JAPAN PLAY



VIDEO: FLIGHT DAY 11 HIGHLIGHTS MOVIE PLAY


VIDEO: THURSDAY MORNING'S MISSION STATUS BRIEFING PLAY


VIDEO: OXYGEN GENERATOR RELOCATED TO TRANQUILITY PLAY


VIDEO: STATION'S TOILET INSTALLED IN THE NEW MODULE PLAY


VIDEO: WATER GENERATING EQUIPMENT MOVED INTO TRANQUILITY PLAY


VIDEO: PRESIDENT OBAMA CALLS SHUTTLE AND STATION CREWS PLAY



VIDEO: DAZZLING VIEWS FROM INSIDE CUPOLA PLAY


VIDEO: CUPOLA WINDOW SHUTTERS ARE TESTED PLAY


VIDEO: STATION ASTRONAUT'S CAMCORDER VIEWS OF CUPOLA PLAY


VIDEO: FLIGHT DAY 10 HIGHLIGHTS MOVIE PLAY


VIDEO: WEDNESDAY MORNING'S MISSION STATUS BRIEFING PLAY


VIDEO: CUPOLA OPEN FOR VIEWING PLAY


VIDEO: FREEING THE SHUTTERS PLAY


VIDEO: CUPOLA IS UNVEILED! PLAY


VIDEO: FIRST HALF OF CUPOLA UNCOVERED PLAY


VIDEO: WIRING UP DOCKING ADAPTER ON TRANQUILITY PLAY


VIDEO: ACTIVATING TRANQUILITY'S OTHER COOLING LOOP PLAY


VIDEO: SPACEWALKERS FLOAT OUT OF AIRLOCK PLAY


VIDEO: STEP-BY-STEP PREVIEW OF SPACEWALK NO. 3 PLAY


VIDEO: PREVIEW OF FLIGHT DAY 10 ACTIVITIES PLAY



VIDEO: FLY WITH THE ASTRONAUTS IN THE COCKPIT PLAY


VIDEO: LOOKING OUT THE PILOT'S FRONT WINDOW PLAY


VIDEO: LEFT-HAND BOOSTER CAMERA LOOKING UPWARD PLAY


VIDEO: LEFT-HAND BOOSTER CAMERA LOOKING INBOARD PLAY


VIDEO: LEFT-HAND BOOSTER CAMERA LOOKING DOWNWARD PLAY


VIDEO: RIGHT-HAND BOOSTER CAMERA LOOKING UPWARD PLAY


VIDEO: RIGHT-HAND BOOSTER CAMERA LOOKING INBOARD PLAY


VIDEO: RIGHT-HAND BOOSTER CAMERA LOOKING DOWNWARD PLAY


VIDEO: EXTERNAL TANK CAMERA FROM LIFTOFF TO SEPARATION PLAY



VIDEO: FLIGHT DAY 9 HIGHLIGHTS MOVIE PLAY


VIDEO: TUESDAY MORNING'S MISSION STATUS BRIEFING PLAY


VIDEO: DOCKING ADAPTER PLACED ONTO TRANQUILITY PLAY


VIDEO: PREVIEW OF FLIGHT DAY 9 ACTIVITIES PLAY



VIDEO: FLIGHT DAY 8 HIGHLIGHTS MOVIE PLAY


VIDEO: NEW YORK, ST. LOUIS AND MEMPHIS MEDIA INTERVIEWS PLAY


VIDEO: MONDAY MORNING'S MISSION STATUS BRIEFING PLAY


VIDEO: OBSERVATION PORTAL RELOCATED TO NEW HOME PLAY


VIDEO: CUPOLA PLUCKED FROM OUTBOARD PORT PLAY


VIDEO: ROBOTIC ARM GRAPPLES CUPOLA PLAY


VIDEO: CREW'S EDUCATIONAL EVENT PLAY


VIDEO: PREVIEW OF FLIGHT DAY 8 ACTIVITIES PLAY


VIDEO: SUNDAY AFTERNOON'S FLIGHT DIRECTOR INTERVIEW PLAY



VIDEO: FLIGHT DAY 7 HIGHLIGHTS MOVIE PLAY


VIDEO: SUNDAY MORNING'S MISSION STATUS BRIEFING PLAY


VIDEO: PREPPING CUPOLA'S NEW HOME PORT PLAY


VIDEO: SPACEWALKERS COMPLETE OTHER OUTFITTING WORK PLAY


VIDEO: AMMONIA BEGINS FLOWING TO COOL TRANQUILITY PLAY


VIDEO: PATRICK'S SPACESUIT CONTAMINATION CHECKS PLAY


VIDEO: SPACEWALKERS INSTALL SECOND COOLANT LOOP PLAY


VIDEO: FIRST SET OF AMMONIA LINES HOOKED UP PLAY


VIDEO: PREVIEW OF FLIGHT DAY 7 ACTIVITIES PLAY


VIDEO: STEP-BY-STEP PREVIEW OF SPACEWALK NO. 2 PLAY



VIDEO: FLIGHT DAY 6 HIGHLIGHTS MOVIE PLAY


VIDEO: OPENING CUPOLA'S HATCHWAY BRIEFLY PLAY


VIDEO: ENTERING TRANQUILITY FOR FIRST TIME PLAY


VIDEO: SPACEWALKERS ANSWER TWITTER QUESTIONS PLAY


VIDEO: ASSOCIATED PRESS, CBS AND REUTERS MEDIA INTERVIEWS PLAY


VIDEO: SATURDAY MORNING'S MISSION STATUS BRIEFING PLAY


VIDEO: PREVIEW OF FLIGHT DAY 6 ACTIVITIES PLAY



VIDEO: FRIDAY AFTERNOON'S MANAGEMENT TEAM UPDATE PLAY


VIDEO: FRIDAY MORNING'S MISSION STATUS BRIEFING PLAY


VIDEO: FLIGHT DAY 5 HIGHLIGHTS MOVIE PLAY


VIDEO: STEP-BY-STEP PREVIEW OF SPACEWALK NO. 1 PLAY


VIDEO: PREVIEW OF FLIGHT DAY 5 ACTIVITIES PLAY



VIDEO: FLIGHT DAY 4 HIGHLIGHTS MOVIE PLAY


VIDEO: WEDNESDAY NIGHT'S MISSION STATUS BRIEFING PLAY


VIDEO: SACRAMENTO, MOBILE AND ST. LOUIS MEDIA INTERVIEWS PLAY


VIDEO: WEDNESDAY AFTERNOON'S MANAGEMENT TEAM UPDATE PLAY


VIDEO: WEDNESDAY MORNING'S FLIGHT DIRECTOR INTERVIEW PLAY


VIDEO: PREVIEW OF FLIGHT DAY 4 ACTIVITIES PLAY



VIDEO: FLIGHT DAY 3 HIGHLIGHTS MOVIE PLAY


VIDEO: WEDNESDAY MORNING'S MISSION STATUS BRIEFING PLAY


VIDEO: SHUTTLE CREW WELCOMED ABOARD STATION PLAY


VIDEO: HATCHWAY OPENED BETWEEN TWO SPACECRAFT PLAY


VIDEO: ENDEAVOUR DOCKS TO THE SPACE STATION PLAY


VIDEO: SHUTTLE FLIES OUT IN FRONT OF STATION PLAY


VIDEO: ENDEAVOUR PERFORMS 360-DEGREE BACKFLIP PLAY


VIDEO: STUNNING SHOT OF SHUTTLE AGAINST HORIZON PLAY


VIDEO: STATION'S VIEW OF SHUTTLE ENGINE FIRING PLAY


VIDEO: PREVIEW OF FLIGHT DAY 3 ACTIVITIES PLAY


VIDEO: TUESDAY AFTERNOON'S MANAGEMENT TEAM UPDATE PLAY



VIDEO: AMAZING LAUNCH FOOTAGE FROM COCKPIT CAMERA PLAY



VIDEO: FLIGHT DAY 2 HIGHLIGHTS MOVIE PLAY


VIDEO: TUESDAY'S MISSION STATUS BRIEFING PLAY


VIDEO: TIME-LAPSE OF WING INSPECTIONS PLAY


VIDEO: INSPECTION BOOM READIED FOR USE PLAY


VIDEO: PREVIEW OF FLIGHT DAY 2 ACTIVITIES PLAY


VIDEO: NARRATED TOUR OF ENDEAVOUR'S PAYLOAD BAY PLAY



VIDEO: FLIGHT DAY 1 HIGHLIGHTS MOVIE PLAY


VIDEO: THE FULL STS-130 LAUNCH EXPERIENCE PLAY


VIDEO: SHUTTLE ENDEAVOUR BLASTS OFF! PLAY | HI-DEF


VIDEO: GO BEHIND THE SCENES IN MISSION CONTROL PLAY


VIDEO: JETTISONED EXTERNAL FUEL TANK TUMBLES AWAY PLAY


VIDEO: PAYLOAD BAY DOORS OPENED FOLLOWING LAUNCH PLAY



VIDEO: CREW FINISHES GETTING SUITED UP PLAY


VIDEO: ASTRONAUTS LEAVE CREW QUARTERS PLAY | HI-DEF


VIDEO: CREW ARRIVES AT LAUNCH PAD 39A PLAY


VIDEO: ASTRONAUTS BOARD THEIR SPACECRAFT PLAY



VIDEO: LAUNCH REPLAY: VAB ROOF PLAY | HI-DEF


VIDEO: LAUNCH REPLAY: PRESS SITE PLAY | HI-DEF


VIDEO: LAUNCH REPLAY: PAD PERIMETER PLAY | HI-DEF


VIDEO: LAUNCH REPLAY: BEACH TRACKER PLAY | HI-DEF


VIDEO: LAUNCH REPLAY: PAD CAMERA 070 PLAY | HI-DEF


VIDEO: LAUNCH REPLAY: PAD CAMERA 071 PLAY | HI-DEF


VIDEO: LAUNCH REPLAY: UCS-23 TRACKER PLAY | HI-DEF


VIDEO: LAUNCH REPLAY: PLAYALINDA BEACH PLAY | HI-DEF


VIDEO: LAUNCH REPLAY: PAD FRONT CAMERA PLAY | HI-DEF


VIDEO: LAUNCH REPLAY: BANANA CREEK SITE PLAY | HI-DEF



VIDEO: NARRATED REVIEW OF SHUTTLE'S PREPARATIONS PLAY | HI-DEF


VIDEO: NARRATED REVIEW OF PAYLOADS' PREPARATIONS PLAY | HI-DEF



VIDEO: EXPLANATION OF WEATHER PROBLEMS PLAY | HI-DEF


VIDEO: LOW CLOUDS SCRUB FIRST COUNTDOWN PLAY | HI-DEF


VIDEO: ASTRONAUTS DEPART QUARTERS FOR PAD 39A PLAY | HI-DEF


VIDEO: CREW GETS SUITED UP FOR LAUNCH ATTEMPT PLAY | HI-DEF


VIDEO: PAD SERVICE GANTRY RETRACTED PLAY | HI-DEF


VIDEO: TIME-LAPSE OF MOBILE TOWER ROLLBACK PLAY



VIDEO: INTERVIEW WITH COMMANDER GEORGE ZAMKA PLAY


VIDEO: INTERVIEW WITH PILOT TERRY VIRTS PLAY


VIDEO: INTERVIEW WITH MISSION SPECIALIST 1 KAY HIRE PLAY


VIDEO: INTERVIEW WITH MISSION SPECIALIST 2 STEVE ROBINSON PLAY


VIDEO: INTERVIEW WITH MISSION SPECIALIST 3 NICK PATRICK PLAY


VIDEO: INTERVIEW WITH MISSION SPECIALIST 4 BOB BEHNKEN PLAY



VIDEO: ENDEAVOUR'S PRE-LAUNCH NEWS CONFERENCE PLAY


VIDEO: THURSDAY STATUS AND WEATHER UPDATE PLAY


VIDEO: COUNTDOWN PREVIEW BRIEFING PLAY


VIDEO: ASTRONAUTS ARRIVE FOR LAUNCH PLAY | HI-DEF



VIDEO: LAUNCH DATE SET AT FLIGHT READINESS REVIEW PLAY


VIDEO: PAYLOAD BAY DOORS CLOSED FOR LAUNCH PLAY | HI-DEF


VIDEO: CREW SEES TRANQUILITY LOADED INTO SHUTTLE PLAY | HI-DEF



VIDEO: SHUTTLE EVACUATION PRACTICE PLAY | HI-DEF


VIDEO: ASTRONAUTS BOARD ENDEAVOUR PLAY | HI-DEF


VIDEO: THE LAUNCH DAY SIMULATION BEGINS PLAY | HI-DEF


VIDEO: PAD BUNKER TRAINING FOR THE CREW PLAY | HI-DEF


VIDEO: CREW BRIEFED ON EMERGENCY PROCEDURES PLAY | HI-DEF


VIDEO: TEST-DRIVING AN EMERGENCY ARMORED TANK PLAY | HI-DEF


VIDEO: NIGHTTIME APPROACHES IN TRAINING AIRCRAFT PLAY | HI-DEF


VIDEO: ASTRONAUTS CHAT WITH REPORTERS AT PAD 39A PLAY


VIDEO: SPACEWALKER UPDATES COOLING HOSE FIX PLAY | HI-DEF


VIDEO: ROBINSON'S THOUGHTS ON SHUTTLE RETIREMENT PLAY | HI-DEF


VIDEO: ASTRONAUTS ARRIVE FOR PRACTICE COUNTDOWN PLAY | HI-DEF



VIDEO: TRANQUILITY DELIVERED TO PAD 39A PLAY | HI-DEF


VIDEO: PAYLOAD TRANSPORTER GOES UPRIGHT PLAY | HI-DEF


VIDEO: PACKING UP PAYLOAD FOR LAUNCH PLAY | HI-DEF



VIDEO: SHUTTLE ENDEAVOUR'S FRIGID ROLLOUT TO PAD PLAY | HI-DEF


VIDEO: ENDEAVOUR HOISTED FOR ATTACHMENT TO TANK PLAY | HI-DEF


VIDEO: CRANE ROTATES THE ORBITER VERTICALLY PLAY | HI-DEF


VIDEO: ENDEAVOUR MOVES TO ASSEMBLY BUILDING PLAY | HI-DEF


VIDEO: TIME-LAPSE SHOWS ENDEAVOUR ASCENDING IN VAB PLAY


VIDEO: TIME-LAPSE SHOWS THE MOVE TO ASSEMBLY BUILDING PLAY



VIDEO: ORBITER READY TO LEAVE HANGAR PLAY | HI-DEF


VIDEO: EXTERNAL TANK ATTACHED TO BOOSTERS PLAY | HI-DEF


VIDEO: ENDEAVOUR'S MAIN ENGINE INSTALLATION PLAY | HI-DEF


VIDEO: ASTRONAUTS VISIT THEIR SPACECRAFT PLAY | HI-DEF


VIDEO: CREW INSPECTS MISSION PAYLOADS PLAY | HI-DEF


VIDEO: FUEL TANK UNLOADED FROM THE BARGE PLAY | HI-DEF


VIDEO: EXTERNAL TANK ARRIVES AT SPACEPORT PLAY | HI-DEF


VIDEO: FORWARD THRUSTER POD CHECKED OUT PLAY | HI-DEF


VIDEO: ENDEAVOUR TOWED OFF RUNWAY FROM STS-127 PLAY | HI-DEF



VIDEO: TRANQUILITY HATCH SEALED FOR LAUNCH PLAY | HI-DEF


VIDEO: CUPOLA ATTACHED TO TRANQUILITY PLAY | HI-DEF


VIDEO: THE SPACE STATION'S NEW CUPOLA PLAY | HI-DEF


VIDEO: TRANQUILITY UNPACKED IN FLORIDA PLAY | HI-DEF


VIDEO: NEW MODULE ARRIVES FROM EUROPE PLAY | HI-DEF


SUBSCRIBE NOW