Crew cleared to relocate cupola to permanent home
BY WILLIAM HARWOOD
STORY WRITTEN FOR CBS NEWS "SPACE PLACE" & USED WITH PERMISSION
Posted: February 14, 2010


The Endeavour astronauts have been cleared to move a multi-window cupola from the outboard port of the new Tranquility module to its Earth-facing hatch after engineers concluded an interference issue with a protective cover would not prevent a normal docking.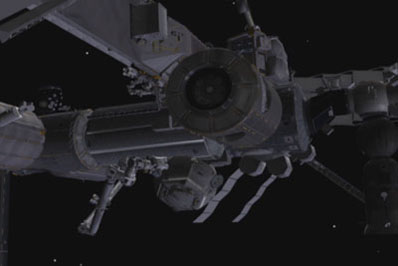 Animation of the cupola move with the station robot arm. Credit: NASA TV



To fit in Endeavour's cargo bay, the cupola had to be launched on Tranquility's outboard port but it is intended to serve as an observation deck and robot arm control station and for that it needs to be on the module's Earth-facing, or nadir, port.

Preparing for the move, the astronauts attempted to install a protective cover over the outboard hatch's docking mechanism to protect it from low temperatures and micrometeoroid impacts after the cupola was removed. But a mechanical interference issue prevented the crew from locking the cover in place.

Station commander Jeffrey Williams ultimately succeeded after removing underlying bolts, allowing the so-called "towel bar" latching mechanism to engage. But clearances were tight and engineers were unsure whether a similar cover on the nadir port could prevent the cupola's attachment.

After extensive analysis, engineers concluded the tolerances were acceptable and during the morning wakeup call, the astronauts were cleared to proceed.

"The good news for today is, overnight we looked at all the information you gathered for us yesterday and sent down and we became very comfortable with you doing the cupola depress and relocate today," said Shannon Lucid in mission control. "So that's our plan."

"Shannon, that's fantastic news," replied astronaut Nicholas Patrick from Endeavour. "Thank you to all on the ground who worked on that so hard overnight. There are cheers from downstairs as everybody is waking up. And to all in mission control and Houston and elsewhere, happy Valentine's Day."

The crew plans to depressurize the cupola starting around 6:51 p.m. EST. Terry Virts and Kay Hire, operating the station's robot arm, then will lock onto a grapple fixture on the side of the cupola just after 9 p.m. After Williams disengages the common berthing mechanism holding the cupola in place, Virts and Hire will move it to Tranquility's nadir port.

The unberthing procedure is expected to begin around 10:44 p.m. If all goes well, installation on the nadir port will begin around 11:30 p.m.

Engineers will be monitoring how much torque is required to drive the motorized bolts in the berthing mechanism that will lock the cupola to the nadir port. No problems are expected, but if high torque levels indicate unacceptable interference, the procedure will be aborted. In that case, the cupola likely would be returned to the outboard port pending additional analysis.


Additional coverage for subscribers:


VIDEO: STEP-BY-STEP PREVIEW OF SPACEWALK NO. 1 PLAY


VIDEO: PREVIEW OF FLIGHT DAY 5 ACTIVITIES PLAY



VIDEO: WEDNESDAY NIGHT'S MISSION STATUS BRIEFING PLAY


VIDEO: SACRAMENTO, MOBILE AND ST. LOUIS MEDIA INTERVIEWS PLAY


VIDEO: WEDNESDAY AFTERNOON'S MANAGEMENT TEAM UPDATE PLAY


VIDEO: WEDNESDAY MORNING'S FLIGHT DIRECTOR INTERVIEW PLAY


VIDEO: PREVIEW OF FLIGHT DAY 4 ACTIVITIES PLAY



VIDEO: FLIGHT DAY 3 HIGHLIGHTS MOVIE PLAY


VIDEO: WEDNESDAY MORNING'S MISSION STATUS BRIEFING PLAY


VIDEO: SHUTTLE CREW WELCOMED ABOARD STATION PLAY


VIDEO: HATCHWAY OPENED BETWEEN TWO SPACECRAFT PLAY


VIDEO: ENDEAVOUR DOCKS TO THE SPACE STATION PLAY


VIDEO: SHUTTLE FLIES OUT IN FRONT OF STATION PLAY


VIDEO: ENDEAVOUR PERFORMS 360-DEGREE BACKFLIP PLAY


VIDEO: STUNNING SHOT OF SHUTTLE AGAINST HORIZON PLAY


VIDEO: STATION'S VIEW OF SHUTTLE ENGINE FIRING PLAY


VIDEO: PREVIEW OF FLIGHT DAY 3 ACTIVITIES PLAY


VIDEO: TUESDAY AFTERNOON'S MANAGEMENT TEAM UPDATE PLAY



VIDEO: AMAZING LAUNCH FOOTAGE FROM COCKPIT CAMERA PLAY



VIDEO: FLIGHT DAY 2 HIGHLIGHTS MOVIE PLAY


VIDEO: TUESDAY'S MISSION STATUS BRIEFING PLAY


VIDEO: TIME-LAPSE OF WING INSPECTIONS PLAY


VIDEO: INSPECTION BOOM READIED FOR USE PLAY


VIDEO: PREVIEW OF FLIGHT DAY 2 ACTIVITIES PLAY


VIDEO: NARRATED TOUR OF ENDEAVOUR'S PAYLOAD BAY PLAY



VIDEO: FLIGHT DAY 1 HIGHLIGHTS MOVIE PLAY


VIDEO: THE FULL STS-130 LAUNCH EXPERIENCE PLAY


VIDEO: SHUTTLE ENDEAVOUR BLASTS OFF! PLAY | HI-DEF


VIDEO: GO BEHIND THE SCENES IN MISSION CONTROL PLAY


VIDEO: JETTISONED EXTERNAL FUEL TANK TUMBLES AWAY PLAY


VIDEO: PAYLOAD BAY DOORS OPENED FOLLOWING LAUNCH PLAY



VIDEO: CREW FINISHES GETTING SUITED UP PLAY


VIDEO: ASTRONAUTS LEAVE CREW QUARTERS PLAY | HI-DEF


VIDEO: CREW ARRIVES AT LAUNCH PAD 39A PLAY


VIDEO: ASTRONAUTS BOARD THEIR SPACECRAFT PLAY



VIDEO: LAUNCH REPLAY: VAB ROOF PLAY | HI-DEF


VIDEO: LAUNCH REPLAY: PRESS SITE PLAY | HI-DEF


VIDEO: LAUNCH REPLAY: PAD PERIMETER PLAY | HI-DEF


VIDEO: LAUNCH REPLAY: BEACH TRACKER PLAY | HI-DEF


VIDEO: LAUNCH REPLAY: PAD CAMERA 070 PLAY | HI-DEF


VIDEO: LAUNCH REPLAY: PAD CAMERA 071 PLAY | HI-DEF


VIDEO: LAUNCH REPLAY: UCS-23 TRACKER PLAY | HI-DEF


VIDEO: LAUNCH REPLAY: PLAYALINDA BEACH PLAY | HI-DEF


VIDEO: LAUNCH REPLAY: PAD FRONT CAMERA PLAY | HI-DEF


VIDEO: LAUNCH REPLAY: BANANA CREEK SITE PLAY | HI-DEF



VIDEO: NARRATED REVIEW OF SHUTTLE'S PREPARATIONS PLAY | HI-DEF


VIDEO: NARRATED REVIEW OF PAYLOADS' PREPARATIONS PLAY | HI-DEF



VIDEO: EXPLANATION OF WEATHER PROBLEMS PLAY | HI-DEF


VIDEO: LOW CLOUDS SCRUB FIRST COUNTDOWN PLAY | HI-DEF


VIDEO: ASTRONAUTS DEPART QUARTERS FOR PAD 39A PLAY | HI-DEF


VIDEO: CREW GETS SUITED UP FOR LAUNCH ATTEMPT PLAY | HI-DEF


VIDEO: PAD SERVICE GANTRY RETRACTED PLAY | HI-DEF


VIDEO: TIME-LAPSE OF MOBILE TOWER ROLLBACK PLAY



VIDEO: INTERVIEW WITH COMMANDER GEORGE ZAMKA PLAY


VIDEO: INTERVIEW WITH PILOT TERRY VIRTS PLAY


VIDEO: INTERVIEW WITH MISSION SPECIALIST 1 KAY HIRE PLAY


VIDEO: INTERVIEW WITH MISSION SPECIALIST 2 STEVE ROBINSON PLAY


VIDEO: INTERVIEW WITH MISSION SPECIALIST 3 NICK PATRICK PLAY


VIDEO: INTERVIEW WITH MISSION SPECIALIST 4 BOB BEHNKEN PLAY



VIDEO: ENDEAVOUR'S PRE-LAUNCH NEWS CONFERENCE PLAY


VIDEO: THURSDAY STATUS AND WEATHER UPDATE PLAY


VIDEO: COUNTDOWN PREVIEW BRIEFING PLAY


VIDEO: ASTRONAUTS ARRIVE FOR LAUNCH PLAY | HI-DEF



VIDEO: LAUNCH DATE SET AT FLIGHT READINESS REVIEW PLAY


VIDEO: PAYLOAD BAY DOORS CLOSED FOR LAUNCH PLAY | HI-DEF


VIDEO: CREW SEES TRANQUILITY LOADED INTO SHUTTLE PLAY | HI-DEF



VIDEO: SHUTTLE EVACUATION PRACTICE PLAY | HI-DEF


VIDEO: ASTRONAUTS BOARD ENDEAVOUR PLAY | HI-DEF


VIDEO: THE LAUNCH DAY SIMULATION BEGINS PLAY | HI-DEF


VIDEO: PAD BUNKER TRAINING FOR THE CREW PLAY | HI-DEF


VIDEO: CREW BRIEFED ON EMERGENCY PROCEDURES PLAY | HI-DEF


VIDEO: TEST-DRIVING AN EMERGENCY ARMORED TANK PLAY | HI-DEF


VIDEO: NIGHTTIME APPROACHES IN TRAINING AIRCRAFT PLAY | HI-DEF


VIDEO: ASTRONAUTS CHAT WITH REPORTERS AT PAD 39A PLAY


VIDEO: SPACEWALKER UPDATES COOLING HOSE FIX PLAY | HI-DEF


VIDEO: ROBINSON'S THOUGHTS ON SHUTTLE RETIREMENT PLAY | HI-DEF


VIDEO: ASTRONAUTS ARRIVE FOR PRACTICE COUNTDOWN PLAY | HI-DEF



VIDEO: TRANQUILITY DELIVERED TO PAD 39A PLAY | HI-DEF


VIDEO: PAYLOAD TRANSPORTER GOES UPRIGHT PLAY | HI-DEF


VIDEO: PACKING UP PAYLOAD FOR LAUNCH PLAY | HI-DEF



VIDEO: SHUTTLE ENDEAVOUR'S FRIGID ROLLOUT TO PAD PLAY | HI-DEF


VIDEO: ENDEAVOUR HOISTED FOR ATTACHMENT TO TANK PLAY | HI-DEF


VIDEO: CRANE ROTATES THE ORBITER VERTICALLY PLAY | HI-DEF


VIDEO: ENDEAVOUR MOVES TO ASSEMBLY BUILDING PLAY | HI-DEF


VIDEO: TIME-LAPSE SHOWS ENDEAVOUR ASCENDING IN VAB PLAY


VIDEO: TIME-LAPSE SHOWS THE MOVE TO ASSEMBLY BUILDING PLAY



VIDEO: ORBITER READY TO LEAVE HANGAR PLAY | HI-DEF


VIDEO: EXTERNAL TANK ATTACHED TO BOOSTERS PLAY | HI-DEF


VIDEO: ENDEAVOUR'S MAIN ENGINE INSTALLATION PLAY | HI-DEF


VIDEO: ASTRONAUTS VISIT THEIR SPACECRAFT PLAY | HI-DEF


VIDEO: CREW INSPECTS MISSION PAYLOADS PLAY | HI-DEF


VIDEO: FUEL TANK UNLOADED FROM THE BARGE PLAY | HI-DEF


VIDEO: EXTERNAL TANK ARRIVES AT SPACEPORT PLAY | HI-DEF


VIDEO: FORWARD THRUSTER POD CHECKED OUT PLAY | HI-DEF


VIDEO: ENDEAVOUR TOWED OFF RUNWAY FROM STS-127 PLAY | HI-DEF



VIDEO: TRANQUILITY HATCH SEALED FOR LAUNCH PLAY | HI-DEF


VIDEO: CUPOLA ATTACHED TO TRANQUILITY PLAY | HI-DEF


VIDEO: THE SPACE STATION'S NEW CUPOLA PLAY | HI-DEF


VIDEO: TRANQUILITY UNPACKED IN FLORIDA PLAY | HI-DEF


VIDEO: NEW MODULE ARRIVES FROM EUROPE PLAY | HI-DEF


SUBSCRIBE NOW