Endeavour makes midnight arrival at station
BY WILLIAM HARWOOD
STORY WRITTEN FOR CBS NEWS "SPACE PLACE" & USED WITH PERMISSION
Posted: February 10, 2010


The shuttle Endeavour docked with the International Space Station early Wednesday after a picture-perfect rendezvous that included spectacular views of the shuttle against the blue-and-white backdrop of Earth.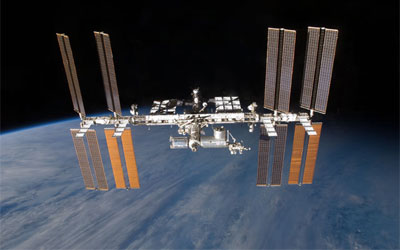 Credit: NASA



With shuttle commander George Zamka flying Endeavour from the aft flight deck, the docking systems engaged on time at 12:06 a.m. EST as the two spacecraft sailed 215 miles above the Atlantic Ocean west of Portugal at five miles per second.

"Station and Houston, capture confirmed," shuttle pilot Terry Virts called out.

Going into this mission, the space station's mass was 764,350 pounds. With the addition of Endeavour and its cargo - the 15-ton Tranquility module, a multi-window cupola and other equipment - the combined mass of both spacecraft exceeded 1 million pounds for the first time.

It took longer than usual for relative motion to damp out between the two spacecraft but by 12:50 a.m., the docking systems were aligned and stable and the vehicles were pulled firmly together.

It took another hour and a half or so to carry out leak checks and confirm a tight seal. After that, hatches were opened and station commander Jeffrey Williams and his crewmates - T.J. Creamer, Soichi Noguchi, Oleg Kotov and Max Suraev - welcomed the shuttle astronauts aboard around 2:15 a.m.

"We just wanted to take a moment to welcome the crew of STS-130 aboard the ISS," Williams said. "We're happy to see our friends. Some of us are really happy because we haven't seen many people other than the crew for a long time. And happy that we're coming close to the completion of assembly of station with this mission. So really happy to have you guys on board."

"Jeff, we are glad to be here," Zamka replied. "It was absolutely beautiful coming on up. We're ready to bring up Tranquility and cupola and work with you guys and bring it to life. This is a great day."

Lead shuttle Flight Director Kwatsi Alibaruho said the rendezvous and docking went smoothly despite problems with a trajectory control system laser range finder.

"We had an excellent day on orbit today and a very clean rendezvous and docking," he said. "The only issues we were tracking were associated with the trajectory control system. It's basically a laser range system that provides us range and range-rate data between the space shuttle and the space station that helps the commander navigate as he's flying the final approach.

"That system started providing some erratic data when we were at about 200 feet away from the space station. It wasn't a problem at all because this really is one of several tools that we have. ... We just relied more heavily on the hand-held laser and disregarded some of the noisy data that was coming from the trajectory control system."

Before docking, when Endeavour was positioned 600 feet directly below the space station, Zamka monitored a computer-assisted back flip maneuver that exposed heat shield tiles on the belly of the shuttle to powerful cameras operated by Williams and Kotov.

The rendezvous pitch maneuver is part of a post-Columbia suite of techniques to help engineers assess the health of the shuttle's heat shield.

The digital images shot during the rendezvous pitch maneuver were downlinked right away and Alibaruho said no obvious problems were immediately apparent. The team will know by the end of the day Wednesday whether any additional inspections are required.

"Really, by close of business this day, we should have a very good sense of whether or not we have any outstanding concerns or whether we're well on the path to the thermal protection system being cleared for entry," he said.

"If we get past these meetings we have today with no requirements for focused inspection and no significant concerns ... it's very, very high likelihood the TPS (thermal protection system) will be cleared for entry in due course."


Additional coverage for subscribers:


VIDEO: HATCHWAY OPENED BETWEEN TWO SPACECRAFT PLAY


VIDEO: ENDEAVOUR DOCKS TO THE SPACE STATION PLAY


VIDEO: SHUTTLE PERFORMS 360-DEGREE BACKFLIP PLAY


VIDEO: STUNNING SHOT OF SHUTTLE AGAINST HORIZON PLAY


VIDEO: STATION'S VIEW OF SHUTTLE ENGINE FIRING PLAY


VIDEO: PREVIEW OF FLIGHT DAY 3 ACTIVITIES PLAY


VIDEO: TUESDAY AFTERNOON'S MANAGEMENT TEAM UPDATE PLAY



VIDEO: AMAZING LAUNCH FOOTAGE FROM COCKPIT CAMERA PLAY



VIDEO: FLIGHT DAY 2 HIGHLIGHTS MOVIE PLAY


VIDEO: TUESDAY'S MISSION STATUS BRIEFING PLAY


VIDEO: TIME-LAPSE OF WING INSPECTIONS PLAY


VIDEO: INSPECTION BOOM READIED FOR USE PLAY


VIDEO: PREVIEW OF FLIGHT DAY 2 ACTIVITIES PLAY


VIDEO: NARRATED TOUR OF ENDEAVOUR'S PAYLOAD BAY PLAY



VIDEO: FLIGHT DAY 1 HIGHLIGHTS MOVIE PLAY


VIDEO: THE FULL STS-130 LAUNCH EXPERIENCE PLAY


VIDEO: SHUTTLE ENDEAVOUR BLASTS OFF! PLAY | HI-DEF


VIDEO: GO BEHIND THE SCENES IN MISSION CONTROL PLAY


VIDEO: JETTISONED EXTERNAL FUEL TANK TUMBLES AWAY PLAY


VIDEO: PAYLOAD BAY DOORS OPENED FOLLOWING LAUNCH PLAY



VIDEO: CREW FINISHES GETTING SUITED UP PLAY


VIDEO: ASTRONAUTS LEAVE CREW QUARTERS PLAY | HI-DEF


VIDEO: CREW ARRIVES AT LAUNCH PAD 39A PLAY


VIDEO: ASTRONAUTS BOARD THEIR SPACECRAFT PLAY



VIDEO: LAUNCH REPLAY: VAB ROOF PLAY | HI-DEF


VIDEO: LAUNCH REPLAY: PRESS SITE PLAY | HI-DEF


VIDEO: LAUNCH REPLAY: PAD PERIMETER PLAY | HI-DEF


VIDEO: LAUNCH REPLAY: BEACH TRACKER PLAY | HI-DEF


VIDEO: LAUNCH REPLAY: PAD CAMERA 070 PLAY | HI-DEF


VIDEO: LAUNCH REPLAY: PAD CAMERA 071 PLAY | HI-DEF


VIDEO: LAUNCH REPLAY: UCS-23 TRACKER PLAY | HI-DEF


VIDEO: LAUNCH REPLAY: PLAYALINDA BEACH PLAY | HI-DEF


VIDEO: LAUNCH REPLAY: PAD FRONT CAMERA PLAY | HI-DEF


VIDEO: LAUNCH REPLAY: BANANA CREEK SITE PLAY | HI-DEF



VIDEO: NARRATED REVIEW OF SHUTTLE'S PREPARATIONS PLAY | HI-DEF


VIDEO: NARRATED REVIEW OF PAYLOADS' PREPARATIONS PLAY | HI-DEF



VIDEO: EXPLANATION OF WEATHER PROBLEMS PLAY | HI-DEF


VIDEO: LOW CLOUDS SCRUB FIRST COUNTDOWN PLAY | HI-DEF


VIDEO: ASTRONAUTS DEPART QUARTERS FOR PAD 39A PLAY | HI-DEF


VIDEO: CREW GETS SUITED UP FOR LAUNCH ATTEMPT PLAY | HI-DEF


VIDEO: PAD SERVICE GANTRY RETRACTED PLAY | HI-DEF


VIDEO: TIME-LAPSE OF MOBILE TOWER ROLLBACK PLAY



VIDEO: INTERVIEW WITH COMMANDER GEORGE ZAMKA PLAY


VIDEO: INTERVIEW WITH PILOT TERRY VIRTS PLAY


VIDEO: INTERVIEW WITH MISSION SPECIALIST 1 KAY HIRE PLAY


VIDEO: INTERVIEW WITH MISSION SPECIALIST 2 STEVE ROBINSON PLAY


VIDEO: INTERVIEW WITH MISSION SPECIALIST 3 NICK PATRICK PLAY


VIDEO: INTERVIEW WITH MISSION SPECIALIST 4 BOB BEHNKEN PLAY



VIDEO: ENDEAVOUR'S PRE-LAUNCH NEWS CONFERENCE PLAY


VIDEO: THURSDAY STATUS AND WEATHER UPDATE PLAY


VIDEO: COUNTDOWN PREVIEW BRIEFING PLAY


VIDEO: ASTRONAUTS ARRIVE FOR LAUNCH PLAY | HI-DEF



VIDEO: LAUNCH DATE SET AT FLIGHT READINESS REVIEW PLAY


VIDEO: PAYLOAD BAY DOORS CLOSED FOR LAUNCH PLAY | HI-DEF


VIDEO: CREW SEES TRANQUILITY LOADED INTO SHUTTLE PLAY | HI-DEF



VIDEO: SHUTTLE EVACUATION PRACTICE PLAY | HI-DEF


VIDEO: ASTRONAUTS BOARD ENDEAVOUR PLAY | HI-DEF


VIDEO: THE LAUNCH DAY SIMULATION BEGINS PLAY | HI-DEF


VIDEO: PAD BUNKER TRAINING FOR THE CREW PLAY | HI-DEF


VIDEO: CREW BRIEFED ON EMERGENCY PROCEDURES PLAY | HI-DEF


VIDEO: TEST-DRIVING AN EMERGENCY ARMORED TANK PLAY | HI-DEF


VIDEO: NIGHTTIME APPROACHES IN TRAINING AIRCRAFT PLAY | HI-DEF


VIDEO: ASTRONAUTS CHAT WITH REPORTERS AT PAD 39A PLAY


VIDEO: SPACEWALKER UPDATES COOLING HOSE FIX PLAY | HI-DEF


VIDEO: ROBINSON'S THOUGHTS ON SHUTTLE RETIREMENT PLAY | HI-DEF


VIDEO: ASTRONAUTS ARRIVE FOR PRACTICE COUNTDOWN PLAY | HI-DEF



VIDEO: TRANQUILITY DELIVERED TO PAD 39A PLAY | HI-DEF


VIDEO: PAYLOAD TRANSPORTER GOES UPRIGHT PLAY | HI-DEF


VIDEO: PACKING UP PAYLOAD FOR LAUNCH PLAY | HI-DEF



VIDEO: SHUTTLE ENDEAVOUR'S FRIGID ROLLOUT TO PAD PLAY | HI-DEF


VIDEO: ENDEAVOUR HOISTED FOR ATTACHMENT TO TANK PLAY | HI-DEF


VIDEO: CRANE ROTATES THE ORBITER VERTICALLY PLAY | HI-DEF


VIDEO: ENDEAVOUR MOVES TO ASSEMBLY BUILDING PLAY | HI-DEF


VIDEO: TIME-LAPSE SHOWS ENDEAVOUR ASCENDING IN VAB PLAY


VIDEO: TIME-LAPSE SHOWS THE MOVE TO ASSEMBLY BUILDING PLAY



VIDEO: ORBITER READY TO LEAVE HANGAR PLAY | HI-DEF


VIDEO: EXTERNAL TANK ATTACHED TO BOOSTERS PLAY | HI-DEF


VIDEO: ENDEAVOUR'S MAIN ENGINE INSTALLATION PLAY | HI-DEF


VIDEO: ASTRONAUTS VISIT THEIR SPACECRAFT PLAY | HI-DEF


VIDEO: CREW INSPECTS MISSION PAYLOADS PLAY | HI-DEF


VIDEO: FUEL TANK UNLOADED FROM THE BARGE PLAY | HI-DEF


VIDEO: EXTERNAL TANK ARRIVES AT SPACEPORT PLAY | HI-DEF


VIDEO: FORWARD THRUSTER POD CHECKED OUT PLAY | HI-DEF


VIDEO: ENDEAVOUR TOWED OFF RUNWAY FROM STS-127 PLAY | HI-DEF



VIDEO: TRANQUILITY HATCH SEALED FOR LAUNCH PLAY | HI-DEF


VIDEO: CUPOLA ATTACHED TO TRANQUILITY PLAY | HI-DEF


VIDEO: THE SPACE STATION'S NEW CUPOLA PLAY | HI-DEF


VIDEO: TRANQUILITY UNPACKED IN FLORIDA PLAY | HI-DEF


VIDEO: NEW MODULE ARRIVES FROM EUROPE PLAY | HI-DEF


SUBSCRIBE NOW