Weather conditions postpone Endeavour launch 24 hours
BY WILLIAM HARWOOD
STORY WRITTEN FOR CBS NEWS "SPACE PLACE" & USED WITH PERMISSION
Posted: February 7, 2010


Launch of the shuttle Endeavour on a space station assembly mission was delayed 24 hours, from Sunday to Monday, because of an unexpected deck of low clouds that swept over the Kennedy Space Center in the pre-dawn hours.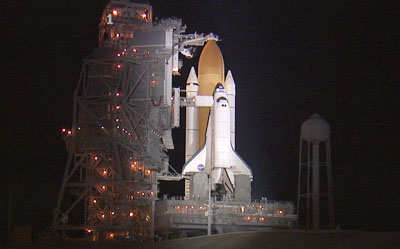 Credit: NASA TV



"We tried really, really hard to work the weather," Launch Director Mike Leinbach radioed commander George Zamka from the firing room. "It was just too dynamic. We got to feeling good there at one point and then it filled back in and we just were not comfortable launching a space shuttle tonight.

"So, we're going to go into a 24-hour scrub. Thank you all for the efforts you all put in tonight. We'll see you back again tomorrow night and we hope the weather's a little bit better."

"And Mike from Endeavour, we understand and we'll give it another try tomorrow night," Zamka replied.

Zamka and his crewmates - pilot Terry Virts, Kathryn Hire, flight engineer Stephen Robinson and spacewalkers Robert Behnken and Nicholas Patrick left the shuttle about an hour after the countdown was called off.

Forecasters are predicting a 60 percent chance of favorable weather Monday and Tuesday with the concern being low clouds over the Kennedy Space Center that could go broken and violate NASA's flight rules for an emergency return-to-launch-site abort and landing.

After discussing the forecast following Sunday's launch scrub, NASA managers opted to try again Monday. Assuming no other issues develop, engineers will begin fueling the shuttle around 6:45 p.m. Sunday, setting the stage for a launch attempt at 4:14:08 a.m. Monday.

The shuttle delay means a one-day slip for launch of NASA's Solar Dynamics Observatory science satellite, from Tuesday to Wednesday, atop a United Launch Alliance Atlas 5 rocket. If Endeavour fails to get off the ground Monday, the shuttle flight will slip to Feb. 13, after the SDO mission.


Additional coverage for subscribers:


VIDEO: NARRATED REVIEW OF SHUTTLE'S PREPARATIONS PLAY | HI-DEF


VIDEO: NARRATED REVIEW OF PAYLOADS' PREPARATIONS PLAY | HI-DEF



VIDEO: EXPLANATION OF WEATHER PROBLEMS PLAY | HI-DEF


VIDEO: LOW CLOUDS SCRUB FIRST COUNTDOWN PLAY | HI-DEF


VIDEO: ASTRONAUTS DEPART QUARTERS FOR PAD 39A PLAY | HI-DEF


VIDEO: CREW GETS SUITED UP FOR LAUNCH ATTEMPT PLAY | HI-DEF


VIDEO: PAD SERVICE GANTRY RETRACTED PLAY | HI-DEF


VIDEO: TIME-LAPSE OF MOBILE TOWER ROLLBACK PLAY



VIDEO: INTERVIEW WITH COMMANDER GEORGE ZAMKA PLAY


VIDEO: INTERVIEW WITH PILOT TERRY VIRTS PLAY


VIDEO: INTERVIEW WITH MISSION SPECIALIST 1 KAY HIRE PLAY


VIDEO: INTERVIEW WITH MISSION SPECIALIST 2 STEVE ROBINSON PLAY


VIDEO: INTERVIEW WITH MISSION SPECIALIST 3 NICK PATRICK PLAY


VIDEO: INTERVIEW WITH MISSION SPECIALIST 4 BOB BEHNKEN PLAY



VIDEO: ENDEAVOUR'S PRE-LAUNCH NEWS CONFERENCE PLAY


VIDEO: THURSDAY STATUS AND WEATHER UPDATE PLAY


VIDEO: COUNTDOWN PREVIEW BRIEFING PLAY


VIDEO: ASTRONAUTS ARRIVE FOR LAUNCH PLAY | HI-DEF



VIDEO: LAUNCH DATE SET AT FLIGHT READINESS REVIEW PLAY


VIDEO: PAYLOAD BAY DOORS CLOSED FOR LAUNCH PLAY | HI-DEF


VIDEO: CREW SEES TRANQUILITY LOADED INTO SHUTTLE PLAY | HI-DEF



VIDEO: SHUTTLE EVACUATION PRACTICE PLAY | HI-DEF


VIDEO: ASTRONAUTS BOARD ENDEAVOUR PLAY | HI-DEF


VIDEO: THE LAUNCH DAY SIMULATION BEGINS PLAY | HI-DEF


VIDEO: PAD BUNKER TRAINING FOR THE CREW PLAY | HI-DEF


VIDEO: CREW BRIEFED ON EMERGENCY PROCEDURES PLAY | HI-DEF


VIDEO: TEST-DRIVING AN EMERGENCY ARMORED TANK PLAY | HI-DEF


VIDEO: NIGHTTIME APPROACHES IN TRAINING AIRCRAFT PLAY | HI-DEF


VIDEO: ASTRONAUTS CHAT WITH REPORTERS AT PAD 39A PLAY


VIDEO: SPACEWALKER UPDATES COOLING HOSE FIX PLAY | HI-DEF


VIDEO: ROBINSON'S THOUGHTS ON SHUTTLE RETIREMENT PLAY | HI-DEF


VIDEO: ASTRONAUTS ARRIVE FOR PRACTICE COUNTDOWN PLAY | HI-DEF



VIDEO: TRANQUILITY DELIVERED TO PAD 39A PLAY | HI-DEF


VIDEO: PAYLOAD TRANSPORTER GOES UPRIGHT PLAY | HI-DEF


VIDEO: PACKING UP PAYLOAD FOR LAUNCH PLAY | HI-DEF



VIDEO: SHUTTLE ENDEAVOUR'S FRIGID ROLLOUT TO PAD PLAY | HI-DEF


VIDEO: ENDEAVOUR HOISTED FOR ATTACHMENT TO TANK PLAY | HI-DEF


VIDEO: CRANE ROTATES THE ORBITER VERTICALLY PLAY | HI-DEF


VIDEO: ENDEAVOUR MOVES TO ASSEMBLY BUILDING PLAY | HI-DEF


VIDEO: TIME-LAPSE SHOWS ENDEAVOUR ASCENDING IN VAB PLAY


VIDEO: TIME-LAPSE SHOWS THE MOVE TO ASSEMBLY BUILDING PLAY



VIDEO: ORBITER READY TO LEAVE HANGAR PLAY | HI-DEF


VIDEO: EXTERNAL TANK ATTACHED TO BOOSTERS PLAY | HI-DEF


VIDEO: ENDEAVOUR'S MAIN ENGINE INSTALLATION PLAY | HI-DEF


VIDEO: ASTRONAUTS VISIT THEIR SPACECRAFT PLAY | HI-DEF


VIDEO: CREW INSPECTS MISSION PAYLOADS PLAY | HI-DEF


VIDEO: FUEL TANK UNLOADED FROM THE BARGE PLAY | HI-DEF


VIDEO: EXTERNAL TANK ARRIVES AT SPACEPORT PLAY | HI-DEF


VIDEO: FORWARD THRUSTER POD CHECKED OUT PLAY | HI-DEF


VIDEO: ENDEAVOUR TOWED OFF RUNWAY FROM STS-127 PLAY | HI-DEF



VIDEO: TRANQUILITY HATCH SEALED FOR LAUNCH PLAY | HI-DEF


VIDEO: CUPOLA ATTACHED TO TRANQUILITY PLAY | HI-DEF


VIDEO: THE SPACE STATION'S NEW CUPOLA PLAY | HI-DEF


VIDEO: TRANQUILITY UNPACKED IN FLORIDA PLAY | HI-DEF


VIDEO: NEW MODULE ARRIVES FROM EUROPE PLAY | HI-DEF


SUBSCRIBE NOW