Come see a space shuttle launch before time runs out
BY JUSTIN RAY
SPACEFLIGHT NOW
Posted: February 4, 2010


Endeavour's predawn blastoff Sunday begins the final countdown to retirement of the storied spaceships this year, leaving only a few opportunities left to see a shuttle launch in person.
"I'm trying to motivate as many people as I can right now to go and see one of these last handful of shuttle missions that are left and actually see the glory or more importantly just to feel the kind of palpable excitement that everyone has when they actually see humans launch on a big vehicle like the space shuttle and get into orbit," says Bob Behnken, the lead spacewalker on Endeavour's crew.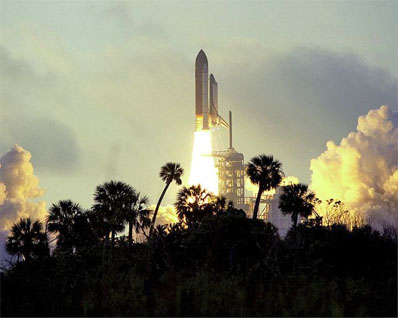 Credit: NASA



Witnessing the spectacle of a space shuttle launch, its Earth-shaking departure from the Florida spaceport on seven million pounds of thrust, is truly an awe-inspiring sight to behold.

The technological marvel that is the space shuttle, the most complicated machine man has ever produced, leaves the planet with humans strapped inside on the power generated from the controlled explosion of rocket fuels, accelerating from zero to 17,500 miles per hour in less than nine minutes time.

"It's a different feeling when you watch people launch into space than it is when you watch a Delta or an Atlas rocket take off," Behnken said.

"So I think that aspect for anybody who's actually been to a human launch is something that's always going to be memorable for them. We all watch differently, I think, even if it's just on the television when we know there are people at the pointy end of that rocketship, that folks are doing something hard and it's really critical that everything goes smoothly."

Sunday morning's planned 4:39 a.m. EST liftoff of Endeavour could be the last shuttle launch to occur at night. If the projected schedule for the four remaining flights later this year remains unchanged, those missions will have morning and afternoon launch times.

Night launches are special treats, lighting up the dark with a man-made sunrise of golden flame. The shuttle streaks across the sky trailing a fiery plume 700 feet long from its solid rocket boosters that can be spotted hundreds of miles away.

All launch dates, of course, are subject to change. But here's a look at the dates and times for the final five shuttle missions as currently scheduled:
STS-130 on Endeavour is targeted for launch on Sunday, February 7 at 4:39 a.m. EST to deliver the Tranquility module and cupola observation port to the International Space Station.


STS-131 will see Discovery fly on Thursday, March 18 at 1:34 p.m. EDT to haul supplies and science gear to the space station.


STS-132 will be the last flight of Atlantis when it launches on Friday, May 14 at 2:28 p.m. EDT carrying a new Russian docking compartment for the station.


STS-134 is Endeavour's final flight and features a morning launch on Thursday, July 29 at 7:51 a.m. EDT with external spare parts and a science platform for the station.


STS-133 concludes the space shuttle program with Discovery's mission to bring more spare parts and a storage module to the station. It launches on Thursday, September 16 at 11:57 a.m. EDT.
The specific liftoff times are dictated by the International Space Station's orbit. The shuttles have roughly 10 minutes per day to launch on the necessary path to reach the station for rendezvous and docking.
If a shuttle mission is delayed, the launch time moves approximately 25 minutes earlier with each day a flight is postponed. That means the July mission, for example, could end up occurring in the predawn darkness if it slips a few days.
For detailed information about where you can watch a space shuttle launch, check out viewing options here.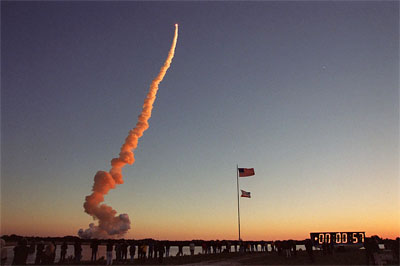 Credit: NASA



With the uncertain future of America's space program, it could be several years before another human is launched into orbit from U.S. soil. NASA is buying seats in Russian Soyuz capsules flown from Kazakhstan to ferry U.S. astronauts to and from the space station for the foreseeable future.

When the shuttles stop flying, the Soyuz will be the only available transportation for Americans to reach orbit until some new vehicle is developed and built. NASA had envisioned the Ares 1 rocket and Orion capsules would start flying astronauts by 2014, but budget woes and politics have intervened with that plan.

President Obama is directing the space agency to look at commercial providers, such as SpaceX with its planned Falcon 9 booster and Dragon spacecraft, to replace the space shuttle and reopen human access to space for the U.S. later this decade.


Additional coverage for subscribers:


VIDEO: INTERVIEW WITH COMMANDER GEORGE ZAMKA PLAY


VIDEO: INTERVIEW WITH PILOT TERRY VIRTS PLAY


VIDEO: INTERVIEW WITH MISSION SPECIALIST 1 KAY HIRE PLAY


VIDEO: INTERVIEW WITH MISSION SPECIALIST 2 STEVE ROBINSON PLAY


VIDEO: INTERVIEW WITH MISSION SPECIALIST 3 NICK PATRICK PLAY


VIDEO: INTERVIEW WITH MISSION SPECIALIST 4 BOB BEHNKEN PLAY



VIDEO: ENDEAVOUR'S PRE-LAUNCH NEWS CONFERENCE PLAY


VIDEO: THURSDAY STATUS AND WEATHER UPDATE PLAY


VIDEO: COUNTDOWN PREVIEW BRIEFING PLAY


VIDEO: ASTRONAUTS ARRIVE FOR LAUNCH PLAY | HI-DEF



VIDEO: LAUNCH DATE SET AT FLIGHT READINESS REVIEW PLAY


VIDEO: PAYLOAD BAY DOORS CLOSED FOR LAUNCH PLAY | HI-DEF


VIDEO: CREW SEES TRANQUILITY LOADED INTO SHUTTLE PLAY | HI-DEF



VIDEO: SHUTTLE EVACUATION PRACTICE PLAY | HI-DEF


VIDEO: ASTRONAUTS BOARD ENDEAVOUR PLAY | HI-DEF


VIDEO: THE LAUNCH DAY SIMULATION BEGINS PLAY | HI-DEF


VIDEO: PAD BUNKER TRAINING FOR THE CREW PLAY | HI-DEF


VIDEO: CREW BRIEFED ON EMERGENCY PROCEDURES PLAY | HI-DEF


VIDEO: TEST-DRIVING AN EMERGENCY ARMORED TANK PLAY | HI-DEF


VIDEO: NIGHTTIME APPROACHES IN TRAINING AIRCRAFT PLAY | HI-DEF


VIDEO: ASTRONAUTS CHAT WITH REPORTERS AT PAD 39A PLAY


VIDEO: SPACEWALKER UPDATES COOLING HOSE FIX PLAY | HI-DEF


VIDEO: ROBINSON'S THOUGHTS ON SHUTTLE RETIREMENT PLAY | HI-DEF


VIDEO: ASTRONAUTS ARRIVE FOR PRACTICE COUNTDOWN PLAY | HI-DEF



VIDEO: TRANQUILITY DELIVERED TO PAD 39A PLAY | HI-DEF


VIDEO: PAYLOAD TRANSPORTER GOES UPRIGHT PLAY | HI-DEF


VIDEO: PACKING UP PAYLOAD FOR LAUNCH PLAY | HI-DEF



VIDEO: SHUTTLE ENDEAVOUR'S FRIGID ROLLOUT TO PAD PLAY | HI-DEF


VIDEO: ENDEAVOUR HOISTED FOR ATTACHMENT TO TANK PLAY | HI-DEF


VIDEO: CRANE ROTATES THE ORBITER VERTICALLY PLAY | HI-DEF


VIDEO: ENDEAVOUR MOVES TO ASSEMBLY BUILDING PLAY | HI-DEF


VIDEO: TIME-LAPSE SHOWS ENDEAVOUR ASCENDING IN VAB PLAY


VIDEO: TIME-LAPSE SHOWS THE MOVE TO ASSEMBLY BUILDING PLAY



VIDEO: ORBITER READY TO LEAVE HANGAR PLAY | HI-DEF


VIDEO: EXTERNAL TANK ATTACHED TO BOOSTERS PLAY | HI-DEF


VIDEO: ENDEAVOUR'S MAIN ENGINE INSTALLATION PLAY | HI-DEF


VIDEO: ASTRONAUTS VISIT THEIR SPACECRAFT PLAY | HI-DEF


VIDEO: CREW INSPECTS MISSION PAYLOADS PLAY | HI-DEF


VIDEO: FUEL TANK UNLOADED FROM THE BARGE PLAY | HI-DEF


VIDEO: EXTERNAL TANK ARRIVES AT SPACEPORT PLAY | HI-DEF


VIDEO: FORWARD THRUSTER POD CHECKED OUT PLAY | HI-DEF


VIDEO: ENDEAVOUR TOWED OFF RUNWAY FROM STS-127 PLAY | HI-DEF



VIDEO: TRANQUILITY HATCH SEALED FOR LAUNCH PLAY | HI-DEF


VIDEO: CUPOLA ATTACHED TO TRANQUILITY PLAY | HI-DEF


VIDEO: THE SPACE STATION'S NEW CUPOLA PLAY | HI-DEF


VIDEO: TRANQUILITY UNPACKED IN FLORIDA PLAY | HI-DEF


VIDEO: NEW MODULE ARRIVES FROM EUROPE PLAY | HI-DEF


SUBSCRIBE NOW