Endeavour crew sees place in history for the space shuttles
BY JUSTIN RAY
SPACEFLIGHT NOW
Posted: February 2, 2010


With just five space shuttle missions left to fly, the astronauts who will launch aboard Endeavour this weekend are sharing their thoughts on the venerable spaceplanes that'll soon be history.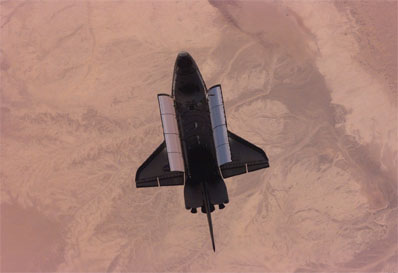 Atlantis orbits high above Earth during one of its missions to build the International Space Station. Credit: NASA



"I've worked on the shuttle since before it flew, worked at NASA Ames on wind tunnel and computational investigations into how the shuttle would fly or how it should be shaped so that it would fly appropriately," said Steve Robinson, a veteran of three shuttle missions and Endeavour's flight engineer.

"Shuttle is a grand statement about America's ability to make a huge leap into the future. Many things the shuttle does that we now sort of take for granted, we had no idea it could even be done before the shuttle flew and we're using the shuttle in ways that we didn't really foresee, much, much more complicated missions than we ever imagined. So we have really learned a lot about becoming a space-faring nation with this vehicle."

Endeavour commander George Zamka says the diverse capabilities of the space shuttles is what will make the vehicles forever memorable.

"It was such an ambitious concept to have its own airlock, to have its own robotic arm to capture and release satellites in space and to land like an airplane. It was a machine that was designed to do a lot of things. We were definitely reaching when we built the space shuttle and we've flown it for 30 years and we have done some amazing things. When interplanetary travel becomes normal I have a feeling we'll look back to the space shuttle and we'll see that we were a lot closer in this time to doing that kind of thing than we thought," Zamka said.

Kay Hire, one of Endeavour's mission specialists, has a unique point-of-view because she worked on the space shuttles at the Kennedy Space Center as a ground team member before being selected as an astronaut.

"The end of the space shuttle program, for me, is definitely mixed emotions. I've been involved with the space shuttle for 20 years. I came to work at the Kennedy Space Center in 1989 and it's been a tremendous experience for me. I'm just so fortunate to have worked the ground aspect of the space shuttle as well as had the opportunity to fly the space shuttle and now going to the International Space Station," Hire said.

"I think so many people didn't really expect it to fly this long, to accomplish so much, but it's been this workhorse that's been able to put humans into space and to work in space," she continued.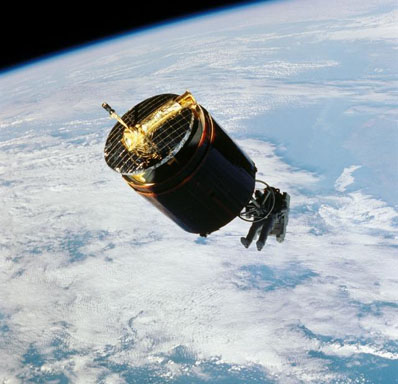 Astronaut Dale Gardner, wearing the Manned Maneuvering Unit, prepares to capture the wayward Westar satellite during the STS-51A mission in 1984. Credit: NASA



"Early on the space shuttle program we had so many times that we not only launched satellites but we did satellite repair. The concept of that is still pretty amazing if you think about just going up and grabbing a spacecraft that's on orbit and going, taking it and repairing and then tossing it back out there. That is just phenomenal that we did that multiple times with the space shuttle.

"And then the ability to bring such large components to the International Space Station up to orbit and then assemble these things on orbit. You think about these components. They were built in different countries at different times. They were never fit-checked together. The complexity of this is mind boggling but we've accomplished this because of the space shuttle and because of the tremendous team that we have that's been working on the space shuttle for so many years."

For mission specialist Nick Patrick, he believes the space shuttles are akin to the vessels that the early explorers used.

"I think the space shuttles will be remembered the way we remember the sailing ships of the past. Our space shuttle Endeavour is named after Captain James Cook's Bark Endeavour which was launched from the town of Whitby in North Yorkshire, about five or ten miles from where I was born," Patrick said.

"We look back on those ships today and we're not so much impressed by what they can do in today's terms but we're impressed by how much they did with them, and I think that's the way we'll look back on the space shuttle. In 50 or 100 years time it won't seem like the most technically advanced vehicle people could imagine. We'll be doing more amazing things but we'll be amazed by how much we did with it, how we managed to assemble an international space station in low Earth orbit with a vehicle that was 20 years old when we started doing it. We'll be amazed at the feats performed by the people who flew it, even if we don't remember who those people all are.

"So I think we'll look back on the space shuttle very fondly and we'll see it as a very important step in our progression from the planet to low Earth orbit to the moon, the planets and then the stars."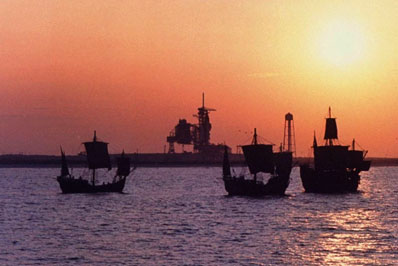 Replicas of Columbus' sailing ships travel by the shuttle launch pad before Endeavour's maiden voyage in 1992. Credit: NASA



"The first flight of shuttle was mostly about getting the shuttle to operate. This amazing machine that would take off like a rocket and land like an airplane and we remember how exciting that all was and over the years we've learned a tremendous amount from it. We've gained a lot of access to space. We've launched and retrieved satellites. We've done missions of ever increasing complexity and we've had some bumps along the way and throughout this timeframe the shuttle program has been executed with a lot of optimism and a lot of grit," said Zamka.

"There's a lot of things that could have turned the shuttle program off or deterred us and we didn't do it. We pressed ahead and I think where we are today is remarkable and I think it's altogether proper that we celebrate the work that has been done on the space shuttle, especially for those that have spent their entire careers on this program. It's given us things that we couldn't have imagined back when we started."

Added Robinson: "I think if we ever get to the point where we can leave this planet with regularity and confidence and safety, we will look back at the shuttle and we'll say, 'Look at that amazing contraption those old fashioned people built. It's amazing that thing ever worked at all, much less hundreds of times. Those guys must've really worked hard to get that complicated contraption to work right every time' and that's true. It takes an awful lot of hard, hard work. The machine doesn't do it for us and I think in that way it's sort of the epitome of what the human motivation and technically educated mind can really accomplish."


Additional coverage for subscribers:


VIDEO: ASTRONAUTS ARRIVE FOR LAUNCH HI-DEF



VIDEO: LAUNCH DATE SET AT FLIGHT READINESS REVIEW PLAY


VIDEO: PAYLOAD BAY DOORS CLOSED FOR LAUNCH PLAY | HI-DEF


VIDEO: CREW SEES TRANQUILITY LOADED INTO SHUTTLE PLAY | HI-DEF



VIDEO: SHUTTLE EVACUATION PRACTICE PLAY | HI-DEF


VIDEO: ASTRONAUTS BOARD ENDEAVOUR PLAY | HI-DEF


VIDEO: THE LAUNCH DAY SIMULATION BEGINS PLAY | HI-DEF


VIDEO: PAD BUNKER TRAINING FOR THE CREW PLAY | HI-DEF


VIDEO: CREW BRIEFED ON EMERGENCY PROCEDURES PLAY | HI-DEF


VIDEO: TEST-DRIVING AN EMERGENCY ARMORED TANK PLAY | HI-DEF


VIDEO: NIGHTTIME APPROACHES IN TRAINING AIRCRAFT PLAY | HI-DEF


VIDEO: ASTRONAUTS CHAT WITH REPORTERS AT PAD 39A PLAY


VIDEO: SPACEWALKER UPDATES COOLING HOSE FIX PLAY | HI-DEF


VIDEO: ROBINSON'S THOUGHTS ON SHUTTLE RETIREMENT PLAY | HI-DEF


VIDEO: ASTRONAUTS ARRIVE FOR PRACTICE COUNTDOWN PLAY | HI-DEF



VIDEO: TRANQUILITY DELIVERED TO PAD 39A PLAY | HI-DEF


VIDEO: PAYLOAD TRANSPORTER GOES UPRIGHT PLAY | HI-DEF


VIDEO: PACKING UP PAYLOAD FOR LAUNCH PLAY | HI-DEF



VIDEO: SHUTTLE ENDEAVOUR'S FRIGID ROLLOUT TO PAD PLAY | HI-DEF


VIDEO: ENDEAVOUR HOISTED FOR ATTACHMENT TO TANK PLAY | HI-DEF


VIDEO: CRANE ROTATES THE ORBITER VERTICALLY PLAY | HI-DEF


VIDEO: ENDEAVOUR MOVES TO ASSEMBLY BUILDING PLAY | HI-DEF


VIDEO: TIME-LAPSE SHOWS ENDEAVOUR ASCENDING IN VAB PLAY


VIDEO: TIME-LAPSE SHOWS THE MOVE TO ASSEMBLY BUILDING PLAY



VIDEO: ORBITER READY TO LEAVE HANGAR PLAY | HI-DEF


VIDEO: EXTERNAL TANK ATTACHED TO BOOSTERS PLAY | HI-DEF


VIDEO: ENDEAVOUR'S MAIN ENGINE INSTALLATION PLAY | HI-DEF


VIDEO: ASTRONAUTS VISIT THEIR SPACECRAFT PLAY | HI-DEF


VIDEO: CREW INSPECTS MISSION PAYLOADS PLAY | HI-DEF


VIDEO: FUEL TANK UNLOADED FROM THE BARGE PLAY | HI-DEF


VIDEO: EXTERNAL TANK ARRIVES AT SPACEPORT PLAY | HI-DEF


VIDEO: FORWARD THRUSTER POD CHECKED OUT PLAY | HI-DEF


VIDEO: ENDEAVOUR TOWED OFF RUNWAY FROM STS-127 PLAY | HI-DEF



VIDEO: TRANQUILITY HATCH SEALED FOR LAUNCH PLAY | HI-DEF


VIDEO: CUPOLA ATTACHED TO TRANQUILITY PLAY | HI-DEF


VIDEO: THE SPACE STATION'S NEW CUPOLA PLAY | HI-DEF


VIDEO: TRANQUILITY UNPACKED IN FLORIDA PLAY | HI-DEF


VIDEO: NEW MODULE ARRIVES FROM EUROPE PLAY | HI-DEF


SUBSCRIBE NOW