Shuttle astronauts arrive
at the Cape for launch
BY JUSTIN RAY
SPACEFLIGHT NOW
Posted: February 2, 2010


Ready to begin counting down to their blastoff aboard the space shuttle Endeavour this weekend, the six astronauts traveled from the Houston training base to the Kennedy Space Center on Tuesday night.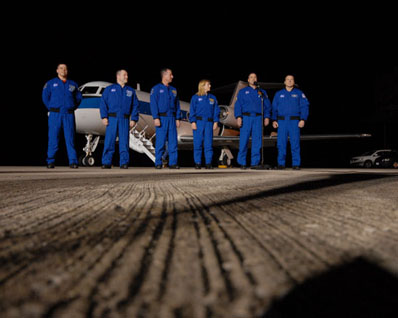 Credit: Ben Cooper/Spaceflight Now



The crew flew to the Cape aboard a Gulfstream jet, landing at about 10:09 p.m. EST on the same runway Endeavour will use to conclude the spaceflight.

"Welcome to the STS-130 night shift! It is the only shift we got. If you are working STS-130, it is going to be dark outside," commander George Zamka told reporters after arriving at the Florida spaceport.

"Hey, it is great to be here at the Cape. We've got Tranquility and cupola loaded up in the space shuttle Endeavour at launch pad 39A and this is the place for us to be."

The crew also includes pilot Terry Virts and mission specialists Kay Hire, Steve Robinson, Nick Patrick and Bob Behnken. Their space voyage is slated for launch at 4:39 a.m. EST Sunday, an event precisely timed based on the International Space Station's orbit.

After making the brief statement to the news media at the runway and posing for photos, the crew was bussed away. Upcoming on their schedule overnight, the astronauts will receive a briefing on their flight data files and check out their spacesuits that will be worn during launch and landing.

They also plan a 6:15 a.m. visit to the Space Station Processing Facility for an inspection of late-delivered items for the mission, including the new ammonia cooling hoses for the Tranquility module that were put together after an earlier design failed pre-flight testing recently.

Bedtime will be 9:45 a.m. EST, as the crew shifts its wake/sleep cycle for the overnight work hours of the mission. They will be awakened at 5:45 p.m. EST Wednesday for a day devoted to landing practice using the Shuttle Training Aircraft and reviewing flight plans.

"We had just done our final ascent (simulation) last night and we're doing final preparations for our mission. Everything with Endeavour sounds like it's going very, very well. We've got a great team here at the Cape and they're doing an excellent job getting ready for 0439 on Sunday, the 7th," Zamka said.

"We talked to the space station crew -- Jeff Williams and company -- last night. They are doing great, and we're all very excited about meeting up with them, rendezvousing with the space station and getting started on on this great project of bringing the Tranquility module to life and putting the cupola in its final position, opening up those shutters and taking a look at the Earth.

"Go Endeavour!"


Additional coverage for subscribers:


VIDEO: ASTRONAUTS ARRIVE FOR LAUNCH PLAY | HI-DEF



VIDEO: LAUNCH DATE SET AT FLIGHT READINESS REVIEW PLAY


VIDEO: PAYLOAD BAY DOORS CLOSED FOR LAUNCH PLAY | HI-DEF


VIDEO: CREW SEES TRANQUILITY LOADED INTO SHUTTLE PLAY | HI-DEF



VIDEO: SHUTTLE EVACUATION PRACTICE PLAY | HI-DEF


VIDEO: ASTRONAUTS BOARD ENDEAVOUR PLAY | HI-DEF


VIDEO: THE LAUNCH DAY SIMULATION BEGINS PLAY | HI-DEF


VIDEO: PAD BUNKER TRAINING FOR THE CREW PLAY | HI-DEF


VIDEO: CREW BRIEFED ON EMERGENCY PROCEDURES PLAY | HI-DEF


VIDEO: TEST-DRIVING AN EMERGENCY ARMORED TANK PLAY | HI-DEF


VIDEO: NIGHTTIME APPROACHES IN TRAINING AIRCRAFT PLAY | HI-DEF


VIDEO: ASTRONAUTS CHAT WITH REPORTERS AT PAD 39A PLAY


VIDEO: SPACEWALKER UPDATES COOLING HOSE FIX PLAY | HI-DEF


VIDEO: ROBINSON'S THOUGHTS ON SHUTTLE RETIREMENT PLAY | HI-DEF


VIDEO: ASTRONAUTS ARRIVE FOR PRACTICE COUNTDOWN PLAY | HI-DEF



VIDEO: TRANQUILITY DELIVERED TO PAD 39A PLAY | HI-DEF


VIDEO: PAYLOAD TRANSPORTER GOES UPRIGHT PLAY | HI-DEF


VIDEO: PACKING UP PAYLOAD FOR LAUNCH PLAY | HI-DEF



VIDEO: SHUTTLE ENDEAVOUR'S FRIGID ROLLOUT TO PAD PLAY | HI-DEF


VIDEO: ENDEAVOUR HOISTED FOR ATTACHMENT TO TANK PLAY | HI-DEF


VIDEO: CRANE ROTATES THE ORBITER VERTICALLY PLAY | HI-DEF


VIDEO: ENDEAVOUR MOVES TO ASSEMBLY BUILDING PLAY | HI-DEF


VIDEO: TIME-LAPSE SHOWS ENDEAVOUR ASCENDING IN VAB PLAY


VIDEO: TIME-LAPSE SHOWS THE MOVE TO ASSEMBLY BUILDING PLAY



VIDEO: ORBITER READY TO LEAVE HANGAR PLAY | HI-DEF


VIDEO: EXTERNAL TANK ATTACHED TO BOOSTERS PLAY | HI-DEF


VIDEO: ENDEAVOUR'S MAIN ENGINE INSTALLATION PLAY | HI-DEF


VIDEO: ASTRONAUTS VISIT THEIR SPACECRAFT PLAY | HI-DEF


VIDEO: CREW INSPECTS MISSION PAYLOADS PLAY | HI-DEF


VIDEO: FUEL TANK UNLOADED FROM THE BARGE PLAY | HI-DEF


VIDEO: EXTERNAL TANK ARRIVES AT SPACEPORT PLAY | HI-DEF


VIDEO: FORWARD THRUSTER POD CHECKED OUT PLAY | HI-DEF


VIDEO: ENDEAVOUR TOWED OFF RUNWAY FROM STS-127 PLAY | HI-DEF



VIDEO: TRANQUILITY HATCH SEALED FOR LAUNCH PLAY | HI-DEF


VIDEO: CUPOLA ATTACHED TO TRANQUILITY PLAY | HI-DEF


VIDEO: THE SPACE STATION'S NEW CUPOLA PLAY | HI-DEF


VIDEO: TRANQUILITY UNPACKED IN FLORIDA PLAY | HI-DEF


VIDEO: NEW MODULE ARRIVES FROM EUROPE PLAY | HI-DEF


SUBSCRIBE NOW