Station crew clears spot for new module launching soon
BY JUSTIN RAY
SPACEFLIGHT NOW
Posted: January 25, 2010


While launch pad technicians were buttoning up Endeavour's payload bay on Saturday, the crew aboard the International Space Station completed a critical robotics job to vacate the port where a new module will be attached during the space shuttle mission.
The station astronauts used the Canadian-built robotic arm to remove the Pressurized Mating Adapter No. 3 from the left side of the station's Unity node and relocate the conical structure to the top side of the Harmony module.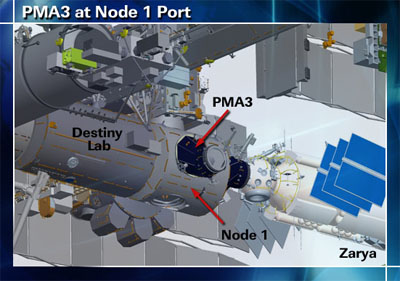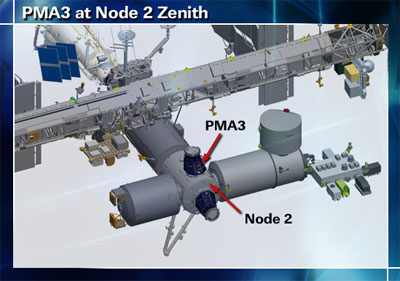 Artist's concepts show PMA No. 3 on the side of Unity before the move (top image) and its new location on Harmony (bottom image). Credit: NASA



The PMAs are tunnel-like and serve as connectors between two large objects at the space station. PMA No 1. bridges the divide between U.S. and Russian segments of the station by connecting Unity to Zarya. PMA No. 2 is anchored on the front of Harmony and is the docking port used by space shuttles.

A successful transfer of PMA No. 3 from its storage spot on the side of Unity was seen as a major step in preparations for Endeavour's upcoming construction mission. The shuttle will deliver the new Tranquility module and attach it to the same port where the PMA had been residing.

After Tranquility is hooked up and activated during the shuttle visit, the astronauts will again use the Canadian arm to move PMA No. 3, shifting the adapter to the new module's outer berthing slot.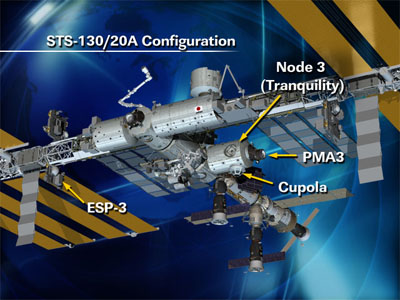 An artist's concept shows space station's new configuration after Endeavour's construction mission to deliver Tranquility. Credit: NASA



Down at the Kennedy Space Center, the Italian-made Tranquility has been tucked inside Endeavour's cargo hold and secured for blastoff. The shuttle's 60-foot-long payload bay doors were closed and locked for flight on Saturday.

Senior officials will gather at KSC on Wednesday for the Flight Readiness Review. The meeting will examine all aspects of mission preparations and formally schedule Endeavour's launch date.

NASA says there are no major constraints being addressed and that liftoff remains targeted for 4:39 a.m. EST on February 7.


Additional coverage for subscribers:


VIDEO: SHUTTLE EVACUATION PRACTICE PLAY | HI-DEF


VIDEO: ASTRONAUTS BOARD ENDEAVOUR PLAY | HI-DEF


VIDEO: THE LAUNCH DAY SIMULATION BEGINS PLAY | HI-DEF


VIDEO: PAD BUNKER TRAINING FOR THE CREW PLAY | HI-DEF


VIDEO: CREW BRIEFED ON EMERGENCY PROCEDURES PLAY | HI-DEF


VIDEO: TEST-DRIVING AN EMERGENCY ARMORED TANK PLAY | HI-DEF


VIDEO: NIGHTTIME APPROACHES IN TRAINING AIRCRAFT PLAY | HI-DEF


VIDEO: ASTRONAUTS CHAT WITH REPORTERS AT PAD 39A PLAY


VIDEO: SPACEWALKER UPDATES COOLING HOSE FIX PLAY | HI-DEF


VIDEO: ROBINSON'S THOUGHTS ON SHUTTLE RETIREMENT PLAY | HI-DEF


VIDEO: ASTRONAUTS ARRIVE FOR PRACTICE COUNTDOWN PLAY | HI-DEF



VIDEO: TRANQUILITY DELIVERED TO PAD 39A PLAY | HI-DEF


VIDEO: PAYLOAD TRANSPORTER GOES UPRIGHT PLAY | HI-DEF


VIDEO: PACKING UP PAYLOAD FOR LAUNCH PLAY | HI-DEF



VIDEO: SHUTTLE ENDEAVOUR'S FRIGID ROLLOUT TO PAD PLAY | HI-DEF


VIDEO: ENDEAVOUR HOISTED FOR ATTACHMENT TO TANK PLAY | HI-DEF


VIDEO: CRANE ROTATES THE ORBITER VERTICALLY PLAY | HI-DEF


VIDEO: ENDEAVOUR MOVES TO ASSEMBLY BUILDING PLAY | HI-DEF


VIDEO: TIME-LAPSE SHOWS ENDEAVOUR ASCENDING IN VAB PLAY


VIDEO: TIME-LAPSE SHOWS THE MOVE TO ASSEMBLY BUILDING PLAY



VIDEO: ORBITER READY TO LEAVE HANGAR PLAY | HI-DEF


VIDEO: EXTERNAL TANK ATTACHED TO BOOSTERS PLAY | HI-DEF


VIDEO: ENDEAVOUR'S MAIN ENGINE INSTALLATION PLAY | HI-DEF


VIDEO: ASTRONAUTS VISIT THEIR SPACECRAFT PLAY | HI-DEF


VIDEO: CREW INSPECTS MISSION PAYLOADS PLAY | HI-DEF


VIDEO: FUEL TANK UNLOADED FROM THE BARGE PLAY | HI-DEF


VIDEO: EXTERNAL TANK ARRIVES AT SPACEPORT PLAY | HI-DEF


VIDEO: FORWARD THRUSTER POD CHECKED OUT PLAY | HI-DEF


VIDEO: ENDEAVOUR TOWED OFF RUNWAY FROM STS-127 PLAY | HI-DEF



VIDEO: TRANQUILITY HATCH SEALED FOR LAUNCH PLAY | HI-DEF


VIDEO: CUPOLA ATTACHED TO TRANQUILITY PLAY | HI-DEF


VIDEO: THE SPACE STATION'S NEW CUPOLA PLAY | HI-DEF


VIDEO: TRANQUILITY UNPACKED IN FLORIDA PLAY | HI-DEF


VIDEO: NEW MODULE ARRIVES FROM EUROPE PLAY | HI-DEF


SUBSCRIBE NOW