Endeavour crew boards the spacecraft for rehearsal
BY JUSTIN RAY
SPACEFLIGHT NOW
Posted: January 21, 2010


Dressed in their bright orange spacesuits and following the scripted launch morning routine, the six astronauts who will blast off aboard Endeavour next month went to the launch pad and climbed inside the shuttle today for a realistic dry run.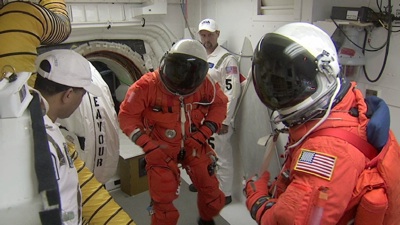 Members of the crew exit Endeavour after the countdown. Credit: NASA TV



Commander George Zamka, pilot Terry Virts and mission specialists Kay Hire, Steve Robinson, Bob Behnken and Nick Patrick wrapped up the countdown simulation in preparation for the February 7 launch to the International Space Station.

The mock countdown culminated several days of emergency skills training and practicing for the real launch that's coming up in a few weeks.

The Astrovan delivered the astronauts to the seaside pad around 8 a.m. EST to begin entering the orbiter and taking their assigned seats just like the actual countdown.

Clocks ticked down to T-minus 4 seconds before ending with a mock abort at 11:05 a.m. EST. The final count also practiced holds at the intermediate way points of T-minus 5 minutes and T-minus 1 minute, 57 seconds.

The Terminal Countdown Demonstration Test concluded with the astronauts exiting the shuttle to rehearse emergency evacuation procedures and hopping in the escape baskets hanging on the launch tower.

Still to come during the visit, the crew will stop by the pad's cleanroom for a close inspection of the mission payloads. The Tranquility module and attached cupola for the International Space Station were installed into Endeavour's cargo bay on Wednesday.

They will fly back to Houston on Friday morning to finish final training there.

The two-week orbital voyage is the first of five shuttle missions planned this year before the venerable spaceplanes are retired from service. Robinson said the crew isn't dwelling on the program's ending, but surely will reflect after they return from space.

"We're thinking about STS-130 every minute of every day. But it occurs to me that when we come back, the reality of what this year really means to the space shuttle program is going to set in. And it's bittersweet. We all love the shuttle -- look at that grand thing, look at what human beings can do.

"But the history of space travel has shown that when one program ends the next program is even more exciting, more motivating, more compelling to go into the future than the one before it. We don't exactly know what's going to happen after the shuttle, but we do believe that's going to be the case."


Additional coverage for subscribers:


VIDEO: SHUTTLE EVACUATION PRACTICE PLAY | HI-DEF


VIDEO: ASTRONAUTS BOARD ENDEAVOUR PLAY | HI-DEF


VIDEO: THE LAUNCH DAY SIMULATION BEGINS PLAY | HI-DEF


VIDEO: PAD BUNKER TRAINING FOR THE CREW PLAY | HI-DEF


VIDEO: CREW BRIEFED ON EMERGENCY PROCEDURES PLAY | HI-DEF


VIDEO: TEST-DRIVING AN EMERGENCY ARMORED TANK PLAY | HI-DEF


VIDEO: NIGHTTIME APPROACHES IN TRAINING AIRCRAFT PLAY | HI-DEF


VIDEO: ASTRONAUTS CHAT WITH REPORTERS AT PAD 39A PLAY


VIDEO: SPACEWALKER UPDATES COOLING HOSE FIX PLAY | HI-DEF


VIDEO: ROBINSON'S THOUGHTS ON SHUTTLE RETIREMENT PLAY | HI-DEF


VIDEO: ASTRONAUTS ARRIVE FOR PRACTICE COUNTDOWN PLAY | HI-DEF



VIDEO: TRANQUILITY DELIVERED TO PAD 39A PLAY | HI-DEF


VIDEO: PAYLOAD TRANSPORTER GOES UPRIGHT PLAY | HI-DEF


VIDEO: PACKING UP PAYLOAD FOR LAUNCH PLAY | HI-DEF



VIDEO: SHUTTLE ENDEAVOUR'S FRIGID ROLLOUT TO PAD PLAY | HI-DEF


VIDEO: ENDEAVOUR HOISTED FOR ATTACHMENT TO TANK PLAY | HI-DEF


VIDEO: CRANE ROTATES THE ORBITER VERTICALLY PLAY | HI-DEF


VIDEO: ENDEAVOUR MOVES TO ASSEMBLY BUILDING PLAY | HI-DEF


VIDEO: TIME-LAPSE SHOWS ENDEAVOUR ASCENDING IN VAB PLAY


VIDEO: TIME-LAPSE SHOWS THE MOVE TO ASSEMBLY BUILDING PLAY



VIDEO: ORBITER READY TO LEAVE HANGAR PLAY | HI-DEF


VIDEO: EXTERNAL TANK ATTACHED TO BOOSTERS PLAY | HI-DEF


VIDEO: ENDEAVOUR'S MAIN ENGINE INSTALLATION PLAY | HI-DEF


VIDEO: ASTRONAUTS VISIT THEIR SPACECRAFT PLAY | HI-DEF


VIDEO: CREW INSPECTS MISSION PAYLOADS PLAY | HI-DEF


VIDEO: FUEL TANK UNLOADED FROM THE BARGE PLAY | HI-DEF


VIDEO: EXTERNAL TANK ARRIVES AT SPACEPORT PLAY | HI-DEF


VIDEO: FORWARD THRUSTER POD CHECKED OUT PLAY | HI-DEF


VIDEO: ENDEAVOUR TOWED OFF RUNWAY FROM STS-127 PLAY | HI-DEF



VIDEO: TRANQUILITY HATCH SEALED FOR LAUNCH PLAY | HI-DEF


VIDEO: CUPOLA ATTACHED TO TRANQUILITY PLAY | HI-DEF


VIDEO: THE SPACE STATION'S NEW CUPOLA PLAY | HI-DEF


VIDEO: TRANQUILITY UNPACKED IN FLORIDA PLAY | HI-DEF


VIDEO: NEW MODULE ARRIVES FROM EUROPE PLAY | HI-DEF


SUBSCRIBE NOW