Next shuttle mission faces changes due to payload issue
BY WILLIAM HARWOOD
STORY WRITTEN FOR CBS NEWS "SPACE PLACE" & USED WITH PERMISSION
Posted: January 8, 2010


Problems with ammonia lines and connectors needed to route cooling to and from a new space station module scheduled for launch aboard the shuttle Endeavour Feb. 7 could force NASA managers to modify or delay the assembly flight, sources said Friday.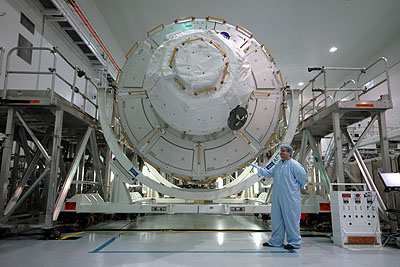 The Tranquility module inside Kennedy Space Center's Space Station Processing Facility. Credit: Ben Cooper/Spaceflight Now



But a delay is far from certain. Engineers said it may be possible to clear the lines for use as is, allowing Endeavour's crew to take off on time. If the lines can't be used, NASA could opt to launch the new module on time but delay its activation until new lines can be installed during a subsequent flight.

Sources said senior managers have ruled out delaying Endeavour's launching until after a flight currently scheduled for mid March.

Endeavour and a crew of six are currently scheduled for launch at 4:39 a.m. EST on Feb. 7 to deliver node 3, or Tranquility, to the International Space Station. Tranquility, attached to the left side of the central Unity module, will house critical life support equipment and exercise gear currently housed in other station modules.

Those systems require cooling and the module was designed to be connected to the station's external ammonia coolant loops.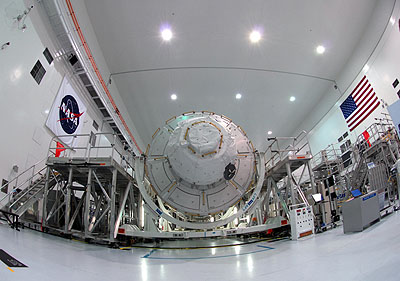 Credit: Ben Cooper/Spaceflight Now
See larger image here



NASA managers originally intended to attach Tranquility to Unity's Earth-facing port but later decided to mount it on the left side instead. Connectors needed to circulate ammonia coolant to and from Tranquility were not correctly positioned, or "clocked," for Tranquility to be attached to Unity's left-side port.

As a result, custom hoses were ordered to compensate for the offset. During a ground test this week, a hose ruptured below the expected threshold. The failure occurred at a much higher than normal pressure, but engineers are looking into the issue to find out what might be needed to resolve the matter.

Endeavour was hauled to the pad Wednesday and there are no problems with the spacecraft that would preclude an on-time launch. Sources said senior managers have ruled out rolling Endeavour back to the Vehicle Assembly Building and proceeding instead with the next flight in the sequence.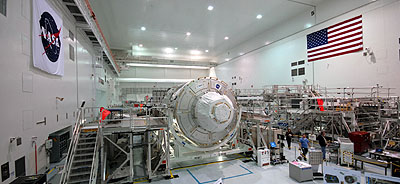 A panoramic view of Tranquility and the Space Station Processing Facility. Credit: Ben Cooper/Spaceflight Now
See larger image here



Additional testing may show the hoses are acceptable for flight as is, a manager told CBS News. If not, engineers also are considering whether Tranquility can be launched on time, delaying its activation and connecting "keep-alive" power until new or redesigned hoses can be launched and installed during a later flight.

Space station engineers and managers plan to discuss the issue in more detail Tuesday.


Additional coverage for subscribers:


VIDEO: TIME-LAPSE SHOWS ENDEAVOUR'S PAD ARRIVAL PLAY


VIDEO: ENDEAVOUR HOISTED FOR ATTACHMENT TO TANK PLAY | HI-DEF


VIDEO: CRANE ROTATES THE ORBITER VERTICALLY PLAY | HI-DEF


VIDEO: ENDEAVOUR MOVES TO ASSEMBLY BUILDING PLAY | HI-DEF


VIDEO: TIME-LAPSE SHOWS ENDEAVOUR ASCENDING IN VAB PLAY


VIDEO: TIME-LAPSE SHOWS THE MOVE TO ASSEMBLY BUILDING PLAY


SUBSCRIBE NOW