Shuttle glides back to Earth with seven astronauts
BY WILLIAM HARWOOD
STORY WRITTEN FOR CBS NEWS "SPACE PLACE" & USED WITH PERMISSION
Posted: November 27, 2009


The shuttle Atlantis dropped out of a crystal clear Florida sky and glided to a "picture-perfect" landing at the Kennedy Space Center Friday to close out a successful 11-day space station mission, bringing astronaut Nicole Stott back to Earth after 91 days in space.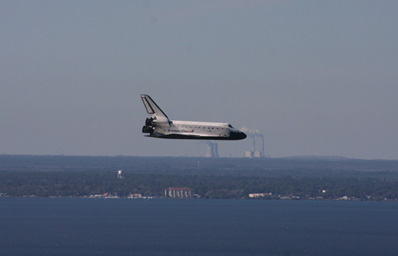 Credit: Stephen Clark/Spaceflight Now



With commander Charles Hobaugh at the controls, Atlantis executed a sweeping right overhead turn to line up on runway 33, pilot Barry Wilmore deployed the ship's landing gear and the shuttle settled to a tire-smoking touchdown at 9:44:23 a.m. EST.

"Houston, Atlantis, wheels stopped," Hobaugh radioed as the orbiter rolled to a halt on the runway centerline.

"Roger, wheels stopped, Atlantis, that was a picture-perfect end to a top-fuel mission to the space station," replied astronaut Chris Ferguson from mission control at the Johnson Space Center. "Everybody, welcome back to Earth, especially you, Nicole."

Mission duration was 10 days 19 hours 16 minutes and 13 seconds, covering a distance of 4.4 million miles and 171 complete orbits since blastoff from pad 39A at 2:28:10 p.m. on Nov. 16.

"This was just an amazing mission," said Bill Gerstenmaier, NASA's chief of space operations. "An on-time launch, on-time landing ... just a phenomenal team effort across the board. ... The folks did great, the vehicle did good, the folks who did all the processing down here did a great job giving us a very good vehicle."

Hobaugh, Wilmore, flight engineer Leland Melvin and spacewalkers Robert Satcher, Michael Foreman and Randolph Bresnik doffed their pressure suits for a traditional runway inspection about an hour after touchdown.

"We really had truly an amazing mission," Hobaugh said on the runway. "It was not us, it was not any single group, but it was just an incredible team from all around the nation.

"We were lucky, I mean, part of it's luck and part of it's just pure, great skill, workmanship in processing Atlantis, getting it ready for us. We had no hitches, we went off on time, we landed on time. ... Nicole came back with us, she's doing great, she's headed back to see her family."

Launched to the lab in August, Stott made the trip back to Earth resting on her back in a recumbent seat on the shuttle's lower deck to ease her return to gravity after 91 days in orbit.

Flight surgeons were standing by to help her off the shuttle and carry out initial medical checks before accompanying her to crew quarters for a more detailed exam. Looking comfortable and in good spirits, she told a NASA interviewer a few hours later that while her vestibular system had not yet re-adapted to gravity, she was in good shape and glad to be home.

"As you move, everything else seems to be moving around you," she said. "And it's not a spinning, dizzy feel, it's more if I get up, then everything else seems to want to move up. ... But other than that, the main thing was when they opened the hatch, it smelled like fresh, clean, fall air. And that was really nice."

Her husband and 7-year-old son were on hand to welcome her back to Earth and "I have the promise of a Coca-Cola with crushed ice in a styrofoam cup and some good food, Thanksgiving left overs, waiting for me upstairs. There are also nice, warm showers here so that's a definite luxury I think I will enjoy for some time."

Stott, Hobaugh, Wilmore, Melvin, Foreman, and Satcher planned to fly back to Houston early Saturday. Bresnik, whose wife Rebecca gave birth to the couple's second child on Saturday, flew home right away aboard a NASA training jet to meet his daughter for the first time.

Stott is the last space station crew member to launch and land aboard a space shuttle. With just five more shuttle missions before the fleet is retired next year, all future U.S. station astronauts will fly to and from the lab complex aboard Russian Soyuz capsules.

Stott's former station crewmates face a busy weekend in orbit preparing for the Dec. 1 departure and landing of Expedition 21 commander Frank De Winne, cosmonaut Roman Romanenko and Canadian astronaut Robert Thirsk, who were launched to the lab May 27. They are scheduled to land in Kazakhstan aboard the Soyuz TMA-15 capsule around 2:16 a.m. EST Tuesday to close out a 188-day stay in space.

Expedition 22 commander Jeffrey Williams and cosmonaut Maxim Suraev, who arrived at the lab complex in October, will have the outpost to themselves until Dec. 23 when three fresh crew members - cosmonaut Oleg Kotov, astronaut Timothy Creamer and Japanese astronaut Soichi Noguchi - are scheduled to arrive.

In the midst of departure preparations, flight controllers were tracking a piece of debris from a Delta rocket body that was expected to pass by the station Saturday evening. The station crew may be asked to carry out an avoidance maneuver rocket firing if additional tracking indicates the debris might pass too close.

Hobaugh and his shuttle crewmates delivered nearly 15 tons of spare parts and equipment to the space station, including two pallets loaded with large components as a hedge against failures after the shuttle is retired.

The gear included two orientation control gyroscopes, a spare pump module, nitrogen pressurization tank and ammonia coolant for the lab's external cooling system, equipment for the mobile transporter that carries the station's mechanical arm, a new latching end effector, or hand, for the space crane, and equipment for the lab's electrical system.

The astronauts also carried out three spacewalks to prepare the complex for the attachment of NASA's final major module in February and the eventual arrival of additional spare parts and equipment that will be ferried up next year. In addition, a high-pressure oxygen tank was attached to the station's Quest airlock module.

For the trip back to Earth, the shuttle carried 2,100 pounds of station gear, including a urine distillation centrifuge that failed shortly before Atlantis took off. A replacement will be carried aloft on the next shuttle mission in February.

Atlantis' mission was one of the most trouble free in recent memory and re-entry Friday went off without a hitch.

Flying upside down and backward over the southern Indian Ocean, Hobaugh and Wilmore fired the ship's twin orbital maneuvering system for two minutes and 47 seconds starting at 8:37 a.m., slowing the ship by 211 mph to drop it out of orbit.

After a half-hour free fall, Atlantis plunged into the discernible atmosphere 400,000 feet above the Pacific Ocean around 9:13 a.m., its nose pitched up to a 40-degree angle of attack for the onset of atmospheric heating.

Following a southwest-to-northeast trajectory, the shuttle's computer-controlled entry carried it above Central America and just off the extreme western tip of Cuba before a descent across southern Florida to the Kennedy Space Center.


Additional coverage for subscribers:


VIDEO: SHUTTLE ATLANTIS LANDS IN FLORIDA PLAY | HI-DEF


VIDEO: OBJECT FALLS IN INFRARED PLAY | PAST IR VIEWS


VIDEO: POST-LANDING PRESS CONFERENCE PLAY



VIDEO: LANDING REPLAY: VIEW OUT THE PILOT'S WINDOW PLAY


VIDEO: LANDING REPLAY: INSIDE MISSION CONTROL CENTER PLAY


VIDEO: LANDING REPLAY: SOUTH END OF RUNWAY PLAY


VIDEO: LANDING REPLAY: RUNWAY MID-FIELD PLAY | HI-DEF


VIDEO: LANDING REPLAY: EAST SIDE OF RUNWAY PLAY | HI-DEF


VIDEO: LANDING REPLAY: WEST SIDE OF RUNWAY PLAY | HI-DEF


VIDEO: LANDING REPLAY: LONG-RANGE TRACKER PLAY | HI-DEF


VIDEO: LANDING REPLAY: VEHICLE ASSEMBLY BUILDING PLAY | HI-DEF



VIDEO: THE FLIGHT DAY 11 HIGHLIGHTS MOVIE PLAY


VIDEO: PRE-LANDING MISSION STATUS BRIEFING PLAY


VIDEO: CREW INTERVIEWED BY ABC, LOS ANGELES AND TAMPA TV PLAY



VIDEO: THE FLIGHT DAY 10 HIGHLIGHTS MOVIE PLAY


VIDEO: UPDATE FROM MISSION MANAGEMENT TEAM PLAY


VIDEO: WEDNESDAY'S MISSION STATUS BRIEFING PLAY


VIDEO: INSPECTION BOOM UNBERTHED FOR HEAT SHIELD CHECKS PLAY


VIDEO: VIEWS OF ATLANTIS DURING FLYAROUND MANEUVER PLAY


VIDEO: SHUTTLE ATLANTIS UNDOCKS FROM SPACE STATION PLAY


VIDEO: PREVIEW OF ACTIVITIES ON FLIGHT DAY 10 PLAY



VIDEO: THE FLIGHT DAY 9 HIGHLIGHTS MOVIE PLAY


VIDEO: TUESDAY'S MISSION STATUS BRIEFING PLAY


VIDEO: ATLANTIS ASTRONAUTS BID FAREWELL TO STATION CREW PLAY


VIDEO: SPACE STATION EXPEDITION CHANGE OF COMMAND PLAY


VIDEO: SHUTTLE AND STATION CREW JOINT CONFERENCE PLAY


VIDEO: PREVIEW OF ACTIVITIES ON FLIGHT DAY 9 PLAY


VIDEO: TUESDAY MORNING'S FLIGHT DIRECTOR INTERVIEW PLAY



VIDEO: THE FLIGHT DAY 8 HIGHLIGHTS MOVIE PLAY


VIDEO: MONDAY'S MISSION STATUS BRIEFING PLAY


VIDEO: ENDING OF MISSION'S THIRD AND FINAL SPACEWALK PLAY


VIDEO: SPACEWALKERS INSTALL OXYGEN TANK ONTO AIRLOCK PLAY


VIDEO: HIGH-PRESSURE OXYGEN TANK REMOVED FROM PALLET PLAY


VIDEO: GATHERING SCIENCE CASES FROM SHUTTLE BAY PLAY


VIDEO: PREVIEW OF ACTIVITIES ON FLIGHT DAY 8 PLAY


VIDEO: MONDAY MORNING'S FLIGHT DIRECTOR INTERVIEW PLAY



VIDEO: LEFT-HAND BOOSTER CAMERA LOOKING UPWARD PLAY


VIDEO: LEFT-HAND BOOSTER CAMERA LOOKING INBOARD PLAY


VIDEO: LEFT-HAND BOOSTER CAMERA LOOKING DOWNWARD PLAY


VIDEO: RIGHT-HAND BOOSTER CAMERA LOOKING UPWARD PLAY


VIDEO: RIGHT-HAND BOOSTER CAMERA LOOKING INBOARD PLAY


VIDEO: RIGHT-HAND BOOSTER CAMERA LOOKING DOWNWARD PLAY


VIDEO: EXTERNAL TANK CAMERA FROM LIFTOFF TO SEPARATION PLAY



VIDEO: THE FLIGHT DAY 7 HIGHLIGHTS MOVIE PLAY


VIDEO: PRE-FLIGHT INTERVIEW WITH RANDY AND REBECCA PLAY


VIDEO: BIRTH OF BABY BRESNIK ANNOUNCED FROM ORBIT PLAY


VIDEO: EDUCATIONAL EVENT WITH TENNESSEE TECH UNIVERSITY PLAY


VIDEO: WASHINGTON, TAMPA AND CHICAGO MEDIA INTERVIEWS PLAY


VIDEO: SUNDAY MORNING'S FLIGHT DIRECTOR INTERVIEW PLAY



VIDEO: THE FLIGHT DAY 6 HIGHLIGHTS MOVIE PLAY


VIDEO: SATURDAY'S MISSION STATUS BRIEFING PLAY


VIDEO: SPACEWALKERS INSTALL WIRELESS VIDEO ANTENNA PLAY


VIDEO: MEASUREMENT PROBE RELOCATED ON STATION TRUSSES PLAY


VIDEO: EXPERIMENTAL COMMUNICATION PACKAGE INSTALLED PLAY


VIDEO: SECOND SPARE PARTS PALLET MOVED TO STATION PLAY


VIDEO: STEP-BY-STEP SUMMARY OF SPACEWALK NO. 2 PLAY


VIDEO: PREVIEW OF ACTIVITIES ON FLIGHT DAY 6 PLAY


VIDEO: SATURDAY MORNING'S FLIGHT DIRECTOR INTERVIEW PLAY



VIDEO: THE FLIGHT DAY 5 HIGHLIGHTS MOVIE PLAY


VIDEO: FRIDAY'S MISSION STATUS BRIEFING PLAY


VIDEO: ESPN, BET AND RICHMOND TV INTERVIEWS PLAY


VIDEO: MELVIN AND SATCHER ON MORNING RADIO SHOW PLAY


VIDEO: CBS, NASHVILLE TV AND FOX RADIO INTERVIEWS PLAY



VIDEO: THE FLIGHT DAY 4 HIGHLIGHTS MOVIE PLAY


VIDEO: THURSDAY'S MISSION STATUS BRIEFING PLAY


VIDEO: SPAEWALKERS HAMMER STUCK BRACE ON TRUSS PLAY


VIDEO: MAINTENANCE WORK ON JAPANESE ROBOT ARM PLAY


VIDEO: ENJOYING THE VIEW OF SHUTTLE AND STATION PLAY


VIDEO: REFURBISHED S-BAND ANTENNA INSTALLED PLAY


VIDEO: ASTRONAUTS MOVE ANTENNA FROM SHUTTLE PLAY


VIDEO: SPACEWALK NO. 1 GETS UNDERWAY PLAY


VIDEO: STEP-BY-STEP SUMMARY OF SPACEWALK NO. 1 PLAY


VIDEO: PREVIEW OF ACTIVITIES ON FLIGHT DAY 4 PLAY


VIDEO: THURSDAY MORNING'S FLIGHT DIRECTOR INTERVIEW PLAY



VIDEO: AERIAL LAUNCH AND SRB SPLASHDOWN FOOTAGE PLAY



VIDEO: THE FLIGHT DAY 3 HIGHLIGHTS MOVIE PLAY


VIDEO: WEDNESDAY AFTERNOON'S MANAGEMENT TEAM UPDATE PLAY


VIDEO: SPARE PARTS CARRIER INSTALLED ONTO STATION PLAY


VIDEO: SHUTTLE ARM HANDS PALLET TO STATION'S ARM PLAY


VIDEO: LOGISTICS CARRIER 1 UNBERTHED FROM SHUTTLE PLAY


VIDEO: WEDNESDAY'S MISSION STATUS BRIEFING PLAY


VIDEO: SHUTTLE CREW FLOATS INTO STATION PLAY


VIDEO: ATLANTIS DOCKS TO THE SPACE STATION PLAY


VIDEO: SPACE SHUTTLE PERFORMS 360-DEGREE BACKFLIP PLAY


VIDEO: BEAUTIFUL VIEWS OF ATLANTIS APPROACHING PLAY


VIDEO: SUMMARY OF THE SPARE PARTS PALLETS PLAY


VIDEO: PREVIEW OF PALLET NO. 1 DELIVERY ON FLIGHT DAY 3 PLAY


VIDEO: NARRATED PREVIEW OF RENDEZVOUS AND DOCKING PLAY



VIDEO: THE FLIGHT DAY 2 HIGHLIGHTS MOVIE PLAY


VIDEO: TUESDAY AFTERNOON'S MANAGEMENT TEAM UPDATE PLAY


VIDEO: ROBOT ARM GRAPPLES LOGISTICS CARRIER 1 PLAY


VIDEO: TUESDAY AFTERNOON'S MISSION STATUS BRIEFING PLAY


VIDEO: PREVIEW OF ACTIVITIES ON FLIGHT DAY 2 PLAY


VIDEO: NARRATED TOUR OF THE PAYLOAD BAY PLAY



VIDEO: THE FLIGHT DAY 1 HIGHLIGHTS MOVIE PLAY


VIDEO: LAUNCH REPLAY: INSIDE MISSION CONTROL ROOM PLAY


VIDEO: LAUNCH REPLAYS: EXTERNAL TANK CAMERA PLAY


VIDEO: POST-LAUNCH PRESS CONFERENCE PLAY



VIDEO: CREW FINISHES GETTING SUITED UP PLAY | HI-DEF


VIDEO: ASTRONAUTS LEAVE CREW QUARTERS PLAY | HI-DEF


VIDEO: LIFTOFF OF SPACE SHUTTLE ATLANTIS! PLAY | HI-DEF



VIDEO: LAUNCH REPLAY: PRESS SITE PLAY | HI-DEF


VIDEO: LAUNCH REPLAY: PAD PERIMETER PLAY | HI-DEF


VIDEO: LAUNCH REPLAY: BEACH TRACKER PLAY | HI-DEF


VIDEO: LAUNCH REPLAY: PAD CAEMRA 070 PLAY | HI-DEF


VIDEO: LAUNCH REPLAY: PAD CAEMRA 071 PLAY | HI-DEF


VIDEO: LAUNCH REPLAY: WEST TOWER SITE PLAY | HI-DEF


VIDEO: LAUNCH REPLAY: UCS-23 TRACKER PLAY | HI-DEF


VIDEO: LAUNCH REPLAY: PLAYALINDA BEACH PLAY | HI-DEF


VIDEO: LAUNCH REPLAY: PAD FRONT CAMERA PLAY | HI-DEF


VIDEO: LAUNCH REPLAY: VAB ROOF PLAY | HI-DEF



VIDEO: NARRATED REVIEW OF SHUTTLE'S PREPARATIONS HI-DEF


VIDEO: NARRATED REVIEW OF PAYLOADS' PREPARATIONS HI-DEF



VIDEO: STUNNING SUNSET ROLLBACK OF PAD GANTRY PLAY | HI-DEF


VIDEO: A LOOK AT SPACE STATION SCIENCE RESEARCH PLAY


VIDEO: THE STS-129 PRE-LAUNCH PRESS CONFERENCE PLAY


VIDEO: COUNTDOWN PREVIEW AND WEATHER BRIEFING PLAY


VIDEO: ASTRONAUTS ARRIVE FOR LAUNCH PLAY | HI-DEF



VIDEO: NARRATED MISSION OVERVIEW MOVIE PLAY | HI-DEF


VIDEO: MEET SHUTTLE ATLANTIS' ASTRONAUTS PLAY | HI-DEF



VIDEO: ASTRONAUTS TOUR PAD'S CLEANROOM PLAY | HI-DEF


VIDEO: SHUTTLE EVACUATION PRACTICE PLAY | HI-DEF


VIDEO: CREW BOARDS SHUTTLE FOR TEST PLAY | HI-DEF


VIDEO: THE LAUNCH DAY SIMULATION BEGINS PLAY | HI-DEF


VIDEO: CREW ARRIVES FOR PRACTICE COUNTDOWN PLAY | HI-DEF



VIDEO: PAYLOADS DELIVERED TO PAD 39A PLAY | HI-DEF


VIDEO: PLACING PAYLOADS INTO TRANSPORTER PLAY | HI-DEF



VIDEO: FLIGHT READINESS REVIEW SETS LAUNCH DATE PLAY



VIDEO: CREW BRIEFED ON EMERGENCY PROCEDURES PLAY | HI-DEF


VIDEO: TEST-DRIVING EMERGENCY ARMORED TANK PLAY | HI-DEF


VIDEO: CREW ARRIVES AT CAPE FOR TRAINING PLAY | HI-DEF



VIDEO: SHUTTLE AND STATION PROGRAM UPDATE PLAY


VIDEO: THE STS-129 MISSION OVERVIEW BRIEFING PLAY


VIDEO: PREVIEW BRIEFING ON MISSION'S SPACEWALKS PLAY


VIDEO: THE ASTRONAUTS' PRE-FLIGHT NEWS BRIEFING PLAY



VIDEO: SPACE SHUTTLE ROLLOUT IN FAST-FORWARD PLAY | HI-DEF


VIDEO: ATLANTIS TAKES PERCH ATOP PAD 39A PLAY | HI-DEF


VIDEO: ROLLOUT FROM ASSEMBLY BUILDING BEGINS PLAY | HI-DEF


VIDEO: SPACE SHUTTLE ASSEMBLY IN FAST-FORWARD PLAY | HI-DEF


VIDEO: TIME-LAPSE OF ATLANTIS ATTACHED TO FUEL TANK PLAY


VIDEO: ATLANTIS LEAVES HANGAR FOR NEXT LAUNCH PLAY | HI-DEF


VIDEO: TIME-LAPSE OF ATLANTIS ARRIVING IN VAB PLAY


VIDEO: CLOSING ATLANTIS' PAYLOAD BAY DOORS PLAY | HI-DEF


VIDEO: FUEL TANK ATTACHED TO SOLID ROCKETS PLAY | HI-DEF


VIDEO: ASTRONAUTS MAKE A VISIT TO THE CAPE PLAY | HI-DEF


VIDEO: ORBITER DOCKING SYSTEM CHECKED OUT PLAY | HI-DEF


VIDEO: ATLANTIS' FUEL TANK UNLOADED FROM BARGE PLAY | HI-DEF


VIDEO: EXTERNAL TANK ARRIVES AT THE LAUNCH SITE PLAY | HI-DEF


SUBSCRIBE NOW