Space shuttle main engine nozzle leaks being studied
BY WILLIAM HARWOOD
STORY WRITTEN FOR CBS NEWS "SPACE PLACE" & USED WITH PERMISSION
Posted: September 4, 2009


Engineers are looking into what might have caused more than 300 microscopic leaks in the nozzle of a space shuttle main engine used to help launch Endeavour in July. But officials Friday characterized the issue as relatively minor, saying the leaks were well below any threshold that could cause an in-flight problem.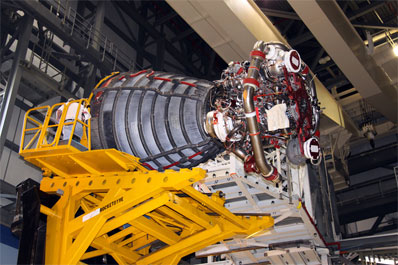 One of Endeavour's main engines is seen here after removal. Credit: NASA-KSC



The issue was discovered during post-landing testing Aug. 27 in which helium gas was pumped through the 1,080 coolant tubes that make up the engine nozzle. Hydrogen is routed through the tubes during engine operation to keep the metal from overheating.

Jerry Cook, manager of the main engine project at the Marshall Space Flight Center in Huntsville, Ala., said engineers found some 340 tiny leaks near the top of engine No. 2045's nozzle. Engine No. 2045 was used as Endeavour's center engine, mounted directly under the ship's vertical stabilizer.

"They are microscopic," Cook said in a telephone interview. "As a matter of fact, the total leak rate on the nozzle from all these leaks is so small that it's not even the equivalent of one ruptured tube. They are tiny. The total leak rate in the 340 hot wall leaks that we have is 0.6592 pounds per second. So it's not even equivalent of one tube rupture, nothing you could see in the ascent performance going up hill at all."

Even so, the sheer number of leaks "is definitely out of the ordinary," he said. "We've got a lot of theories, but honestly, we don't know exactly what caused it. We've got a team down there now doing an investigation."

One possible contributor is corrosion caused by lengthy exposure to the salty environment at the shuttle's sea-side launch pad.

"We're not sure if that's what caused it," Cook said. "We went in and cleaned them off prior to launch, went in and did a leak check, no problems there. So these are small, microscopic holes we see. We've mapped the tubes and we'll see what kind of repair we can do on them."

In the meantime, while the investigation continues, nozzle No. 2031 will be taken out of service. Cook said repairs near the top of the nozzle, near the main engine combustion chamber, can be difficult.

Depending on how the investigation plays out, "we could potentially lose a nozzle from the inventory," Cook said. With just six shuttle flights remaining before the fleet is retired late next year, a lost nozzle could force NASA to shuffle nozzles from engine to engine, but it would "not put us in a situation where we cannot support the manifest."

At the Johnson Space Center in Houston, meanwhile, space station Flight Director Ron Spencer provided a bit more insight into how NASA flight controllers assess the threat posed by orbital debris, and why the International Space Station's orbit was not repositioned even though a large piece of rocket debris passed within eight tenths of a mile earlier Friday.

The debris, from an Ariane 5 rocket launched in 2006, is in a highly elliptical orbit. Radar tracking earlier this week showed it would pass close by the space station around 11:07 a.m. EDT. Flight controllers initially looked into raising the station's orbit but eventually ruled out any such move.

Spencer is the flight director who wrote the rules governing debris avoidance maneuvers, or DAMs.

"The way we do all of this is we get tracking data from Space Command on the objects that are a threat to the space station," he said. "And some of those objects we can track very well, some of them we can't track as well. This one we could track very well, so even though the miss distance was only 1.3 kilometers, we were very confident in our tracking of it so we knew it was going to be a near miss without a threat of collision.

"We actually calculate a probability of collision for all of these items, which factors in the uncertainty we have as to where this object is going to be. Since this object was so well tracked, we calculated a probability of collision of zero. So we knew we were OK."

NASA monitors an imaginary volume around the space station roughly the shape of a pizza box measuring 0.466 miles thick and 15.5 miles square.

"Initially, we have a screening box, which is .75 kilometers radial miss, which would be up or down, by 25 kilometers in cross track, which would be left or right, by 25 kilometers down track, which is either in front or behind us," Spencer said.

"Space Command will alert us of any debris objects out there that are going to get that close to us. Then they increase tasking on those objects to try to get a better solution and decrease the uncertainty. Then we calculate a probability of collision based on the data Space Command gives us. If the probability of collision is greater than 10 to the minus five (1-in-100,000), then we will begin to start looking at taking action."

For the debris encountered Friday, no action was required.


Additional coverage for subscribers:


VIDEO: FRIDAY AFTERNOON'S MISSION STATUS BRIEFING PLAY


VIDEO: FRIDAY MORNING FLIGHT DIRECTOR INTERVIEW PLAY


VIDEO: FLIGHT DAY 7 HIGHLIGHTS MOVIE PLAY



VIDEO: POST-EVA MISSION STATUS BRIEFING PLAY


VIDEO: OLD TANK MOVED TO SHUTTLE FOR RECYCLING PLAY


VIDEO: NEW TANK HOOKED UP TO STATION UMBILICALS PLAY


VIDEO: CHRISTER FUGLESANG CARRIES NEW AMMONIA TANK PLAY


VIDEO: PREPS IN SHUTTLE BAY TO UNPACK NEW AMMONIA TANK PLAY


VIDEO: DANNY OLIVAS FLOATS OUT OF AIRLOCK TO START EVA PLAY


VIDEO: THURSDAY MORNING FLIGHT DIRECTOR INTERVIEW PLAY


VIDEO: STEP-BY-STEP SUMMARY OF SPACEWALK NO. 2 PLAY



HIGH DEFINITION TV DAY 6: PREPPING FOR NEXT EVA PLAY


HIGH DEFINITION TV DAY 6: MOVING FROZEN SCIENCE PLAY


HIGH DEFINITION TV DAY 6: EMPTYING OUT LEONARDO PLAY



HIGH DEFINITION TV DAY 5: SPACEWALKERS CELEBRATE PLAY


HIGH DEFINITION TV DAY 5: OLIVAS AND STOTT ON EVA NO. 1 PLAY


HIGH DEFINITION TV DAY 5: COLBERT TREADMILL UNPACKED PLAY


HIGH DEFINITION TV DAY 5: SPACEWALKERS GET SUITED UP PLAY



HIGH DEFINITION TV DAY 4: LEONARDO MODULE OPENED PLAY


HIGH DEFINITION TV DAY 4: MOVING ITEMS FROM SHUTTLE PLAY



VIDEO: FLIGHT DAY 6 HIGHLIGHTS MOVIE PLAY


VIDEO: ASTRONAUTS' HOME MOVIES: DAY 6 PLAY


VIDEO: WEDNESDAY NIGHT'S MISSION STATUS BRIEFING PLAY


VIDEO: WEDNESDAY MORNING FLIGHT DIRECTOR INTERVIEW PLAY



VIDEO: FLIGHT DAY 5 HIGHLIGHTS MOVIE PLAY


VIDEO: POST-EVA MISSION STATUS BRIEFING PLAY


VIDEO: SPACEWALKERS PUT THIRD EXPERIMENT IN SHUTTLE PLAY


VIDEO: BRIEFCASE-LIKE PACKAGE RETRIEVED FROM STATION PLAY


VIDEO: EUROPEAN PAYLOAD MOVED FROM STATION TO SHUTTLE PLAY


VIDEO: SPACEWALKERS FREE COOLANT TANK FROM TRUSS PLAY


VIDEO: DANNY OLIVAS DISCONNECTS OLD AMMONIA TANK PLAY


VIDEO: ASTRONAUTS EMERGE FROM AIRLOCK TO START EVA PLAY


VIDEO: OVERVIEW OF FLIGHT DAY 5 ACTIVITIES PLAY


VIDEO: STEP-BY-STEP SUMMARY OF SPACEWALK NO. 1 PLAY


VIDEO: TUESDAY MORNING FLIGHT DIRECTOR INTERVIEW PLAY



VIDEO: FLIGHT DAY 4 HIGHLIGHTS MOVIE PLAY


VIDEO: MONDAY NIGHT'S MISSION STATUS BRIEFING PLAY


VIDEO: NARRATED OVERVIEW OF THE LEONARDO PAYLOAD PLAY


VIDEO: ASTRONAUTS OPEN UP AND ENTER LEONARDO MODULE PLAY


VIDEO: TIME-LAPSE OF LEONARDO MODULE'S INSTALLATION PLAY


VIDEO: LEONARDO CARGO MODULE ATTACHED TO STATION PLAY


VIDEO: MONDAY'S MISSION MANAGEMENT TEAM UPDATE PLAY


VIDEO: MONDAY MORNING FLIGHT DIRECTOR INTERVIEW PLAY



HIGH DEFINITION TV DAY 3: NICOLE STOTT ABOARD STATION PLAY


HIGH DEFINITION TV DAY 3: UNITING STATION AND SHUTTLE PLAY


HIGH DEFINITION TV DAY 3: JOIN THE CREW DURING DOCKING PLAY


HIGH DEFINITION TV DAY 3: LIFE ON RENDEZVOUS DAY PLAY



VIDEO: FLIGHT DAY 3 HIGHLIGHTS MOVIE PLAY


VIDEO: SUNDAY NIGHT'S MISSION STATUS BRIEFING PLAY


VIDEO: SHUTTLE CREW WELCOMED ABOARD STATION PLAY


VIDEO: DOCKING RING RETRACTED TO JOIN TWO CRAFT PLAY


VIDEO: TIME-LAPSE OF DOCKING FROM CENTERLINE PLAY


VIDEO: SHUTTLE FLIES OUT IN FRONT OF STATION PLAY


VIDEO: DISCOVERY PERFORMS 360-DEGREE BACKFLIP PLAY


VIDEO: BEAUTIFUL VIEWS OF DISCOVERY APPROACHING PLAY


VIDEO: TIME-LAPSE VIEW FROM SHUTTLE DOCKING PORT PLAY


VIDEO: STATION CAMERA CATCHES DISCOVERY'S "TI BURN" PLAY


VIDEO: SUNDAY'S MISSION MANAGEMENT TEAM UPDATE PLAY


VIDEO: NARRATED PREVIEW OF RENDEZVOUS AND DOCKING PLAY


VIDEO: THE MOON SINKS BELOW TAIL OF DISCOVERY PLAY


VIDEO: ASTRONAUTS' HOME MOVIES: DAY 2 PLAY


VIDEO: ASTRONAUTS' HOME MOVIES: DAY 1 PLAY



VIDEO: FLIGHT DAY 2 HIGHLIGHTS MOVIE PLAY


VIDEO: SATURDAY NIGHT'S MISSION STATUS BRIEFING PLAY


VIDEO: NARRATED PREVIEW OF SHUTTLE INSPECTIONS PLAY



VIDEO: LAUNCH REPLAY: INSIDE MISSION CONTROL ROOM PLAY


VIDEO: LAUNCH REPLAY: VAB ROOF PLAY | HI-DEF


VIDEO: LAUNCH REPLAY: PRESS SITE PLAY | HI-DEF


VIDEO: LAUNCH REPLAY: PAD PERIMETER PLAY | HI-DEF


VIDEO: LAUNCH REPLAY: BEACH TRACKER PLAY | HI-DEF


VIDEO: LAUNCH REPLAY: PAD CAEMRA 070 PLAY | HI-DEF


VIDEO: LAUNCH REPLAY: PAD CAEMRA 071 PLAY | HI-DEF


VIDEO: LAUNCH REPLAY: UCS-23 TRACKER PLAY | HI-DEF


VIDEO: LAUNCH REPLAY: PLAYALINDA BEACH PLAY | HI-DEF


VIDEO: LAUNCH REPLAY: PAD FRONT CAMERA PLAY | HI-DEF


VIDEO: LAUNCH REPLAY: PATRICK AIR FORCE BASE PLAY | HI-DEF



VIDEO: POST-LAUNCH BRIEFING PLAY


VIDEO: FLIGHT DAY 1 HIGHLIGHTS MOVIE PLAY


VIDEO: THE FULL LAUNCH EXPERIENCE PLAY


VIDEO: LIFTOFF OF SPACE SHUTTLE DISCOVERY! PLAY | HI-DEF


VIDEO: COMMANDER RICK STURCKOW BOARDS DISCOVERY PLAY


VIDEO: PILOT KEVIN FORD BOARDS SHUTTLE DISCOVERY PLAY


VIDEO: MISSION SPECIALIST PAT FORRESTER BOARDS DISCOVERY PLAY


VIDEO: MISSION SPECIALIST JOSE HERNANDEZ BOARDS SHUTTLE PLAY


VIDEO: MISSION SPECIALIST DANNY OLIVAS BOARDS DISCOVERY PLAY


VIDEO: MISSION SPECIALIST CHRISTER FUGLESANG BOARDS PLAY


VIDEO: MISSION SPECIALIST NICOLE STOTT BOARDS DISCOVERY PLAY


VIDEO: ASTRONAUTS LEAVE CREW QUARTERS BUILDING PLAY | HI-DEF


VIDEO: CREW FINISHES GETTING SUITED UP PLAY | HI-DEF



VIDEO: NARRATED MISSION OVERVIEW MOVIE PLAY | HI-DEF


VIDEO: MEET SHUTTLE DISCOVERY'S ASTRONAUTS PLAY | HI-DEF


VIDEO: NARRATED REVIEW OF SHUTTLE'S PREPARATIONS PLAY | HI-DEF


VIDEO: NARRATED REVIEW OF PAYLOADS' PREPARATIONS PLAY | HI-DEF


VIDEO: THE "COLBERT" TREADMILL PLAY | HI-DEF



VIDEO: MANAGERS EXPLAIN REASON FOR SECOND SCRUB PLAY


VIDEO: WEATHER SCRUBS FIRST COUNTDOWN PLAY | HI-DEF


VIDEO: ASTRONAUTS DEPART QUARTERS FOR PAD 39A PLAY | HI-DEF


VIDEO: CREW GETS SUITED UP FOR LAUNCH ATTEMPT PLAY | HI-DEF


VIDEO: LAUNCH PAD SERVICE GANTRY ROLLED BACK PLAY | HI-DEF



VIDEO: PRE-LAUNCH INTERVIEW WITH RICK STURCKOW PLAY


VIDEO: PRE-LAUNCH INTERVIEW WITH KEVIN FORD PLAY


VIDEO: PRE-LAUNCH INTERVIEW WITH PAT FORRESTER PLAY


VIDEO: PRE-LAUNCH INTERVIEW WITH JOSE HERNANDEZ PLAY


VIDEO: PRE-LAUNCH INTERVIEW WITH DANNY OLIVAS PLAY


VIDEO: PRE-LAUNCH INTERVIEW WITH CHRISTER FUGLESANG PLAY


VIDEO: PRE-LAUNCH INTERVIEW WITH NICOLE STOTT PLAY



VIDEO: AMERICAN AND EUROPEAN PRE-LAUNCH NEWS CONFERENCE PLAY


VIDEO: THE LAUNCH COUNTDOWN GETS UNDERWAY PLAY


VIDEO: ASTRONAUTS ARRIVE AT THE CAPE FOR LAUNCH PLAY | HI-DEF


VIDEO: FLIGHT READINESS REVIEW SETS LAUNCH DATE PLAY



VIDEO: SHUTTLE AND STATION PROGRAM UPDATE PLAY


VIDEO: THE STS-128 MISSION OVERVIEW BRIEFING PLAY


VIDEO: PREVIEW BRIEFING ON MISSION'S SPACEWALKS PLAY


VIDEO: THE ASTRONAUTS' PRE-FLIGHT NEWS BRIEFING PLAY


VIDEO: SHUTTLE PROGRAM MANAGER EXPLAINS FOAM ISSUES PLAY



VIDEO: PAYLOAD BAY DOORS CLOSED FOR FLIGHT PLAY | HI-DEF


VIDEO: MISSION CARGO LOADED ABOARD DISCOVERY PLAY | HI-DEF



VIDEO: CREW TOURS PAD'S CLEANROOM PLAY | HI-DEF


VIDEO: SHUTTLE EVACUATION PRACTICE PLAY | HI-DEF


VIDEO: ASTRONAUTS BOARD DISCOVERY PLAY | HI-DEF


VIDEO: THE LAUNCH DAY SIMULATION BEGINS PLAY | HI-DEF


VIDEO: PAD BUNKER TRAINING FOR THE CREW PLAY | HI-DEF


VIDEO: CREW BRIEFED ON EMERGENCY PROCEDURES PLAY | HI-DEF


VIDEO: NIGHTTIME APPROACHES IN TRAINING AIRCRAFT PLAY | HI-DEF


VIDEO: TEST-DRIVING EMERGENCY ARMORED TANK PLAY | HI-DEF


VIDEO: INFORMAL CREW NEWS CONFERENCE AT LAUNCH PAD PLAY


VIDEO: ASTRONAUTS ARRIVE FOR PRACTICE COUNTDOWN PLAY



VIDEO: SHUTTLE DISCOVERY ROLLS OUT PAD 39A PLAY | HI-DEF


VIDEO: ORBITER HOISTED FOR MATING TO TANK PLAY | HI-DEF


VIDEO: DISCOVERY MOVED TO ASSEMBLY BUILDING PLAY | HI-DEF


VIDEO: TIME-LAPSE OF DISCOVERY ARRIVING IN VAB PLAY



VIDEO: PAYLOADS DELIVERED TO LAUNCH PAD PLAY | HI-DEF


VIDEO: LEONARDO PUT INTO TRANSPORTER PLAY | HI-DEF


VIDEO: STATION'S NEW AMMONIA TANK PLAY | HI-DEF


VIDEO: MPLM HATCH CLOSED FOR FLIGHT PLAY | HI-DEF


VIDEO: INSIDE SHUTTLE MAIN ENGINE SHOP PLAY | HI-DEF


VIDEO: CREW EQUIPMENT INTERFACE TEST PLAY | HI-DEF


SUBSCRIBE NOW