Space shuttle's heat shield cleared for entry
BY WILLIAM HARWOOD
STORY WRITTEN FOR CBS NEWS "SPACE PLACE" & USED WITH PERMISSION
Posted: September 2, 2009


The shuttle Discovery's heat shield was cleared for re-entry "as is" Wednesday by NASA's Mission Management Team based on a detailed analysis of launch imagery, laser scans conducted by the astronauts the day after launch and a close-up inspection of the shuttle's belly during final approach to the space station.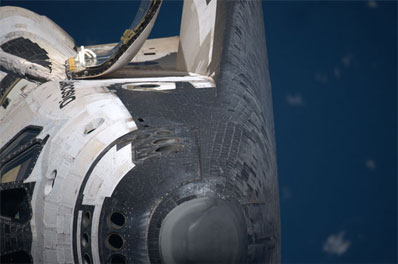 Credit: NASA



"The Damage Assessment Team provided their final summary to the team and declared that the TPS (thermal protection system) is acceptable for entry," the MMT said in a summary of Wednesday's meeting.

Minor damage was noted near a so-called "protuberance tile" used to trigger turbulent flow during re-entry as part of a test to collect data on a phenomenon known as the boundary layer transition. But the MMT concluded "there will not be any adverse interaction between the damaged tile and the DTO (developmental test objective)."

Likewise, a protruding plug in an insulation blanket on one of Discovery's aft rocket pods is not considered any sort of threat.

A final inspection of the shuttle's reinforced carbon carbon nose cap and wing leading edge panels will be carried out after undocking from the space station to look for any signs of micrometeoroid impact damage that might have occurred since an idential inspection the day after launch.


Additional coverage for subscribers:


VIDEO: SPACEWALKERS PUT THIRD EXPERIMENT IN SHUTTLE PLAY


VIDEO: BRIEFCASE-LIKE PACKAGE RETRIEVED FROM STATION PLAY


VIDEO: EUROPEAN PAYLOAD MOVED FROM STATION TO SHUTTLE PLAY


VIDEO: SPACEWALKERS FREE COOLANT TANK FROM TRUSS PLAY


VIDEO: DANNY OLIVAS DISCONNECTS OLD AMMONIA TANK PLAY


VIDEO: ASTRONAUTS EMERGE FROM AIRLOCK TO START EVA PLAY


VIDEO: OVERVIEW OF FLIGHT DAY 5 ACTIVITIES PLAY


VIDEO: STEP-BY-STEP SUMMARY OF SPACEWALK NO. 1 PLAY


VIDEO: TUESDAY MORNING FLIGHT DIRECTOR INTERVIEW PLAY



VIDEO: FLIGHT DAY 4 HIGHLIGHTS MOVIE PLAY


VIDEO: MONDAY NIGHT'S MISSION STATUS BRIEFING PLAY


VIDEO: NARRATED OVERVIEW OF THE LEONARDO PAYLOAD PLAY


VIDEO: ASTRONAUTS OPEN UP AND ENTER LEONARDO MODULE PLAY


VIDEO: TIME-LAPSE OF LEONARDO MODULE'S INSTALLATION PLAY


VIDEO: LEONARDO CARGO MODULE ATTACHED TO STATION PLAY


VIDEO: MONDAY'S MISSION MANAGEMENT TEAM UPDATE PLAY


VIDEO: MONDAY MORNING FLIGHT DIRECTOR INTERVIEW PLAY



VIDEO: HIGH DEFINITION: NICOLE STOTT ABOARD STATION PLAY


VIDEO: HIGH DEFINITION: UNITING STATION AND DISCOVERY PLAY


VIDEO: HIGH DEFINITION: BE AN ASTRONAUT DURING DOCKING PLAY


VIDEO: HIGH DEFINITION: LIFE ON RENDEZVOUS DAY PLAY



VIDEO: FLIGHT DAY 3 HIGHLIGHTS MOVIE PLAY


VIDEO: SUNDAY NIGHT'S MISSION STATUS BRIEFING PLAY


VIDEO: SHUTTLE CREW WELCOMED ABOARD STATION PLAY


VIDEO: DOCKING RING RETRACTED TO JOIN TWO CRAFT PLAY


VIDEO: TIME-LAPSE OF DOCKING FROM CENTERLINE PLAY


VIDEO: SHUTTLE FLIES OUT IN FRONT OF STATION PLAY


VIDEO: DISCOVERY PERFORMS 360-DEGREE BACKFLIP PLAY


VIDEO: BEAUTIFUL VIEWS OF DISCOVERY APPROACHING PLAY


VIDEO: TIME-LAPSE VIEW FROM SHUTTLE DOCKING PORT PLAY


VIDEO: STATION CAMERA CATCHES DISCOVERY'S "TI BURN" PLAY


VIDEO: SUNDAY'S MISSION MANAGEMENT TEAM UPDATE PLAY


VIDEO: NARRATED PREVIEW OF RENDEZVOUS AND DOCKING PLAY


VIDEO: THE MOON SINKS BELOW TAIL OF DISCOVERY PLAY


VIDEO: ASTRONAUTS' HOME MOVIES: DAY 2 PLAY


VIDEO: ASTRONAUTS' HOME MOVIES: DAY 1 PLAY



VIDEO: FLIGHT DAY 2 HIGHLIGHTS MOVIE PLAY


VIDEO: SATURDAY NIGHT'S MISSION STATUS BRIEFING PLAY


VIDEO: NARRATED PREVIEW OF SHUTTLE INSPECTIONS PLAY



VIDEO: LAUNCH REPLAY: INSIDE MISSION CONTROL ROOM PLAY


VIDEO: LAUNCH REPLAY: VAB ROOF PLAY | HI-DEF


VIDEO: LAUNCH REPLAY: PRESS SITE PLAY | HI-DEF


VIDEO: LAUNCH REPLAY: PAD PERIMETER PLAY | HI-DEF


VIDEO: LAUNCH REPLAY: BEACH TRACKER PLAY | HI-DEF


VIDEO: LAUNCH REPLAY: PAD CAEMRA 070 PLAY | HI-DEF


VIDEO: LAUNCH REPLAY: PAD CAEMRA 071 PLAY | HI-DEF


VIDEO: LAUNCH REPLAY: UCS-23 TRACKER PLAY | HI-DEF


VIDEO: LAUNCH REPLAY: PLAYALINDA BEACH PLAY | HI-DEF


VIDEO: LAUNCH REPLAY: PAD FRONT CAMERA PLAY | HI-DEF


VIDEO: LAUNCH REPLAY: PATRICK AIR FORCE BASE PLAY | HI-DEF



VIDEO: POST-LAUNCH BRIEFING PLAY


VIDEO: FLIGHT DAY 1 HIGHLIGHTS MOVIE PLAY


VIDEO: THE FULL LAUNCH EXPERIENCE PLAY


VIDEO: LIFTOFF OF SPACE SHUTTLE DISCOVERY! PLAY | HI-DEF


VIDEO: COMMANDER RICK STURCKOW BOARDS DISCOVERY PLAY


VIDEO: PILOT KEVIN FORD BOARDS SHUTTLE DISCOVERY PLAY


VIDEO: MISSION SPECIALIST PAT FORRESTER BOARDS DISCOVERY PLAY


VIDEO: MISSION SPECIALIST JOSE HERNANDEZ BOARDS SHUTTLE PLAY


VIDEO: MISSION SPECIALIST DANNY OLIVAS BOARDS DISCOVERY PLAY


VIDEO: MISSION SPECIALIST CHRISTER FUGLESANG BOARDS PLAY


VIDEO: MISSION SPECIALIST NICOLE STOTT BOARDS DISCOVERY PLAY


VIDEO: ASTRONAUTS LEAVE CREW QUARTERS BUILDING PLAY | HI-DEF


VIDEO: CREW FINISHES GETTING SUITED UP PLAY | HI-DEF



VIDEO: NARRATED MISSION OVERVIEW MOVIE PLAY | HI-DEF


VIDEO: MEET SHUTTLE DISCOVERY'S ASTRONAUTS PLAY | HI-DEF


VIDEO: NARRATED REVIEW OF SHUTTLE'S PREPARATIONS PLAY | HI-DEF


VIDEO: NARRATED REVIEW OF PAYLOADS' PREPARATIONS PLAY | HI-DEF


VIDEO: THE "COLBERT" TREADMILL PLAY | HI-DEF



VIDEO: MANAGERS EXPLAIN REASON FOR SECOND SCRUB PLAY


VIDEO: WEATHER SCRUBS FIRST COUNTDOWN PLAY | HI-DEF


VIDEO: ASTRONAUTS DEPART QUARTERS FOR PAD 39A PLAY | HI-DEF


VIDEO: CREW GETS SUITED UP FOR LAUNCH ATTEMPT PLAY | HI-DEF


VIDEO: LAUNCH PAD SERVICE GANTRY ROLLED BACK PLAY | HI-DEF



VIDEO: PRE-LAUNCH INTERVIEW WITH RICK STURCKOW PLAY


VIDEO: PRE-LAUNCH INTERVIEW WITH KEVIN FORD PLAY


VIDEO: PRE-LAUNCH INTERVIEW WITH PAT FORRESTER PLAY


VIDEO: PRE-LAUNCH INTERVIEW WITH JOSE HERNANDEZ PLAY


VIDEO: PRE-LAUNCH INTERVIEW WITH DANNY OLIVAS PLAY


VIDEO: PRE-LAUNCH INTERVIEW WITH CHRISTER FUGLESANG PLAY


VIDEO: PRE-LAUNCH INTERVIEW WITH NICOLE STOTT PLAY



VIDEO: AMERICAN AND EUROPEAN PRE-LAUNCH NEWS CONFERENCE PLAY


VIDEO: THE LAUNCH COUNTDOWN GETS UNDERWAY PLAY


VIDEO: ASTRONAUTS ARRIVE AT THE CAPE FOR LAUNCH PLAY | HI-DEF


VIDEO: FLIGHT READINESS REVIEW SETS LAUNCH DATE PLAY



VIDEO: SHUTTLE AND STATION PROGRAM UPDATE PLAY


VIDEO: THE STS-128 MISSION OVERVIEW BRIEFING PLAY


VIDEO: PREVIEW BRIEFING ON MISSION'S SPACEWALKS PLAY


VIDEO: THE ASTRONAUTS' PRE-FLIGHT NEWS BRIEFING PLAY


VIDEO: SHUTTLE PROGRAM MANAGER EXPLAINS FOAM ISSUES PLAY



VIDEO: PAYLOAD BAY DOORS CLOSED FOR FLIGHT PLAY | HI-DEF


VIDEO: MISSION CARGO LOADED ABOARD DISCOVERY PLAY | HI-DEF



VIDEO: CREW TOURS PAD'S CLEANROOM PLAY | HI-DEF


VIDEO: SHUTTLE EVACUATION PRACTICE PLAY | HI-DEF


VIDEO: ASTRONAUTS BOARD DISCOVERY PLAY | HI-DEF


VIDEO: THE LAUNCH DAY SIMULATION BEGINS PLAY | HI-DEF


VIDEO: PAD BUNKER TRAINING FOR THE CREW PLAY | HI-DEF


VIDEO: CREW BRIEFED ON EMERGENCY PROCEDURES PLAY | HI-DEF


VIDEO: NIGHTTIME APPROACHES IN TRAINING AIRCRAFT PLAY | HI-DEF


VIDEO: TEST-DRIVING EMERGENCY ARMORED TANK PLAY | HI-DEF


VIDEO: INFORMAL CREW NEWS CONFERENCE AT LAUNCH PAD PLAY


VIDEO: ASTRONAUTS ARRIVE FOR PRACTICE COUNTDOWN PLAY



VIDEO: SHUTTLE DISCOVERY ROLLS OUT PAD 39A PLAY | HI-DEF


VIDEO: ORBITER HOISTED FOR MATING TO TANK PLAY | HI-DEF


VIDEO: DISCOVERY MOVED TO ASSEMBLY BUILDING PLAY | HI-DEF


VIDEO: TIME-LAPSE OF DISCOVERY ARRIVING IN VAB PLAY



VIDEO: PAYLOADS DELIVERED TO LAUNCH PAD PLAY | HI-DEF


VIDEO: LEONARDO PUT INTO TRANSPORTER PLAY | HI-DEF


VIDEO: STATION'S NEW AMMONIA TANK PLAY | HI-DEF


VIDEO: MPLM HATCH CLOSED FOR FLIGHT PLAY | HI-DEF


VIDEO: INSIDE SHUTTLE MAIN ENGINE SHOP PLAY | HI-DEF


VIDEO: CREW EQUIPMENT INTERFACE TEST PLAY | HI-DEF


SUBSCRIBE NOW