Astronauts spending the day on equipment transfers
BY WILLIAM HARWOOD
STORY WRITTEN FOR CBS NEWS "SPACE PLACE" & USED WITH PERMISSION
Posted: September 2, 2009;
Debris avoidance maneuver now unlikely


The Discovery astronauts focused on equipment transfers Wednesday, moving science racks and other gear into the International Space Station from a cargo module delivered by the shuttle. Flight controllers, meanwhile, studied the track of a derelict European rocket body to determine if an avoidance maneuver might be necessary.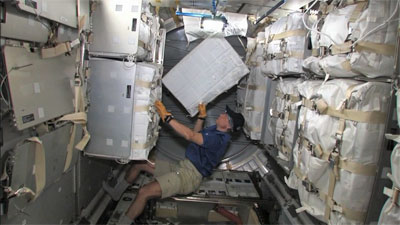 Astronaut Christer Fuglesang works to unload Leonardo. Credit: NASA TV



The debris, believed to be from an Ariane 5 rocket, is in an orbit with a high point of nearly 20,000 miles and a low point of just under 200 miles. It is the low point of the ellipse that concerns flight planners, with tracking data suggesting a flyby Friday at 11:05 a.m. EDT just seven miles from the station.

Space station and shuttle flight controllers "have been keeping an eye on this object, which by our calculations would make its closest approach to the International Space Station and Discovery on Friday morning ... with an expected radial miss distance of almost 11 kilometers," said Rob Navias, NASA's mission control commentator.

"So although we expect a fairly wide margin of miss distance between this object and the shuttle-station complex, we are continuing to keep an eye on things and will be developing a further course of action over the next 24 hours or so."

The astronauts are following their normal flight plans, moving equipment and supplies into the station from the Leonardo cargo module attached to the forward Harmony module's Earth-facing port.

Among the items scheduled for transfer today were two science racks, one devoted to fluid physics and the other to materials science, and an experiment sample freezer. The station astronauts also plan to finish outfitting a new crew sleep station delivered by Discovery and temporarily set up in the Japanese Kibo lab module.

As of this morning, 64 percent of the station supplies and equipment launched in the shuttle's crew cabin had been transferred to the lab complex and 93 percent of the items scheduled for transfer to the crew cabin for return to Earth had been moved. About 18 percent of the 7.5 tons of equipment and supplies launched in the Leonardo module had been transferred to the station.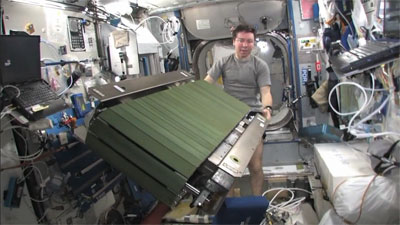 Astronaut Mike Barratt moves the COLBERT treadmill into the space station. Credit: NASA TV



The flight plan calls for astronauts John "Danny" Olivas and Christer Fuglesang to camp out in the station's Quest airlock module overnight to prepare for a spacewalk Thursday. The goal of the excursion is to install a new ammonia coolant tank and to store a depleted tank, removed during an EVA Tuesday, in the shuttle's cargo bay for return to Earth.

Depending on how the rocket body analysis goes, NASA managers could decide to raise the station's orbit slightly to increase the miss distance. The more likely option, Navias said, would be to do nothing at all.

"At the moment, we do not believe there's any issue involved that would cause us to have to do a debris avoidance maneuver, but we continue to take tracking marks on this piece of space junk and will throughout the course of the day today and overnight while the crew is asleep," he said.

"Basically, there were several options being considered at the start of the crew day several hours ago. But further tracking of this piece of space junk has resulted in (managers) reducing the number of options that we need to be concerned about to just two. One would be to do no maneuver whatsoever, which is the more likely of the two options, or to do a reboost that would occur after the second spacewalk of the mission on Thursday."

If a maneuver is required, it would take place late Thursday, over a period of about three hours, using the shuttle's primary reaction control system thrusters.

Here is an updated timeline of today's activity (in EDT and mission elapsed time; includes revision H of the NASA television schedule):

EDT........DD...HH...MM...EVENT

09/02
12:29 PM...04...12...30...Crew wakeup
01:59 PM...04...14...00...ISS daily planning conference
03:44 PM...04...15...45...Fluid science rack transfer
03:49 PM...04...15...50...Crew quarters outfitting
04:44 PM...04...16...45...Materials science rack transfer
05:44 PM...04...17...45...MELFI-2 freezer rack transfer
06:24 PM...04...18...25...PAO event
06:44 PM...04...18...45...Spacesuit swap
07:24 PM...04...19...25...Crew meal
08:24 PM...04...20...25...EVA-2: Tools configured
08:24 PM...04...20...25...MPLM transfers resume
08:29 PM...04...20...30...ISS HTV training
08:30 PM...04...20...31...Mission status briefing on NTV
08:29 PM...04...20...30...Crew quarters activation
09:54 PM...04...21...55...PAO event
10:14 PM...04...22...15...Equipment lock preps

09/03
12:24 AM...05...00...25...EVA-2: Procedures review
01:19 AM...05...01...20...Evening planning conference
02:54 AM...05...02...55...EVA-2: Mask pre-breathe
03:39 AM...05...03...40...EVA-2: Airlock depress to 10.2 psi
03:59 AM...05...04...00...ISS crew sleep begins
04:29 AM...05...04...30...STS crew sleep begins
05:00 AM...05...09...01...Daily highlights reel
10:00 AM...05...10...01...Flight director's update
12:29 PM...05...12...30...Crew wakeup



Additional coverage for subscribers:


VIDEO: SPACEWALKERS PUT THIRD EXPERIMENT IN SHUTTLE PLAY


VIDEO: BRIEFCASE-LIKE PACKAGE RETRIEVED FROM STATION PLAY


VIDEO: EUROPEAN PAYLOAD MOVED FROM STATION TO SHUTTLE PLAY


VIDEO: SPACEWALKERS FREE COOLANT TANK FROM TRUSS PLAY


VIDEO: DANNY OLIVAS DISCONNECTS OLD AMMONIA TANK PLAY


VIDEO: ASTRONAUTS EMERGE FROM AIRLOCK TO START EVA PLAY


VIDEO: OVERVIEW OF FLIGHT DAY 5 ACTIVITIES PLAY


VIDEO: STEP-BY-STEP SUMMARY OF SPACEWALK NO. 1 PLAY


VIDEO: TUESDAY MORNING FLIGHT DIRECTOR INTERVIEW PLAY



VIDEO: FLIGHT DAY 4 HIGHLIGHTS MOVIE PLAY


VIDEO: MONDAY NIGHT'S MISSION STATUS BRIEFING PLAY


VIDEO: NARRATED OVERVIEW OF THE LEONARDO PAYLOAD PLAY


VIDEO: ASTRONAUTS OPEN UP AND ENTER LEONARDO MODULE PLAY


VIDEO: TIME-LAPSE OF LEONARDO MODULE'S INSTALLATION PLAY


VIDEO: LEONARDO CARGO MODULE ATTACHED TO STATION PLAY


VIDEO: MONDAY'S MISSION MANAGEMENT TEAM UPDATE PLAY


VIDEO: MONDAY MORNING FLIGHT DIRECTOR INTERVIEW PLAY



VIDEO: HIGH DEFINITION: NICOLE STOTT ABOARD STATION PLAY


VIDEO: HIGH DEFINITION: UNITING STATION AND DISCOVERY PLAY


VIDEO: HIGH DEFINITION: BE AN ASTRONAUT DURING DOCKING PLAY


VIDEO: HIGH DEFINITION: LIFE ON RENDEZVOUS DAY PLAY



VIDEO: FLIGHT DAY 3 HIGHLIGHTS MOVIE PLAY


VIDEO: SUNDAY NIGHT'S MISSION STATUS BRIEFING PLAY


VIDEO: SHUTTLE CREW WELCOMED ABOARD STATION PLAY


VIDEO: DOCKING RING RETRACTED TO JOIN TWO CRAFT PLAY


VIDEO: TIME-LAPSE OF DOCKING FROM CENTERLINE PLAY


VIDEO: SHUTTLE FLIES OUT IN FRONT OF STATION PLAY


VIDEO: DISCOVERY PERFORMS 360-DEGREE BACKFLIP PLAY


VIDEO: BEAUTIFUL VIEWS OF DISCOVERY APPROACHING PLAY


VIDEO: TIME-LAPSE VIEW FROM SHUTTLE DOCKING PORT PLAY


VIDEO: STATION CAMERA CATCHES DISCOVERY'S "TI BURN" PLAY


VIDEO: SUNDAY'S MISSION MANAGEMENT TEAM UPDATE PLAY


VIDEO: NARRATED PREVIEW OF RENDEZVOUS AND DOCKING PLAY


VIDEO: THE MOON SINKS BELOW TAIL OF DISCOVERY PLAY


VIDEO: ASTRONAUTS' HOME MOVIES: DAY 2 PLAY


VIDEO: ASTRONAUTS' HOME MOVIES: DAY 1 PLAY



VIDEO: FLIGHT DAY 2 HIGHLIGHTS MOVIE PLAY


VIDEO: SATURDAY NIGHT'S MISSION STATUS BRIEFING PLAY


VIDEO: NARRATED PREVIEW OF SHUTTLE INSPECTIONS PLAY



VIDEO: LAUNCH REPLAY: INSIDE MISSION CONTROL ROOM PLAY


VIDEO: LAUNCH REPLAY: VAB ROOF PLAY | HI-DEF


VIDEO: LAUNCH REPLAY: PRESS SITE PLAY | HI-DEF


VIDEO: LAUNCH REPLAY: PAD PERIMETER PLAY | HI-DEF


VIDEO: LAUNCH REPLAY: BEACH TRACKER PLAY | HI-DEF


VIDEO: LAUNCH REPLAY: PAD CAEMRA 070 PLAY | HI-DEF


VIDEO: LAUNCH REPLAY: PAD CAEMRA 071 PLAY | HI-DEF


VIDEO: LAUNCH REPLAY: UCS-23 TRACKER PLAY | HI-DEF


VIDEO: LAUNCH REPLAY: PLAYALINDA BEACH PLAY | HI-DEF


VIDEO: LAUNCH REPLAY: PAD FRONT CAMERA PLAY | HI-DEF


VIDEO: LAUNCH REPLAY: PATRICK AIR FORCE BASE PLAY | HI-DEF



VIDEO: POST-LAUNCH BRIEFING PLAY


VIDEO: FLIGHT DAY 1 HIGHLIGHTS MOVIE PLAY


VIDEO: THE FULL LAUNCH EXPERIENCE PLAY


VIDEO: LIFTOFF OF SPACE SHUTTLE DISCOVERY! PLAY | HI-DEF


VIDEO: COMMANDER RICK STURCKOW BOARDS DISCOVERY PLAY


VIDEO: PILOT KEVIN FORD BOARDS SHUTTLE DISCOVERY PLAY


VIDEO: MISSION SPECIALIST PAT FORRESTER BOARDS DISCOVERY PLAY


VIDEO: MISSION SPECIALIST JOSE HERNANDEZ BOARDS SHUTTLE PLAY


VIDEO: MISSION SPECIALIST DANNY OLIVAS BOARDS DISCOVERY PLAY


VIDEO: MISSION SPECIALIST CHRISTER FUGLESANG BOARDS PLAY


VIDEO: MISSION SPECIALIST NICOLE STOTT BOARDS DISCOVERY PLAY


VIDEO: ASTRONAUTS LEAVE CREW QUARTERS BUILDING PLAY | HI-DEF


VIDEO: CREW FINISHES GETTING SUITED UP PLAY | HI-DEF



VIDEO: NARRATED MISSION OVERVIEW MOVIE PLAY | HI-DEF


VIDEO: MEET SHUTTLE DISCOVERY'S ASTRONAUTS PLAY | HI-DEF


VIDEO: NARRATED REVIEW OF SHUTTLE'S PREPARATIONS PLAY | HI-DEF


VIDEO: NARRATED REVIEW OF PAYLOADS' PREPARATIONS PLAY | HI-DEF


VIDEO: THE "COLBERT" TREADMILL PLAY | HI-DEF



VIDEO: MANAGERS EXPLAIN REASON FOR SECOND SCRUB PLAY


VIDEO: WEATHER SCRUBS FIRST COUNTDOWN PLAY | HI-DEF


VIDEO: ASTRONAUTS DEPART QUARTERS FOR PAD 39A PLAY | HI-DEF


VIDEO: CREW GETS SUITED UP FOR LAUNCH ATTEMPT PLAY | HI-DEF


VIDEO: LAUNCH PAD SERVICE GANTRY ROLLED BACK PLAY | HI-DEF



VIDEO: PRE-LAUNCH INTERVIEW WITH RICK STURCKOW PLAY


VIDEO: PRE-LAUNCH INTERVIEW WITH KEVIN FORD PLAY


VIDEO: PRE-LAUNCH INTERVIEW WITH PAT FORRESTER PLAY


VIDEO: PRE-LAUNCH INTERVIEW WITH JOSE HERNANDEZ PLAY


VIDEO: PRE-LAUNCH INTERVIEW WITH DANNY OLIVAS PLAY


VIDEO: PRE-LAUNCH INTERVIEW WITH CHRISTER FUGLESANG PLAY


VIDEO: PRE-LAUNCH INTERVIEW WITH NICOLE STOTT PLAY



VIDEO: AMERICAN AND EUROPEAN PRE-LAUNCH NEWS CONFERENCE PLAY


VIDEO: THE LAUNCH COUNTDOWN GETS UNDERWAY PLAY


VIDEO: ASTRONAUTS ARRIVE AT THE CAPE FOR LAUNCH PLAY | HI-DEF


VIDEO: FLIGHT READINESS REVIEW SETS LAUNCH DATE PLAY



VIDEO: SHUTTLE AND STATION PROGRAM UPDATE PLAY


VIDEO: THE STS-128 MISSION OVERVIEW BRIEFING PLAY


VIDEO: PREVIEW BRIEFING ON MISSION'S SPACEWALKS PLAY


VIDEO: THE ASTRONAUTS' PRE-FLIGHT NEWS BRIEFING PLAY


VIDEO: SHUTTLE PROGRAM MANAGER EXPLAINS FOAM ISSUES PLAY



VIDEO: PAYLOAD BAY DOORS CLOSED FOR FLIGHT PLAY | HI-DEF


VIDEO: MISSION CARGO LOADED ABOARD DISCOVERY PLAY | HI-DEF



VIDEO: CREW TOURS PAD'S CLEANROOM PLAY | HI-DEF


VIDEO: SHUTTLE EVACUATION PRACTICE PLAY | HI-DEF


VIDEO: ASTRONAUTS BOARD DISCOVERY PLAY | HI-DEF


VIDEO: THE LAUNCH DAY SIMULATION BEGINS PLAY | HI-DEF


VIDEO: PAD BUNKER TRAINING FOR THE CREW PLAY | HI-DEF


VIDEO: CREW BRIEFED ON EMERGENCY PROCEDURES PLAY | HI-DEF


VIDEO: NIGHTTIME APPROACHES IN TRAINING AIRCRAFT PLAY | HI-DEF


VIDEO: TEST-DRIVING EMERGENCY ARMORED TANK PLAY | HI-DEF


VIDEO: INFORMAL CREW NEWS CONFERENCE AT LAUNCH PAD PLAY


VIDEO: ASTRONAUTS ARRIVE FOR PRACTICE COUNTDOWN PLAY



VIDEO: SHUTTLE DISCOVERY ROLLS OUT PAD 39A PLAY | HI-DEF


VIDEO: ORBITER HOISTED FOR MATING TO TANK PLAY | HI-DEF


VIDEO: DISCOVERY MOVED TO ASSEMBLY BUILDING PLAY | HI-DEF


VIDEO: TIME-LAPSE OF DISCOVERY ARRIVING IN VAB PLAY



VIDEO: PAYLOADS DELIVERED TO LAUNCH PAD PLAY | HI-DEF


VIDEO: LEONARDO PUT INTO TRANSPORTER PLAY | HI-DEF


VIDEO: STATION'S NEW AMMONIA TANK PLAY | HI-DEF


VIDEO: MPLM HATCH CLOSED FOR FLIGHT PLAY | HI-DEF


VIDEO: INSIDE SHUTTLE MAIN ENGINE SHOP PLAY | HI-DEF


VIDEO: CREW EQUIPMENT INTERFACE TEST PLAY | HI-DEF


SUBSCRIBE NOW