Shuttle Discovery's launch pushed back to Friday night
BY WILLIAM HARWOOD
STORY WRITTEN FOR CBS NEWS "SPACE PLACE" & USED WITH PERMISSION
Posted: August 27, 2009


NASA managers Thursday ordered another delay for launch of the shuttle Discovery, from early Friday morning to late Friday night, to give engineers additional time to make sure an 8-inch hydrogen valve in the orbiter's aft compartment will operate normally during fueling.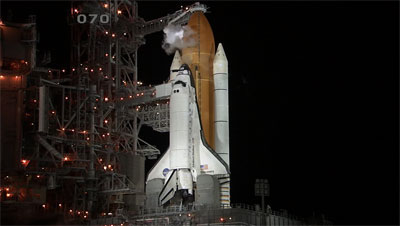 Credit: NASA TV



NASA's Mission Management Team plans to meet at noon Friday to review the work, consider a waiver to flight rules governing how the valve system operates and make a final decision on whether to clear Discovery for fueling and launch at 11:59:39 p.m. EDT. Forecasters are calling for a 60 percent chance of acceptable weather at launch time.

Discovery is bound for the International Space Station, carrying a crew of seven and more than 7.5 tons of supplies and equipment. Because the space station launch window moves about 23 minutes earlier per day, Discovery has two launch opportunities Friday, the first at 12:22 a.m. and the second at 11:59 p.m. The MMT on Thursday gave up the first opportunity in favor of the second.

"First off, just to put the right spin on it, we're here to not talk about a scrub, in fact we're still going to launch on Friday," MMT Chairman Mike Moses joked during a news briefing Thursday.

The problem cropped up during fueling Tuesday for a day-late launching Wednesday morning. As Discovery's external tank was filled with liquid oxygen and hydrogen rocket fuel, the inboard hydrogen fill-and-drain valve was commanded to close. Data from a position sensor never indicated the valve was, in fact, closed and NASA managers called off the countdown.

They were responding to a flight rule that prohibited real-time troubleshooting under supercold cyrogenic conditions out of concern a valve already near failure might break in the closed position, making it extremely difficult to drain the huge fuel tank after a launch delay.

After Discovery's tank was drained, engineers tested the valve under ambient conditions late Wednesday and in five complete cycles, the valve - and the position indicator - worked normally.


The official crew patch for Discovery's flight to deliver and research gear to the space station
is available in the Spaceflight Now Store.


U.S. SHOPPERS | WORLDWIDE




Engineers restarted Discovery's countdown early Thursday in hopes of getting clearance to proceed to an early Friday launch. But the Mission Management Team ordered another delay to give the engineers time to rest and complete the complex analysis without being under the pressure of a countdown.
"The teams have been working really hard over the last several days," Moses said. "We got some test data last night, that came in fairly late in the afternoon or evening timeframe, the teams went off and talked about what that data meant, we talked about some possible forward plans.
"They got back together this morning and it became pretty apparent pretty quick we had really good rationale, we had a really good story, but the teams that needed to polish it, do the double checks, make sure everybody could see it, bless it and do it were the same teams that within another hour had to go on console and do the tanking. And then I needed them to be on console for launch and to stay sharp.
"When we looked at that and we started to judge our readiness, we basically said you know what? The better part of valor here is to take a day, let us go polish that off, make sure we really understand what's going on."
Engineers believe the valve is operating normally and that for some reason, the position indicator, which measures the movement of a pneumatically-driven gear that pushes the valve open and closed with pressurized helium, failed to operate normally during tanking Tuesday.
It may work normally during fueling Friday afternoon, or it may malfunction again. If engineers do not get a closed indication, Moses said procedures will be in place to evaluate secondary cues to confirm the valve is, in fact, closed. Secondary methods include the timing of the valve gear movement and levels of helium in the aft compartment from the pneumatic system.
"We want to make sure we're ready," Moses said. "If we're wrong, we want to make sure we really do understand that there's not some other mechanism that we're not quite smart enough to think of yet that might fake us out on some of these other signatures."
One concern is making sure the valve does not drive partially closed, allowing hydrogen to leak through.
"One of the consequences here is that if that valve doesn't get sealed up, after liftoff, or right at startup I should say, when we close the outboard fill and drain valve and start draining that system, if there's leakage, liquid hydrogen will bleed back through into this little cavity and then turn into a gas and bleed itself back into the main engines," Moses said. "Ingesting gas into that main engine hydrogen manifold is probably not a good thing."
As a result, the MMT will review the analysis to date "to see we really do have some confidence, even if we do have a tiny bit of leakage past this valve, it would be what we consider 'spec' leakage," Moses said.
The extra day will help engineers "make sure we had a true bullet-proof story and we really knew what the teams on console would execute when we see, or don't see, this closed indicator."


Additional coverage for subscribers:


VIDEO: NARRATED MISSION OVERVIEW MOVIE PLAY | HI-DEF


VIDEO: MEET SHUTTLE DISCOVERY'S ASTRONAUTS PLAY | HI-DEF


VIDEO: NARRATED REVIEW OF SHUTTLE'S PREPARATIONS PLAY | HI-DEF


VIDEO: NARRATED REVIEW OF PAYLOADS' PREPARATIONS PLAY | HI-DEF


VIDEO: THE "COLBERT" TREADMILL PLAY | HI-DEF



VIDEO: MANAGERS EXPLAIN REASON FOR SECOND SCRUB PLAY


VIDEO: WEATHER SCRUBS FIRST COUNTDOWN PLAY | HI-DEF


VIDEO: ASTRONAUTS DEPART QUARTERS FOR PAD 39A PLAY | HI-DEF


VIDEO: CREW GETS SUITED UP FOR LAUNCH ATTEMPT PLAY | HI-DEF


VIDEO: LAUNCH PAD SERVICE GANTRY ROLLED BACK PLAY | HI-DEF



VIDEO: PRE-LAUNCH INTERVIEW WITH RICK STURCKOW PLAY


VIDEO: PRE-LAUNCH INTERVIEW WITH KEVIN FORD PLAY


VIDEO: PRE-LAUNCH INTERVIEW WITH PAT FORRESTER PLAY


VIDEO: PRE-LAUNCH INTERVIEW WITH JOSE HERNANDEZ PLAY


VIDEO: PRE-LAUNCH INTERVIEW WITH DANNY OLIVAS PLAY


VIDEO: PRE-LAUNCH INTERVIEW WITH CHRISTER FUGLESANG PLAY


VIDEO: PRE-LAUNCH INTERVIEW WITH NICOLE STOTT PLAY



VIDEO: AMERICAN AND EUROPEAN PRE-LAUNCH NEWS CONFERENCE PLAY


VIDEO: THE LAUNCH COUNTDOWN GETS UNDERWAY PLAY


VIDEO: ASTRONAUTS ARRIVE AT THE CAPE FOR LAUNCH PLAY | HI-DEF


VIDEO: FLIGHT READINESS REVIEW SETS LAUNCH DATE PLAY



VIDEO: SHUTTLE AND STATION PROGRAM UPDATE PLAY


VIDEO: THE STS-128 MISSION OVERVIEW BRIEFING PLAY


VIDEO: PREVIEW BRIEFING ON MISSION'S SPACEWALKS PLAY


VIDEO: THE ASTRONAUTS' PRE-FLIGHT NEWS BRIEFING PLAY


VIDEO: SHUTTLE PROGRAM MANAGER EXPLAINS FOAM ISSUES PLAY



VIDEO: PAYLOAD BAY DOORS CLOSED FOR FLIGHT PLAY | HI-DEF


VIDEO: MISSION CARGO LOADED ABOARD DISCOVERY PLAY | HI-DEF



VIDEO: CREW TOURS PAD'S CLEANROOM PLAY | HI-DEF


VIDEO: SHUTTLE EVACUATION PRACTICE PLAY | HI-DEF


VIDEO: ASTRONAUTS BOARD DISCOVERY PLAY | HI-DEF


VIDEO: THE LAUNCH DAY SIMULATION BEGINS PLAY | HI-DEF


VIDEO: PAD BUNKER TRAINING FOR THE CREW PLAY | HI-DEF


VIDEO: CREW BRIEFED ON EMERGENCY PROCEDURES PLAY | HI-DEF


VIDEO: NIGHTTIME APPROACHES IN TRAINING AIRCRAFT PLAY | HI-DEF


VIDEO: TEST-DRIVING EMERGENCY ARMORED TANK PLAY | HI-DEF


VIDEO: INFORMAL CREW NEWS CONFERENCE AT LAUNCH PAD PLAY


VIDEO: ASTRONAUTS ARRIVE FOR PRACTICE COUNTDOWN PLAY



VIDEO: SHUTTLE DISCOVERY ROLLS OUT PAD 39A PLAY | HI-DEF


VIDEO: ORBITER HOISTED FOR MATING TO TANK PLAY | HI-DEF


VIDEO: DISCOVERY MOVED TO ASSEMBLY BUILDING PLAY | HI-DEF


VIDEO: TIME-LAPSE OF DISCOVERY ARRIVING IN VAB PLAY



VIDEO: PAYLOADS DELIVERED TO LAUNCH PAD PLAY | HI-DEF


VIDEO: LEONARDO PUT INTO TRANSPORTER PLAY | HI-DEF


VIDEO: STATION'S NEW AMMONIA TANK PLAY | HI-DEF


VIDEO: MPLM HATCH CLOSED FOR FLIGHT PLAY | HI-DEF


VIDEO: INSIDE SHUTTLE MAIN ENGINE SHOP PLAY | HI-DEF


VIDEO: CREW EQUIPMENT INTERFACE TEST PLAY | HI-DEF


SUBSCRIBE NOW