Discovery could spend silver anniversary in orbit
BY CRAIG COVAULT
SPACEFLIGHT NOW
Posted: August 26, 2009


If space shuttle Discovery launches this week, the flight will mark nearly 25 years to the day since the orbiter embarked on a career that has achieved some of the most historic U.S. space missions ever flown.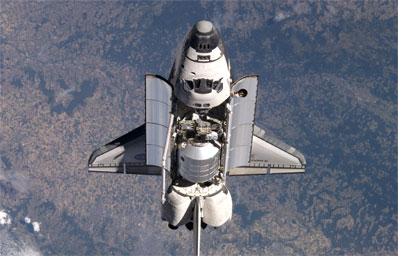 Discovery commanded by astronaut Eileen Collins performs rendezvous pitch maneuver under space station on first mission following the Columbia accident. Credit: NASA



Since her first flight in August 1984, Discovery has flown 36 missions and logged more than 128 million mi. With this mission that mileage will go above 130 million mi. nearly equal the current distance between Earth and Mars.

OV-103, the third orbiter to become operational at Kennedy Space Center, was named after Discovery the ship used by the British explorer James Cook in the 1770s during voyages in the South Pacific that led to the discovery of the Hawaiian Islands.

Tragedies prevented the orbiters Columbia and Challenger from reaching the 25-year point, but Atlantis would reach the milestone in October 2010. The orbiter Endeavour, however, 8 years younger than Discovery, will never reach the 25-year point.

Under current planning, Discovery is expected to fly only twice more after the coming STS-128 mission. The 100-ton spaceship will hit the exact 25-year point on Aug. 30. Since her first mission launched in 1984, Discovery has carried crews totalling 216 people, including some astronauts more than one time.

Her first flight, designated STS 41-D, was the 12th mission of the shuttle program and flew the first of 4,764 orbits of the Earth flown to date by Discovery.

That first mission was commanded by Henry Hartsfield with Mike Coats as copilot. Coats is the current director of the Johnson Space Center. Also on board were astronauts Mike Mullane, Steve Hawley and Judy Resnik, who two years later would be killed on Challenger.

Charles D. Walker, the shuttle program's first payload specialist astronaut was also on board to run the first major commercial processing payload of the shuttle program. This was a phone booth-sized continuous flow electrophoresis machine that used electrical current to separate human cells.


| | |
| --- | --- |
| | The space shuttle orbiter Discovery, here lifting off on one of its pervious 36 missions, celebrates its 25th anniversary with the coming STS-128 mission. |
That first flight also launched a Telesat Canada satcom and the SBS-D spacecraft, both medium sized Hughes HS-376 models. Discovery also deployed the much larger Leasat 2, a large Navy communications spacecraft designed specifically for "Frisby" deployment from the shuttle.

Rounding out the flight was the deployment of a 13 x 102 ft. solar array to demonstrate solar array technologies now used operationally on the International Space Station's giant arrays. When the erected, it prompted Judy Resnik to make the infamous radio call: "Houston, it's up and it's big" - a line she conceived before launch.

The first Discovery launch attempt in June 1984 ended in a pad abort after space shuttle main engine (SSME) start, but before solid rocket booster ignition.

In the established vernacular of launch operations, countdowns stopped for any reason before engine ignition of any manned or unmanned rocket are not called aborts, but rather cutoffs or scrubbed counts. Aborts only occur after an ignition as occurred with Discovery. Up until this time the shuttle program had experienced several less critical countdown cutoffs and scrubs, but Discovery had the first of five pad aborts in the shuttle program.

Discovery's Redundant Set Launch Sequencer (RSLS) abort was commanded by the orbiter's computers when a different computer on one of the SSME's detected a slower than predicted valve activation.

The shutdown caused immediate concern in the Kennedy Launch Control Center when initially there was doubt whether one of Discovery's engines had actually cut off. Then another 60 sec. of concern when excess hydrogen gas ignited around the engines creating a visible fire. The temperature of this fire was far below what the orbiter could tolerate, but it looked scary.

The fire suppression water nozzles aimed at the engines also had to be turned on manually and there was momentary consideration whether the crew should evacuate Discovery and use the never before tried Pad 39 slide wire escape system.

Eventually it was determined that the crew was safer staying atop hundreds of tons of liquid oxygen and liquid hydrogen than evacuating. Things were calmer inside the cockpit where moments after the engines were shut down, Hawley radioed on intercom to his crewmates, "I thought we would be higher at main engine cutoff."

Changes to the pad and Launch Control Center procedures were made as a result of this first Discovery launch attempt.

To gain more confidence in the pad's several hundred foot slide wire basket system, it was decided it should be tested with a live astronaut. That job fell to Charlie Bolden, now NASA's new administrator.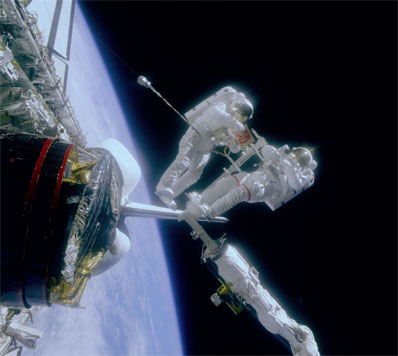 Astronauts Joe Allen and Dale Gardner display "For Sale" sign above retrieved satellite on Discovery's mission 51A, the first commercial space salvage flight. Credit: NASA



As with STS-128, Discovery has flown several missions to the International Space Station. Many of its earlier mission highlights include:

--Mission 51-A only Discovery's second flight in November 1984 where astronauts Joe Allen and Dale Gardner used manned maneuvering unit backpacks and chest mounted spear systems to fly away from the orbiter and retrieve two HS-376 satcoms stranded in low earth orbit. This was the first commercial salvage operation in space on a flight that was one of the greatest of all shuttle missions. Both satellites were later resold and relaunched, one atop a Chinese Long March booster.

--Mission 51-C that carried the first large secret military payload of the shuttle program, a large eavesdropping satellite propelled to geosynchronous orbit on a shuttle Interim Upper Stage.

--Mission 51-D that carried the first politician in space, U.S. Sen. Jake Garn (R-Utah).

--STS-26 flown in 1988 was the mission that returned the shuttle program to space after the 1986 Challenger accident.

--STS-31 that launched the Hubble Space Telescope in 1990. Discovery would later return to Hubble twice more on servicing missions.

--STS-41 that launched the European/U.S. Ulysses spacecraft, the first satellite to fly over the poles of the sun.

--STS-60 that carried Sergei Krikalev, the first Russian cosmonaut ever to launch on a U.S. space mission, initiating continued space cooperation with the former Soviet Union.

--STS-63 was the first rendezvous of a space shuttle with the Russian Mir space station, preceding later missions that docked with Mir.

--STS-91 was the final shuttle docking mission to the Mir space station.

--STS-95 in 1998 that launched 78-year-old John Glenn, the first American to orbit the Earth, on his second space mission as the oldest person ever to fly in space.

--STS-114 was the 2005 return to flight of the shuttle program following the 2003 loss of Columbia during reentry.

--Vandenberg missions: Had Vandenberg AFB, Calif. ever become operational as a shuttle launch site as planned until the Challenger accident, Discovery was slated to fly those polar orbit missions never undertaken.


Additional coverage for subscribers:


VIDEO: MANAGERS EXPLAIN REASON FOR SECOND SCRUB PLAY



VIDEO: WEATHER SCRUBS FIRST COUNTDOWN PLAY | HI-DEF


VIDEO: ASTRONAUTS DEPART QUARTERS FOR PAD 39A PLAY | HI-DEF


VIDEO: CREW GETS SUITED UP FOR LAUNCH ATTEMPT PLAY | HI-DEF


VIDEO: LAUNCH PAD SERVICE GANTRY ROLLED BACK PLAY | HI-DEF



VIDEO: NARRATED MISSION OVERVIEW MOVIE PLAY | HI-DEF


VIDEO: MEET SHUTTLE DISCOVERY'S ASTRONAUTS PLAY | HI-DEF


VIDEO: PRE-LAUNCH INTERVIEW WITH RICK STURCKOW PLAY


VIDEO: PRE-LAUNCH INTERVIEW WITH KEVIN FORD PLAY


VIDEO: PRE-LAUNCH INTERVIEW WITH PAT FORRESTER PLAY


VIDEO: PRE-LAUNCH INTERVIEW WITH JOSE HERNANDEZ PLAY


VIDEO: PRE-LAUNCH INTERVIEW WITH DANNY OLIVAS PLAY


VIDEO: PRE-LAUNCH INTERVIEW WITH CHRISTER FUGLESANG PLAY


VIDEO: PRE-LAUNCH INTERVIEW WITH NICOLE STOTT PLAY



VIDEO: AMERICAN AND EUROPEAN PRE-LAUNCH NEWS CONFERENCE PLAY


VIDEO: THE LAUNCH COUNTDOWN GETS UNDERWAY PLAY


VIDEO: ASTRONAUTS ARRIVE AT THE CAPE FOR LAUNCH PLAY | HI-DEF


VIDEO: FLIGHT READINESS REVIEW SETS LAUNCH DATE PLAY



VIDEO: SHUTTLE AND STATION PROGRAM UPDATE PLAY


VIDEO: THE STS-128 MISSION OVERVIEW BRIEFING PLAY


VIDEO: PREVIEW BRIEFING ON MISSION'S SPACEWALKS PLAY


VIDEO: THE ASTRONAUTS' PRE-FLIGHT NEWS BRIEFING PLAY


VIDEO: SHUTTLE PROGRAM MANAGER EXPLAINS FOAM ISSUES PLAY



VIDEO: PAYLOAD BAY DOORS CLOSED FOR FLIGHT PLAY | HI-DEF


VIDEO: MISSION CARGO LOADED ABOARD DISCOVERY PLAY | HI-DEF



VIDEO: CREW TOURS PAD'S CLEANROOM PLAY | HI-DEF


VIDEO: SHUTTLE EVACUATION PRACTICE PLAY | HI-DEF


VIDEO: ASTRONAUTS BOARD DISCOVERY PLAY | HI-DEF


VIDEO: THE LAUNCH DAY SIMULATION BEGINS PLAY | HI-DEF


VIDEO: PAD BUNKER TRAINING FOR THE CREW PLAY | HI-DEF


VIDEO: CREW BRIEFED ON EMERGENCY PROCEDURES PLAY | HI-DEF


VIDEO: NIGHTTIME APPROACHES IN TRAINING AIRCRAFT PLAY | HI-DEF


VIDEO: TEST-DRIVING EMERGENCY ARMORED TANK PLAY | HI-DEF


VIDEO: INFORMAL CREW NEWS CONFERENCE AT LAUNCH PAD PLAY


VIDEO: ASTRONAUTS ARRIVE FOR PRACTICE COUNTDOWN PLAY



VIDEO: SHUTTLE DISCOVERY ROLLS OUT PAD 39A PLAY | HI-DEF


VIDEO: ORBITER HOISTED FOR MATING TO TANK PLAY | HI-DEF


VIDEO: DISCOVERY MOVED TO ASSEMBLY BUILDING PLAY | HI-DEF


VIDEO: TIME-LAPSE OF DISCOVERY ARRIVING IN VAB PLAY



VIDEO: PAYLOADS DELIVERED TO LAUNCH PAD PLAY | HI-DEF


VIDEO: LEONARDO PUT INTO TRANSPORTER PLAY | HI-DEF


VIDEO: STATION'S NEW AMMONIA TANK PLAY | HI-DEF


VIDEO: MPLM HATCH CLOSED FOR FLIGHT PLAY | HI-DEF


VIDEO: INSIDE SHUTTLE MAIN ENGINE SHOP PLAY | HI-DEF


VIDEO: CREW EQUIPMENT INTERFACE TEST PLAY | HI-DEF


SUBSCRIBE NOW